Today's post is a detailed review of BUSD, a regulated, fiat-backed stablecoin pegged to the U.S. dollar.
BUSD or Binance USD is quite popular in the crypto space.
In less than two years, the coin is already ranking 3rd out of 66 stablecoins listed on Coinmarketcap.
Not just that, Binance USD has also proven useful to crypto traders in a variety of ways.
As you read on, you'll learn about these uses and other relevant information on the coin.
Let's jump right in!
---
Post Summary
Click on any item above to read its details right away.
Enjoy!
---
1. What Is BUSD?
BUSD is the native stablecoin of the Binance Exchange.
It was launched in September 2019 by Binance in partnership with Paxos, a blockchain platform that digitizes and mobilizes assets.
The goal was to create a coin that will help maintain a stable market value.
As mentioned, Binance USD is regulated and it is pegged to the U.S. dollar.
Every BUSD is backed by a physical dollar stored in FDIC-insured US banks in the ratio of 1:1.
Cool, right?
Amazingly, BUSD exists on three different blockchains namely Ethereum, Binance Smart Chain, and Binance Chain.
Therefore, holders of the coin can easily swap their tokens between the blockchains.
And on the Binance exchange, users can convert their fiat to BUSD with zero transaction fee.
I'll show you how to do that shortly but first, let's see the major uses of this coin.
Keep reading!
---
2. Uses Of BUSD
a. Transactions
Being a digital currency, you can use BUSD to facilitate transactions.
Talk about bill payment, purchase of goods, and more.
b. Quick Transfer
With Binance USD, you can quickly send money anywhere in minutes and at a low cost.
Additionally, this coin is supported on 3 blockchains, so, you can make transfers across these chains with no stress.
c. Trading
BUSD is also traded on different exchanges and DEX.
Depending on your need, you can trade it for other cryptocurrencies, stablecoins, and DeFi tokens.
Gladly, you can trade it against multiple pairs on Binance with zero exchange fees.
And it also supports margin trades.
Moreover, in Binance Futures, you can use BUSD as cross collateral.
d. Earn Passive Income
On Binance Earn, you can stake your Binance USD tokens and earn up to 3.04% APY.
Nice!
Also, you can earn 0.8% interest by simply saving the coin in your wallet.
Then on Binance Launchpad, you gain new coins when you deposit Binance USD.
Not just that, on Binance Crypto Loans, you can use BUSD as collateral to borrow other cryptos.
Yay!
e. Escape Volatility
As you already know, the crypto market is very volatile.
Since Binance USD is a stable asset, you can convert your funds to it and escape a volatile period.
Again, when you want to secure your profit from an investment, you don't have to wait to transfer fiat funds into your bank account from an exchange.
Instead, convert it to BUSD and you're good to go.
f. Arbitrage
Last but not least, you can enjoy arbitrage opportunities by purchasing Binance USD and cashing it out for fiat.
Additionally, you can easily move between Automated Market Makers that support this coin when prices differ between them.
Don't understand Arbitrage trading? Get a clearer picture here.
I'm sure you're impressed by the uses of Binance USD mentioned above.
Let's see how you can get this coin in the next section.
Tag along!
---
3. How To Buy BUSD With Zero Fees On Binance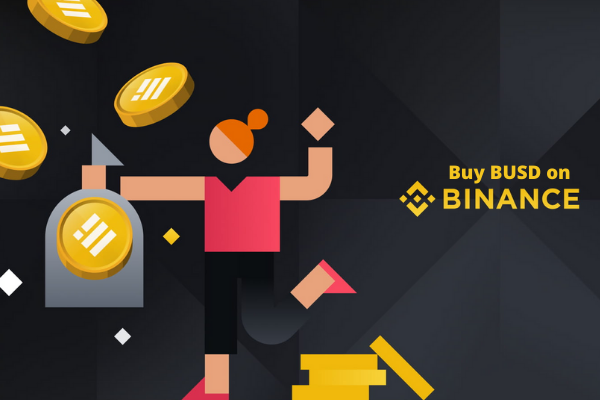 There are 3 core ways to buy BUSD on Binance:
a. Cash
You can buy BUSD with USD via wire transfer.
Also, you can load your Binance Cash Wallet with any other currency and exchange it for this coin.
b. Stablecoins
Secondly, you can convert other stablecoins to BUSD on the Binance trading platform.
The available pairs include BUSD/USDT, USDC/BUSD, and PAX/BUSD.
c. Cryptocurrencies
On the Binance trading platform as well, you can trade other cryptocurrencies for BUSD.
You know the sweetest part, you will be charged zero fees for any option you choose.
But you must create an account with Binance and verify it before you can buy this token.
Yet to create an account with Binance? Kindly do that using this link.
Then follow these 14 steps to verify your account. 😉
In summary, this is how to buy BUSD on Binance:
i. Visit Binance.com and create an account
ii. Verify your account
iii. Go to the BUSD landing page and buy this token via your preferred option.
Note: you can also convert your USD directly to BUSD on Paxos for free.
So, is Binance USD worth your money?
Keep reading to know what I think!
---
4. Is BUSD A Good Investment?
I don't have any doubt that BUSD is a good coin to put your money in.
First of all, it is a stable asset. A unit of Binance USD is equal to 1.00 USD.
Therefore, you can worry less about price fluctuations.
Additionally, this coin is regulated. Paxos delivers constant audits that prove the USD reserves match the supply of BUSD at a 1:1 peg.
Furthermore, Binance USD has ERC-20, BEP-2, and BEP-20 versions.
This makes it available on a wide range of platforms.
And as such, you will not have a hard time trading this coin.
Moreover, you can use the coin to borrow other cryptos on Binance as well as stake it to earn huge APY.
Also, you can use BUSD to settle contracts on Binance Futures.
Trust me, you don't want to miss this coin. Get it here.
Let's answer some frequently asked questions and then we can call this post a wrap.
Read on!
---
5. FAQs
Who regulates Binance USD?
The New York State Department of Financial Services (NYDFS).
It specifies the measures for the operation of the coin.
For example, Paxos is in charge of minting Binance USD tokens.
Also, it can freeze accounts and remove funds based on illegal activity.
Every month, Withum, a top accounting firm, certifies that the supply of Binance USD tokens matches the U.S. dollar reserves.
Will BUSD ever go below 1USD per unit?
That's not the plan.
However, if it does happen, arbitrage traders will buy the token in large quantities and then convert it into fiat on the Paxos platform. 
This will make Binance USD scarce in the market.
In other words, token supply reduces, and demand naturally increases.
At this point, the token price will plunge back up to $1, restoring the 1:1 peg.
---
6. Conclusion
BUSD is the native stablecoin of the Binance exchange.
You can trade it for other cryptos, swap it for fiat, or stake it to earn passively, among other uses.
This is where we'll draw the drapes on our discussion on Binance USD.
I hope it was worth the read. Now, tell me;
Will you buy Binance USD?
Perhaps you already did, what and what have you done with your tokens?
Let me have your responses in the comments section.
Also, share this post with your friends, thank you!