Following the CBN ban in February 2021, crypto users are having a hard time withdrawing from exchanges.
Many exchanges have created a way out for their Nigerian users to withdraw either by adding the P2P feature or internal transfer.
But nothing has been heard so far from Luno, the South-African based crypto exchange.
As such, many traders have their funds stuck there with no hope of ever getting them out. Same case with depositing too.
That is the MAIN reason for today's post!
I will show you, in clear, simple steps, how you can withdraw your Naira from Luno and get it to your bank account.
Let's get started at once.
---
Post Outline
The following subheadings contain what will be discussed in today's post.
They include:
Click on any of the subheadings to read through the full details.
---
How To Withdraw Your Naira From Luno To Your Bank Account
Being that most traders carry out arbitrage trading on Luno, they have their funds stuck there since the ban.
But I will be showing you how to send them directly to your bank account.
Now, you are wondering: Is that even possible?
My reply: Yes, of course!
Yes, the process might be a bit longer but it is not totally impossible!
So, if you already have Naira in Luno, this is how you go about bringing it out:
exchange your Naira for crypto
send crypto to a P2P exchange
sell the crypto for Naira
the Naira will be sent to your account.
NB: BE SURE YOU HAVE AN ACCOUNT WITH A P2P EXCHANGE. YOU CAN PICK A REPUTABLE ONE FROM THIS LIST.
Further breakdown of the steps include:
Step 1
Log in to your Luno account and go to 'Wallets'.
Step 2
Since you cannot take out the cash directly, you have to sell it for a coin.
At this point, you have to check out the coins with low transaction fees.
Luno supports 6 cryptos: BTC, ETH, XRP, BCH, LTC, and USDC.
Looking at the supported coins, it is just XRP and LTC that have lower transaction fees.
This is important so that you don't pay high fees.
Let's work with XRP.
Note the quantity of NGN available.
Step 3
Assuming I want to withdraw like 27,000 NGN, I will go ahead and purchase more XRP to add to what I already have.
Step 4
You remember that P2P account I asked about? You will be needing it at this point.
Now that you have the XRP ready, you can send it to the P2P exchange address.
Click on the XRP wallet and then click 'Send'.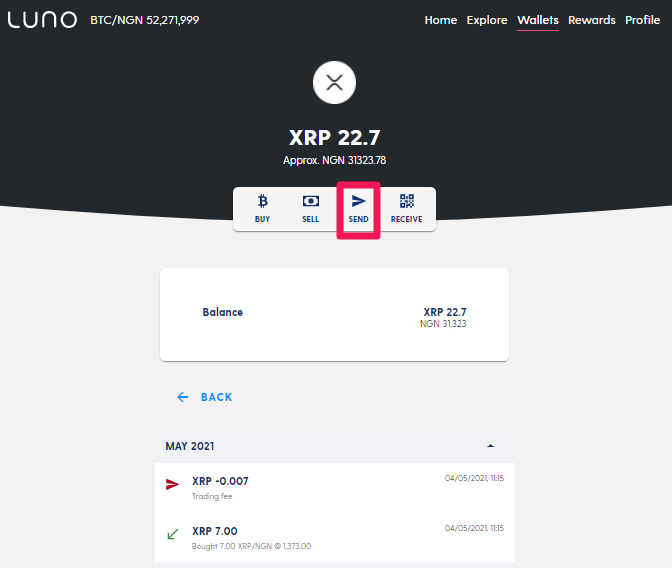 Step 5
At this point, you will be asked to enter the XRP address of the wallet and its tag.
For this demo, I will be using Binance.
I will quickly go and copy the address from Binance and the tag, paste into the spaces provided, and click on 'Next'.
Enter the amount of XRP you want to transfer and click 'Next' again.
Step 6
The breakdown of the transaction is displayed. Crosscheck the details and click on 'Confirm'.
You will be prompted to enter your 2FA code (if you enabled that feature) for further confirmation.
Then follows a link that will be sent via SMS to your mobile number. Click on 'Authorise' to send the transaction.
These extra steps are for security; to be sure that you are the one sending the transaction.
Step 7
Now the money is out of Luno entirely to your Binance wallet.
Check your Binance account for the sent XRP.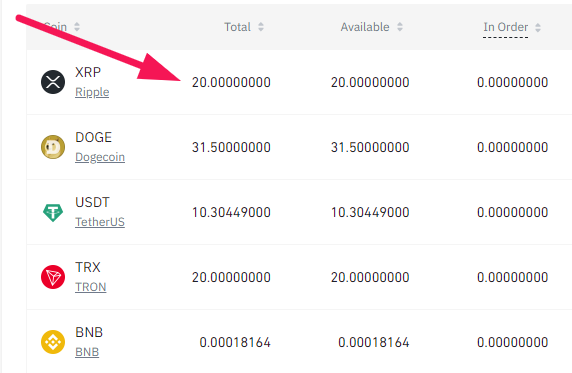 Step 8
At this point, you will need to get the funds to the P2P market.
But on Binance P2P, the supported coins include BTC, USDT, BUSD, BNB, ETH, DAI, and NGN; no XRP.
First things first… We have to convert the XRP to a coin that is supported on the P2P market.
Assuming you want to sell XRP for USDT, click on 'Trade' in the XRP Spots Trading wallet.
From the drop-down menu, select the XRP/USDT pair to trade.
Step 9
Sell the XRP for USDT which will be sent to your Spots wallet.
Note that I had 10.30449000 earlier.
Step 10
The next thing to do here is to send the USDT in your Spots wallet to the P2P wallet.
To do this, click on P2P from the wallets type menu on the left hand side of the screen.
It opens up to the P2P wallet.
Step 11
From the P2P wallet, click on 'Transfer' from the USDT wallet to import the coins from the Spots wallet.
Step 12
The transfer page has this default view.
Click on the back-and-forth arrow sign to rearrange (since you are moving from the Spots wallet to the P2P wallet).
Step 13
Enter the amount of USDT you want to transfer and click on 'Confirm transfer'.
Step 14
The coins transferred then appears in your P2P wallet.
You will now go ahead to sell the USDT for Naira in the P2P market.
Click on 'Sell' and it takes you to the P2P market.
Select the bank transfer option (so you will get the funds directly to your bank account) and the list of traders buying via bank transfer will be displayed.
Scroll through and select a trader that is buying within your range and sell to.
Fill in the amount of USDT that you want to sell and click on 'Sell USDT'.
The buyer will then send the Naira equivalent to you bank account and you will release the coin.
Congratulations! You now have the funds chilling in your account.
So this is how you take out your money straight from Luno to your bank account.
Moving on, I will point out the precautions you have to take to ensure the safe transition of your funds.
Scroll down, please.
---
Precautions To Take While Withdrawing from Luno To Your Bank Account
If you are an ardent P2P trader, you will be familiar with some of these precautions.
The things to look out for while on this include:
1. Check for the markets available
What I mean by this is that you check for the coin with the most markets on P2P and convert to it.
For instance, on Binance, USDT has the most markets (as of 4/5/2021) with up to 77 pages filled with 'Buy' adverts.
This will help you to bring out your funds fast.
If you are to sell the sent coin directly in the P2P market, it will also be wise to check for the P2P exchange that has the most markets for the coin.
For example, just as I am sending XRP from Luno, I will search for a P2P exchange that supports XRP and has the most markets.
2. Obey the Golden Rule of P2P
P2P Golden Rule states: release coins ONLY after you have confirmed that payment has been made.
Never ever assume the buyer will pay. The vast crypto-verse contains all shades of people – the good, the bad, and the ugly.
Be sure payment drops before consenting to release coins from escrow.
3. No crypto related terms
Though most P2P exchanges put up the prompt for the buyer while paying, it might be overlooked.
Always remind the buyer not to include any related crypto terms in the description e.g BTC payment, USDT purchase, money for BNB, etc.
This might lead to the closing down of your account.
4. Choose a credible trader
Now, you might ask, how does one determine a trader's credibility?
Well, there are no clear-cut ways to determine that.
But checking out the percentage of trades that they have carried out is a good start.
A trader with more than 90% of trades executed has a very good rating.
This simply translates that others trust the trader enough to have carried out that number of trades.
5. Do not chat outside the exchange
Never ever discuss a contrary trade term with the buyer outside the chatting platform provided by the exchange.
Whatever was discussed on the exchange's chatting platform would serve as evidence peradventure things go South.
6. Ensure that the names tally
The names here are the trader's exchange account name and bank account name.
This will save you from receiving payment from a hacked account.
If the names don't agree, hold on with the release of coins and get the exchange involved.
Most times, in cases like this, it is the buyer's loss as you will be the one in possession of both your coins and the funds sent.
7. Choose the bank transfer payment option
Since you want the funds in your bank account, it is imperative you make this choice.
It will help you find ONLY adverts of buyers that want to pay via bank transfer that you can sell to.
8. Never trade with strangers
Do not send your coins to any stranger promising to give/send you cash.
Even if you will do so, work with only persons you know very very well.
Otherwise, work with only trusted exchanges. You will be safer that way.
Do these and you will have a safe transition of your funds to your bank account.
Yeah, I know you are itching to ask a whole lot of questions. But hold on a minute till you've read through these FAQs.
I might provide an answer to what you intend asking.
Read through below.
---
Frequently Asked Questions (FAQs)
Hope I answered your questions?
If not, don't worry, you can ask me in the next section.
Let's go and round up this post.
---
If you want to learn how to trade cryptocurrencies profitably, we have created a perfect course to help you do that.
Enroll in our Cryptocurrency Mastery Course by going to www.ctmastery.com.
You can also join our Telegram community at https://t.me/ctmastery for more information.
---
Conclusion
Here we've come to the end of today's post.
Hope the steps to withdraw from Luno to your bank account are clear enough?
For now (May 2021), this is the only workable way to get your funds out of Luno.
But we are optimistic that good news is on the way following the release of this update from Marcus Swanepoel himself.
Now, let's discuss:
How has trading on Luno been since the CBN crypto ban?
Will you be withdrawing your funds or you will just hodl for the time being?
Considering its stand since the crypto ban, do you still think Luno is the crowned king of crypto exchanges in Nigeria?
Do you have suggestions on how Luno can make things easier for Nigerian crypto traders?
Let me know your answers and suggestions in the comment section below.
You never know who might be reading through. Your suggestions might be considered.
The questions too (if any) can be sent to the comment box. Will answer ASAP.
Share this post with people on your timeline on your various social media handle.
You might be helping a brother or even a sister.
Find the share buttons below.
---