In this article, I reviewed Qlip, one of the first Africa-based NFT marketplaces.
Qlip allows African artists to tokenize themselves and their art.
Impressively, it won the Africa Hero award in the Decentralized Africa Binance Hackathon that was held in June 2021.
Needless to say, NFTs have been trending, and here's an opportunity to grab your slot in the space.
Just like Comedian Josh2funny did on Opensea (LOL).
Keep reading and I'll show you how you can benefit from Qlip.
---
Post Summary
Click on any item above to read its details immediately.
---
1. What Is Qlip?
Qlip is a new NFT marketplace created for Africans to tokenize their assets and earn.
Karla Obakpolor founded the platform in 2020 but it officially launched in April 2021.
Her goal was to create an NFT marketplace for African artifacts and history.
So, African artists can have their assets (music, visual arts, fashion, etc.) tokenized on the blockchain.
Not only that but they can also combine their art to amplify the value of an NFT.
Then split the royalties when sales are completed on-chain. Innovative, right?
Think of it as an NFT marketplace that Africans can call their own.
Qlip is secured on the Binance Smart Chain. And it intends to launch its native token (QLP) soon.
This token will be used to incentivize participants.
Also, the Qlip platform has features that compel NFT lovers.
Let's take a look at them in the next section.
Tag along!
---
2. Features Of Qlip
a. Exclusive QLIP NFTs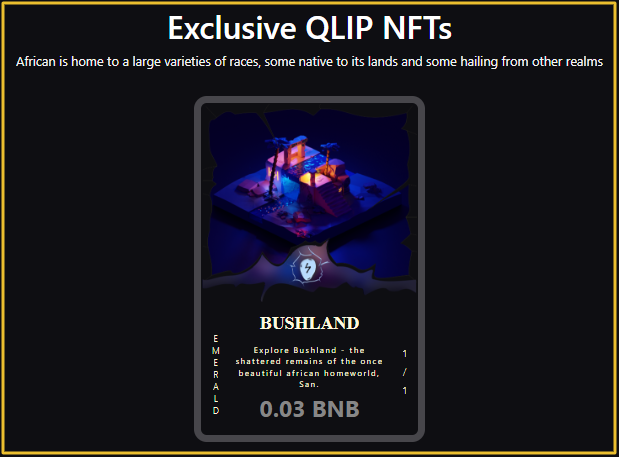 Here, we find a display of artworks collected from different parts of Africa.
Some of them are Ruin of Osun and Bushland.
b. Top Sellers
This is a display of the top-performing creators based on the worth of NFTs they've sold.
c. Marketplace
Here, you'll find all the NFTs available on the platform.
Also, you can surf the different categories for what you need.
The categories include memes, photography, music, etc.
d. Mint Store
This is where creators can upload their art to get listed on the platform.
You can choose between the "Single" or "Multiple" options depending on the number of collectibles that you wish to sell.
Now, I'll show you how to get started on Qlip.
Read on!
---
3. How To Use Qlip
i. Go to Qlipit.io and click on "Connect your wallet"
ii. Sign in to your MetaMask wallet to connect it.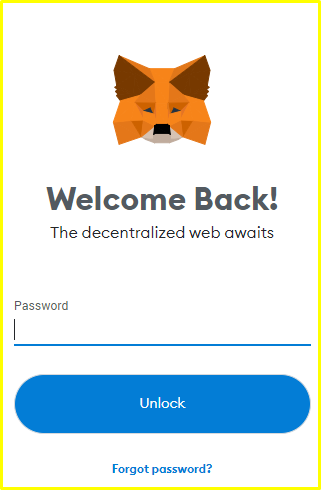 iii. That's all. You're in. Enjoy!
So, is the future bright for Qlip? Read the next section to know what I think.
---
4. What Does The Future Hold For Qlip?
I see a bright future for Qlip because it promotes the African culture.
Any innovation that preserves the history of a people and promotes culture is highly appreciated.
That's how I know that this platform will attract massive adoption.
Already, the platform is gaining public attention. For example, it was featured in the recently concluded Binance BCAT, Enugu.
Not to miss the African Hero Award at the Decentralized Africa Binance Hackathon of 2021.
Also, Qlip employs current trends in the crypto space like metaverse and NFTs to scale.
Additionally, it is hosted on the Binance Smart Chain, a fast and cheap network.
Plus, it allows users to transact directly from common wallets like MetaMask.
These will help the growth of the platform too.
Furthermore, the founder has the knowledge and experience to move the platform forward.
Before now, Karla has founded other successful crypto projects including Crypto Smart.
Moreover, I noticed that Qlip is diligently following its roadmap.
And with the native token in view, participants can look forward to receiving rewards from the platform.
However, this is just my opinion, remember to do due diligence before investing in Qlip.
Let's answer some questions and then we can wrap up this post.
---
Heads up!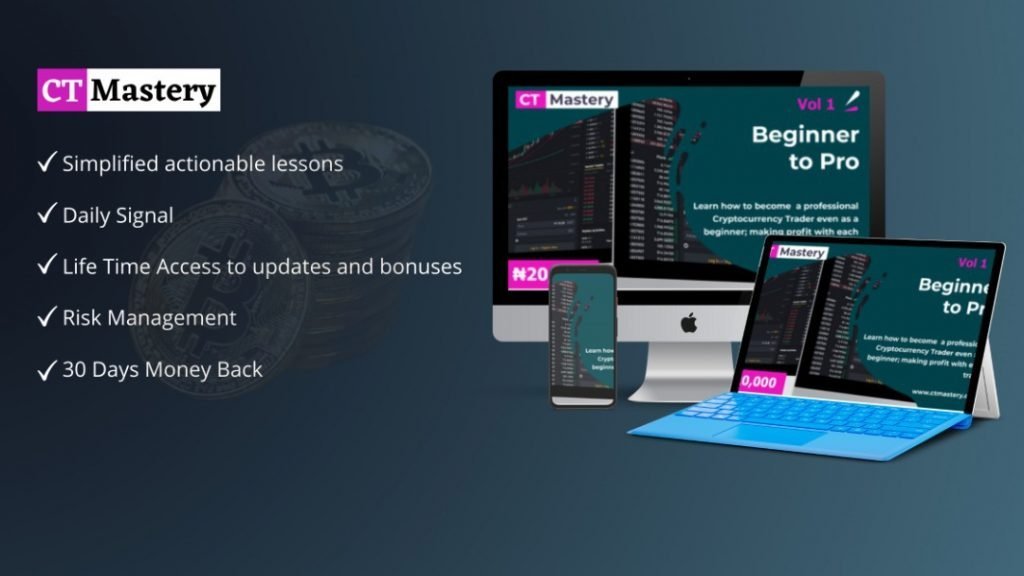 If you want to learn how to trade cryptocurrencies profitably, we developed a perfect course to help you master Cryptocurrency Trading.
Go to www.ctmastery.com to enroll.
You can also join our Telegram community at https://t.me/ctmastery for more information.
---
5. FAQs
Which currencies are used for transactions on Qlip?
BNB, USDT, BTC, and QLP
How do I stay updated with Qlip?
You can join the community via any of these channels:
– https://twitter.com/Qlip_it?s=09
– https://t.me/qlipit
– https://youtu.be/Zj58i_j17YA
– https://qlipit-io.medium.com/
Also, users can improve their knowledge by reading the articles on the Qlip NFT Academy.
---
6. Conclusion
We have now come to the end of this review. I hope it was worth your time.
Qlip provides an NFT marketplace for Africans to make money from their art.
So, tell me, will you start using this platform? Perhaps you already are, would you recommend it to others?
And what other features would you like to see on it?
Let me have your responses in the comments section right away.
Also, share this post with your friends. Thank you!
---
For your reading pleasure…