You've just landed on the most comprehensive review of "MyTopExchange" and believe me, I've got you covered.
MyTopExchange is basically an E-currency and cryptocurrency Nigerian exchange.
The exchange was established in the year 2012 and offers over 6 different E-Currencies.
In this review, I'll tell you all you need to know about the exchange just tag along with me let's ride.
---
Post Summary
Yeah, in order to get you through this review quickly I have made a list of things to be covered down below.
A click on any of the road maps above takes you straight-away to the facts about it.
Let's get this show on the road;
---
MyTopExchange Overview
MyTopExchange is a web-based Nigerian broker e-currency and cryptocurrency exchange (formerly known as Forextrading23).
It is owned by R-Global Integrated Systems, a Lagos based ICT Company registered by the Corporate Affairs Commission of Nigeria (CAC).
What Broker exchange does is that you send money to them they send you e-currency/cryptocurrency and vice versa.
MyTopExchange is an exchange that specializes in the sale and purchase of cryptocurrency as well as a host of E-currency.
The exchange has been in operation since 2012 and has since then grown.
The exchange is quite basic and straight forward.
Let's look at the services offered by the exchange.
---
Services Offered
The major services offered by the exchange include;
Cryptocurrency exchange
E-Currency exchange,
Forex account funding, and
Training
Cryptocurrency Exchange
Here you can buy and sell the top 2 cryptocurrencies; Bitcoin and Ethereum
E-currency Exchange
MyTopExchange host's on the platform E-currencies that make it easy to receive and send money instantly worldwide.
These include Perfect Money, Paypal, Skrill Payoneer and Neteller.
Its users can easily convert naira to these e-currencies and vice versa to buy goods from online stores, invest in financial schemes, pay for service or enrol for courses online.
Of recent, you can even convert perfect money to bitcoin.
Forex Account funding:
My Top Exchange is currently in partnership with 3 forex brokers to provide easy finding and withdrawal in naira from the platforms. They include;
Just Forex
Instant Forex, and
Training:
My Top Exchange Provides training in these 3 areas
Forex Training
Business Training
Bitcoin Training
The training is usually in Lagos, last for 3 weeks and comes with a fee of N20,000.
That's about it on the services offered by the exchange
let's take a look at the supported currencies.
---
Supported Currencies
Available cryptocurrencies
Available E-Currencies
Instaforex
Perfect Money
JustForex
Skrill
Payoneer
Neteller
Accepted Fiat Currency
Those are the supported currencies.
Now, about the benefits and drawbacks of the exchange.
---
Benefits and Drawbacks
Benefits
Some Benefits of MyTopExchange include;
Fast Transactions
Friendly user interface
Great Customer support
24/7 Up Time
Those are the benefits
Let's look at the drawbacks.
Drawbacks
Offers Just 2 cryptocurrencies (Bitcoin and Ethereum)
Transactions are done only in Naira (NGN)
Limited to Nigeria alone
it's time to talk about actually trading on MyTopExchange.
---
Trading On MyTopExchange
To Begin Trading on MyTopExchange you have to register with the exchange and get Verified.
In order to do so, visit the MyTopExchange Website
Click on Register on the top right-hand corner and fill-in Your details in the registration form that open's up.
After successfully filling out the registration form above, an email will be sent to the email address you entered
The email contains a link that activates your account and all you got to do is click on it.
After you must have clicked on the activation email sent
you'll need to get verified on the exchange in order to start a trade.
Verification Requirements
In order to be verified to trade on the exchange you must provide;
Proof of Identity
To proof your identity one of the following is required.
Valid international passport
Valid National ID Card
A valid Drivers License
Proof Address
To proof your address as required by the exchange you should provide
A stamped bank statement (not more than six months old)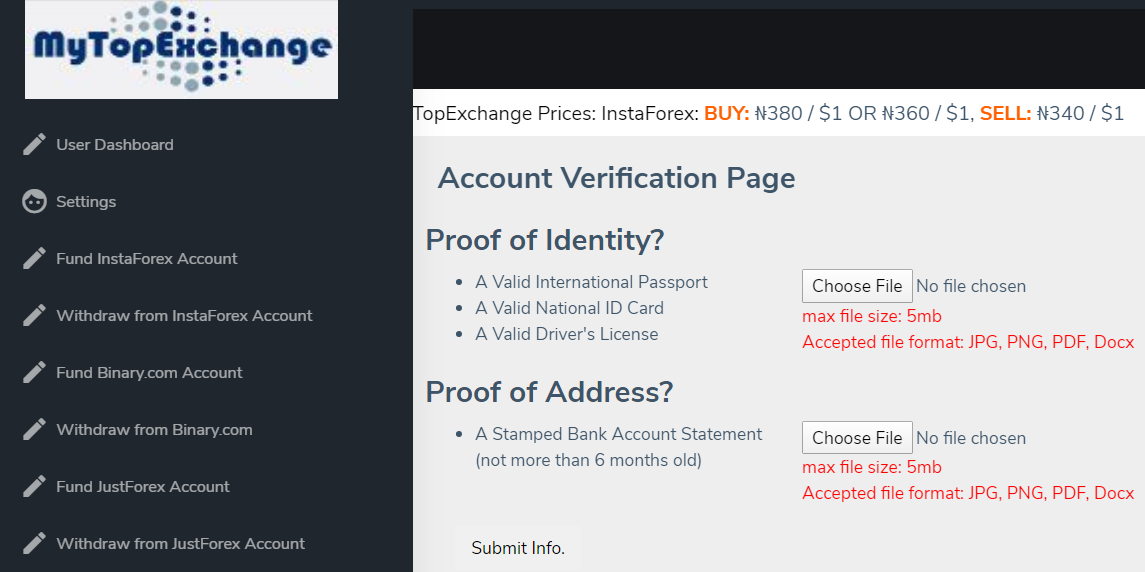 On successful verification, you are now free to explore the platform.
The price/rates of offered crypto and e-currency are displayed at the top of the trade.
All you have to do to buy/Sell is to click on the e-currency or cryptocurrency you wish to buy.
They accept payment ONLY via Bank transfers and Cash deposits.
After making payments to their company account, quickly proceed to fill the form on the same page.
Quite simple aye?
Let's move further and talk about the payment methods, shall we?…
---
Payment Methods
The payment methods on the exchange are as follows;
Bank Transfer
Cash Deposit
Presently it listed company bank account with the following Nigerian banks:
GTBank, Zenith Bank and Fidelity Bank.
Hopefully, they would add more banks in the future especially First Bank, Access Bank, and UBA.
Ok, those are the payment methods.
Now for the info on the transaction fees
---
Transaction Fees
The transaction fee on My Top Exchange varies from currency to currency and from time to time.
Take a look at the image below.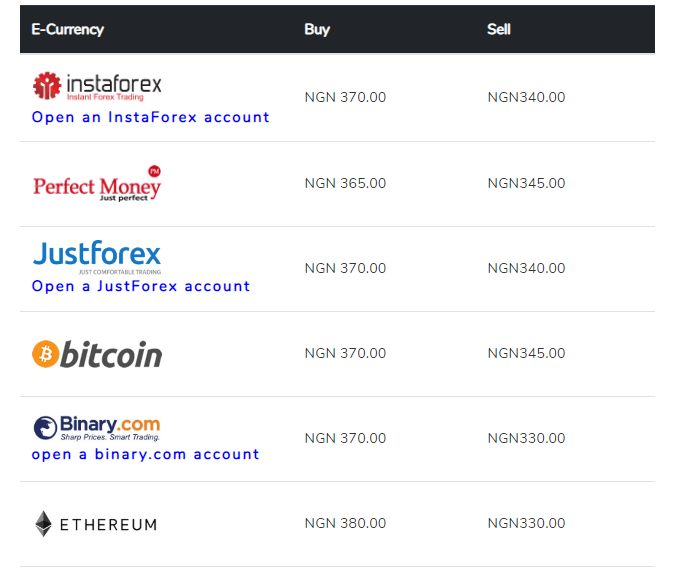 Perfect Money is Sold at 365/$ and bought at 345/$
Thus if the price of naira to a dollar is 360/$, it makes N5 for each perfect sold and N15 for each one bought.
Yup, now for Its customer support channels
Let's dive right into that.
---
Customer Support
The Exchange has a pretty great customer support I must say as the speed in which they reply is quite applaudable.
Its customer support channels include;
Whatsapp only: 09039962993, 08136851054
Tel No: 08144333114
Support Email: [email protected]
---
Conclusion
MyTopExchange is a Cryptocurrency and E-currency exchanger.
It specializes in the sale and purchase of Cryptocurrency and E-currency via Bank transfers or cash deposits (NGN).
Ok, now we've come to the end of our ride
I know it was indeed an insightful one aye?
So now I would love to hear your thoughts
Are you going to open an account with MyTopExchange?
or You already have?
Let me know by leaving me a comment below and don't forget to share.
Cheers!!