Today's review is on Hashshiny, a cloud mining platform.
Hashshiny offers its users the opportunity to mine bitcoin and 5 altcoins.
If you have interest in crypto mining, Hashshiny might just be the opportunity you have been looking for.
Read this post to the end to learn its features, mining plans, and more.
---
Post Summary
This review is grouped under the following subheadings:
A click on any item above will reveal its details.
Enjoy your read!
---
1. What is Hashshiny?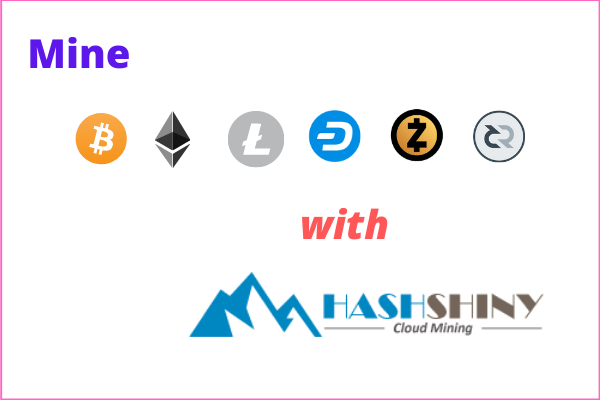 Hashshiny is a cloud mining platform that provides users the opportunity to make money from mining bitcoin and altcoins.
It was founded in 2017 but its website went live in 2018.
Following the information on their website, the founding team comprises individuals from top dotcom companies.
Hashshiny intends to reach the entire cryptocurrency industry chain in the future and serve global users with technology innovations.
As of 2nd December 2020, the company has data centers in Inner Mongolia and Sichuan, China.
It was also stated that there are 929,180 users of the platform during this period.
In the next section, you will find the features of Hashshiny.
Keep reading!
---
2. Features Of Hashshiny
Mining calculator
Pool allocation
Daily payouts
2FA security
Mining switch
Referral program
Hashrate graphs
Mobile App
---
3. Hashshiny Product and Services
Hashshiny offers the following services:
Mining Plans
Referral Program
Buy Bitcoin
Mining Plans
Hashshiny has 6 mining plans. Each one reflects a particular coin mined on the platform.
The coins are Bitcoin (BTC), Ethereum (ETH), Litecoin (LTC), Decred (DCR), Dash (DASH), and Zcash (ZEC).
Also, each mining plan is designed to last for 2 years. However, users receive daily payouts on their investments.
The mining process starts immediately after the purchase of any plan is confirmed.
Hashshiny uses the newest ASIC miner and GPU rigs to mine these coins.
For each plan, there is a specified mining power called hashrate.
This hash rate together with the current value of cryptocurrency determines the revenue generated daily.
Furthermore, Hashshiny charges a daily maintenance fee that is peculiar to each plan.
The difference between this maintenance fee and the revenue generated daily is what the user goes home with.
Therefore, there is no specific profit attached to any of the plans.
This table provides more details for each plan: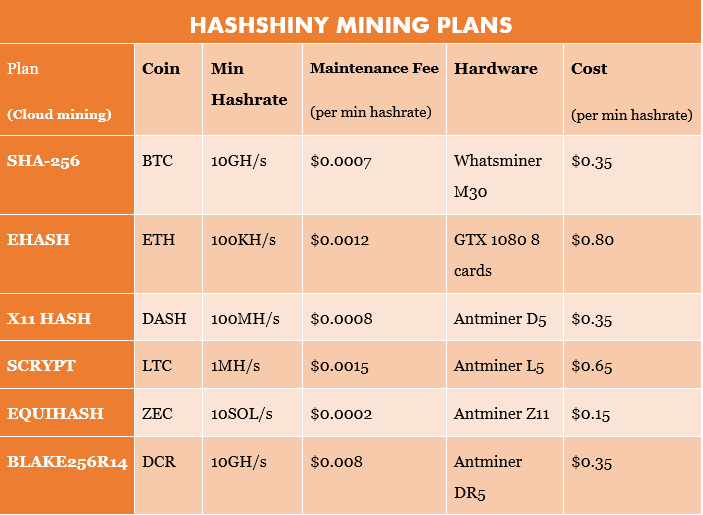 Note:
New users receive a bonus of 5TH/s SHA-256 BTC hashrate upon registration.
Users receive their first payout within 24hrs of purchasing a plan.
Subsequently, they will receive daily payouts based on their chosen plan.
Referral Program
After registration on Hashshiny, each user is given a unique referral link.
Using this referral link, they can invite their friends to join the platform.
Hashshiny pays users 10% commission from payments made by their referrals.
The referral link can easily be found on every user's dashboard.
Buy Bitcoin
Hashshiny also allows users to buy bitcoin using credit/debit card.
This service is accessed from a user's dashboard.
There is a button for 'buy bitcoin' on the left task bar.
Once you click on it, a form will appear on the right side.
Complete the fields to make payment and receive the bitcoin in your wallet.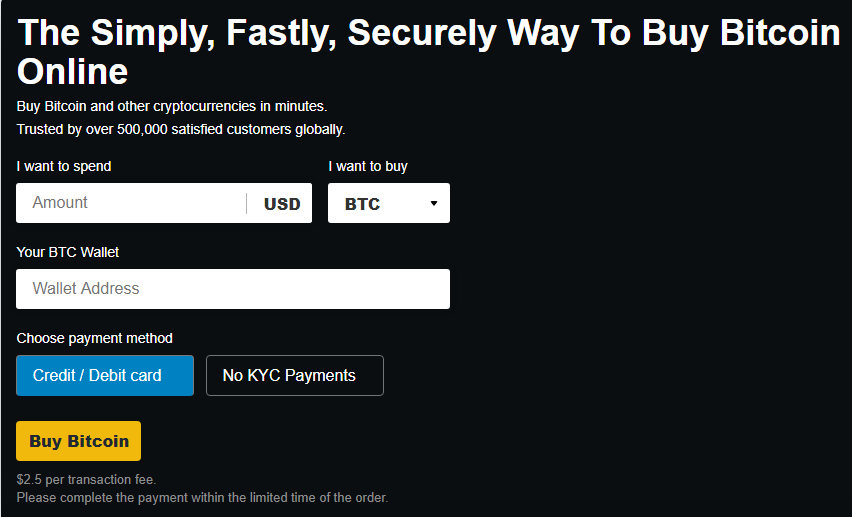 Note: Payment can only be made in USD
---
4. Payment Methods, Transaction Limits and Fees
Payment Methods
You can pay using any method that is convenient for you:
Credit card
PayPal
WebMoney
Dotpay
DOKU
Boleto
Alfamart
European bank transfer, etc.
Payment in these cryptos are also acceptable: BTC, ETH, LTC, USDC, and DAI.
Limits
The minimum hashrate for each mining plan is shown in the Hashshiny Mining Plans table in section 3.
There is no maximum hashrate. Users can pay as much as they can afford.
For 'buying bitcoin', the minimum worth of bitcoin you can buy is 30USD while the maximum is 500USD.
Then for withdrawal of funds, this is the minimum a user can withdraw for each coin:
BTC – 0.00015
ETH – 0.004
ZEC – 0.007
DCR – 0.025
DASH – 0.015
LTC – 0.05
There are no maximum limits for withdrawal.
Fees
The transaction fees (maintenance fees) for each mining plan are also listed in the table in section 3.
As for 'buying bitcoin', a transaction fee of $2.5 is charged.
Then for withdrawal of funds, these are the fees:
| | | | | | | |
| --- | --- | --- | --- | --- | --- | --- |
| | BTC | ETH | ZEC | DCR | DASH | LTC |
| Fees | 0.005 | 0.15 | 0.25 | 0.8 | 0.3 | 0.6 |
Now, let's see the steps you will take to mine cryptocurrencies on Hashshiny.
---
5. How To Mine Bitcoin and Altcoins On Hashshiny
The process for mining cryptocurrencies on Hashshiny is simple.
Listed below are the steps to follow:
i. Visit Hashshiny.io and click on 'Sign up'
ii. Complete the registration form and select 'register'
iii. You will receive a mail to confirm your registration.
iv. Once confirmed, you will be redirected to your dashboard on the Hashshiny website.
v. Now, from your dashboard, you can select the coin you wish to mine.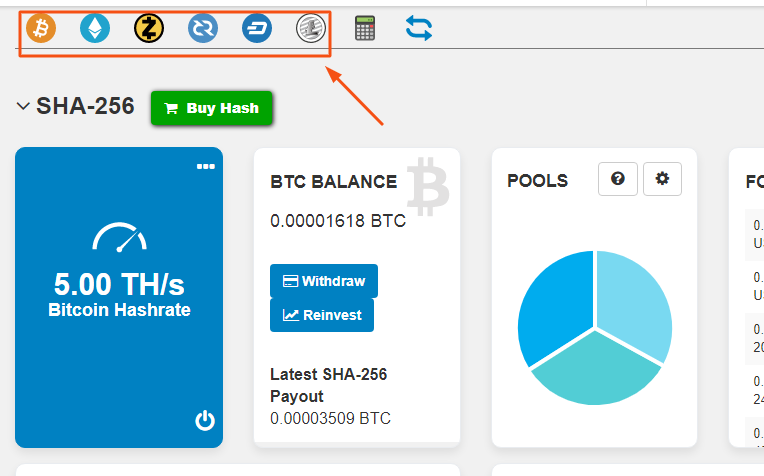 vi. Then click on 'buy hash' and select the amount of hashrate you wish to buy.
vii. Next, you will be shown the details of your intended purchase.
viii. You can then pay for the plan using your preferred payment method.
ix. Once your payment is confirmed, your mining commences and you will receive your payouts as and when due.
---
6. Support Channels and Public Opinion
Support Channels
On the home page, you will find handles for Facebook, Twitter, and LinkedIn but they only redirect back to the top of the page.
However, users can get responses to their queries via the support ticket.
I tried it and I received a reply in my mail box in a matter of minutes
My subsequent queries to that email address ([email protected]) received instant replies.
Public Opinion
On the Hashshiny website, I found about 1,597 positive reviews from users.
Then I checked the platform on TrustPilot, it had an 'average' rating with 31 reviews.
Not all the reviews were positive though. Have a look: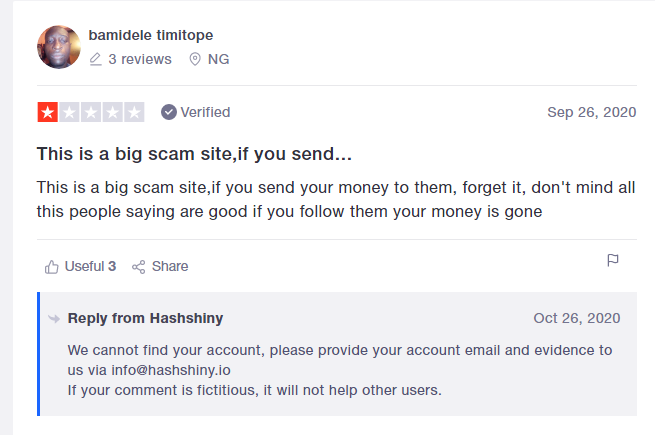 Also, WebOfTrust reported that the platform is safe though there were only two reviews on the site.
Then, FoxyRating tagged the platform 'promising' following 33 reviews.
Before we call it a wrap, let's view the answers to some questions about Hashshiny.
Tag along!
---
7. FAQs
1. Is Hashshiny safe?
Considering the fact that the positive reviews are more than the negative reviews, Hashshiny may be worth the try.

Secondly, the ratings on popular sites, as seen above, do not outrightly say that the platform is not safe.

Also, the registration dates on whois.com tally with what was stated on the platform's website.

All the same, do your research before you invest on the platform.
2. Can I mine more than one coin?
Yes, Hashshiny allows users to mine two or more coins simultaneously
3. How can I withdraw my earnings from Hashshiny?
– Select the 'withdraw' button from your dashboard
– Input the amount and click 'withdraw'
– Click on the link that will be sent to your mail to confirm the withdrawal
– The funds will then be sent to your crypto wallet
---
8. Conclusion
Hashshiny looks promising for individuals who wish to mine cryptos. If you choose to try it out, invest a sum that you can afford to lose.
This is where we'll draw the drapes on this review. I hope it has been worth your time.
Now, I'd love to hear from you:
What's your take on Hashshiny? Do you think users will make maximum profit?
Perhaps you are mining on the platform, what has been the experience?
Let's have your responses in the comments section right now!
Also, share this post with your friends, thank you!
---
Ps.
If you want to learn how to trade cryptocurrencies profitably, we developed a perfect course to help you master Cryptocurrency Trading.
Go to www.ctmastery.com to enroll.
---
Related articles: