For today's article, I will take you through HaggleX – a fairly new crypto platform that you need to start using.
HaggleX is a Blockchain-based company that wants to scale up the adoption of cryptocurrencies in Africa.
It is very secure and provides users with the right tools to manage their crypto assets.
If you are reading this post, be well assured that you have found the right platform to store and manage your cryptocurrencies.
Let's dive right into this review!
---
Post Summary
What I will cover;
Now, let's head straight to the main post!
---
What is HaggleX?
HaggleX was founded in January 2020 by a group of young Nigerian Crypto enthusiasts.
It is located in Nigeria at 101 Afolabi Olusegun, off Herbert Macaulay Drive, Yaba, Lagos.
HaggleX is a cryptocurrency and blockchain platform – It aims to be a one-stop-shop offering a wide variety of blockchain-related services to users.
With over 15 countries supported, Hagglex wants to bring its blockchain-based solution to boost widespread adoption of crypto assets, especially in Africa.
It has a beginner-friendly mobile app that allows users to interact with blockchain assets.
Hagglex intends to be the first platform based in Africa that will offer DeFi based services to users.
While it intends to do so, it currently (April 2021) enables users to seamlessly HODL and save their crypto-assets safely.
This platform has also launched its own cryptocurrency dubbed HAG token.
I will tell you all you need to know about HAG token right below!
---
HAG Token Explained
HAG is a BEP-20 token built on the Binance Smart Chain network.
It is the native token that will power all the activities performed on Hagglex.
Its functionalities include being used as a customer reward token and as gas to reduce fees on the platform.
HAG will also serve as the fuel to HaggleX DeFi lending and borrowing service in the future.
The token has a total supply of 10 million HAGs, and 1,000,000 HAGs are already in circulation.
However, these 1million HAGs were only released for "ICO" and "Project Development" of HaggleX.
The screenshot below shows how this 1million HAGs will be distributed;
The remaining HAGs from the ICO sales will be burned completely from circulation.
HaggleX has concluded this ICO on the 15th of April 2021 but information regarding the performance of the ICO was not revealed.
Furthermore, the HAG token currently has an inflation rate of 0.0016%.
However, it will undergo a series of burns each quarter until it attains an inflation rate of 1%.
Here is how the remaining 9,000,000 HAGs will be minted in the future;
The HAG coin has been listed on the following crypto exchanges;
As of April 2021, HAG is not yet supported on HaggleX. It is not also listed on Coinmarketcap.
This is probably because the coin has just concluded its ICO… I think that the full support of HAG on HaggleX and its listing on Coinmarketcap is but a matter of time.
Let's look at Hagglex roadmap below!
---
Hagglex Roadmap
Based on what we have on the roadmap, you can already see that this platform wants to go deep into the blockchain industry.
The roadmap showcases some of the cryptocurrency and blockchain products that are not yet being offered by any African based crypto/blockchain platform.
So far, the platform has followed this roadmap but not too squarely.
All the plans in the roadmap from Jan. 2020 to Mar. 2021 have been concluded.
However, as of April 2021, Hagglex is yet to launch "Product (v.2)" as was scheduled for April 2021.
If you will recall, the ICO was concluded on the 15th of April 2021 – this goes against what we have on the roadmap and might be the reason for the delay in the launch of "Product (v.2)".
If that is the reason for the delay, then we would be expecting the launch of "Product (v.2)" any time soon.
Swipe down to the next section, where I discussed the services offered on HaggleX!
---
Products and Services
Here are the 2 main services offered on HaggleX as of April 2021.
Wallet
HaggleX provides users with secure and easy to use custodial wallets to HODL their cryptocurrencies.
The wallets are provided only for the cryptos that the platform supports.
You can use this wallet to store, send and receive your crypto assets.
Each wallet has daily "3 free transfer" features that enable users to send crypto to another HaggleX user without fees.
Savings
This product gives users an opportunity to set up their own crypto "Piggy bank".
You can think of this "Savings" as your Savings Account in the traditional bank.
Either way, if you are conversant with Dollar Cost Averaging (DCA) and want to start applying it to your crypto investment, then this product will work perfectly fine for you.
There are 3 savings plans available (3 months, 6 months, 1 year).
You can start saving by selecting any of the plans that you will be able to keep up with.
Below is the table that shows the APY that you will be rewarded with for each coin you save on this platform.
The APY here, I must say, is very high compared to what any traditional bank can offer you.
Note: HaggleX is yet to integrate this APY (as of April 2021). However, they promise to launch it soon.
Below, I will show you how to start saving your crypto assets on HaggleX;
Download HaggleX on your mobile phone (Google Play, Appstore)
From the list of the menu on the bottom side of your HaggleX app; click on the "Crypto Savings" tab
Choose which digital assets you want to save and click on "Start Saving"
Give a name to your savings plan, write a short description and click on "Next". (Here I will use BTC as an example)
Select the savings plan you want to go for and click on "Submit"
Click on the proceed button and you're good to go.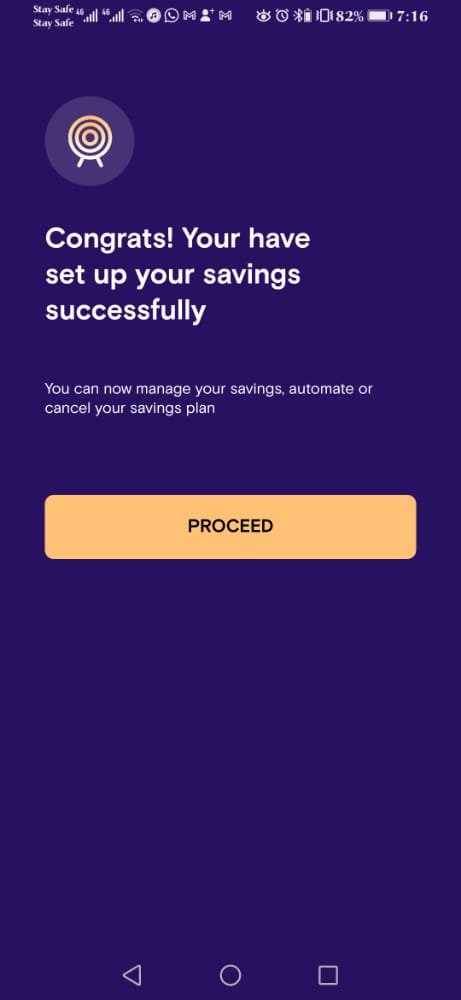 HaggleX plans to integrate the following services in future;
Peer-to-peer Exchange
OTC
Staking
DApps
Utility Payment
Still here? Alright, let's check out the next section!
---
Supported Cryptos and Countries
Supported Cryptos;
5 cryptocurrencies are currently supported.
Bitcoin
Dogecoin
Litecoin
Bitcoin Cash
Haggle
Supported Countries
HaggleX supports the following continents and coutries below;
Nigeria
Kenya
Ghana
South Africa
The Gambia
Norway
Turkey
Cyprus
Botswana
Indonesia
Tanzania
Afghanistan
Australia
Uganda
Philippines
Malawi
Zimbabwe
United Arab Emirate
Heads up!
You can participate in the ongoing Hagglex "Savings Promo" to win an iPhone 12 Pro Max.
The offer lasts up until June1st, 2021, and is open to all supported countries.
Raffle draw will take place in a virtual raffle party, streamed from Dubai.
You can become a lucky winner by following these steps;
Download the HaggleX app for free
Create and verify your account
Save at least $50 worth of Bitcoin, Bitcoin Cash, Dash, Dogecoin, or Litecoin.
Below, you will find the fees on HaggleX… Read on!
---
Fees on HaggleX
There are two notable fees charged on HaggleX;
Internal Transfer Fee
External Transfer Fee
Internal Transfer Fee
Hagglex charges $1 for every internal transfer performed more than three (3) times a day.
This fee is charged when you send your crypto from your HaggleX wallet to another HaggleX wallet.
External Transfer fee
There is no specified fee for this transfer. HaggleX calculates this fee together with your network fee.
Note that you will find this fee displayed on your screen whenever you want to send crypto from your HaggleX wallet to a non-HaggleX wallet.
This is all I have for the fees. Scroll down!
---
Payment Method|Limits|Verification Requirements
Payment method
Limits
There is no maximum and minimum amount of crypto that you can deposit or withdraw on HaggleX.
You can deposit or withdraw any amount, so long as the balance covers the transaction fees.
However, there is a limit on transactions for unverified users.
Get the break down in the table below;
Verified Users

(Deposit/ Withdrawal)
Min: (none)
Max: (none)

Unverified Users

Min: (none)
Max: $5000
Verification Requirements
Personal Details
Any government Issued ID (National ID, Driver's Licence)
Selfie of yourself.
Next, we will look at how to contact the team at HaggleX in the next sub-heading.
---
Customer Support and Public Opinion
You can contact HaggleX through these following channels;
Live Chat: available 24/7
Telegram: https://t.me/HaggleX
Facebook: https://www.facebook.com/hagglex
Email: [email protected]
Twitter: https://twitter.com/hagglexintl
The customer support on HaggleX is impressive – I personally found the "Live Chat" support very responsive, as my questions were attended to within a short time.
A lot of users have given a good review of the HaggleX mobile app. The app also has a 4.5-star rating on Google Play.
This shows that this company is doing a great job.
I will give my answers to the most important questions that you might want to ask about HaggleX.
See below!
---
FAQs
1. Why has my withdrawal failed to process?
This would happen because of these two reasons;
1. Your network connection might probably be offline
2. The amount that you want to withdraw might have been insufficient to cover the fees.
2. Is HaggleX safe?
HaggleX is currently being used by a good number of users across the world. These users have found it simple, safe, and secure to use.
Moreover, we are familiar with one of the team members of this company – Samuel Joseph.
Samuel Joseph has been recognized by Nigeriabitcoincommunity.com as one of the Top Crypto influencers in Nigeria. He has also served as an ambassador for EOS in Africa.
Furthermore, a look at Namecheap reveals that this company has a registered domain.
HaggleX has also been implementing what they have on their roadmap as well.
That said, I can only vet for the legitimacy of HaggleX with these few points that I have mentioned. Endeavour to DYOR before investing.
---
Ps: If you want to learn how to trade cryptocurrencies profitably, we developed a perfect course to help you master Cryptocurrency Trading.
Go to www.ctmastery.com to enrol.
---
Conclusion
If you are looking for a beginner-friendly wallet for your crypto investment plans – then, HaggleX should be on your list.
This is where I will call it an end for this review.
However, I hope to hear your review too.
So, you can tell me,
What do you think about HaggleX?
Do you think that the HAG token is a step-up for the platform?
What other cryptocurrencies would you like to see on HaggleX?
I will be right there in the comment box waiting for your replies.
And, hey! do not forget to share this article on your favourite social media.
---
Read more interesting posts;