eToro is apparently one of the top 5 fintech start-ups you should look out for.
In this comprehensive eToro review, I would be talking about everything you need to know before trading on this world-class social trading network.
So switch off that television, drop that remote, and let me have your attention as I take you on this intuitive ride.
Enjoy.
---
Disclaimer
This article is only a review and should not be taken as a financial or investment advice. As much as eToro is a good platform to make  money, it should also be noted that you could also loose all your money if you don't know what you are doing. Nigeriabitcoincommunity would not be responsible for any kind of loss incurred as a result of using this article as a financial or investment advice
---
Features
Tight spread.
Minimum deposit ranging from $200 – $1000.
Multiple options for deposit and withdrawals.
No deposit fees.
Commission free trades.
$100,000 free practice account.
Copy stop loss.
Default leverage of 1:100.
Availability of numerous investment and trading options.
Islamic account [minimum deposit of $1000].
Intuitive and interactive interface.
Largest online financial trading community.
Reputable and trusted company.
Highly Regulated both in Cyprus and the UK.
Compliant with MiFiD.
Bi-lingual customer support.
Security of funds.
verification of users.
---
eToro Review
Though eToro is a key player in the world of cryptocurrency trading, the company is much more than this.
The company was founded in 2007 by two brothers, Ronen and Yoni Assia, and partner, David Ring.
The brokerage was founded with the vision of a popular financial trading and investment platform suitable for everyone.
The company began as a general trading platform but has added cryptocurrency and other trading instruments to keep up with changing markets and growing demands.
eToro has grown significantly since its founding and is currently ranked among top social trading networks, as well as an online forex broker.
Currently, there are over 6 million users registered on the platform from over 140 countries and attracting thousands of new accounts daily, clinching its position as one of the world's premier social investment networks.
As far as oversight/regulation is concerned, eToro [Europe] Ltd. Is based in Limassol, Cyprus. It is a registered Cypriot Investment Firm, registered under the number HE200585. The company is regulated by the Cyprus Securities and Exchange Commission or CySEC under licence number 109/10.
In the United Kingdom, eToro [UK] Ltd. Is headquartered in London and is a registered UK firm under registration number 7973792. eToro UK is authorized and regulated by the Financial Conduct Authority under the firm reference number 583263. Both eToro [Europe] Ltd. and eToro [UK] Ltd. comply and operate under the Markets in Financial instruments Directive or MiFiD.
---
What is the History of eToro?
eToro started back in 2007, before the existence of cryptocurrency. As stated above, it all started with three entrepreneurs who wanted to make trading more accessible, no matter where or who you are.
At the same time, they wanted to reduce dependency on banks and other traditional financial institutions. The company started off as an online trading platform with graphs representing financial instruments.
In 2009, eToro launched the trading platform, WebTrader, with a range of professional tools for traders of all skill levels.
Another big step forward came in 2010 with the launch of OpenBook, the first social trading platform in the world. This included the then-new CopyTrader feature, which lets anyone copy successful traders.
The eToro mobile trading app launched in 2012 for both Android and Apple, thus expanding the reach of the platform. This was also when the company dived into crypto, trading Bitcoin via CFDs.
In 2013, eToro went on to add stocks to its other assets, like currencies and commodities.
Come 2015, the platform updated the interface for an even more innovative and intuitive experience.
In 2016, it added CopyFunds, which are managed portfolios that bundles various assets or top traders within a market strategy. Machine-learning engines usually drive these to maximum returns.
Then, in February 2017, eToro expanded its width in the world of cryptocurrency by adding support for trading crypto.
It began with popular cryptocurrencies, including Ethereum, Litecoin, Ripple, and other popular cryptocurrencies.
---
Ease of Use
eToro is generally very easy to use. It was designed to be intuitive, so those without trading experience could get the information they need and make trades.
You can use the platform on PCs, Macs, Android, or iOS devices taking advantage of its intuitive functionality.
It is always readily displaying information about cryptocurrencies and other assets via graphs and more. A quick overview of the BackOffice is shown below;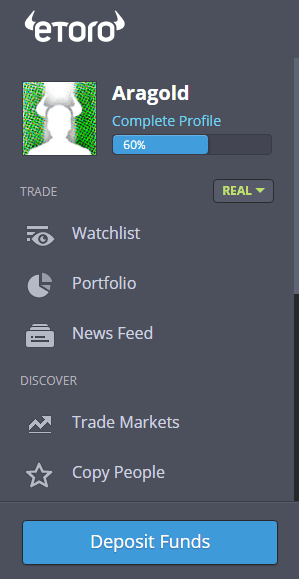 Watchlists; this is your persona trading dashboard. Assets that you are interested in trading can be selected from this list.
Portfolio; this shows your investments in a simple and concise manner. The markets you are trading and people you are copying.
Profile; here, you can update your profile, view your news feeds, your portfolio stats and market charts.
News feeds; This is where you can get updates such as news and events. Here, you can also join discussions about markets you are trading and people you are copying.
Trade markets; This shows all available markets ranging from crypto to currencies, stocks, indices down to commodities and ETFs.
Copy people; Here, you can browse through profiles of top traders that you can copy trades from.
Invest in CopyFunds; This is the section where you can choose which bundle of CopyFunds to invest in.
Refer a friend; This takes you to the eToro referral program.
Help; this takes you the support and knowledge base of the eToro trading platform.
Deposit and withdraw funds.
Settings and Log out.
---
What are the Requirements for Registration?
To open an account on eToro is a very simple process. You are only required to provide your full name, desired username, email, password and your mobile number for verification.
However, because eToro is highly regulated, to complete your profile, every user must answer a few questions to confirm how much trading experience you have. So, I advise that you just set aside 7 – 10 minutes to complete your profile.
Also, every user needs to be verified. To do this, you will probably be asked for the following, so it would be good to have them handy.
A scanned colour copy of your passport, driving license or national ID card.
A utility bill or bank statement from the past three months showing your address.
---
Accepted Countries on eToro
Due to its intuitive design and functionality, anyone at all can use eToro, as long as it is legal to do so in their country.
The company keeps an updated list of countries where the platform is blocked due to changes that conflict trading laws. This means that currently those in the US, Canada, Cuba, Japan, North Korea, Iran, Syria, Turkey, Serbia, Albania, and Sudan cannot legally use the eToro social trading platform.
---
Minimum Trade Size
eToro prides itself on offering investment tools that investors and traders of all experience levels can take advantage of.
Even so, you must have $200 minimum to participate in CopyTrading and $5000 for CopyFunds.
For currencies [such as cryptocurrencies], and commodities, it was just $25. For stocks, it was $50 and for ETFs and indices, it was $200(as at the time of this post).
However, currently, the company has implemented a responsible exposure-related trading strategy.
For those who registered on April 2, 2017, or after, minimum trades depends on exposure.
This is calculated in the form of the leverage times investment amount. For cryptocurrencies, this total minimum amount is $200.
For ETFs and stocks, the minimum is $500, for commodities, it is $2500 while for indices and forex is $5000.
---
Safety, Security, and Privacy
As stated earlier, eToro is regulated by CySEC and FCA which guarantees credibility in the European Union and the United Kingdom.
In addition to this, eToro provides risk management features and takes precautions to ensure the funds of clients are safe. The company ensures that traditional funds are safely kept in European banks of tier 1.
As far as security and privacy goes, eToro makes sure that all clients' information is secured. The platform makes use of Secured Socket Layer or SSL technology for the authentication of users and data transfers.
With all that in mind, you should remember that there are no regulations on cryptocurrencies.
Because of this, if you engage in cryptocurrency trading or crypto-related investment, there is no insurance from the investor compensation schemes within the UK or Cyprus.
Despite this, eToro takes pride in working to resolve such issues as seamlessly as possible.
---
Trading Instruments
There are about 1000 instruments on the eToro social trading Platform which are categorized into;
Commodities – 6
Cryptocurrencies – 14
Currencies – 47
ETFs – over 150
Indices – 13
Stocks – over 700
---
How to Make Money on the eToro Platform?
There are 4 ways to earn money on eToro;
Trading
Copy People
CopyFunds
Affiliate and Referral program
Trading
Trading on eToro is extremely easy because of it intuitive and interactive design and functionality. This allows even a newbie to trade easily. To trade;
Click "Watchlists" tab on the dashboard to view all available markets to trade.
Selecting a market instrument shows further details like price, performance, graph and also the community opinion about the instrument. If you are satisfied, click trade.
Enter the amount, stop loss and take profits positions, then click trade.
Copying People
eToro has made it easy to make money off the trades of Pro Traders by copying trades with just a few clicks.
When you copy a trader, any trade he makes is automatically copied by you. This is copied to the amount you set in as much as you have the fund available in your account.
Your copied trade is automatically closed when the trader closes his trade. However, you can manually close a copied trade.
To copy a trade;
Click on the "copy people" tab on the dashboard to view the available traders to copy. You can choose between "editor's choice" or "top investors" to view more traders. You can also search by with name, interested markets, gains etc.
Clicking on the trader you would like to copy shows more details including past records. This allows for a better investment decision. If you are satisfied, click copy.
Then set the amount, take profit and stop loss, then clock copy.
CopyFunds
These are a pool of instruments which are guided by a chosen market strategy.
Here, it is like investing in crypto, stocks, commodities, indices, etc. all in one single investment.
To do this;
Click on the "invest in CopyFunds" tab on the dashboard.
Then you can choose amongst;
Top trader CopyFunds
Market CopyFunds
Partner CopyFunds
(Selecting any CopyFunds bundle you desire shows details of the bundle such as its allocation, performance, chart and stats. If you are satisfied, click invest).
Enter an amount and other desired parameters and click invest.
Referral and Affiliate Program
eToro operates both a referral program and affiliate system. The referral program is kind of short-term and rewards users with $100 upon each referral.
In the referral program, your friend also receives $100 upon their first deposit of $200. The thing is each user is limited to a maximum of 10 friends. This implies that every user's earning in the referral program is capped at $1000.
Check the etoro refer a friend for more info.
Their affiliate system, on the other hand, is not limited to any number of users and is therefore not capped at any amount. check etoro partners for more info.
---
Transaction Fees
As an exchange, eToro makes its profits from the various transaction fees it charges.
On eToro, no fees are charged when opening a position. Transaction fees are based on the spreads.
It has a list of minimum spreads for each cryptocurrency which varies based on liquidity and market conditions. The breakdown of daily break spreads is as follows;
General fees
eToro does charge inactivity fees.
withdrawal fees vary depending on payment methods.
the company charges $25 withdrawal fee.
Overnight fees and Swap fees
The rollover fee for long positions on EUR/USD is -$6.00.
The rollover fee for short positions on EUR/USD is – $0.
Commissions
eToro does not charge commissions on CFD shares.
---
Deposit and Withdrawals
eToro only allows trading in U.S Dollars, any deposit made is therefore converted upon receipt.
The minimum deposit to open a live trading account ranges from $200 to $1000, depending on a customer's regional regulations.
For the client's convenience, deposits can be made through Visa, MasterCard, and Diners Club credit and debit cards, by wire transfer and via Wirecard, Yandex, Neteller, Skrill, Limited UK, China Union Pay, and Webmoney UK.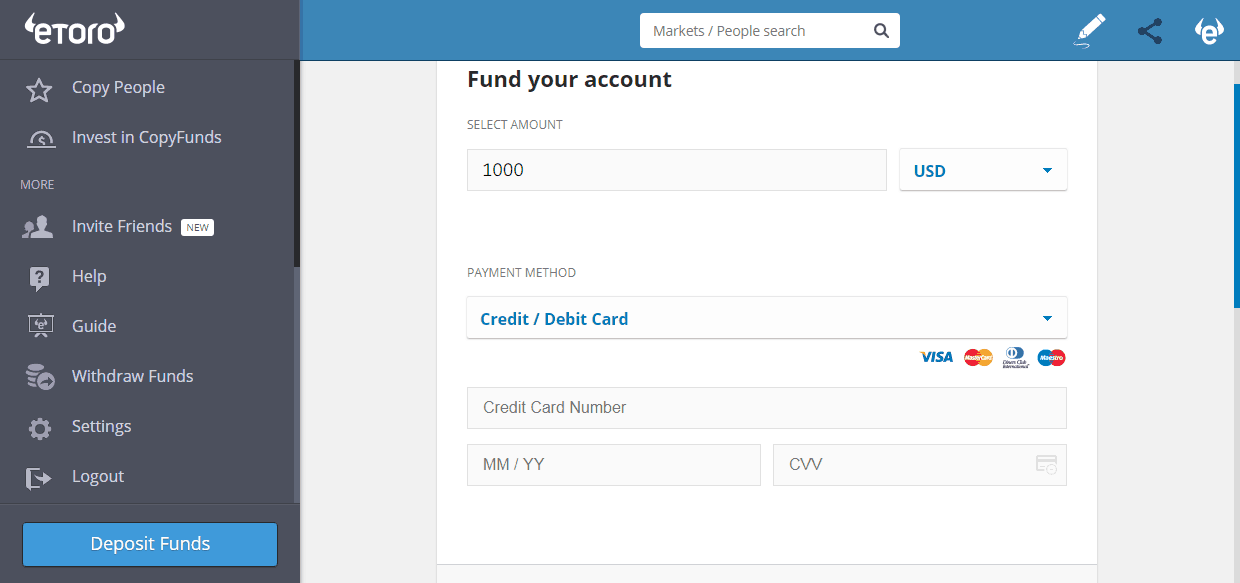 For withdrawals, the user must fill a withdrawal form in the cashier section of the site, by clicking the "withdrawal" tab.
The amount is entered in the form and eToro will then notify the client via mail of the withdrawal process.
Similarly, funds can be withdrawn via credit card, PayPal, or bank transfer, in that order of priority.
For first time withdrawals, clients must submit a clear colour copy of their passport including their written signature, as well as a utility bill not older than three months showing your residence address. Also, if the account was funded originally via credit card, a clear copy of both sides of the card must be submitted.
Withdrawals take up to five days to process and maybe delayed even further due to third party withdrawal payment methods.
---
Clients Support
eToro's customer support is available 24/5 Monday through Friday via phone and email.
They are available in English, German, Spanish, French, and Italian with the email having a 48 hour response time.
They also have a "customer service wall", where customers can interact with customer service in a forum format.
Most service queries are handled by referring customers to online guides and eToro's knowledge base.
However, if you wish to speak to a representative, all you need do is open a ticket, and the representative contacts the customer as soon as possible.
My Conclusion
It is no doubt that eToro is at the forefront of social investing and online broking for traders who value such networking activities.
Although eToro focuses on more than just cryptocurrency trading, it is a useful platform for those who invest in crypto. With the newly integrated eToro trading and social investment platform, as well as their mobile apps, eToro offers traders an excellent opportunity in this field. The company also offers a Trading Academy, a Blog, a Trading Course, and Live webinars to educate novice traders.
Also, the platform is highly intuitive, something that will appeal to everyone.
Apart from the above, eToro offers a seemingly unbeatable social investing platform for those who want to trade in popular cryptocurrencies or those who need a single platform to cater to their crypto and fiat trading needs.
---
My Opinions and Suggestions
Though eToro amazes me with its unique features which include the CopyFunds feature, its intuitive design and the size of its social investment network.
For a crypto enthusiast that I am, the lack of support for less popular cryptocurrencies and the absence of crypto deposit and withdrawal options are quite disappointing.
Another major drawback is the rather long 5-day withdrawal period.
If eToro not quite right for you because of these cons, then you should consider 1broker. Here, you can deposit and withdraw in Bitcoins. Withdrawals are processed within 24 hours.
I hope my 'etoro review' was detailed enough?
If it was, please use the social media icons below to share.
Thank you.