Today's review is on eToro, a social trading platform designed to grant everyone, everywhere access to financial markets.
For more than 10 years now, this platform had been making waves in the Global Fintech Revolution.
eToro have a wide range of investment tools and millions of people are already using the platform.
May be you too will join after reading this post (LOL).
Are you ready to see how eToro does its magic? Then, let's get to business!
---
Post Summary
This review is grouped under the following subheadings:
A click on any item above will reveal its details.
Enjoy your read!
---
1. eToro Overview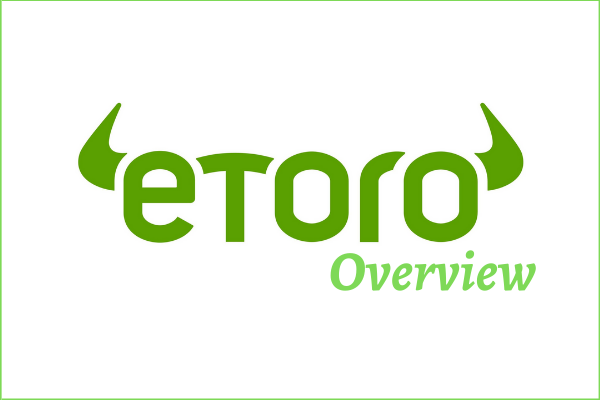 eToro is a trading platform founded by Yoni Assia, Ronen Assia, and David Ring in 2007.
Their goal was to make trading accessible to everyone, everywhere.
It has registered offices in Cyprus, Israel, U.K, U.S, and Australia.
Impressively, eToro develops its platform regularly in response to advancements in the FinTech revolution in order to accord users a more rewarding experience.
For example, when eToro started, it was only focused on foreign exchange trading.
But today, it can boast of CopyTrading, stocks, CFDs, and cryptocurrency trading. Superb, huh?
Next, I'll show you the features of this platform.
Keep reading!
---
2. Features Of eToro
Trading
Markets
Investing
Education
Multi-languages support
Copy Trading
Mobile App
Wallet
Affiliate program
Moving on, I'll throw light on the products and services of eToro.
Keep reading!
---
3. eToro's Products & Services
Services offered on this platform include:
Copy Trading
Stocks Trading
Commodities Trading
a. Copy Trading
This service enables users to view what real traders are doing in real time and copy their trading automatically.
How it works?
Choose the trader that you'd like to copy
Input the amount you want to allocate and click COPY.
That's it. You will automatically duplicate their positions in real time and direct proportion.
For further guide, click here.
b. Cryptocurrency Trading
Users can also trade cryptos on eToro.
How it works?
Go to the crypto trading market and select the trading pair you want. Or
Trade CFDs based on the underlying cryptocurrency price (more on that later).
c. CFDs Trading
CFDs stands for Contract For Difference.
Here, users can trade and invest in an asset by engaging in a contract between themselves and a broker, instead of acquiring the asset directly.
How it works?
Choose an asset offered as a CFD by the broker.
Open the position and set parameters like whether it's a long or short position.
Define the contract and agree on the opening price.
When the position closes, settle the profits and losses based on the contract.
Click here for further guide.
d. Commodities Trading
There are also different commodities that users can trade on eToro including stocks, ETFs, cryptos, indices, currencies, etc.
Learn more here.
e. Investing
eToro also provides different investment options that users can benefit from. They include:
Stocks and ETFs – users purchase and trade different stocks of their choice.
CopyPortfolio – users pay for any portfolio that suits their trading strategy and have it allocated to them.
Popular Investor – investors earn when they are copied by other clients on the platform.
Moving on, we'll see the countries and currencies supported on eToro.
Keep reading!
---
4. Supported Countries & Currencies
Countries
All
Currencies
Fiat
EUR, USD, GBP, NZD, CAD, JPY, etc.
Crypto
BTC, ETH, BCH, XLM, NEO, BNB, LTC, etc.
Commodities
Oil, gold, silver, copper, platinum, sugar, etc.
Stocks
IBM, HPQ, AXP, JPM, CSCO, etc.
ETFs (Exchange Traded Funds)
AAXj, ACWI, AGG, AMLP, etc.
Indices
AUS200, China50, Dj30, ESP35, etc.
Still here? Good!
We'll now see the payment methods acceptable on this platform.
Tag along!
---
5. Payment Methods & Transaction Fees
Payment methods
Bank transfer
Credit/Debit card
PayPal
Wire Transfer
Skrill
Neteller
WebMoney
Yandex
MasterCard
Visa
UnionPay
Transaction Fees
The table below shows the summary of the fees charged by eToro
For the charges on cryptocurrency trading, here's an overview:
Then for cryptocurrency transfers, check this out:
---
6. Transaction Limits & Verification Requirements
Transaction limits
The limit varies for each transaction. Find more details in the tables below:
| | | |
| --- | --- | --- |
| Transaction | Min | Max |
| Deposit (for US users) | $50 | $10, 000/day |
| Withdrawal | $30 | N/A |
| Copy Trading | $200 | N/A |
| CopyPortfolios | $5,000 | N/A |
| Stocks | $50 | N/A |
| Cryptocurrency Trading | $25 | N/A |
| ETFs & Indices | $200 | N/A |
Cryptocurrency Transfers
Asset
Min/transaction
(units)
Max/transaction
(units)
Max/day
(units)
BTC
0.008
2
10
BCH
0.18
50
250
LTC
0.68
200
1,000
ETH
0.26
70
350
XLM
5.34
N/A
N/A
XRP
25
22,500
112,500
Verification Requirements
Because eToro is regulated, users are required to verify their accounts before they can commence transactions on the platform.
They will need to upload:
Proof of Identity e.g. passport, government-issued ID, driving license.
Selfie with their ID document in hand.
Proof of address e.g. bank statement, utility bill, tax bill.
After uploading the items above, they will fill a financial questionnaire to prove that they are eligible for investing.
---
7. Customer Support & Public Opinion
eToro provides a 'Help Section' where users can find answers to their query.
Also, users can reach the admins through any of these channels:
Email – [email protected]
Twitter – https://www.twitter.com/etoro
LinkedIn – https://www.linkedin.com/company/167277?trk=tyah
Facebook – https://www.etoro.com/investing/copyportfolios/
Queries sent to the email address receive feedback in about 3 days.
I checked eToro on TrustPilot and it had a poor rating with 2,847 reviews.
Obviously, the negative reviews overwhelm the positive ones.
These negative reviews were majorly centered on users' inability to access their funds.
eToro team responded to some of the reviews, promising solution on the platform.
Then on WebOfTrust, eToro has a 3star rating with 83 reviews (mainly negative). eToro is tagged suspicious on this site.
The reviews here were also based on inaccessibility of funds but there were no replies from the eToro team.
I also checked eToro on SCAMADVISER and the trustscore was 0%.
The number of negative reviews are high, which is discouraging.
Next, I will show you the steps to take to earn from eToro.
Read on!
---
8. How To Earn From eToro
Follow these steps to earn from eToro:
a. Visit etoro.com and click on 'Join Now' on the home page
b. Fill in the fields provided to create your account.
c. You'll then be reverted to your dashboard
d. Now, click on 'Complete Profile' to upload your documents and verify your account.
It takes about 3 business days for your account to be verified.
e. After your account is verified, you can then select the service that interests you most on the platform and start earning!
Enjoy!
We're almost done here but before we go, let's answer some frequently asked questions.
Tag along!
---
9. FAQs
1. Is eToro safe?

The negative reviews on eToro notwithstanding, I have reasons to believe that eToro is a safe platform.
They are:
– The founders are known.
– It is regulated by recognized financial bodies like FCA, CIF, and CySEC, etc.
– The platform has physical offices.
– There is a demo account with virtual funds worth $100, 000 that users can test run before investing their money.
– As a social trading platform, there is a community of traders of different levels of expertise and so, users can learn from each other.

Nevertheless, this is just my opinion, DYOR before investing your money.
2. What is the procedure for withdrawal and how long does it take?

When you wish to withdraw, simply go to your dashboard and select 'withdraw funds'.
You will provide a copy of your signature, color passport copy, and proof of address.
It takes about 3 business days for withdrawal requests to be approved.
---
Ps.
If you want to learn how to trade cryptocurrencies profitably, then enroll in our Cryptocurrency Mastery Course by going to www.ctmastery.com. You can also join our Telegram community at https://t.me/ctmastery.
---
Conclusion
eToro is a social trading platform with various opportunities for both young and experienced traders to make profits.
Though the platform is regulated by financial authorities, the negative reviews online are alarming.
We have now come to the end of our discussion on eToro. So tell me:
Will you invest in this platform?
Already a user? What has been your experience?
Let's hear your thoughts in the comments section right now.
Also, share this post with your friends, thanks!
---
Don't miss: