PrimeXBT Covesting is a new addition to PrimeXBT products. It is designed to help Traders and Investors increase their earning potential.
Professional traders already making profit can share trades for others to copy and earn a percentage of the profit he makes for others.
Newcomers/Investors can copy (follow) Pro traders automatically and earn consistent profit without doing the trades themselves.
In this post, I am going to show you how it all works and how you can increase your income on PrimeXBT today.
Let's get to it at once.
---
Post Summary
Below are the subheadings that will steer the wheel of discussion today:
Just click on any of the subheadings to view its complete content.
Happy reading!
---
Who is PrimeXBT?
Prime XBT is a Bitcoin-based trading platform that offers leveraged trading of several digital assets.
Since its inception in 2018, it has grown exponentially with an average daily volume of up to $545,000,000.
On this exchange, you can trade Cryptocurrencies, Stock Indexes, Commodities, and Forex.
You can also boost your profits with the power of 100X leverage trading.
Its services include PrimeXBT trade, Turbo trade, different order types, and the latest one – covesting module.
For this latest service, PrimeXBT partnered with a reputable company, Covesting to launch it.
Covesting is a fully licensed distributed ledger technology services provider. It develops innovative trading tools to serve both retail and institutional customers.
I will not be delving deep into PrimeXBT and what it does as I discussed that exhaustively in the PrimeXBT complete review.
Let's go on now to learn more about what PrimeXBT's Covesting is all about.
---
What is PrimeXBT Covesting Module?
The Covesting Module is the latest service that PrimeXBT, a renowned exchange provides.
It is all about copy trading which involves following the trade moves of another trader.
Its beta version was launched in April 2020 through which the exchange got valuable feedback.
After fine-tuning and putting finishing touches on the module, it was fully launched on the 17th of August 2020.
Covesting allows experienced traders to set up and manage a Strategy (a pool of their own assets).
This strategy is made visible to the public and can be followed by others(new investors, other traders, etc).
This provides an excellent opportunity for both experienced successful traders and followers to greatly boost each other's profit potential.
The person who creates a Strategy is known as a Strategy Manager, while those that follow a Strategy are called Followers.
I explained in detail how these 2 sets of persons earn in the subheadings below.
Let's go see that.
---
How Does a Strategy Manager Make More Money Using Covesting?
A Strategy Manager is an experienced trader who. having recorded much success with trades, shares the strategy that brought about such success.
Creating a Strategy allows you to receive 20% of the profits made by your Followers.
Once created, a Strategy becomes visible to the public and available for following.
The Strategy Manager controls the trading activity of the Strategy they are managing.
I will explain further with this illustration:
Tega is a renowned trader who makes at least 10% profit from most of his trades.
After trading for some time, Tega decides to share his trading strategy.
He goes on to the PrimeXBT Covesting module and creates one that he called T-Smart Strategy.
In a week's time, Tega has about 5 persons following his strategy.
Each of his followers has an initial amount of 0.5 BTC.
At a 10% profit rate, each follower is getting an extra 0.05BTC from each successful trade.
Since Tega gets 20% of this profit, he gets 0.01 BTC from each of his followers.
This means he will be getting a total of 0.05 BTC from all his followers for each successful trade.
Now you remember he still trades with his own funds. Let's say his own initial capital is 0.8 BTC and he makes a 10% gain which is 0.08 BTC.
So Tega's total earning after each successful trade is 0.08 BTC(personal profit) + 0.05 BTC(from Followers).
That is a total of 0.13 BTC per trade!
The more persons that follow Tega's strategy, the more money he makes.
Let's see how it works out for a follower.
---
How Does a Follower Make More Money Using Covesting?
A Follower is one who follows the strategy created by a trader.
Now a Follower may be someone who does not have time or even know how to trade.
PrimeXBT is saying that you don't need to worry your pretty head anymore.
Just sign up and visit the Covesting module.
There, you will find a range of traders who have created strategies that you can choose from.
Go through the strategies checking out these details:
total profit
today's profit
active days
performance
followers equity
When you come across one that tickles your fancy, you will go ahead and follow it.
Once you have done that, your account follows whatever trade the strategy is executing.
This way, you don't even need to be present for the trade to go on.
You also have the right to stop following a strategy .
But you know the best part?
PrimeXBT allows you to follow as many strategies as possible!
This way, you get returns from the various strategies that you follow.
The profit from each trade is shared among you, the platform, and the Strategy Manager. Don't worry, you are getting the lion share.
Note also that profit is distributed based on the size of a Follower's initial amount.
The table below has the sharing formula.
Let me further explain what I mean with this illustration.
Baridy, a busy bee, wants to get into crypto trading. So he signs up with PrimeXBT and goes to the Covesting module.
From the list of available strategies, he selects a strategy(let's say he picked Tega's T-Smart strategy).
He makes his initial deposit( say 0.4 BTC) and follows it.
So while Baridy is at the office working, Tega places a trade and of course, Baridy's Covesting account follows suit.
The trade was executed and a 10% profit was made i.e 0.04 BTC.
So in this 0.04 BTC, Baridy is will do the following(based on what is stated in the offer table according to his initial amount):
pays Tega 20% i.e 0.008 BTC
pays PrimeXBT 15% i.e 0.006 BTC
and keeps the rest(65%) for himself i.e 0.026 BTC
Now apart from Tega's T-Smart, Baridy is following 2 other strategies:
SureTrade that makes 20% profit per trade and
EXT-Prime that makes 5% profit per trade
Baridy's initial deposits for following these other traders is still 0.4 BTC each.
So with SureTrade, Baridy makes 0.08 BTC in profit. He pays SureTrade 20% of it i.e 0.016 BTC, pays the platform 15% i.e 0.012 BTC, and keeps the rest(0.052 BTC).
For EXT-Prime, he makes 0.02 BTC in profit, pays EXT-Prime 20% i.e 0.004 BTC, pays PrimeXBT 15% i.e 0.003 BTC, and keeps the rest (0.013 BTC).
Assuming all these trades happen within a day, this will be Baridy's take home for the day:
0.026 BTC(T-Smart) + 0.052 BTC(SureTrade) + 0.013 BTC(EXT-Prime)
= 0.091 BTC
So the deal here is: the more strategies you follow, the more money you earn.
Your money just works for you and you don't get to do a thing!
So, how do I start up?
Find a rundown of how you can do that(from start to finish) in the very next section.
---
How Do I Start Up with PrimeXBT Covesting Module?
To start up, you have to take the following steps:
Step 1
Visit primexbt.com and click on 'Register'.
Step 2
A dialog box appears. Fill in the required information and click 'Register'.
Step 3
A 4-digit pin is sent to your email. Copy the pin and paste.
Step 4
It opens up to the page where you will select your country. Scroll through and pick your country. Click 'Finish'.
A 'Welcome' dialog box pops up. Click on 'Continue' to start trading.
Step 5
Now that you have an account, you will have to fund your account before you can start trading. Click on 'Make a Deposit'.
**The least amount you can deposit is 0.001 BTC. But to get the $50 bonus, you will have to deposit at least 0.009 BTC.
Step 6
Scan the QR code or copy the Bitcoin address provided to make a deposit. If you do not have Bitcoins, click on 'Buy Bitcoin'(arrow) to purchase Bitcoin which will be sent directly to your PrimeXBT wallet.
Step 7
After making deposit, your BTC will appear in your Wallet.
NB: The Wallet is used for BTC storage, deposits, and withdrawals. It cannot be used for trading.
To start trading, move the BTC in your Wallet to your Trading Account by clicking 'Fund Trading Account'.
Transfers are instant and without charges.
Step 8
Now that you've got some BTC in your Trading Account, click on 'Covesting' from the navigation bar.
Check the necessary boxes and click on 'Activate' to start up.
Step 9
At this point, you can choose to create your own Strategy and have people following it or you can choose to become a Follower i.e follow a strategy.
If you settle for creating your own strategy, you will do the following:
Click on 'Create a Strategy'.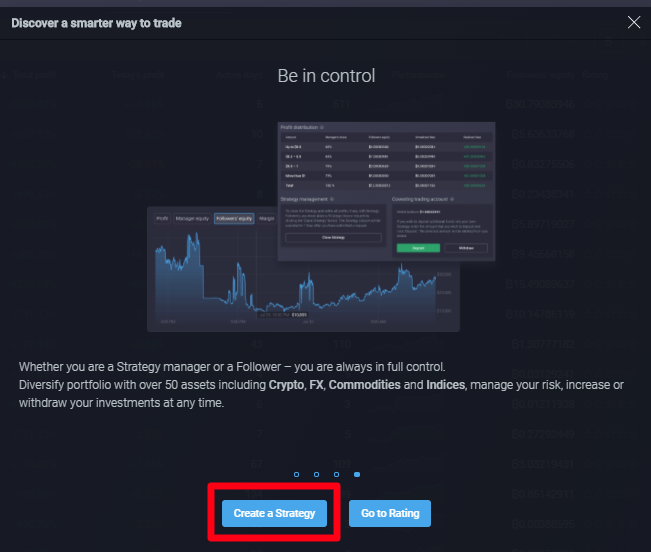 It opens up to a dialog box where you will fill in the strategy name, description, and initial amount. Click on 'Create Strategy' when done.
The initial amount will be deducted from your Wallet and transferred to the Strategy's trading account. This implies that you need to have up to the initial amount in your wallet,
Now that you have created a Strategy, Followers will select your Strategy and you can start earning from the profits made.
Find more information on how to manage and close your strategy here.
But if you decide to follow a trader's strategy, here is what you will do:
This opens up to a list of strategies and other details(more than 200 names). You can then select one of them to follow.
**If you created a strategy, yours will appear on this list too.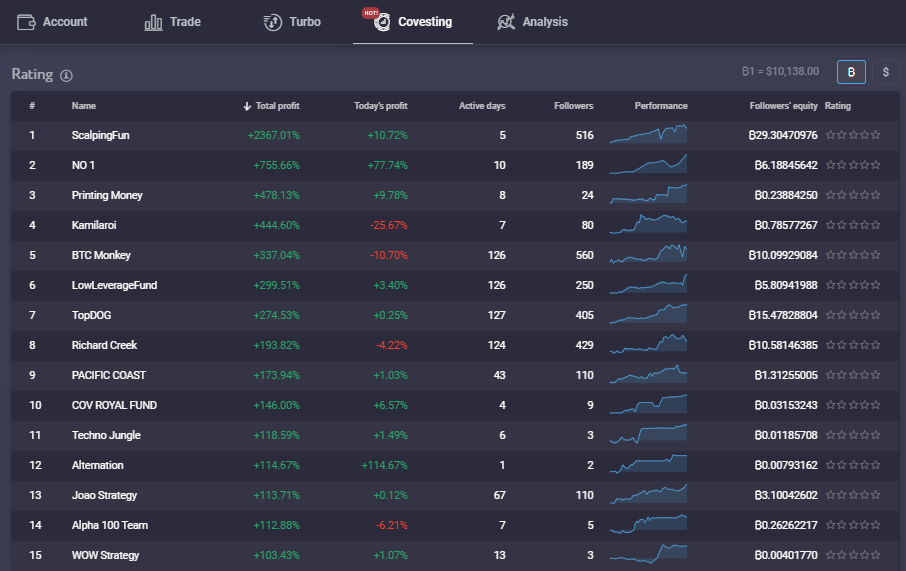 Let's say you selected BTC Monkey(no. 5), this is what you will see.
Check through the information provided and if you are impressed with it, input your initial amount, and click 'Follow'.
This way, your trade follows whatever BTC Monkey does.
Whatever profit that is made will be shared among you(the Follower), the Strategy Manager(BTC Monkey), and the Platform(PrimeXBT).
RISK WARNING: Your capital is at risk. Statistical information and historical performance are not a guarantee of future performance. Never invest more than you can afford to lose.
I listed ways you can reach the team at PrimeXBT below.
Scroll down to view.
---
PrimeXBT's Contact Channels and Public Opinion
Prime XBT has a comprehensive knowledge base that answered most questions its users may have.
It also has video tutorials that enable users to understand how to use its services.
For further inquiries, you can reach them via:
Livechat (Instant response)
Support@help.primexbt.com
Prime XBT Telegram Support Bot
PrimeXBT's score on TrustPilot has increased since the last time I reviewed it.
It was 78% then but now has a 94% excellent rating.
I also saw recent reviews commending the newly introduced Covesting Module.
Let's check out some frequently asked questions below.
---
Frequently Asked Questions (FAQs) About PrimeXBT's Covesting
What is the minimum amount required for you to create a Strategy?
The minimum required is 0.01 BTC
How many Strategies can I create and manage at once?
You can only create and manage ONE Strategy at a time.
However, when you close a Strategy, you are free to open another; no limits to the number of Strategies you can create.
Only that, they will not be running simultaneously.
What is the minimum amount that I need to follow a Strategy?
You will need at least 0.001 BTC to follow a Strategy
Can I have multiple followings?
Yes, of course!
You can have multiple followings in multiple strategies.
If a follower cancels their Following, will my Strategy's margin be affected?
No.
Your Strategy's margin cannot be affected by the Followings you have.
Can I add more funds into my active Following(s)?
No.
However, you can simply create another Following in the desired Strategy from that Strategy's main page.
For example, you started following BTC Monkey Strategy with 0.002 BTC as your initial amount. Now you want to add another 0.005 to it. PrimeXBT is saying you cannot do that.
Rather, you will have to start up another Following with the 0.005 BTC as your initial capital separately.
How is a Strategy's 'Today's Profit' calculated?
'Today's Profit' indicator shows the profit of a Strategy since 00:00UTC of the current day.
What countries can access the Covesting Module?
Covesting module is available for users in all countries except the citizens and residents of:
– United States of America
– Canada
– Japan
– St. Vincent and Grenadines
– Algeria
– Ecuador
– Iran
– Syria
– North Korea
– Sudan
– United States Minor Outlying Islands
– American Samoa
– Russian Federation
– Any state or country that is embargoed by the USA
What about the fees and limits when using the Covesting Module? Are they still the same as what you find on the platform?
Yes, please.
These are the same as the ones discussed in the PrimeXBT review.
Of course, this is so because it is the same platform.…. just introducing a new service.
The only difference there is the leverage ratio for Covesting which is 1:50(2%).
Find details about the fees here.
You can also check out PrimeXBT's vast knowledge base for answers to other questions you might have.
I dropped some tips on how to covest safely below.
You can check them out below.
---
Tips on How to Covest Profitably on PrimeXBT
Before you begin, check out the active days of each Strategy: If it is high, you can infer that the trader has not lost so much as to give up on trading.
Follow more than one trader: This way, even if one loses, you can still gain from the others.
Check that the Strategy you are following is a top-performing one and not some lucky chap's Strategy.
Following the most successful does not always translate to success.
Reinvest your profits.
Never hesitate to close a trade
Above all, always do your own research to be sure you are picking the right Strategy.
Follow me now to this last section to round up this review.
---
WARNING:

Note that risk and possible liquidation are natural and common outcomes of trading with leverage. Anyone that is considering doing this should fully be aware of the associated risks and how to manage them properly.

To further minimize the risks that come with leverage/margin trading, PrimeXBT has lowered the minimum amount of leverage available to Strategy Managers to 1:50 on all assets offered on the platform.
---
Conclusion
This is the last part of this review. During the course of it, I took you through how PrimeXBT Covesting works.
I also gave a bunch of tips on how you can covest safely and profitably.
Now that we are here, guess you have things to say.
So tell me:
Have you used the PrimeXBT Covesting Module before? What was your experience?
If you are yet to sign up, will you prefer to follow an already set Strategy or create your own?
Is there another service you wish PrimeXBT can add to the one it already provides?
Do you see more platforms borrowing a leaf from PrimeXBT and introducing copy trading?
Or perhaps, you still have something to ask? No problem at all!
Let me know all about it in the comment section below.
Do well to share this knowledge with friends using the buttons below.