In this post, I did a detailed review of Boundlesspay, a unique app that makes crypto transactions fast and cheap.
Talk about global payments, buy/sell, savings, investments, etc.
Boundlesspay enables you to do all these and more.
Without any further ado, let's get into the post to see how you can benefit from this platform.
---
Post Summary
Click on any item above to read its details immediately.
---
1. Boundlesspay Overview
Boundlesspay is an app that provides a fast, cheap, and easy way to complete fiat and crypto transactions.
Franklin Peters Odoemenam founded the platform in December 2020.
It used to be Bitfxt (launched in 2016) but later rebranded to Boundlesspay to serve users better.
This app leverages blockchain technology to meet users' needs.
Whether you want to spend, stake, save, swap, or send money or crypto, Boundlesspay has you covered.
It turns your cell phone into a mobile bank, providing you with a digital wallet to store your funds.
Cool, right?
In the next section, we'll talk about the features of this app in detail.
Keep reading!
---
2. Features Of Boundlesspay
They include:
a. Wallet
Here's an in-built wallet that helps users track and manage their funds.
b. Swap
Like the name sounds, this feature enables users to swap between cryptocurrencies seamlessly.
c. Bpay
This feature allows users to:
Complete global remittances;
Pay utility bills;
Invest in mutual funds
Access the 3 savings plans – Fixed, Flexi, and Target;
Stake coins with high APR;
Refer friends and receive a bonus.
Send/Receive Crypto
Here, users can easily send and receive different crypto assets.
Markets
This feature reveals up-to-date crypto market prices and price charts.
Also, it enables users to buy the crypto they need.
Expenses
Here, you'll see how much funds you've spent and how much you've received.
BoundlessPay Card
This is a debit card provided by Boundlesspay for easy and fast transactions.
Note however that this feature is not active yet. The platform plans to launch the card in 2022 Q4.
Nexus (NEX) Token
NEX is the native token of Boundlesspay.
It is also yet to launch and you can find more details about it here.
In the next section, we'll see the supported currencies and payment methods.
Read on!
---
3. Supported Currencies & Payment Methods
Currencies
Crypto
Fiat
Payment methods
Bank transfer
Crypto
Phone number
Email Address
Keep reading to see the transaction fees and limits!
---
4. Transaction Fees & Limits
Fees
| | |
| --- | --- |
| Activity | Fees |
| Deposit | 0 |
| Withdrawal | Varies based on the amount |
| Transfer | 0 |
| Swap | 2% |
Limits
There is no maximum transaction limit but the minimum amount for deposit and withdrawal is $2.
Next, I'll show you how to use Boundlesspay.
Tag along!
---
5. How To Get Started On Boundlesspay
Follow these simple steps:
I. Download the Boundlesspay app from GooglePlay or Appstore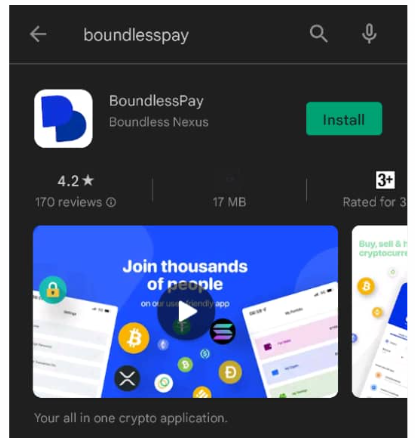 ii. Open it and click on "Get started"
iii. Now, enter the required details and hit "Continue". Enter Ju654022 as the referral code.
iv. Next, you type in the OTP sent to your mail and hit "Verify"
v. Then complete the form and click on "Sign up" after you've checked the box for "terms and conditions"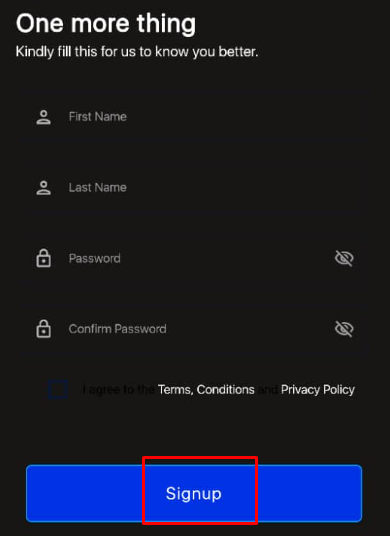 vi. Next, set up a pin of 4 digits that you'll use for transactions. Click on "Save pin" and then "continue"
vii. Viola! You're in! Explore and Enjoy!
Moving on, let's look at the customer support of this platform.
---
6. Boundlesspay Customer Support & Public Opinion
This platform has a blog and an academy where users can learn more about the platform.
Also, there is an FAQ page and a Live Chat on the app that can handle users' queries.
Additionally, users can stay updated via these channels:
https://twitter.com/boundlesspay
https://www.instagram.com/boundlesspay/
https://www.facebook.com/boundlesspayofficial/
https://www.linkedin.com/company/boundlesspay/
https://t.me/boundlesspay_official
I tried the Live Chat on the app and it redirected to a Whatsapp chat where I was attended to immediately.
On the Twitter channel too, I received responses after a short while.
Furthermore, I checked for Boundlesspay on Trustpilot, and I didn't find any reviews.
Also, on WebOfTrust, it has no reviews
But on SCAMADVISER, the platform has a 91% trust score which is impressive.
Plus, it has a very high rating on GooglePlay, with some positive reviews.
And I noticed that the negative reviews were attended to by the team.
Nevertheless, the Boundlesspay team needs to do more work to improve its reputation.
We're almost done here, let's answer some frequently asked questions and then wrap up this post.
---
7. FAQs
Is Boundlesspay safe?
I believe it is because:
– The founder is not hiding
– I found records of the platform on popular sites like Crunchbase
– It has a plethora of high-ranking partners including Binance Smart Chain, Bitget, Earnathon, SiBAN, Coindirect, etc.
– Boundlesspay has more than 5,000 registered users from over 13 countries, cool!
– It has physical offices in Dubai and the UK.
– Users' funds are secured in a cold wallet.
My reasons notwithstanding, do due diligence before investing in Boundlesspay.
Can I pay for global remittances using Boundlesspay?
Yes, you can. Watch this video to see the steps.
How do I get the Boundlesspay card when it is launched?
You can order it from the app.
---
Crypto Trading Made Easy!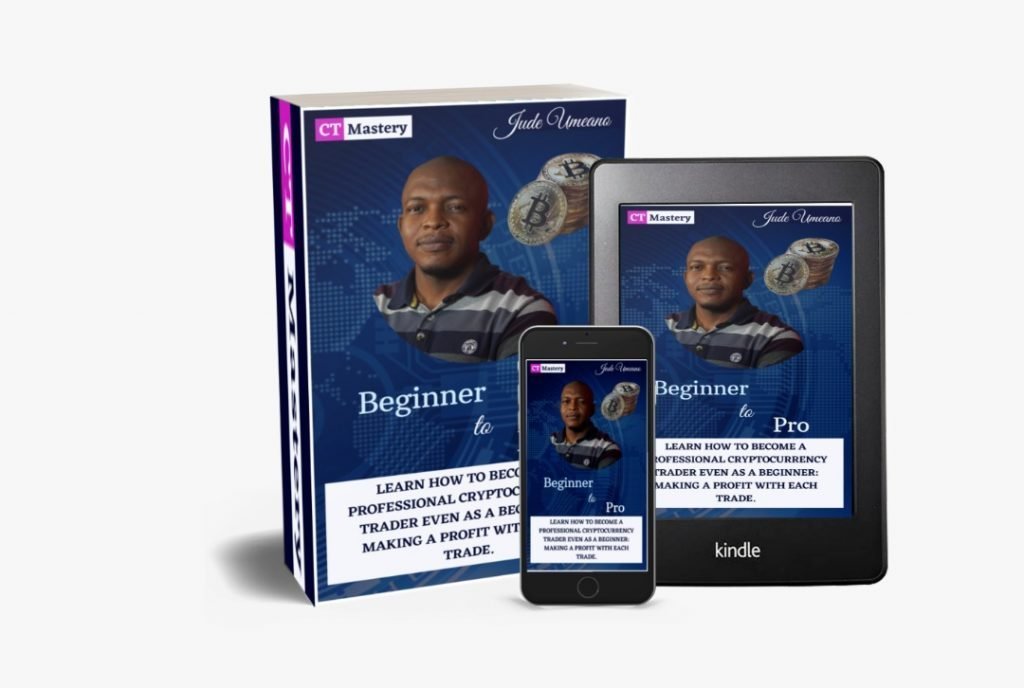 ---
8. Conclusion
Let's draw the drapes in our Boundlesspay review here.
This platform enables you to buy/sell crypto, pay for utilities, invest in digital currencies, and more.
So, tell me, will you install the Boundlesspay app?
Perhaps you already did, what has been your experience?
Do you think other Nigerians should get the app too?
Drop your thoughts in the comments section; let's engage!
Also, hit those SM icons below to share this post with your friends. Thank you!
---
Interesting picks for you…