In today's review, I will be discussing Blockvila – a cryptocurrency exchange and a mining platform.
Blockvila is a broker exchange that was launched in 2016. It added cryptomining to its services in April 2020.
This was made possible because of Blockvila's partnership with a reputable mining company.
So today, you will learn all you need to know on how to mine Bitcoin on Blockvila.
Now put on your mining boots let's get to work immediately.
---
Post Summary
For a better understanding of the topic, I listed out the things to be discussed below:
The details of each subheading opens up when you click on it.
Let's now get started.
---
Blockvila Mining Overview

Blockvila (formerly Ngexchanger) is a renowned cryptocurrency exchange that is located in Rivers State, Nigeria.
It was launched in 2016 as a broker exchange but started up its mining activities in April 2020.
Blockvila allows its users to purchase mining packages from it to mine Bitcoin.
What this means is that the platform does the mining. It just allows its users to buy hashes and get payouts when the mining is done.
Just like Hashing 24, Blockvila partnered with a reliable and reputable mining company to serve its mining needs.
This company has been operating since 2018 and has its mining farms located in Russia.
Despite Blockvila's mining services being relatively new, the record on its site shows that it boasts of more than 20,000 users.
Intending to make Bitcoin mining accessible to everyone, Blockvila starts mining for you once your payment is confirmed.
Profits made from mining are sent to your account daily.
Furthermore, Blockvila has also continued to update its services for the benefit of its users.
On the 5th of August 2021, it launched VILA, its native token, on PancakeSwap, making it available for anybody to buy and sell.
It has also added a staking feature, which allows users to earn USDT and the VILA token passively.
That's it on Blockvila Mining overview.
Next, I will be listing the unique features that Blockvila Mining possesses.
Read more: Blockvila Review(2020) – Is It Still Nigeria's #1 Exchange?
---
Why Choose Blockvila Mining?
Increased security
Transparency
Low fees
Distributed Denial of Service(DDoS) protection
Instant setup
99.9% uptime
24/7 customer support
Instant withdrawals
Here you have Blockvila's distinct features. I will be discussing the services the platform offers below.
Just scroll down.
---
Blockvila Mining Products and Services
Blockvila offers the following services:
Mining Packages
Mining Hardware
Referral Program
1. Mining Packages
Blockvila offers 8 mining packages each with a duration of 24months.
But on the packages(1 – 8), you will see '6 months contract'. This does not directly imply that the duration for each mining package is 6 months; it simply means that, (if you wish), you can opt-out of the contract at the end of 6 months.
The maintenance fee is set at 0.1% for all the packages. Since it works with just Bitcoin(as at the time of this post), the SHA 256 algorithm is used.
The average monthly earning for all packages is 10%.
Find more details about the mining packages in the table below.
2. Mining Hardware
Before setting out to do mining of any sort, you must have the hardware that can do that.
When mining Bitcoin, a special miner is used called ASIC (short for Application-Specific Integrated Circuit).
What Blockvila does is that it makes it possible and convenient for its users to own an ASIC.
You simply need to place an order to purchase a mining package to own a miner.
Once your order is filled, Blockvila automatically sets up your miner and connects it to its mining pool.
Within 24hours, you have your ASIC mining for you already and generating profit.
The profits generated are sent to your account on a daily basis.
Payouts are made in Bitcoin and you are able to make withdrawals monthly.
After 6 months, you have the option of reselling your miner to Blockvila.
You can resell the miner at a 10% discount rate and get back 90% of your investment capital.
3. Referral Program
When you sign up on Blockvila, you will be assigned a referral link.
You can give out this link to your referrals to sign up with and you will get 5% of their investment.
As at the time of this post(August 2020), Blockvila is running a promo that will last from 24th August – 15th September 2020.
All you need to do is to invite your friends to invest in the Blockvila mining program and win a free 2 months investment for yourself.
This means that if you invite someone to invest, you will automatically start earning 10% of what the person invested for 2 months.
For example, if you invite Mr. A to start mining with Blockvila and he invests $200, every month end, you will earn $20 for 2 months.
What you earn does not affect Mr. A's profit as he will always receive his own profit monthly for 6 months.
Note: You don't need to invest before you can invite your friends to this program. Simply sign up to obtain your referral link.
That's all for the services.
But how does one start up mining on Blockvila?
I explained step-by-step how you can do that in the very next section.
Keep reading!
---
How to Start Up Mining Bitcoin on Blockvila
The steps involved include:
Step 1
Firstly, you have to sign up with Blockvila. Visit mining.blockvila.com and click on 'Get Started'.
Step 2
It opens up to a dialog box. Enter the required details and click 'Sign Up and Start Mining'.
Step 3
Blockvila will send a message to the email address you registered with. Click on the 'Email Verification' button to verify your email.
Step 4
This redirects you to the Blockvila page. Click on the 'Login' button to access your account.
Enter your details and click on 'Sign in to Dashboard'.
Step 5
This opens up to your dashboard. At this stage, click on 'Edit Profile' to provide the Bitcoin address where your profit will be sent.
Step 6
Enter your Bitcoin wallet address and click on 'Save'.
Step 7
Go back to your dashboard. Click on 'Buy Hashpower' to buy a mining package.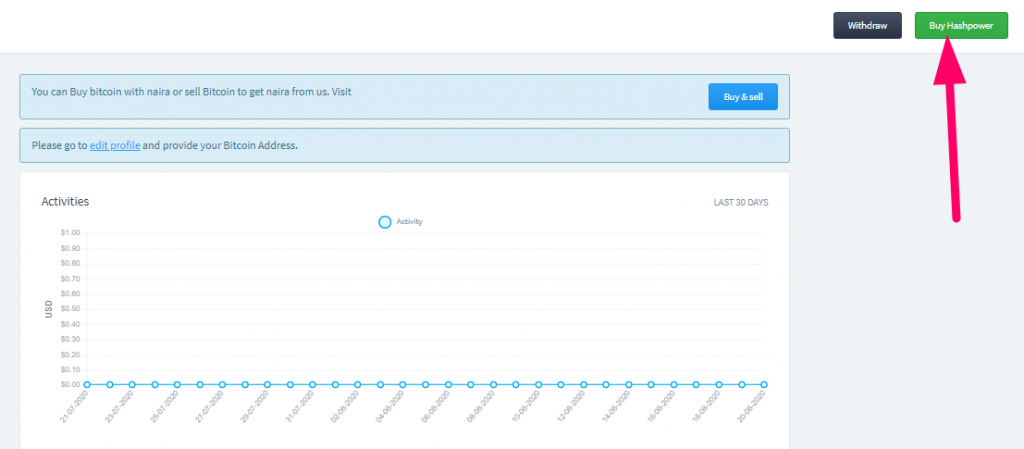 Step 8
Select a mining package of your choice, fill in the required details, and click on 'Buy'.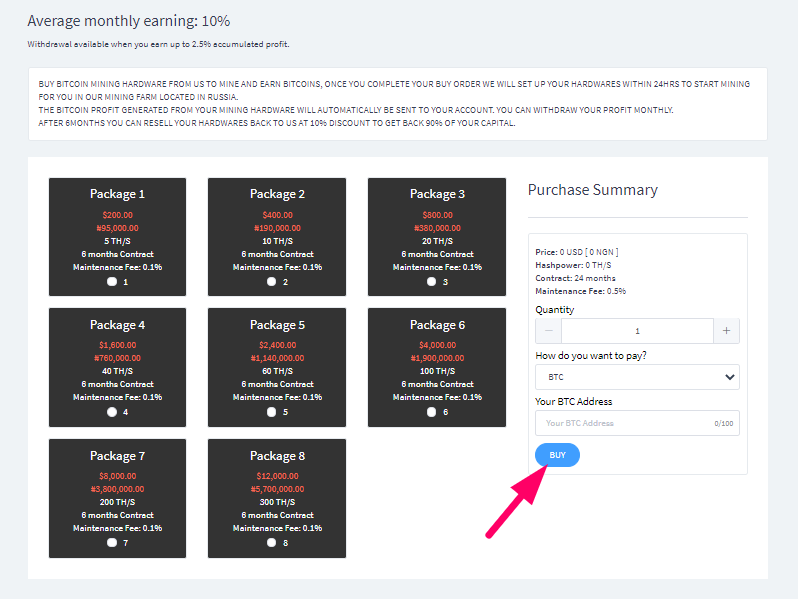 At this stage, you can choose to make payment with either Bitcoin(BTC) or the Nigerian Naira(NGN).
Step 9
Assuming you chose to

pay with BTC
in Step 7 and you chose Package 3, this is the page you will see.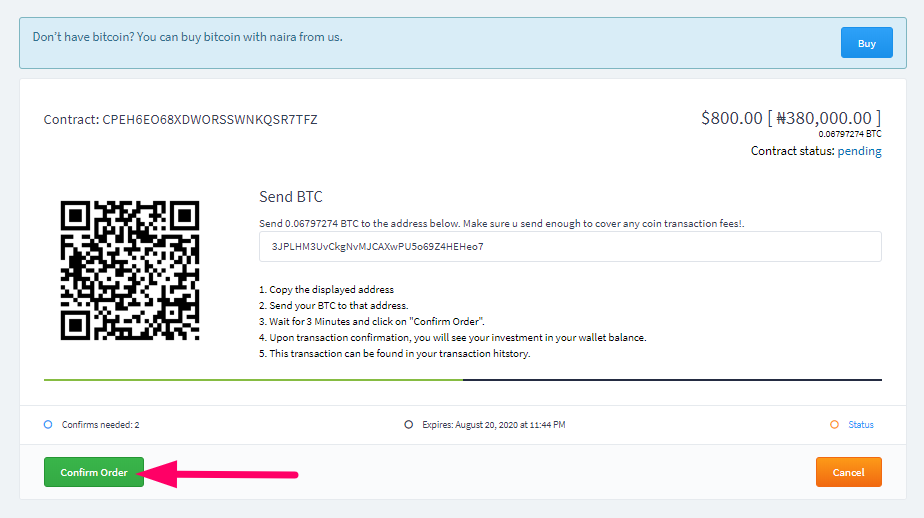 What happens here is that you will send the stated amount of Bitcoin to the wallet address displayed(or just scan the barcode to send the BTC).
You will then wait for 3 minutes and click on 'Confirm Order'. After receiving 2 confirmations, your investment will be displayed in your wallet.
Congratulations! Your account is set.
If you chose to
pay with NGN
and clicked on Package 2, this is what you will see.

Click on 'Pay Now' and it opens up to the page below.
Let's say you select 'Bank Transfer', you will go ahead and transfer 190,000NGN to the account details provided.
You will click on 'I have made this bank transfer' when done.
Congratulations….You can now start mining.
After your payment has been confirmed, Blockvila automatically sets up your miner and connects it to its mining pool.
Mining starts up within 24 hours and you start earning profit.
Here you have the complete laydown of how it works.
The next section has the ways the team at Blockvila can be reached. Let's look at it.
---
Blockvila Mining Customer Support
You can reach the team via the following channels:
Live Chat
Phone numbers – +(234)7053590609, +(234)8103996021
Head office – 20 Mbonu Street, D-line, Port Harcourt, Rivers State, Nigeria
Below, I provided answers to some commonly asked questions about Blockvila Mining.
Scroll down, please.
---
Frequently Asked Questions (FAQs)
What is the cost of purchasing an ASIC from Blockvila?
The cheapest costs $200 with 5TH/s.
When purchasing a mining package on Blockvila, you are automatically purchasing an ASIC miner. The cost is already added to the package.
So you are paying no extra cost for an ASIC when you've purchased a contract.
What if I already own an ASIC. Will Blockvila host my miner for me?
No, please.
Blockvila only works with the miners it provides. This is to avoid any case of a faulty ASIC which will affect your profit.
Can I share my ASIC with a friend?
Yes, it is possible for you to share your miner provided you both reach an agreement and open just one account on Blockvila.
The profit will be sent to the account and how it is to be shared is solely up to the both of you.
Blockvila has no business whatsoever with that.
I already have an account with Blockvila Exchange. Can I use the same account for Blockvila Mining?
No, that will not be possible.
You will need to sign up for a new account with Blockvila Mining to use its services.
How profitable is it to mine with Blockvila?
Blockvila pays you 10% per month for buying a mining package with it. Payouts are sent every day(of course after deducting the maintenance fees).
At the end of 6 months, you have the choice of opting out of the contract.
You can then resell your miner at a 10% discount rate to get 90% of your capital back.

But if after the full course of a contract(i.e 24 months) you want to resell your miner, you will do that at a 40% discount rate.
This is so because something that you used for 6 months and 24 months is not in any way the same.
What does the maintenance fee cover?
It covers the following:
• Electricity cost
• Hardware maintenance
• Hosting services
• Hardware cooling
It is calculated per GH/s and is automatically deducted on a daily basis.
The current maintenance fee is 0.1% and is deducted before the profit is sent.
How can I withdraw my profit?
Withdrawal is available when you earn up to 25% accumulated profit.
You can withdraw once a month and payment is made only in Bitcoin.
Where exactly is the mining farm located?
The mining farms are located in Russia, but due to security reasons, Blockvila does not disclose its exact location.
How legit is Blockvila?
Blockvila as an exchange has proven itself to be trustworthy. It ranks among the top exchanges in Nigeria.
It started up its mining services in April 2020 and so far has garnered an impressive number of users(20,000+).
Though relatively new, the customer reviews on its site gave the platform a 4.4 rating out of 5 points from 161 reviews(not a bad score at all).
However, I recommend you always DYOR before setting out to make investments.
---
Conclusion
This is the last part of this review.
So far, I have given you all the nitty-gritty concerning mining Bitcoin on Blockvila.
Now, I would love to hear from you:
Have you mined Bitcoin with Blockvila before? How did it go?
If you are yet to sign up, which of the packages will go for?
Which fave coin of yours will you want Blockvila to provide mining services for?
Or maybe you still have other questions apart from those that I answered above?
Kindly revert to me in the comment section below; I will be glad to hear all about it.
Lastly, do not forget to share this investment opportunity with a friend.
The share buttons are right below.
---
Still a newbie in the crypto sphere, I suggest you also go through these articles: