Still in the spirit of updating you with the important trending informational news in the crypto space, join me for yet another cloud mining review.
Today, I will be reviewing Hashing 24, its products, and the services it offers.
Hashing 24 is a cloud mining company that mines only Bitcoin and has been in operation since 2016.
It provides mining services for both freshers and professionals in the crypto world granting them access to the same quality resources that the industrial miners possess.
At the end of this post, you will have complete information about Hashing 24 that will help you to make an informed decision.
So join me as I take you on this short but info-filled sail.
Leggo!
---
Post Overview
For clearer understanding and for your reading pleasure, I will be discussing this post under these bullet points:
A click on any of the bulleted points takes you where you can find the details.
---
Hashing 24: Who The Company Is
Hashing 24 is a cloud mining company that does only Bitcoin mining. The company has been in operation since 2016 while its project team has been working on the cryptocurrency market since 2012.
The company is an official partner of Bitfury Group, one of the main leaders in Blockchain Technology and a famous company that develops and delivers both software and hardware solutions needed to move Bitcoins through the blockchain.
This cooperation shows the seriousness of the Bitcoin project.
Founded by David Martin, the company offers turnkey renting solutions from the biggest crypto mining data centers to both crypto enthusiasts and those venturing into the crypto world newly.
It has its datacenters situated in Georgia, Canada, Norway, and Iceland with its representative offices in the United Kingdom, Ukraine, and Iceland.
These offices help to reduce the possible risks that may arise in connection with the changes in the national legislation of these countries.
The closure of one of the offices in one country does not stop the company's activity in mining virtual money for its customers.
Hashing 24 does not host its own mining facilities or servers but rather, it chooses a reliable and reputable mining company (in this case, Bitfury) to serve its mining needs.
It ensures the company provides warranties for its equipment and its maintenance.
In other words, Hashing 24 offers mining services without having to buy any equipment.
Its payouts are based on overall network hashrate and it guarantees 100% uptime to their customers.
Now, that's who Hashing 24 is!
I will now go ahead and discuss its products and services.
Stay put.
---
Hashing 24: What It Offers
The following services are offered by Hashing 24:
Let's go find out how these works.
Unlimited (Open-ended) Contracts
Hashing 24 offer unlimited but open-end contracts for its customers to invest in.
'Unlimited' because there is no time frame stated and 'Open-end' because it is up and running as far as it is profitable.
Unlike in Genesis Mining where the contracts are set by the company, there are no set contracts on Hashing 24.
The customers themselves select the hashing power and the payment method and hence, determine the profitability of the plan.
A daily maintenance fee of 0.00033$ per GH/s is charged which covers hosting services, maintenance work, electricity cost, and cooling systems.
The maintenance fee is automatically deducted from your mined BTC volume daily.
The applied BTC/USD conversion rate is based on the previous day's Bitcoin closing price in USD published on www.coinmarketcap.com.
If your contract does not make enough to cover the maintenance fee, a notification email will be sent informing you of the lack of funds for maintenance repayment.
You will have 3 days for it to become profitable again else it will be terminated.
You can keep your contract from being terminated by covering your maintenance debt with your account balance. This simply means that your maintenance debt will be charged from your account balance.
This termination of a contract is in accordance with Clause 2.8 of the Terms and Conditions. There, it is stated that if the client has a debt for maintenance fee for 72 hours, the contract will be terminated without the option of reactivation.
How it Works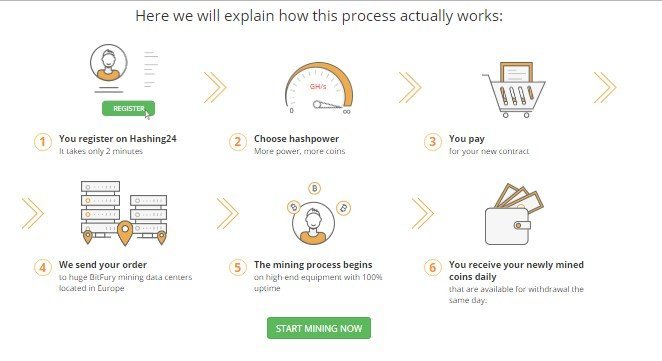 Just as you register before purchasing a contract plan in NuVoo Mining, so it is with Hashing 24.
To create an account, click on 'Register' on its site and fill the form in-putting your e-mail address, password, and country. Submit the form by clicking on the 'Create an Account' button.
There is also the option of linking it to your Facebook or Gmail account to register.
Once registered, you will go ahead and select your contract then make payment.
Payment options include:
Your order is made up of two parts:
one-time payment (no deposit) for allocation of ordered power
a daily maintenance fee for the equipment maintenance and its power supply
When you make the one-time payment, the order is sent as it is in CCG Mining.
You will receive hashpower according to your contract terms and duration. and the mining process commences automatically at 0.00 (UTC).
Newly 'mined' coins (payout) are credited to your balance once per day for the previous mining day.
But how sure are we that the coins are 'newly mined'? Well, do the verification yourself by taking the following steps:
Go to blockchain.info
Input the transaction ID of the payout to 'Search'
Click search
You will then see the entire route of the Bitcoins that you have received.
Ideally, there should be few transactions before yours and a message saying that these coins are just mined.
Now, back to the payout.
This payout depends on these factors:
Total network hashrate
Mining difficulty
Blocks mined per day
Amount of block reward
USD exchange rate
Transaction fees
How do I Withdraw?
To withdraw, you will need to have up to the minimum withdrawal balance (0.002BTC). Withdrawal can be requested anytime.
Steps to making withdrawals are as follows:
Sign in to your account
Go to menu item 'Balance – Withdrawal'
Choose the type of coins
Enter amount
Choose your wallet (or enter new wallet)
Click on the 'Withdraw' button
Check your email inbox, you will receive an email with a confirmation link
Click on the confirmation link
Our minimum withdrawal amount is 0.002 BTC
You can request a withdrawal at any time. Withdrawal requests are processed the next day after the request has been placed at 0.00(UTC)
It also has a mining calculator on the site to give you an idea of your return on investment.
At the time of this review, all BTC contracts are sold out but you can always purchase a contract at their Auction platform (which is held in BTC).
But……how does this work?
Well….Scroll down to find out.
Auction Plan
Hashing 24 Auction Plan is a great tool for you to trade your available hashing contracts or get some new ones.
In this case, you need to credit your Account Balance with your funds from the external BTC wallet.
Steps on how to deposit BTC into your Hashing24 account balance are as follows:
Sign in to your account
Open the 'Balance' tab in your account and choose the 'Deposit' drop-down menu.
You will find there the BTC wallet address to be used for depositing
You can then check out the available offers under the Auction tab and make your choice according to the one that suits you as regards:
Hashpower volume
Contract duration
Maintenance fee ( 0.00014, 0.00015, 0.00017, 0.00033)
Price in BTC
Please, note that the deposit transaction amount should not be less than 0.0001 BTC due to technical restrictions on transaction processing.
Also, you can use various Altcoins through the integrated exchange service Changelly.
Do note that the Altcoins will be exchanged to BTC using the exchange rate at the moment Changelly receives your Altcoins.
The auction prices are set by the sellers themselves but mining starts for you the next day 0.00 (UTC) after you win the auction.
But you have to consider the Auction Rules carefully before participating.
Let's continue.
Demo Plan
Hashing 24 set up a Demo Plan for its customers to help demystify the complex nature of mining without risking any capital.
Though free of charge, you have to register with the company to do this.
Hashpower is from 100GH/s and you have the option of including maintenance when calculating or leaving it out. It also shows the approximate mining results per day.
Upon opening a Demo Mining Contract, mining will start automatically from 0.00 (UTC) and will last for 4 weeks.
As such, it is possible to monitor the entire process effectively and visualize your return on investment; just like Demo Trading in Binary Options.
Read on.
Affiliate Program

Hashing 24 Affiliate Program is a great opportunity for all active affiliates to get a good income following their high service level.
It is made of 8 levels which directly translate that the higher your referrals, the higher your commission.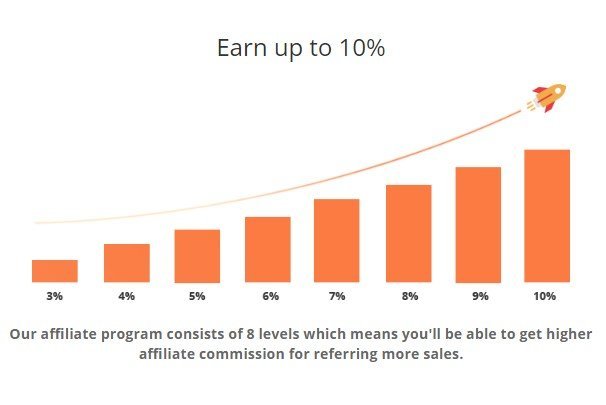 Payouts are made instantly in BTC and start from 3% – 10%.
Due to the multilingual options in its site, you have a wide range of countries to refer people from and you can have as many referrals as possible.
The sweet thing is that you don't even need to have your own deposit to enjoy their Affiliate Program!
Interesting, right?
Continue reading as I will now point out the 'highs' and 'lows' of Hashing 24.
---
Strengths and Limitations of Hashing 24
Strengths
You can count on Hashing 24 for the following:
Amazing support system
Newly mined coins
Quality hashpower
Transparency
Fast and reliable mining
No hidden costs
Limitations
It has the following drawbacks:
Mines only BTC
Does not provide services for USA residents (as mentioned on the site)
But with all its 'ayes' and 'nays', do they really mine Bitcoins?
You will find out very soon.
---
The Big Question: Can Hashing 24 Be Trusted?
To answer this question, I will point out some key points about Hashing 24 and they include:
The company has been in existence since 2012; a long time in Bitcoin terms
Officially registered on 29th April 2016 (as seen on whois.com)
Backed by Bitfury – a member of the Blockchain Alliance
All Bitcoins are newly mined and can be verified
Allows you to have a feel of mining with their Demo Mining Contract before paying any actual money
But all these facts do not ensure the profitability of the contracts which are dependent on other factors that the company has no control over.
Know that this is not a piece of advice on investment and that there's an amount of risk involved in every investment.
It's reasonable to be cautious when handing over your funds to the other person(s) to manage on your behalf.
---
Conclusion
Yass!
After an interesting sail, we've made it back to the harbour.
And here is where you let out your opinions about the 'sail'.
So, tell me…….. Are you still unclear about something I said?
What do you think of the 4 weeks Demo Plan?
Are you decided on the amount of hashpower to buy yet?
Or will you just work with the Auction plan?
Any suggestions on any crypto to be added for mining on Hashing 24 site?
Send me your reply in the comment section now.
Share this 'sail' via any of the social media buttons.