In this review, I am going to show you why Blockvila is Nigeria's no. 1 cryptocurrency exchange before you decide to sign up on its platform.
Blockvila (formerly known as Ngexchanger) is an e-currency service provider based in Port Harcourt, Nigeria that specializes in buying, selling, and exchanging digital currencies.
It is one of the 10 best exchanges to buy bitcoin in Nigeria (2019).
In this post, you will learn why Blockvila is Nigeria's no. 1 cryptocurrency exchange and how the company operates.
Let's go.
---
Blockvila Review Summary
Blockvila has been in operation for over 3 years now. The company is a subsidiary of an ICT company – Nyxel Integrated Services registered by the Corporate Affairs Commission of Nigeria (CAC) with registration code BN 2491541.
Its user base comprises mostly of Nigerians who seek a convenient, reliable and secure platform where they can buy and sell digital currencies.
To give you solid details about Blockvila, here is what I will discuss in this review.
---
1. Blockvila Overview
Blockvila (formerly known as Ngexchanger) is an independent exchange company situated in Nigeria.
It specializes in the buying, selling and exchange of digital currencies such as Bitcoin, Ethereum, Litecoin, Ripple, Dash and other e-currencies such as perfect money.
Its consumer base comprises mostly Nigerians who seek a convenient, reliable, and secure platform where they can buy and sell digital currencies.
The major advantage of using Blockvila lies in the convenience users enjoy when buying digital currencies.
It affords users the opportunity of buying cryptocurrencies through local payment methods such as ATM transfer, Bank deposits, and internet/mobile transfers.
This makes it possible for anyone to invest in cryptocurrencies no matter how little you know about them.
---
2. Blockvila Services
Blockvila provides 3 services. These services include; buying and selling of e-currencies and the provision of Bitcoin wallet.
From its dashboard, as shown in the image above, a user can access these services.
· Buy/Sell E–Currency
This is the section where users usually purchase and sell e-currencies like Perfect Money and cryptocurrencies like Bitcoin, Litecoin, etc.
· Bitcoin Wallet
Blockvila provides users with Bitcoin wallet alone, it will also soon make provision for an Ethereum wallet in its platform. The bitcoin wallet allows its users to buy, store and easily receive bitcoin while keeping a detailed history of their transaction.
---
3. Supported Currencies and Payment Methods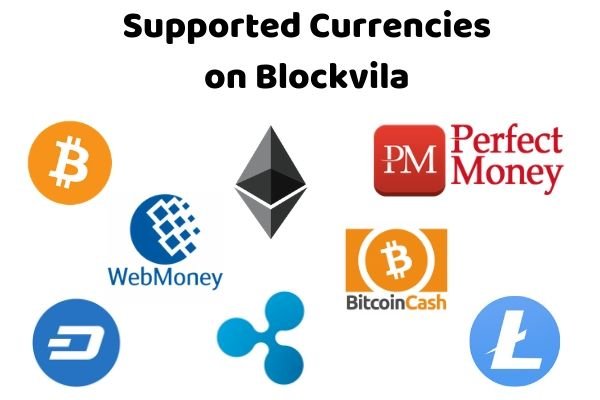 All cryptocurrencies listed on coinmarketcap is supported and available for purchase on Blockvila. However, they are not all listed on the site to conserve space. The following coins are listed.
Cryptocurrencies
Ethereum Classic (ETC)
NEO (NEO)
EOS (EOS)
Binance Coin (BNB)
If the coin you want to buy or sell is not listed, contact customer support to proceed with the transaction.
E-currencies
Fiat currency
Payment methods
---
4. Transaction Charges
The only noticeable fee provided by Blockvila is the N50 Naira charge it applies to every deposit. However, that does not mean the exchange isn't generating any revenue from its services. Well, its rates are the major source of revenue.
For instance, ether (ETH) valued at $100 will cost you N40,000 Naira, which is above the current dollar to naira exchange rate of $100 to N36,000. They offer a high rate charge to compensate for the lack of outright transaction fees.
---
5. Transaction Limits
There is no transaction limit to users with verified accounts. They can buy and sell digital currency daily as much as they want. While users with unverified accounts are limited to only buy a minimum of $20 and a maximum of $1,000 per day.
To verify your account, you will have to;
Upload a government-issued ID card.
Upload proof of residency.
The verification process might take up to 24-48hrs after you successfully upload the required document. If after 48hrs you don't receive a reply from the Blockvila team, you are advised to contact support through email.
---
6. How to Buy Bitcoin on Blockvila
Go to Blockvila, create an account and verify it
Click on buy on the menu in the left column
Click buy on bitcoin from the list of cryptos displayed
Enter the amount of bitcoin you want to buy in USD. You will see the equivalent displayed in Naira
Enter your bitcoin address and Create a Blockvila bitcoin address.
Proceed to make a deposit in Naira either at the bank or by bank transfer (You are only allowed to make a bank transfer if you have completed 4 successful sell orders.
Wait for your bitcoin to be credited to the wallet you provided.
---
7. Supported Countries
Blockvila is available only in Nigeria but supports users from all over the world. Furthermore, if your country does not support the transfer of funds to a Nigerian based account then Blockvila isn't for you. However, you can try other alternative platforms such as Quidax, Luno, and Remitano.
Also read: 10 best exchanges to buy bitcoin in 2019
---
8. Referral Program
Blockvila is delighted in implementing a referral program in terms of reward. This is to show their appreciation to customers who refer people to them.
They created a unique referral link for every registered customer. Whether verified or unverified, you can share your link on various social media to get people to sign up under you.
You receive a commission of N50 from each person who signs up from your link. You also receive a commission of up to 0.5% to 1% of their total transactions both their BUY and SELL order for a lifetime.
The best thing is that you can easily withdraw the commissions into your bank account or you can use it to purchase any e-currency of your choice.
Also read the top 9 e-currency exchanges in Nigeria.
---
9. Customer Support
Most exchanges experience difficulties in keeping up with their user demands and queries, but that hasn't been the case with Blockvila.
The platform takes customer support very seriously because it's an essential obligation of every company.
Its customer support can be reached through email, LiveChat and social media (Facebook and WhatsApp). This ensures that all users with issues are attended to within a short period of time.
Blockvila also seems to have a solid reputation in the local scene. It has a lot of positive star ratings on social media and forums with users expressing their gratitude for the nature of service they received from the exchange.
---
10. Conclusion
Blockvila (formerly known as Ngexchanger) has been trusted by many to get the job done.
But however, the exchange is not flawless as can be seen from the pros and cons below (see product rating below). The platform is a decent choice for starters as well as any average cryptocurrency enthusiast.
I'm assured that in this post, we have learned;
The supported currencies its provides,
Payment methods and so on.
Now tell me,
Have you signed up with Blockvila yet?
If so,
On a scale of 1 to 10 with 10 being the highest, how would you rate your experience with them?
Do you think Blockvila should be in the list of the top 10 exchanges in Nigeria?
In what way do you think the exchange can be improved?
Or maybe you have a question of something I mentioned in the post,
whichever it is,
Leave me a comment below in the comment section.
If you enjoyed this post and want to encourage us to keep pushing out awesome content like this, kindly share this post on Facebook and Twitter using the buttons below.