In this review, I will give you reasons you need to start using Blockvila.
Blockvila is one of the 10 best exchanges to buy/sell bitcoin in Nigeria (2021).
It has been in operation for over 4 years and has been straightforward with its users ever since.
In terms of buy/sell cryptos, Blockvila's solid exchange can never be overrated.
Well, as I take you through this review, we will get to uncover all the amazing features of this exchange.
Let's get started!
---
Post Summary
To give you solid details about Blockvila, here is what I will discuss in this review.
All set? Let's head straight to the review!
---
Blockvila Overview
Blockvila (formerly known as Ngexchanger) is an independent exchange company situated in Nigeria.
It is a subsidiary of Nyxel Integrated Services – an ICT company registered under CAC with registration code BN 2491541.
Blockvila started as a broker exchange in 2016 and specialized squarely in buying and selling cryptos and e-currencies.
However, a few years after, it started diversifying its business scope to accommodate additional services.
In April 2020, it integrated Bitcoin mining in partnership with a reputable mining company.
Another good thing is that it launched its own cryptocurrency ( the Vila coin) alongside this mining platform.
Early this year, in January 2021, Blockvila launched its P2P exchange. This allows crypto traders to buy/sell cryptos with one another via an escrow system.
Undoubtedly, this launch of P2P is of great advantage to every Nigerian crypto trader, as it is one of the ways for Nigerians to bypass the CBN crypto ban.
Scroll down, if you wish to learn more about Blockvila!
---
Unique Features of Blockvila
Improved user interface
Increased security
Transparency
AML/KYC compliance
Excellent support system
Multiple currency support
Instant funding/withdrawals
Cashback bonus
Next, I'll show you the services offered on Blockvila.
Read on!
---
Product and Services
Blockvila offers these services;
P2B
P2P
Mining
Wallet
Referral Program
Coin Swapping
Staking
Blockvila Academy
1. P2B
P2B is the first service to be offered on Blockvila exchange.
It supports the instant buy/sell of cryptos and e-currencies directly from Blockvila.
To access Blockvila P2B, click on "P2B" found at the top right corner of the site.
2. P2P
This is a platform where traders meet to trade with one another using any payment method of their choice.
The trade that goes on here, is, however, modulated by Blockvila through an escrow system. This is to ensure that no party is defrauded.
You can learn more about Blockvila P2P right here.
Heads Up!!!
Blockvila plans to give a total of $6000 worth of VILA tokens as a giveaway.
This would be given to the first 200 persons to complete a buy or sell of any coin on the P2P exchange.
Minimum to trade to earn – $50
Ends on 20th August!
3. Mining
Blockvila is currently giving exposure to bitcoin mining to everyone.
It offers up to 8 mining packages, and over 20,000 users already have access to this service.
Learn more about Blockvila mining here.
4. Wallet
Blockvila provides wallets for all the cryptos listed on its P2P platform.
But for the P2B, users are provided with a BTC wallet alone.
5. Referral Program
Blockvila offers a 20% transaction fee bonus on all your referrals for 12 months.
6. Coin Swapping
The platform allows you to swap your coins for another e.g swapping BTC for VILA, ETH for USDT, etc.
7. Staking
Now on Blockvila, you can stake USDT or the VILA tokens to earn passive rewards.
This service is one of the newly launched products on this platform.
Basically, Blockvila offers a fixed staking type.
This implies that you need to lock your USDT or VILA token for a specific period of time.
And during this period, you will not be able to withdraw or transact with the allocated tokens until the time frame elapses.
In this table below, you can see the awesome staking time frames with their rewards on Blockvila.
| | | | |
| --- | --- | --- | --- |
| Coins | 3 Months | 6 Months | 12 Months |
| VILA | 10% | 25% | 50% |
| USDT | 8% | 15% | 30% |
Note:
VILA staking rewards will halve every 2 years for 6 years
After 6 years the halving will stop and the rewards become stable.
Blockvila will give access to quality and well detailed cryptocurrency courses to users.
However, as of August 2021, this option was under maintenance and will be implemented very soon.
8. Blockvila Academy
Blockvila will give access to quality and well detailed cryptocurrency courses to users.
However, as of August 2021, this option was under maintenance and will be implemented very soon.
Tag along!!!
---
VILA Token Explained
The VILA token is Blockvila's native token.
It was originally an ERC-20 token on the Ethereum network. However, it has been integrated into the Binance Smart Chain network.
VILA has a genesis total supply of 300,000,000 VILA.
Some of its total supply was sold for 0.5 in an ICO and in an IDO conducted on Pancakeswap.
Use cases for the VILA token:
Trading fee discount on the Blockvila exchange
Guarantees free access to some of Blockvila's newly launched products.
You can yield farm VILA by staking it.
You can buy/sell and trade the VILA token on the Blockvila exchange and on Pancakeswap.
Additionally, VILA can be stored on:
Trust Wallet
Myetherwallet and other wallets that are ERC-20 or BEP-20 token compatible.
Now, let's head over to the next section for more details.
---
Supported Countries and Currencies
Supported Coins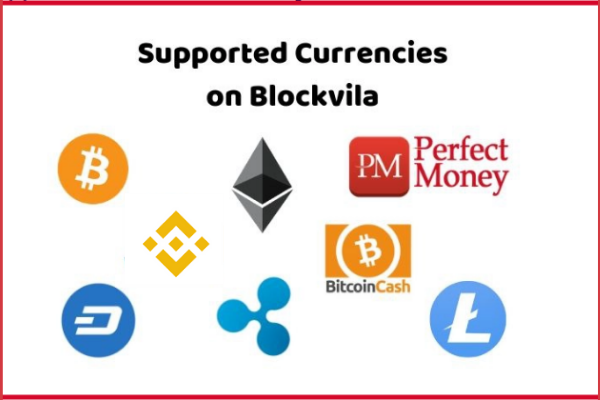 Coins Supported on Blockvila P2B
All cryptocurrencies listed on coinmarketcap are supported and available for purchase on Blockvila P2B.
You may not get to see all these coins on your dashboard, as Blockvila only listed a few of these coins.
These are the cryptos you will get to see on your dashboard:
Ethereum Classic (ETC)
NEO (NEO)
EOS (EOS)
Binance Coin (BNB)
If the coin you want to buy or sell is not listed, contact customer support to proceed with the transaction.
For E-currencies: Only Perfect Money is supported.
Coins Supported on Blockvila P2P
Bitcoin (BTC)
Ethereum (ETH)
Tether (USDT)
Blockvila coin (VILA)
Fiats
Supported Countries
Initially, Blockvila only supported Nigeria. However, it has included support for more countries, and it now supports:
Nigeria
South Africa
Kenya
Ghana
India
Bulgaria
Russia
Below, I will walk you through Blockvila's fee rate and payment method..let's dive in.
---
Transaction Charges|Payments Methods
Transaction Charges
P2B Charges
Sell fee : ₦52 ( Stamp duty Charge)
Blockvila does not charge a transaction fee. The fee that you see above is a tax charge, and it goes to the Nigerian government.
Notwithstanding, this does not mean that Blockvila is not generating any revenue from its service.
However, we can say that it compensates for this through the high rate that it charges.
P2P Charges
Makers – None
Takers – 0.6%
Swapping – 0.5%
Mining Fee
Maintenance fee – 0.5%
Payment Methods
For P2B
Cash deposit
ATM transfer
Bank Transfer
For P2P:
For Blockvila Mining
See the next subheading!
---
Transaction Limits | Verification Requirements
Transaction Limit
Blockvila does not have a transaction limit both for P2P and P2B.
However, your account must be verified if you wish to perform a trade.
Verification Requirements
For P2B
A valid ID Card: Drivers Licence, Int'l Passport, National ID Card, Voters card
Proof of address: PHCN Bill, Bank Statement, Water bill
Proof of Consent: A picture of yourself holding a piece of paper, that has your name, email and date.
For P2P
Email address
Phone number
Proof of identity: Passport, Driver's License, National ID, Voter's Card
A clear image of yourself holding your proof of ID
For Mining
Full Name
Email Address
Bitcoin Address
Next, I will show you how to contact support…let's head straight to it!
---
Customer Support
Blockvila takes customer support very seriously!
You will find a comprehensive knowledge base where most questions users might have were answered.
However, for further inquiries, you can reach the team via the following channels:
Follow me to the next subheading. Over there, I will answer some of your common questions!
---
Frequently Asked Questions (FAQs)
1. How do I buy bitcoin from Blockvila P2B?
Go to Blockvila.com and click on "P2B". This will take you to the Blockvila "P2B" platform.


– Click on "sign up" and create an account by filling your profile into the form displayed on your screen.


– You will receive a verification mail, click on the "Verification Link" to activate your account.


– The "Verification Link" will lead you back to the platform. Input your "Username or Email and Password" and click on "Sign in".


– Once signed in, you will be ushered into your "Dashboard" where you can start trading immediately.


Remember that you have to verify your account before you could start trading.
2. Does Blockvila have a Referral Program?
Yes, it does!
Blockvila has a unique referral link for every registered customer on its P2B, P2P, and Mining platforms.
This it did, to appreciate users who promote their brand by inviting their friends to its exchange.

On Blockvila P2B – Users get a 50 naira commission for every invite.
Plus a commission of up to 0.5% to 1% of the invite's total transactions both from their "BUY and SELL" order for a lifetime.

Whereas on its P2P,users get a 20% transaction fee bonus on all their referrals for 12 months.

For Mining – Users earn a 5% bonus from their referrals when they purchase their first mining package.
3. Is Blockvila Legit?
Blockvila has a solid reputation and is one of the top-ranked Nigerian crypto exchanges.
It boasts of good service delivery, instant transactions, and quality customer support.
The founder is known, and the location of the exchange is made open too.
Interestingly, this exchange has been in existence for years now, yet it is up and running without a "theft story" so far.
Moreover, it has a 5/5 rating on Google.
With all the reasons given above, I can proudly say that this exchange is Legit.
---
P.S
Do you want to learn how to trade cryptocurrencies profitably?
We developed a perfect course to help you master Cryptocurrency Trading.
Go to www.ctmastery.com to enrol or join us on Telegram: http://t.me/ctmastery.
---
Conclusion
Blockvila has been trusted by many to get the job done.
But however, the exchange is not flawless as can be seen from the pros and cons below (see product rating below).
The platform is a decent choice for starters as well as any average cryptocurrency enthusiast.
I'm assured that in this post, we have learned;
The supported currencies on Blockvila
Payment methods and so on.
Now tell me,
Have you signed up with Blockvila yet?
If so, on a scale of 1 to 10 (with 10 being the highest), how would you rate your experience with Blockvila?
In what way do you think the exchange can be improved?
Or maybe you have a question about something I mentioned in the post?
Let's talk about them on the comment section below.
If you enjoyed this post and want to encourage us to keep pushing out awesome content, kindly click on the share buttons below.
---
Related Articles;