Welcome to our Nebeus Review
Nebeus is an England based financial service provider that was launched in 2014 by Sergey Romanovskiy and Konstantin Zaripov.
It provides individuals with the opportunity to buy, sell, lend and loan Cryptocurrencies.
The platform issues Cryptocurrency debit cards that they claim can turn your Cryptocurrencies to cash in any USD /Euro dispensing ATM around the world.
Users can withdraw up to $1,500 a day at rock-bottom fees.
In this Nebeus review, I shall examine Nebeus inside out.
This will help to give you a better understanding of their actual activities and what to expect should you choose to use their services.
---
Nebeus Review: Services On Offer
Nebeus offers 4 services. They are:
P2P Bitcoin Loans
Crypto Exchange
Secured Crypto Wallet/Vault
Crypto Debit Cards
Let's examine them one at a time, starting from their major service (P2P Loans).
P2P Bitcoin Loans
Bitcoin has steadily risen in value since its inception about a decade ago, and it's difficult to predict where it will go next.
The general consensus from financial experts points to the fact that its value will appreciate even more within the coming months/years.
At a time like this, holding to your Bitcoins might seem like a smart thing to do so you don't miss out on a price spike.
However, the idea of hodling is becoming increasingly difficult as needs arise that require funds to quell. Such needs as family emergencies, business emergencies, travel, etc…
With Nebeus P2P loans, it is possible to convert your Bitcoins to cash and still keep your Bitcoins.
How is that possible, you may ask.
Simple! You use your bitcoins as collateral to secure a fiat loan through Nebeus P2P Bitcoin loan service.
With P2P however, the process is quite slow compared to traditional loans that get approved in minutes.
With Nebeus, you can apply for a loan without credit check – offer up your Bitcoins as collateral – wait to be matched with a lender and receive fiat in your account.
The danger here is, if you fail to pay up your loan within the specified deadline, your Bitcoins will be gone for good.
Another factor you should have in mind is the fact that you will receive half the value of your Bitcoins in fiat – that is, if you wish to receive $10,000 in fiat, you will give up Bitcoins worth $20,000 as collateral.
Quite a huge lump of risk if you ask me.
Furthermore, if you wish to earn a few bucks lending off your spare cash to some needy fellow and earning a bit of interest in return, then Nebeus is for you.
Plus you are assured that you will either receive your money after the loan's duration elapses or Bitcoins in your wallet.
Crypto Exchange
Nebeus offers its users the opportunity to buy and sell Cryptocurrencies through its built-in exchange.
The exchange supports the conversion of fiat to crypto, as well as the conversion of one crypto for another.
That is, you can deposit your local currency to your Nebeus account and exchange it to your desired Cryptocurrency, and you can also transfer your cryptocurrencies to a Nebeus wallet and convert them to other Cryptocurrencies.
Nebeus supports deposits through Bank transfer and Credit/debit cards. Deposits made through bank transfers are free while those made through Debit/Credit cards come with a fee of 1.35%.
Furthermore, you can also withdraw funds directly to your bank account. This feature is ideal in events where you wish to sell off your Cryptocurrencies and receive their fiat value in your bank account.
The problem with small exchanges like Nebeus is liquidity (not enough funds to service transactions).
Nebeus claims it has measures in place to maintain liquidity. However, the measures are yet to be verified.
Secured Crypto Wallets
The challenges associated with keeping Cryptocurrencies in exchanges and other software wallets are quickly becoming insurmountable.
The safest wallets (hardware wallets) come at prices that look out of reach for investors with small portfolios.
Nubeus stores 98% of its user's funds in secured cold wallets (offline) and seemingly out of reach of third-party malicious apps and software.
I personally prefer storing my coins in cold wallets; they allow me to sleep better… Winks!
Big up to Nebeus for this feature.
Crypto Debit Cards
I earlier mentioned the fact that Nebeus issues Debit cards that are capable of converting your Cryptocurrencies to fiat in any USD/EUR dispensing ATM machine.
This is praised as a welcomed development by crypto enthusiasts from around the world, as it is set to take Cryptos to a whole new level.
According to Nebeus, the card program is being facilitated and issued by an England card provider (CreditCard solutions UK Ltd) and will include more Cryptos and fiat currencies within the coming months.
Furthermore, the card is said to work in over 3 million ATMs in 150 countries around the world. It comes with a monthly charge of $1,99 for non NBTK (Nebeus Token) holders and can be topped up in Nebeus official app.
Using the Debit Card comes with benefits such as a zero transaction fee and a 3% monthly cash-back paid in NBTK.
---
Signing Up
Switching gears and focusing on Nebeus' registration process. It is nothing different from what we are all used to – all you have to do is to Visit Site, input your name, Email address, country and password.
However, the problem comes when you try verifying your account in order to lend or take a loan.
Account Verification
Signing up is easy. However, to lend out money or take a loan, you will need to verify your account.
The verification process starts with a phone verification through an SMS code sent to your mobile phone.
As a Borrower, you will need to upload a copy of your national identity card or passport showing your picture in full.
You are to proceed into filling a form with your date of birth and identification number.
And finally, you will need to submit a utility bill with an address that matches what you used for registration.
Once you complete the verification procedure above, you can then be granted access to the P2P loan feature.
---
What Can You Tell Me About The Loans?
Lending on Nebeus comes with a 10% charge on total profit, which is to be paid after a loan amount has been paid in full.
Lenders are allowed to set their preferred interest rates. However, the minimum yield on each loan is 12.5%.
The Nebeus system has an internal credit score system that rates borrowers according to their past records.
Paying a loan as at when due improve your credit score and makes you eligible for larger sums while defaulting on your loans affects your credit score and reduces your chances of getting future loans.
Loan Limits
Upon successfully verifying your identity, you will be assigned 12.5 points which makes you eligible to receive loans up to 0.5 BTC to be repaid within a maximum period of 30 days.
Paying up your first loan in time increases your ratings beyond 16.5 points, which is needed to receive loans of up to 5 BTC, and can be repaid in 45 days.
Furthermore, you will need to have at least 63.5 to receive up to 10 BTC, and repay within a period of 90 days. However, 50 points (2 repaid loans) will make you eligible to receive instant loans with zero waiting time.
---
How To Apply For A Loan
To apply for a loan, all you have to do is:
Go to the "issue a loan" tab
Click on "Create Loan request"
Click on "Loan Request"
A form will be displayed prompting you to specify your preferred loan terms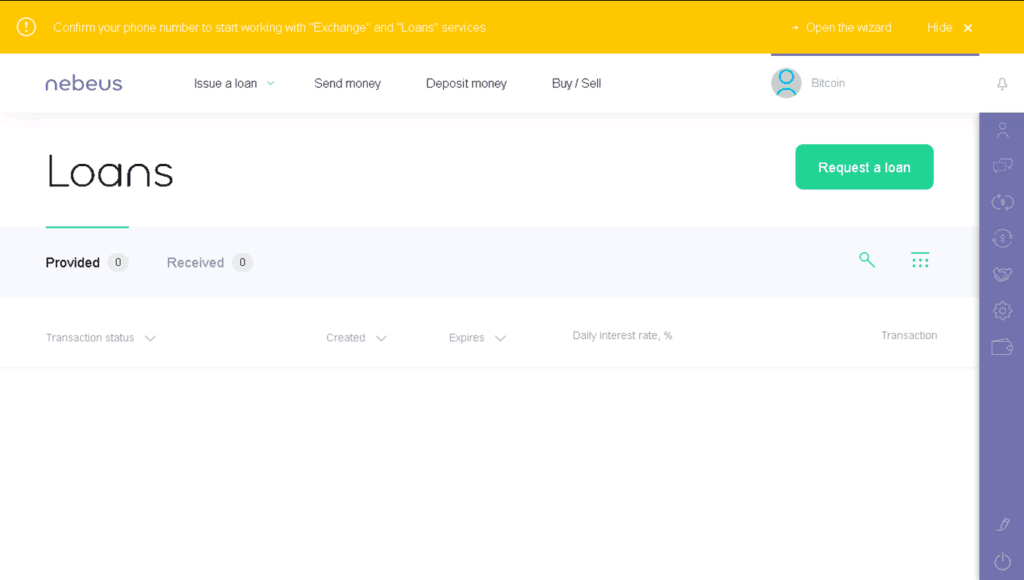 At this point, you will need to specify:
Your base currency
Your desired loan amount (not more than what you qualify for)
Number of days before loan repayment (not more than what you qualify for)
Interest rates (according to their recommendation)
Specify minimum amount (in-case your loan cannot be completely funded)
Payment plan (single, annuity, or differential)
Additional information (intended to persuade lenders into granting your loan request)
Note that the terms you specify will be shown to prospective lenders. The better you craft them to suit a lender, the better your chances of receiving the loan.
---
How To Lend Out Your Crypto and Reap Returns
Becoming a lender on Nebeus is relatively easy, all you have to do is:
Sign up
Verify your phone number
Go to the loan section and lend to an existing loan offer, or create a loan offer and wait to be matched with a borrower.
Disburse the loan
Wait out its duration and get paid.
---
Conclusion
There are not enough customer reviews online for Nebeus services.
However, on the loan side of things, they seem to be too many borrowers and far too few lenders willing to take the risk.
This has massively affected Nebeus loan approval rates and users are not pleased. You can imagine passing through the rigor involved in the verification process only for your loan application to remain pending for months.
Furthermore, it has been reported that Nebeus displays false statistics to create an impression of high traffic and trading volumes. This despicable act has negatively affected the platform's image.
While I think of its other services like the Crypto exchange, Wallets services, and Debit cards are great, I can't say the same about its P2P loans.
Moreover, there are better alternatives out there for Cryptocurrency P2P loans.
A particular project (DexAge) is currently being tailored to provide the best P2P loan solution amongst other innovative services.
However, it is still in its infancy (Pre-launch state) and is offering everyone the opportunity to jump right in and partake in its success story.
You can participate in the airdrop now and get $30 worth of Tokens for free.
That's all we have on our Nebeus review.
Please leave your opinions in the comment section below, and don't forget to share – it helps us serve you better.
Thank You!