This post is a continuation of a series on "How I made 28 million Naira on Binance."
Do you know that you can sit comfortably in your house and make millions of naira with your Binance account?
Today, I will show you 5 proven ways to make money on Binance.
If you are a beginner, don't need to worry about Technical Analysis.
What I am about to show you is mainly how to generate passive income streams.
I have used one of the strategies I discussed in this post series to make over 28 million naira.
Want to know how I did that? Read this post to the end!
---
Post Summary
Let's get started!
---
How I Made 28 Million Naira On Binance
This video gives an insight into what I am about to discuss in this post.
You can watch it and then continue with your reading.
When you visit Binance and click "Earn," you will find various passive income-earning options.
In this section, I will show you how to make money on Binance using 5 of those options.
I will also reveal how I made 28 million naira at the end of the post.
5 Ways To Make Money On Binance
They include:
1. Savings
Consider "Binance Savings" to be a bank's savings account.
The only difference is that you are saving crypto and not fiat.
In addition, the returns you earn from "Binance savings" are higher than those of the bank.
There are two products lines under Savings:
Flexible Savings: The APR here is smaller. However, the benefit is that you can withdraw your funds anytime you want to.
Fixed Savings: This one offers a higher APR, but there is a set locking time, and if you withdraw your money too soon, you will forfeit your APR.
How to make money from Binance Savings: Step-by-step
Log into your Binance account and click on "Earn" and select "Savings"
Select your preferred "Savings" product.
Let's assume you selected "Flexible Savings". Beneath it, you see over 200 coins supported. Select your preferred coin and click "Subscribe."
You must have the coin in your Binance wallet.
Enter your intended savings amount, check the agreement box, and click "Confirm."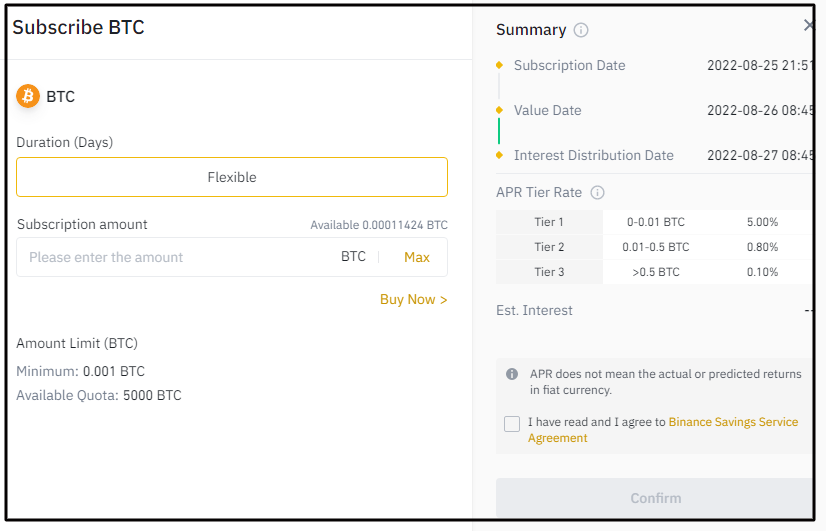 The steps are the same if you selected "Locked Savings," except that you need to choose a duration.
Once you have completed the steps, your coin is put to work, where it starts generating income.
Also read: How To Earn High Yields With Binance Savings (A Comprehensive Guide)
---
2. BNB Vault
The vault is strictly for BNB. You earn in two ways when you deposit your BNB into this vault:
Daily APR
A share of newly launched coins on Binance
How to make money from BNB Vault: Step-by-step
Go to "Earn" and select "BNB Vault"
Go down, then select "Stake." Click "Buy BNB to Stake" if you wish to buy more BNB to stake or if you don't have any BNB.
Your earnings will start accruing once your BNB is deposited into the vault.
We move to number 3!
---
3. Liquidity Farming
Here you make money from Binance by depositing your coin into a liquidity pool.
A liquidity pool is a pool of crypto funds secured by a smart contract.
In addition, the liquidity pool facilitates trading on decentralized exchanges.
When you deposit your coin into a liquidity pool, you earn a cut of the fees paid by traders making use of it.
How to make money from liquidity farming: Step-by-step
Click "Earn" and select "Liquidity Farming"
You will see different pools available, each represented by two different paired tokens.

Select your preferred pool and click "Add".
Enter the amount of coin you want to add (you can add both of the paired tokens or just one of the tokens). Check the agreement box and click "Add Liquidity".
After this, you'll start receiving a share of the pool's revenue. The amount you invest in the pool determines how much you will earn.
---
4. Binance Pool
This section of "Binance Earn" is where you can make money without putting down any money for it.
Surprised? Well, the reason is that it involves mining and POW.
The term "mining" entails verifying transactions on POW blockchains like BTC and LTC.
Miners use powerful computers to verify transactions. Also, miners are awarded cryptocurrency for successfully verifying a transaction.
For example, Bitcoin miners earn BTC for successfully verifying bitcoin transactions.
By joining Binance Pool, you are renting your computer to Binance to use it for mining.
The rewards are shared among participants based on the hash rate each person provided to the pool.
There are more than 4 cryptocurrencies you can mine on Binance Pool, including BTC, LTC, and ETH.
However, participating in any of them requires technical know-how.
How to make money from Binance Pool: Step-by-step
Click "Earn" and select "Binance Pool"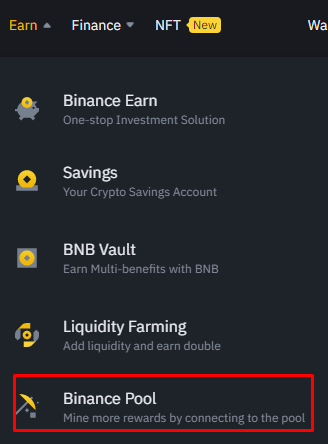 Create a mining account by navigating to the left side of your screen.
Following the creation of your account, you will be redirected to "Worker," where you will see a set of instructions on how to connect to the Binance Pool.
Continue to number 5!
---
5. Launchpad
Binance's Launchpad gives you early access to new, potentially profitable, and safe tokens before they are available for trade.
It is where new projects raise funds on Binance by conducting a presale of their token before it eventually hits the exchange.
You already know that the best time to buy a coin is during the pre-sale because it is sold at a cheaper price.
This means that you have a greater chance of making a good profit by the time the coin gets listed for trading.
To join the Binance Launchpad, you need to have some BNB and commit it to the new project conducting the launchpad.
Binance features a crypto project on its launchpad periodically.
So, you need to frequently check the "Launchpad" to find launchpad tokens in which you can participate.
To do this, go to "Earn" and click on "Launchpad".
At the time of writing, Binance Launchpad has featured over 60 projects, including ALICE, CAKE, AXS, GMT, etc.
Also Read: Binance Launchpad: How To Invest In Newly Launched Tokens
Now, to learn how I made 28 million naira on Binance, continue to the "conclusion" where I revealed it.
---
Heads Up!
Do you want to learn how to trade cryptocurrencies profitably?
We developed a perfect course to help you master Cryptocurrency Trading.
Go to www.ctmastery.com to enroll. You can also join our Telegram community at https://t.me/ctmastery for more information.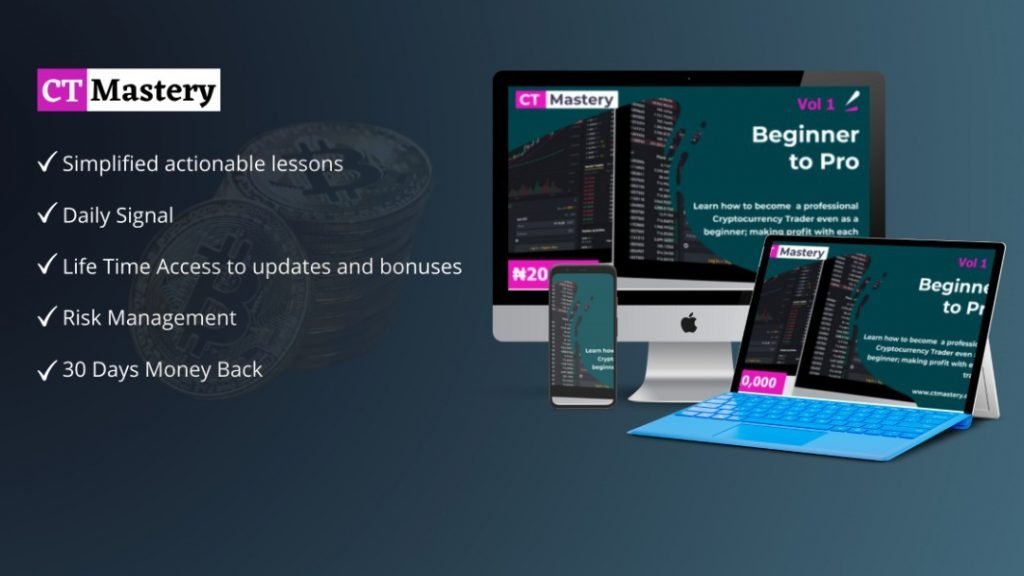 ---
Conclusion
This is where we conclude the post.
Binance provides users with a variety of robust ways to make money in crypto.
As earlier mentioned, this post has two parts.
In the first part, I showed you how I used Binance to make over 28 million naira.
I also walked you through 5 additional passive income streams using the exchange.
Click here to read the post – Make Money Trading On Binance (I): How I Made 28 Million Naira
Now, it's time to get your feedback.
Are you new to crypto and would you love to make money on Binance?
Have you used any of these top 5 ways to make money on Binance before?
Type your responses and ask your questions, if any, in the comments section.
If you enjoyed this post, share it with your friend by clicking the "SM" buttons below. Thank you!