Today's post is a review of KNG, the native token of the Kanga Exchange.
Impressively, the price of KNG went up by 95% just 3 days after its presale.
And holders of the coin seem to gain more than meets the eye.
Keep reading to know what they stand to gain and other details of the coin.
---
Post Summary
This review is grouped under the following subheadings:
Click on any item above to read its details immediately.
Enjoy your read!
---
1. KNG Overview
KNG is the native token of the Kanga exchange.
It was launched on the platform on the 23rd of September 2021 via a public sale.
Then it sold for $2 per token and 3 days later, the price went up by 95%. Superb!
The public presale was only open to TenSet Gem Launch Pool (TGLP) subscribers and 1,000,000 KNG were sold.
You'll find more details on the supply and distribution of the coin below: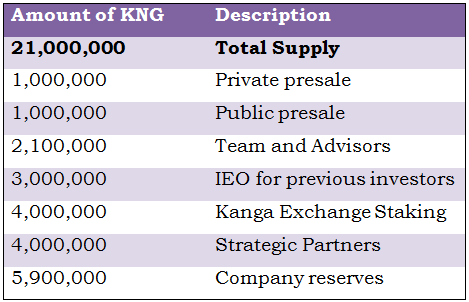 KNG was created to facilitate transactions on the Kanga exchange.
We'll discuss more on that and other uses of the coin in the next section.
Tag along!
---
2. Uses Of KNG
a. Fees
Transaction fees on Kanga Exchange are paid with KNG.
Interestingly, you don't need to own the coin to pay these fees.
The fees can be deducted from the coins you're trading and automatically converted to KNG.
For example, if you're trading BTC/USDT;
The buyer's fee is in USDT while the seller's fee is in BTC
This fee in USDT is automatically used to buy KNG from the KNG/USDT market and that the fee in BTC is used to buy KNG from the KNG/BTC market.
Both are done at the market price. So cool!
Additionally, all transaction fees are sent to the PoS account of the exchange, where KNG is staked.
b. Passive Income
KNG holders also earn passively when they stake their holdings on the PoS account of the exchange.
They earn an increasing bonus of 0.3% if they don't make withdrawals.
This bonus is an addition to the APY that is awarded for staking the token.
Also, turning on the 'auto-transfer' button ensures the user earns this bonus daily.
Since it is an increasing bonus, the user will be earning a 3% bonus by the 10th day. Cool!
Furthermore, the Kanga Exchange team staked 4 million KNG on the same PoS account.
They pay their staff (over 50) from their profit share.
Amazing!
Next, I'll show you how to lay hands on this profitable coin.
Keep reading!

---
3. How To Buy KNG
a. First, you have to create an account with Kanga exchange. You can do that using my referral link.
b. Now, log into your account and click on 'markets'
c. Select a trading pair having KNG and the currency you wish to buy with e.g. KNG/USDT
d. Fill in the Buy order with the amount you need and click on 'Buy KNG'
e. Your order will be added to the order book and filled if and when a matching Sell order is placed.
Alternatively…
a. You can go to 'Wallets' and select 'Deposit' to deposit an asset.
b. Then select 'Quick Swap' to exchange your asset for KNG.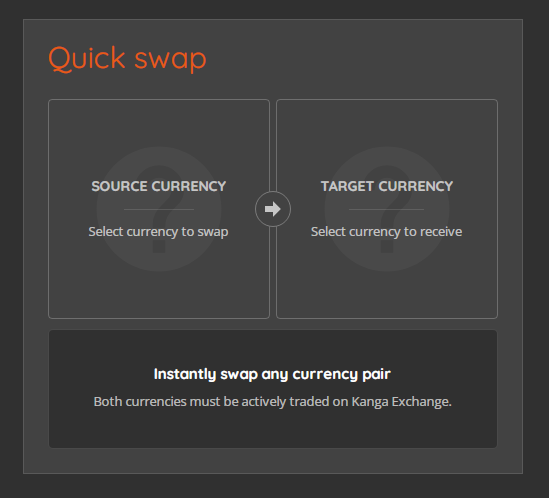 c. Wait for your wallet to be credited.
Thumbs up!
Wondering if this coin is worth your money? Find out what I think in the next section.
---
4. Is KNG A Good Investment?
I believe it is because it enables you to trade other tokens and earn passively as well.
Also, the team behind the project are seasoned entrepreneurs with impressive tech backgrounds.
Before launching the Kanga exchange, they have completed other FinTech projects.
Additionally, they have covered grounds in Poland where the Kanga Exchange originated.
Now, they're looking to expand to other countries, giving everyone the opportunity to be a stakeholder by owning a physical office.
Furthermore, large investors and venture capitalists like TenSet, MetaHero, Synapse, OIG, etc have identified with the project.
KNG is set to the moon, don't you agree?

---
5. Conclusion
We have now come to the end of our discussion on KNG, I hope it was worth your time.
You can trade other coins and earn passive income with KNG.
So, tell me, will you buy this coin?
Perhaps, you already did, have you made profits?
Let me have your responses in the comments section.
Also, share this post with your friends, thank you!
---
Read about these tokens yet?