Hey folks, this is a review of Solana Pay!
Solana Pay allows anyone to leverage Solana, the fast-scaling blockchain, for cheaper and faster transactions.
Amazingly, it is dubbed "the Visa/PayPal of Web 3.0."
Both business owners and developers can integrate Solana Pay and enjoy lots of benefits.
To learn more about this payment system and its benefits, read to the end of this review.
---
Post Summary
This is what I will cover:
Let's get started!
---
1. What Is Solana Pay?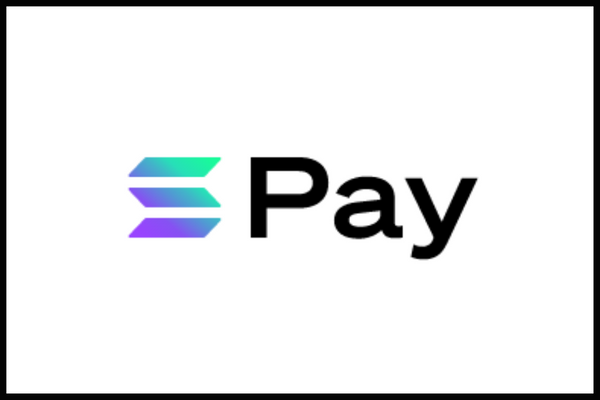 It is a Payment System built on the Solana blockchain. The Solana Lab launched it in February 2022.
Solana Pay can be used by Web 3 developers, e-commerce sites, and all kinds of businesses to accept payment just like Visa and Paypal.
However, it is unique because it is a decentralized payment gateway and it is also built on the blockchain.
Moreover, with Solana Pay, merchants enjoy a faster transaction, comparable to that of Flash.
And customers, on the other hand, enjoy low transaction fees.
Furthermore, it supports payments in crypto and stablecoins.
Impressively, Bank of America has described it as "the Visa of the digital asset ecosystem."
Also, companies including Circle, Checkout.com, FTX, Slope, Citicon, Elusive, etcetera are in partnership with Solana Pay.
Continue to the next section!
---
2. How Does Solana Pay Work?
Solana Pay is an open-source platform. This means that it is available to anyone.
To use this platform, interested merchants will have to hire a software developer to integrate the Solana Pay source code into their apps or DApps. 
Alternatively, the developer can create its "Point of Sale app" for them to start accepting payments.
Once the developer is done setting up Solana pay for the merchant, customers can then make payments as displayed in the image below.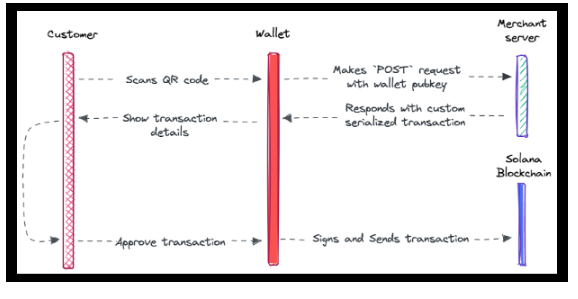 The steps involved are:
Merchants provide a QR code to initiate transactions.
Customers scan the QR code using their Solana-based mobile wallets (Check FAQ)
The wallet makes a request to the merchant API.
Then the merchant responds with a customized transaction for the customer.
Next, the wallet displays the transaction details to the customer
And finally, the customer approves the transaction by signing it with their private key and sending it to the network.
So far, Solana Pay only supports payment in Solana-based tokens and NFTs.
Also, it is possible for merchants to mint NFTs or other perks for their customers at the end of the transaction.
Interesting! We'll go over that in more detail in the next section. Scroll down.
---
2. Benefits/Advantages Of Solana Pay
They include:
Transactions with Solana Pay are confirmed and sent to merchants within 400 milliseconds! That's crazy.
Also, it can process up to 65,000 transactions per second.
This beats several other payment systems, like the lightning network, etc., built on the blockchain.
It also outperforms Visa, which only offers around 2000 TPs. Impressive!
Transactions with Solana Pay cost a fraction of a penny.
This is because each transaction on the Solana network costs $0.00025. Woah!
The payment process is entirely P2P (between customers and merchants).
No intermediaries are involved, thus avoiding additional fees.
Merchants can set up Solana Pay in a matter of minutes.
The same goes for customers; all they need to do is to scan a QR code and make the payment instantly.
Here are some of the other benefits that merchants can explore:
Merchants can integrate composable DeFi transactions involving borrowing, swaps, privacy, chargebacks, buy-now-pay-later, discounts, yield generation, etc. with their Solana pay. Impressive!
Also, they can opt to pay for transaction fees on their customers' behalf, so they don't need SOL in their wallets for fees.
Additionally, merchants can automatically mint an NFT or transfer loyalty tokens, invitations, and gifts for customers at the end of the transaction.
For example, mtnPay's Booth app, one of the merchants already using Solana Pay, mints 1:1 NFTs for customers at the end of the transaction.
That's intriguing!
Now, I know what you are thinking: is Solana Pay the next leading payment system?
Scroll down and see my view!
---
4. What the Future holds For Solana Pay
Solana Pay has great potential and many experts believe it could someday replace Visa.
In fact, it is exactly what the crypto community has been craving for: a scalable decentralized payment system with a low barrier to entry and low fees.
Moreover, it brings great innovations that we have not seen before in the payment gateway space.
Before now, merchants have been looking for an opportunity to continue interacting with customers after a sale.
However, the presence of multiple intermediaries and other barriers associated with payment gateways makes it difficult.
But, thanks to Solana Pay, merchants can initiate such interactions and maintain their customers for life.
All they need to do is to integrate any feature they want into the source code.
To top it off, Solana Pay seeks to be something "bigger than enabling customers to pay with crypto," as described in this article by the team.
Its vision instead is to be a "platform where all currencies—including U.S. dollars—are on-chain and used for a wide range of transactions."
Solana Pay is very close to achieving this vision.
Hopefully, with greater adoption, Solana Pay could become the leading payment gateway, topping Visa and other competitors.
There's one problem I see here though. The fact that merchants need to hire a developer to get started.
But on the bright side, the crypto space is characterized by innovation.
As the platform is improved, there may be easier alternatives soon.
Gratefully, local stores, including Autonomous, MtnPay, Atlas Cafe, Red Giant Coffee, Feature Boutique, and a few others, have adopted Solana Pay.
This means a great deal for Solana Pay.
---
5. FAQs
1. Does every crypto wallet support Solana Pay?
Not exactly!
Solana Pay is supported by the following Solana-based wallets:
-Phantom
-Solfare
-Glow
-Slope
-Crypto Please
-FTX
2. Is it possible to receive NFT at the end of every transaction made with Solana Pay?
It all depends on the merchant and the request type.
You see, the Solana Pay source code allows merchants to create two types of requests:
Transfer request: This supports a one-way transfer of payments to merchants; i.e., the transaction is completed once the customer makes payment.
Transaction request: This, on the other hand, enables transactions to be dynamic. This is because it allows merchants to include features such as NFT minting, discounts, loyalty tokens, etc. at the end of the transaction.
3. Does the Solana Lab have access to my funds?
Not exactly!
Solana Pay is a peer-to-peer payments network that is censorship-resistant. No one else controls your funds except you.
However, since Solana Pay supports hot wallets, these wallets might be vulnerable to hacking.
---
Heads up!!
We developed a perfect course to help you master Cryptocurrency Trading.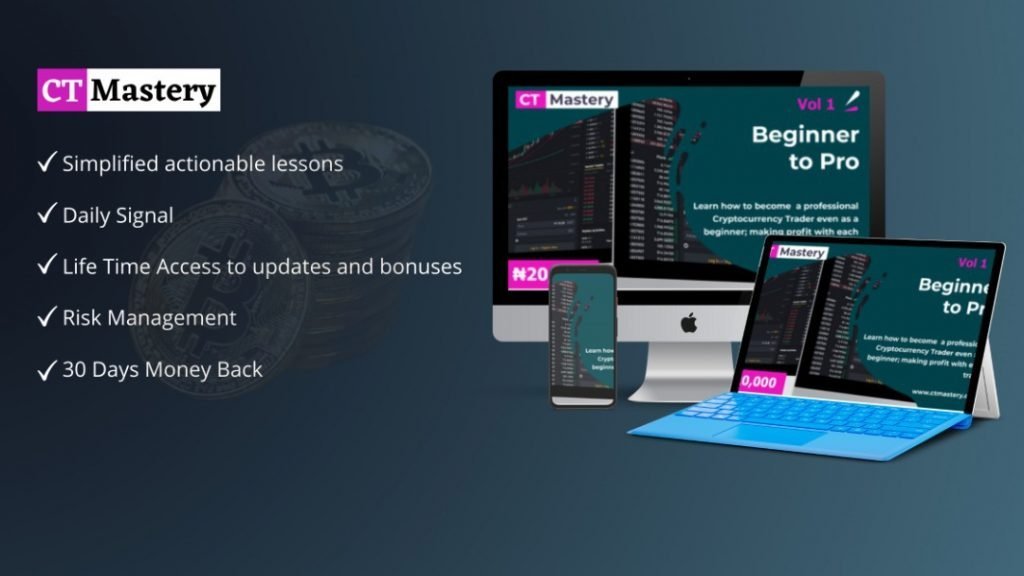 Go to www.ctmastery.com to enroll.
You can also join our Telegram community at https://t.me/ctmastery for more information.
---
6. Conclusion
This is where we call it a wrap.
Solana Pay is remarkable for its ability to provide merchants with faster and less expensive payments in crypto.
It is a game-changer for both crypto and traditional payment systems.
Impressively, crypto enthusiasts believe that it is on its way to becoming the industry's leading payment gateway.
Now, it's time to give your feedback.
What do you think about this payment gateway?
Do you see it outperforming Visa someday?
Leave your thoughts in the comment box and let's have a chit-chat.
Did you enjoy this post? Why not share it with friends by clicking the 'SM' icons below? Cheers!
---
Also Read: