Let's face it. Not everybody can afford the "luxury" of dealing with bank services around the world.
Their transaction fees are really high, the processes are slower and slower, and everything is just inefficient.
And to top it all up, banks can block your account without any kind of warning or explanation.
You can't be sure of your financial balance anymore.
And this is a problem especially for minorities around the world, with unregulated banking infrastructure.
Take Africa for example, where local fiat currencies are extremely volatile and more than half of the population Is unbanked, according to Statista.com.
Therefore, the world needs a change in the economic system. Minorities need to stand up and gain independence, financial safety, and affordable agreements.
And Oduwapay comes to their support.
---
What is Oduwapay?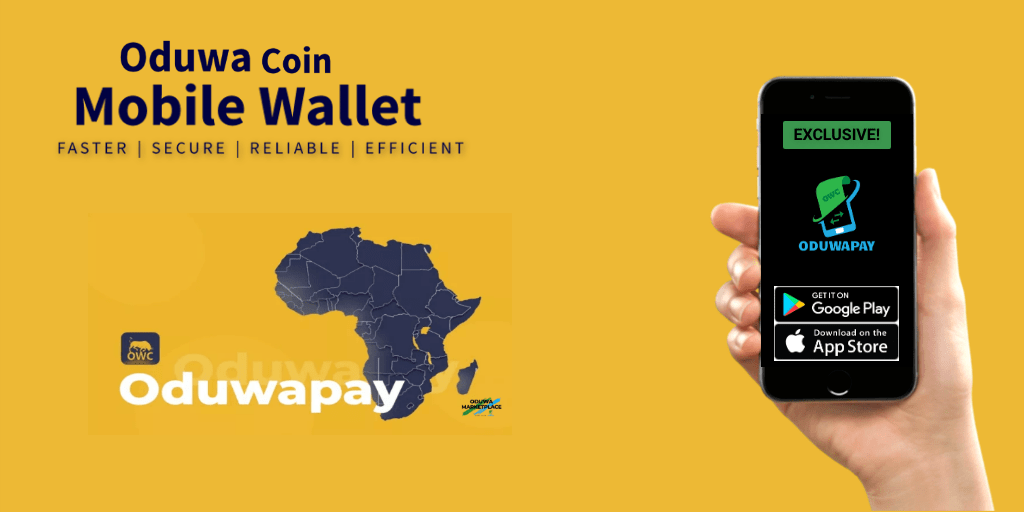 Oduwapay is an Integrated Payment wallet and Gateway for Oduwa Coin and OduwaUSD stable token, designed for both merchants and shoppers on the Oduwa blockchain ecosystem, with the aim of helping Africa's Fintech and not only.
A Better Way To Exchange Value, Everywhere
The fact that it runs on the most efficient technology, BLOCKCHAIN, already says a lot. There are no third parties involved, and therefore no bank fees.
It provides users with cross-border payment options and easy conversion to the desired fiat currencies.
Being developed on blockchain technology means that the platform is completely secure; the malicious actors needing to invest way too much in order to get access to your income.
Oduwapay also has multi-layer authentication, and all data is encrypted.
In order to use it, you just need to download the wallet on the App Store as a shopper and for Merchant on Payment Box, where you can find the codes needed to add to your website.
---
What Do I Need To Know?
Before using the OduwaPay service, you should know that it is part of a complete system.
The OduwaPay is an exclusive e-wallet for Oduwa Coin, which can store value, help users make payment to anyone, and is also enabled on the Oduwa Marketplace.
The Oduwa Network was designed to be fast and efficient, and you can't double spend your coins.
Each of its elements has a lot of advantages that compose the solution of the unpredictable world we live in:
1. The Oduwa Coin – A decentralized cryptocurrency alternative to Bitcoin, designed to tackle all the pain points of Bitcoin from no fees to faster confirmation, meaning cheaper and more efficient.
2. OduwaUSD – OduwaUSD is a stable coin deployed on the Oduwa Blockchain network designed to protect your crypto asset against volatility. It enables businesses, including exchanges, wallets, payment processors, financial services, and ATMs, to easily use fiat-backed tokens on blockchains to solve volatility-related problems that merchants face using cryptocurrencies like Bitcoin.
3. The OduwaPay Wallet – A cryptocurrency e-wallet and payment gateway for Oduwa Coin and OduwaUSD stable token.
4. The Oduwa Market Place – This is where you easily use your new coin to buy various products, from books and clothes to masks and nitrile gloves. All of them without being afraid of third parties.
---
Why Should I Start To Use OduwaPay Services?
First of all, as opposed to fiat currencies, crypto doesn't involve intermediaries, meaning that you are the only person who manages your income.
Besides not asking users to pay fees, the team of Oduwapay also offers you reward points that you can use later for various purchases.
The team got really involved in the services they provide.
They offer qualitative support, always working on their updates to deliver the best services for people.
And it is inspiring to see a company that is not focused on its own commodity.
They saw how volatile the financial values are in Africa, and invested a lot of their own assets to add a stablecoin (OduwaUSD) on the Oduwa Blockchain network to support efficient cross border remittance.
They went out of their way to develop a complete network so that they don't confuse people.