In this post, I did a complete review of Paxful and compared it with its top rivals.
After going through all other reviews online, I am proud to say that this is the most complete Paxful review.
Paxful is considered to be 'Uber of Bitcoin' due to the ease it brings to the purchase and sales of BTC.
It is similar to Remitano but supports a lot more payment methods than its close competitors (LocalBitcoins, Coincola).
Most Nigerians that use this platform, are those selling gift cards (Amazon, iTunes, etc) for bitcoins.
I have compared Paxful with Remitano and LocalBitcoins.
However, in this post, I am giving you a complete Paxful review with a bonus of how to trade on the platform. Let's get started.
---
Post Summary
To smoothly walk you through this post, here is what I will be covering:
Paxful's Giftcard HUb
Paxful's Lightning Nework
You can click on any of the titles above to take you straight to the section.
---
1. Paxful Overview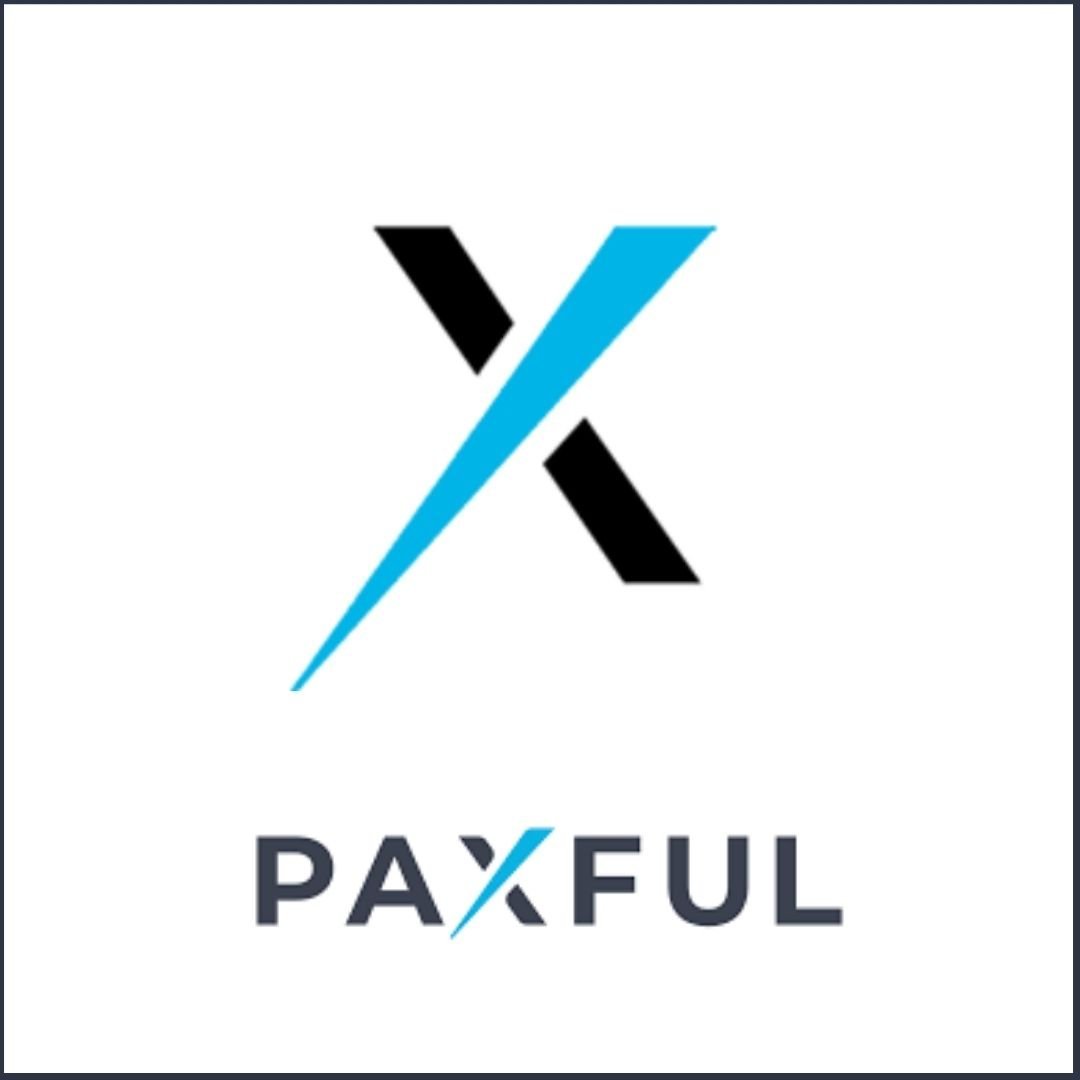 Ray Youssef and Artur Schaback founded Paxful in 2015.
It has offices in various cities with its Head office in 3422 old Capitol Trail, Wilmington, Delaware in the United States of America.
Paxful is a P2P marketplace that supports over 300 payment methods. In other words, it supports any payment method that you can think of.
With this feature, a user will not only trade with other users from their country, but with users from any country that accepts their payment method.
Paxful initially only offered the buy/sell of BTC, but it has now added support for 2 other cryptocurrencies.
Gladly, the exchange can be accessed through the website or the mobile app.
You can also check out this video to further understand how Paxful works.
This is Paxful in a nutshell. We will talk about its services below.
---
2. Paxful Services
Paxful provides users with the following services.
Wallet: Here you can receive, store, and send/spend bitcoins.
Vendor Service/ Create an Offer: Once you create an offer in the market place to either buy or sell, you have become a vendor.
Affiliate Program: Through this, paxful rewards its users with 10%–50% of the revenue it generates from any client a user recommends to paxful.
Covert Crypto: This allows you to convert one crypto to another, say BTC to ETH.
Earn: You can stake your BTC on Paxful for passive rewards. As of press time, the APY rate is 3.05%. Also, rewards are paid out weekly.
P2P market place: This is where buyers and sellers meet to trade BTC, ETH and USDT using over 300 payment methods. I will discuss this in more details.
Paxful uses an escrow system to modulate transactions on its P2P marketplace.
To buy or sell bitcoin on Paxful, you need to understand what an escrow is.
What Is An Escrow And How Does It Work?
Escrow guarantees that the conditions between the two parties involved in the transaction are met before the required fund/asset is released to the beneficiary.
Here is how it works on Paxful:
Assuming, Damilola wants to buy Bitcoin.
She goes to the Paxful marketplace and enters the amount of bitcoin she wants to buy and initiates the trade.
Let's say, she is buying from Jay, whose terms she agrees with.
The amount of bitcoin she wants to buy will be taken from Jay's Paxful bitcoin wallet and held in escrow.
In escrow, the bitcoin is not accessible to Jay or Damilola.
Damilola's time countdown to pay will start in presumably 30 minutes.
At this time, she is expected to pay Jay using the agreed payment method and indicate that she has paid.
If she does not pay within this period, the trade will be canceled and the bitcoin released to Jay.
However, if she pays and indicates that she has paid, Jay will confirm receipt of the payment and the bitcoin will be released to her.
Also, if any of the parties falters, the transaction will enter a dispute where the team will look at the presented evidence and release the bitcoin to whoever is right.
Note that even though this system is safe, there are cases where traders have been defrauded because they made a mistake.
I will discuss how to trade safely to avoid these errors later in this post.
Now that we know what an escrow is and how it works, let's jump into How to buy crypto on Paxful.
---
3. How To Buy/Sell Crypto On Paxful
How To Buy Crypto On Paxful P2P MarketPlace
Buying cryptos with Paxful is relatively easy, all you need to do is:
Visit Paxful and register your account
Click on "Dashboard" and then "Buy BTC"
Select the crypto you want to buy, the payment method, the amount you want to spend, currency and location. Click "Find offers"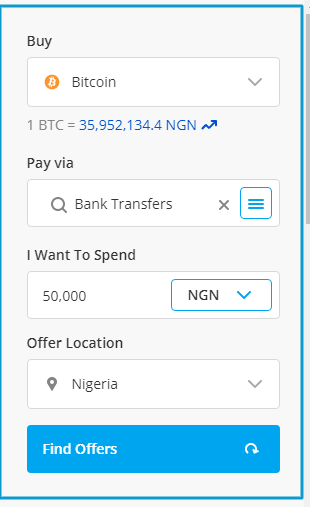 A list of sellers will be displayed. Go through the list to pick a seller.
Note: Some sellers will require you to verify your account before they can sell to you. If you have not verified yet, go to "My profile" and get verified.
When you select seller, you will be redirected to the trade page where you can communicate directly with the seller through live chat.
If you are satisfied with the seller's terms, you can then proceed with making payments.
After the payment is made, click "mark as paid" and wait for your Bitcoins to be deposited into your Paxful wallet.
The time it will take for your Bitcoin to reflect in your wallet is subject to your payment method and whether you have chosen an active seller.
Online payment methods such as Paypal, gift cards, card transfer, etc. are instant.
While, western union transfer, MoneyGram, and cash deposit might take longer depending on the time it takes your bank to process your cash transaction.
Let's have a look at how Paxful handles your transaction.
How Paxful Handles Transactions
When a buyer and seller reach an agreement and decide to trade.
The required bitcoin in the seller's Paxful wallet will be automatically moved to the Paxful escrow wallet.
This is to ensure that the buyer doesn't make payment only to find out that the seller already canceled the transaction.
Furthermore, the buyer is free to cancel a transaction at any time.
Whenever a buyer does cancel a transaction, the Bitcoin will be transferred from Paxful's escrow back to the seller's wallet. Paxful has a payment timeframe.
If a buyer fails to make payment within that timeframe or doesn't hit the "mark as paid" button, the transaction will be canceled.
The sellers' bitcoin will then be transferred back to their wallets.
How To Sell Crypto On Paxful
The steps are as follows:
Navigate to the "Sell" option, and select your preferred cryptocurrency.
Fill in the sales slip and click "Find offers"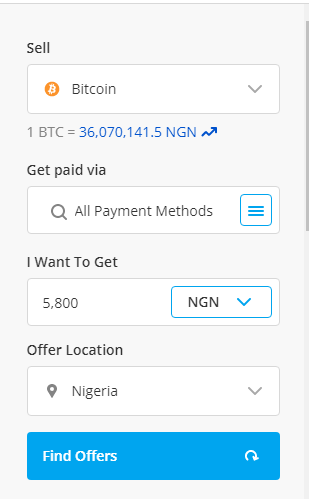 Browse through the list, select a trader that matches your need and click "Sell"
Verify your order, you will see your fees and the information. If you are satisfied with it click "Sell now".
You will also receive a warning message. After you've read it, click "I understand."
At this point, your coin will be transferred from your wallet to Paxful escrow.
You'll be taken to the trade chat page, where you can start a live trade chat with the trader.
Once the trader has made the payment, click "Release". A confirmation box will display. Click "Release" again.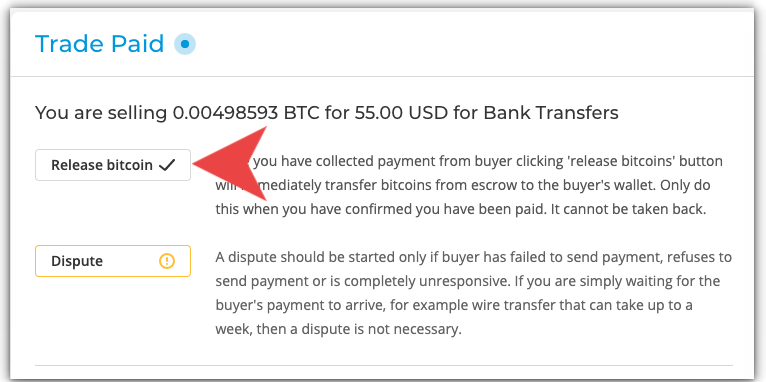 What you should know before selling crypto on Paxful P2P marketplace
They include:
If you are in Nigeria, the minimum amount you can sell must be worth 5700 NGN
When selecting a trader, it is important to take note of his rating, limit, rate, last seen online and profile.
Only a buyer can cancel a trade
In case of any issue, feel free to use these buttons "Dispute", '"Report a Problem"
Paxful has a reputation system, where traders can rate each other according to their trade experience. The higher you are rated, the more likely other traders will click your offer
You can apply to be a verified vendor if you make up to 50 successful trades with 20 clients at least.
Your application will be considered if you have a high response rate and a success score above 33% (this is, however, only available to Canadians, Europeans, and Americans)
You can also "Create an offer" to buy/sell crypto, the link on how to can be found here and here.
Cautionary Note:
As I mentioned earlier, the Paxful escrow system is safe. However, users can be defrauded when they make errors.
To help you avoid this error and trade safely, I gave a complete guide on how to trade to ensure 99.9% safety (this is later in the post).
That said, let's check out the Paxful gift card hub
---
4. Paxful's Giftcard Hub
Paxful has introduced a Giftcard Hub!
This allows you to buy and sell your gift cards with cryptocurrencies at a discount.
How to Become A Gift Card Merchant On Paxful
As an example, I will be showing you here how to buy bitcoin with a gift card on Paxful by creating your offer.
Select Bitcoin as the cryptocurrency you want to trade. Scroll down and select "Buy Bitcoin".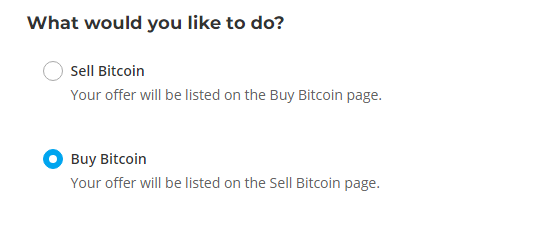 Next, select "Gift Cards" as your payment method, as well as the type of gift card you are buying with.
Select your trade experience.

Classic Trade: You have to interact with your customers manually
Automated Trade: You simply need to submit your gift card with paxful and they will sell it for you automatically. (For this tutorial, we will select this experience)
Enter the card details, following the instructions given below.
Note: This option is only available if you choose the " Automated trade" experience.
On the right hand side, you will see some information displayed. Click on "Next."
Continue by setting up your "Trade pricing" details.

After you've completed the preceding steps, navigate to the right side of your screen to see the information about your transaction. Then, click "Next Step."
Create an offer tag" and label. After that, click on "Create Offer."

After you have completed this step, your offer will be listed on Paxful's market.
Additionally, if you have chosen the "Automated Experience" just as I did in this post, Paxful will automate your transaction and notify you once it is completed.
---
5. Paxful's Lightning Nework
Paxful now supports the Bitcoin Lightning Network.
Lightning network is a sort of decentralized network that enables the transfer of payments outside the blockchain network.
If you use the Lightning network on Paxful, you'll be able to make smaller payments in BTC with faster transaction speeds and reduced fees.
How To Send BTC On Paxful Using The Lightning Network
Go to "Wallet" and click on the "Lightning "
Enter the receiver's invoice and click on "Pay"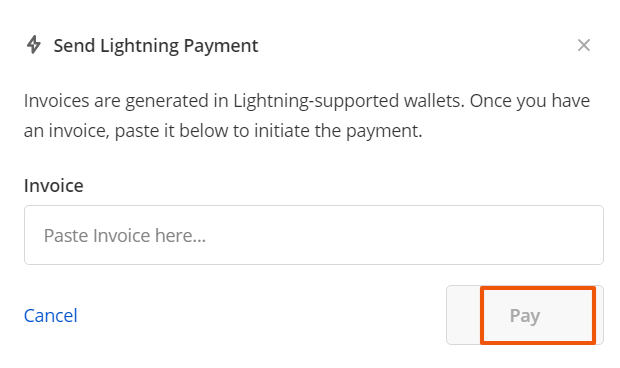 How To Receive BTC On Paxful Using The Lightning Network
Enter the amount you want to receive and click on "Continue"
Scan the QR code or copy the invoice and share it with the sender.
Note:
The maximum BTC you can send or receive is $750.
Your invoice expires after 24hrs.
You can send or receive BTC through the lightning network to lightning-compatible wallets like Breez, BLW, etc. You can't, however, use it with non-lightning wallets such as Trust Wallet, Binance Exchangewallet, and so on.
Paxful will charge you a 1% fee when you "send BTC" using the lightning network. Receivers are charged 0% fee.
---
6. Support Currencies And Countries
Supported cryptos
Supported Fiat
Over 15 fiats available including:
NGN, GBP, CAD, NRB, PLN, RUB
SGD, CHF, TRY, EUR, INR, KES
USD, CNY, AFN, XOF, ALL, GHS
AOA, ARS, IDR, AUD, JPY, AZN
ZAR, KRW, UGX etc.
Supported Countries
The exchange is designed to support all countries in the world.
However, it can not conduct business in countries banned by OFAC.
Sadly, Paxful supports all countries apart from the following:
Burundi and the Central African Republic, Cuba,
The Crimea region, Iran, Iraq, Lebanon, Libya
North Korea, Somalia, Sudan, Darfur
Syria, Yemen.
Continue to the next section!
---
7. Payment Methods And Transaction Charges
Payment Methods
Over 350 payment methods are supported. The most popular ones are:
AmazonGift Card, iTunes Gift Card, Western Union,
MoneyGram, Steam wallet Gift Card, Google play gift card.
Domestic Wire Transfer, Sephora Gift Card, Alipay,
eBay Gift Card Walmart Gift Card and Paypal
Bear in mind that there may be additional fees associated with whatever payment option you use.
For instance, using Western Union incurs fees that are not imposed by Paxful.
Let's check out Paxful's transaction charges.
Transaction Charges
Conversion Fee: 0.5%
Trading Fee: See below!
This is a screenshot of Paxful P2P trading fees.
The send and receive fee can be found here.
Buying bitcoins from Paxful is completely free. However, most sellers will integrate their fees into their rates.
Also, pay attention to your bank charge.
Furthermore, the number of transactions you can perform depends on your level of verification.
I will throw more light on this in the next section.
---
8. Verification Requirements And Transaction Limits
Verification Requirements
Paxful has 3 levels of verification with different requirements.
Level 1: Phone verification
Level 2: Email verification and ID Verification (ID card, driver's license, passport)
Level 3: Proof of Address
Transaction Limits
Level 1: 1000 USD
Level 2: 10,000 USD + "Convert crypto" + trade and send crypto
Level 3: Unlimited trades and send outs
---
7. Customer Support And Public Opinion
The team at Paxful can be contacted through the following social media found here.
Paxful also has a comprehensive FAQ section where users can find well-written guidelines on how to use the platform.
The majority of users, including myself, found Paxful's UI modern and seamless.
Furthermore, the exchange has an "Excellent" rating on Trustpilot, with many consumers reporting a positive experience.
However, I have a few things to say.
The exchange rates on Paxful are slightly higher than what you find on other platforms.
But this is because, some sellers accept less traditional payment methods like (e.g Skype voucher codes, etc.), and so charge more for the convenience they provide.
Apart from this, I think Paxful is a nice P2P exchange.
---
8. Paxful Vs Localbitcoins Vs Remitano Vs Coincola
i.
Paxful Vs Localbitcoins
In terms of peer-to-peer exchange, Paxful and LocalBitcoins are the closest competitors.
There is not much difference between these two exchanges.
Furthermore, the transaction charges on both platforms are relatively the same.
The noticeable difference is that Paxful has better customer support and more payment methods than LocalBitcoins.
Read my full review of LocalBitcoins here.
ii.
Paxful Vs Remitano
Remitano, like Paxful, is a P2P exchange that has adapted better to the African market, particularly Nigeria, than any other P2P exchange.
It supports more cryptocurrencies than Paxful and also has a native cryptocurrency RENEC.
However, Paxful has more payment methods compared to Remitano, which has only one.
Read my full review of Remitano here.
iii.
Paxful Vs Coincola
Coincola is more sophisticated than Remitano because it's a P2P marketplace as well as a trading platform.
Furthermore, Coincola supports multiple cryptos and the purchase of bitcoins through bank transfers and multiple gift cards.
However, it is still nothing compared to the 300+ payment methods supported on Paxful.
Read my full review of Coincola here.
Keep reading.
---
9. How to Trade Safely On Paxful
Yes! There are scammers in Paxful, like in every other P2P marketplace.
So it is your responsibility to pick the right vendor and trade safely.
If you wish to trade safely, here are my recommendations:
Choosing a Seller
The common mistake most people make is choosing a seller based on the rates they charge per Bitcoin.
Most scammers in their bid to get fast clients will place lower rates, this is meant to lure in people seeking so-called "good deals".
In the end, the good deals will turn sour and so will their hard-earned money. Rather than cheaper rates, here is what you should be looking for in a vendor.
He has completed over 2BTC worth of trade with a minimum of 30 trades
His feedback score should be at least 98% from a minimum of 10 persons
His account should have been active for over 2 months
He has a verified identity, residence, phone number, Facebook ID etc…
He has at least 10 partners
He has a maximum delivery time you are comfortable with.
Only trade with verified buyers and sellers.
Below is a list of actions you should never take to be safe.
Don'ts
Do no trade outside Paxful with a seller even if he/she offers you a discount since you will lose the safety of trading with Paxful's secured escrow
Do not disclose more information about yourself to the seller when a trade is ongoing
Pay attention to the trade time to avoid transferring money to the seller after the timeout
Only send your payment information through the paxful interface and endeavour to check that the names in the account details are in consonance.
Mark payments 'as made' only when you have paid or received payment else you will be denied the trade
Should you encounter any issues or sense irregularities with the seller or buyer endeavour to talk it out with the buyer or seller before proceeding to contact customer support. Customer support should be your last resort.
I hope this was helpful.
Alright! Let's wrap up this post in the next section.
---
Conclusion
There is no way P2P bitcoin exchanges can be mentioned without including Paxful.
It has increased the adoption of bitcoin with its wide variety of payment methods and easy-to-navigate interface.
Paxful is one of the 10 best exchanges to buy bitcoin.
If you follow the instructions listed in this post, you'll surely have a pleasant experience with Paxful.
That brings us to the end of this Paxful review.
Now it's your turn.
So, tell me in the comment section:
Have you used Paxful?
If (Yes), what payment method did you use to buy bitcoin on the platform, and what was your experience?
If (No), are you going to create an account and use the platform?
Or maybe you have a question about something I said in the post.
Whichever it is, let me know in the comment section.
If you found this post helpful, and you want to encourage us to keep writing articles like this, use the social media buttons below to share.
Cheers.