CoinCola is a HongKong based company that offers Crypto-to-Crypto exchange trading, 'Over The Counter' Crypto Trading and Gift cards exchange services.
It has become one of the top exchanges in Nigeria
One of its mission, as stated on the official website, is to provide a trustworthy trading service for all.
In this CoinCola review, I have highlighted all the salient features of CoinCola to aid you to take advantage of the service offered by this platform.
I also included a demonstration video to show how easy it is to trade in CoinCola.
Enjoy.
---
CoinCola Review Summary
Coincola was founded in 2016 and currently has over a million users from 150 countries.
To give you a comprehensive and organized detail of CoinCola, here is what I will cover in this review.
---
1. CoinCola Overview
CoinCola is a Hong Kong-based cryptocurrency exchange offering both peer-to-peer (P2P) trading and coin-to-coin pair trading in one integrated platform.
They offer fast, secure, and easy-to-use trading services at competitive fees.
The CoinCola OTC Marketplace allows people around the world to use their local fiat currency to buy and sell bitcoin (BTC) and 6 other cryptocurrencies.
Trading is done on a person-to-person basis and transactions are completed via secure online escrow.
The CoinCola Exchange allows users to expand their portfolio by trading one digital currency for another. CoinCola offers bitcoin (BTC) and Tether (USDT) as base currencies and supports a growing list of crypto-to-crypto trading pairs.
It also has a new gift card trading feature which allows a user to easily sell their unwanted gift cards for bitcoin or any other cryptocurrencies.
Allan Zhao is currently the CEO of CoinCola.
---
2. Coincola Products and Services
Coincola offers 5 major Products/Services. They include;
OTC Market Place
The Exchange
Wallet
Gift card exchange and
Margin Trading

The services Coincola offers are enough to meet the basic needs of a crypto Trader or investor, in more details, they include;
Coincola OTC Market Place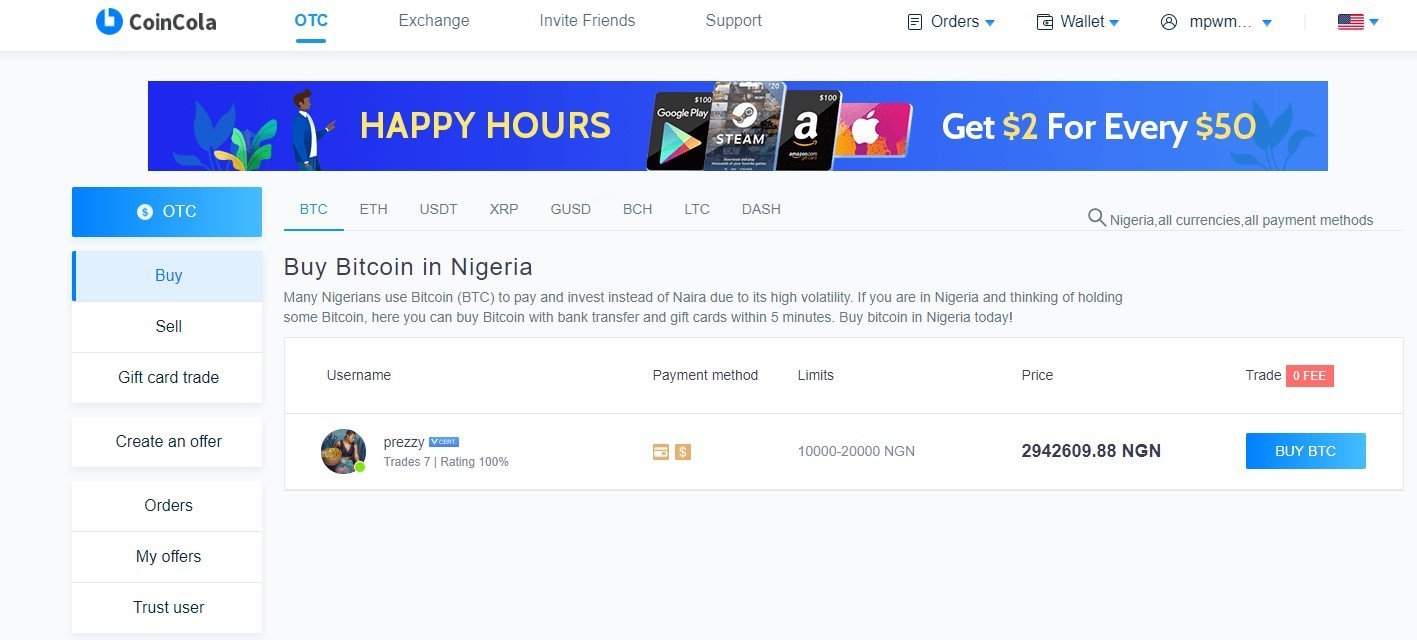 This is a Person-to-person market place, here you can buy and sell any of the 8 supported cryptocurrencies with your local fiat currency i.e Naira, USD, ZAR, etc depending on your country. The supported cryptocurrencies are:
Bitcoin (BTC)
Ethereum Ether (ETH)
Ripple (XRP)
Bitcoin Cash (BCH)
Litecoin (LTC)
Dash (DASH)
Tether (USDT)
Gemni (GUSD)
Note that Coincola does not directly buy or sell cryptocurrencies to users in the market place rather they connect buyer and seller to trade but modulate the process using an escrow system to ensure no one is cheated.
This is the same system used on Remitano and LocalBitcoin.
To further understand this better, let's use an example.
Supposing Chisom wants to buy Bitcoin from the CoinCola Market place, she will have to follow the following steps
She goes to the market place and clicks on 'Buy BTC' from anyone available e.g
She enters the amount of BTC she wants to buy to proceed.
(This BTC will then be held in the CoinCola Escrow and no longer in full control of Prezzy. Prezzy can release the bitcoin to Chisom but cannot release it to herself).
Chisom transfers the Bitcoin equivalent in her local Currency (e.g Naira) to Prezzy's bank account.
Once Prezzy received the money, she will release the bitcoin to Chisom. She will see this in her Coincola BTC wallet
(in case of dispute when Prezzy claims not to receive the money sent, they will both have to present evidence of payment or bank statement as the case may be. Coincola will release the bitcoin to the party that is correct)
Coincola Exchange (Coin to Coin Pair Trading)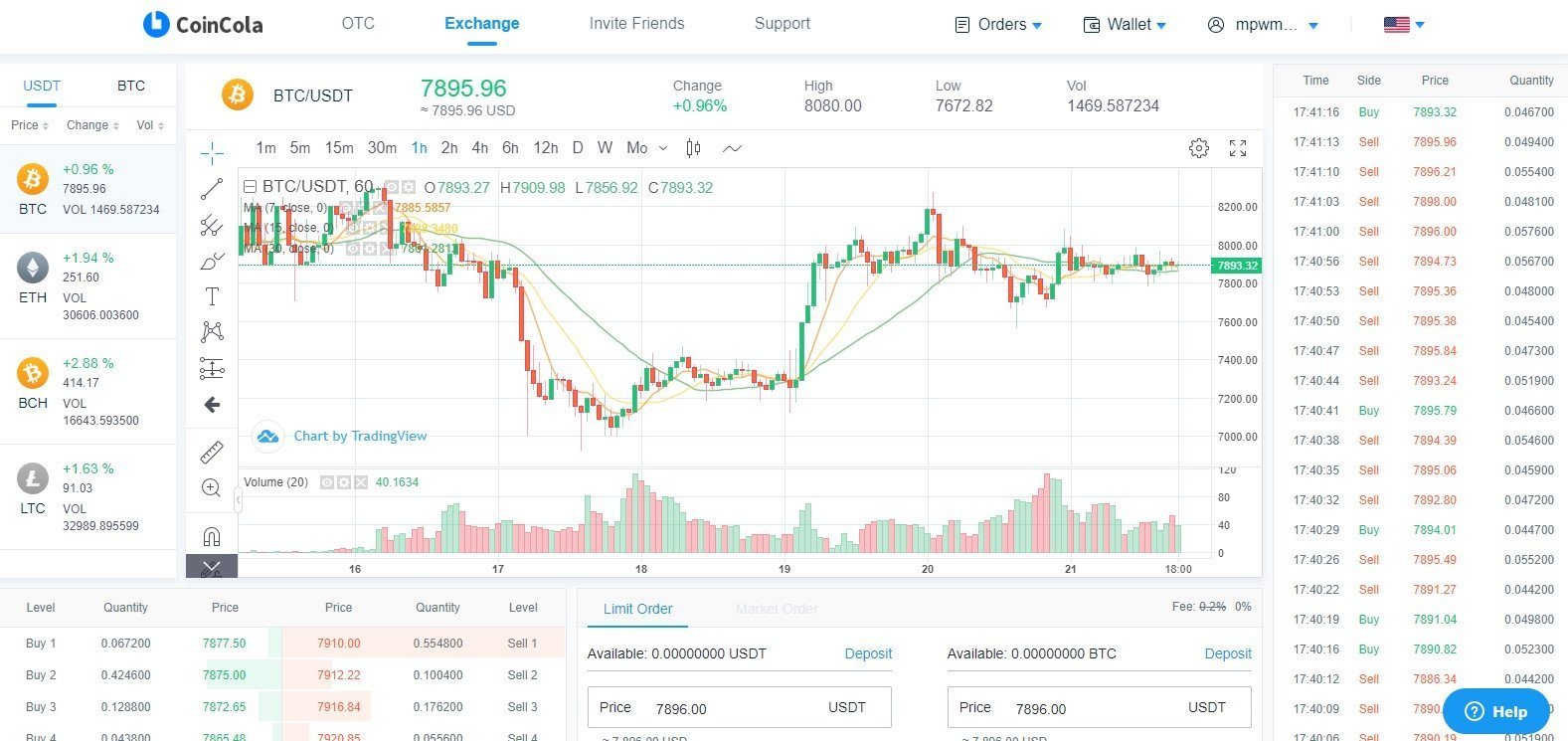 The CoinCola exchange is where you can profitably trade cryptocurrency pairs to make a profit. It has various indicators and powerful charting tool to aid you to carry out analysis before placing trades. I included a video in this article showing to place trades in the exchange.
The Cryptocurrency pairs traded in the exchange are
BTC/USDT
ETH/USDT
BCH/USDT
LTC/USDT
ETH/BTC
BCH/BTC
LTC/BTC
CoinCola supports wallets for the 8 cryptocurrencies available in the OTC exchange above. User can send and receive cryptocurrency to and from these wallets.
However, Coincola does not give you access to your private keys; this is not out of the ordinary though as every other exchange does not give users access to their private key.
CoinCola Gift Card Exchange
Recognizing the high demand for Gift Card to cryptocurrencies Exchange, CoinCola now supports the Peer-to-Peer exchanges of these assets. You can exchange bitcoins for any of the following Gift cards;
Amazon gift card
iTunes gift card
Steam Wallet Gift Card
Google Pay Gift Card
eBay Gift Card
Walmart Gift Card
Sephora Gift Card
---
3. Coincola Currencies and Payment methods
Coincola supports users from over 140 countries in its market place. Therefore, the supported currencies and payment methods include
The 8 supported cryptocurrencies
The supported Gift cards
The local currency of the over 140 supported countries either by wire transfer or cash.CoinCola Transaction Fees
---
4. CoinCola Transaction Fees
The full report of the transaction that can be incurred on CoinCola can be found here at its official page. Highlighted below is the summary of these fees.
OTC Market place Fees
At the P2P market Place, the buyers are charged no fee to buy cryptocurrency while the Seller is charged 0.7% on a completed transaction.
Note that the seller might include the fee in the price he quotes for the coin. However, the more sellers there are, the more competitive it becomes and thus the sellers will adjust prices to the benefit of the buyers.
CoinCola Exchanges fees
Coincola charges 0.2%. This fee applied to both Makers and Takers
The MAKERS are those that set the price while the TAKERS as those that buys and sells at the set price
Deposit/Receive Fee
FREE
Withdrawal/Send fees
The following standard fees are incurred when you send Cryptocurrencies from a Coincola wallet to an external wallet.
BTC…………….…….0.0005BTC
ETH……………….….0.009ETH
USDT…………………10USDT
BCH………………. …..0.0005BCH
LTC……………………0.009LTC
DASH………………….0.002DASH
---
5. Buying Limits/Verification Methods
Users can send and receive any amount of cryptocurrency into their CoinCola wallet. However, following limited applies when trading on the exchange or the OTC market place.
| | |
| --- | --- |
| Stage | Limit |
| Not Verified | 1,000 USD |
| Face Verification | 1,500 USD |
| Document Verification | No Limit |
Any of the following documents can be used for verification
Identity Card
Passport
Driver License
---
6. Support Countries
Over 150 countries
---
7. Customer Support
There is a dedicated support desk for any inquiries on this exchange.
Way to contact Coincola Customer support include
---
8. Future Plans
Coincola has over 1 million users; with most of its user coming from Hong Kong and China. Its currently planning to help African adopt cryptocurrencies more smoothly.
Our future plan is to provide a fast and secure platform for Africans to adopt cryptocurrency in their daily life. We truly believe in this crypto journey and we are committed to helping push this process smoothly
---
9. Video Demonstrating how to trade on CoinCola
---
10. Conclusion – Is Coincola Safe to Use?
CoinCola has proved that it's here to stay serving over a million users since 2016. It's a trading platform and really has a good trading volume.
The website is solid and userfriendly proving users with the basic tools they need in Buying and Selling Cryptocurrencies and Giftcards as well as trading cryptocurrency pairs.
It also has a mobile App for easy trading on the go.
Also Read: Crypto-Trading Tutorial – How to Always Win |The QF Blueprint