I'm sure you know about Bolt Drive and how big it has become.
But have you ever imagined a Bolt Drive app that exists on the blockchain?
Well, that's extraordinary, if you ask me!🤯
The name of this platform is Everest, a brand new ride-sharing platform that is about to blow up the internet and the crypto space.
EVR is the platform's native token, and I think it has great potential.
In this post, I will tell you what Everest is, all you need to know about its EVR token, and why it is worth your investment.
---
Post Summary
This is what I will cover:
When you click on any of the items, the jump link will take you to the section where it is discussed.
Let's get started!
---
1. Overview Of Everest
Technically speaking, Everest is a blockchain-based, mobility-as-a-service platform for on-demand urban transportation and logistics.
To put it simply, Everest is a ride-sharing platform like the famous Bolt and Uber.
But, Everest is spectacular because it is the first of its kind to be built on the blockchain network.
Moreover, it intends to solve the challenges of the older ride-sharing platforms (more about this later).
Not only that, but it is also aiming to be the top move-to-earn project in the cryptocurrency space.
This project was founded by two hardworking Nigerian entrepreneurs Israel Clement and Chukwuebuka Okoroafor.
As of right now (July 2022), Everest is a brand-new project and it is anticipating the launch of its native token, EVR.
Scroll down and let's talk about the EVR token!
---
2. What Is EVR Token?
EVR is the native and utility token of Everest. It is built on the Algorand blockchain.
It will serve the following use cases in the platform:
Riders can choose to use the EVR token to pay for their rides. However, they can also pay using fiat.
EVR offers discounts to riders who use it to pay for their fares.
Everest operates as a decentralized platform, which means that drivers can make decisions that improve it.
By holding EVR, drivers can create and vote for proposals that should be implemented on the platform.
Interestingly, the more EVR tokens you hold, the more voting power you wield.
EVR is a proof-of-stake token.
This means that holders can stake their EVR to help validate transactions and earn rewards in return.
Geomining Reward-Move2Earn:
EVR is used as a move-to-earn incentive for both drivers and riders.
Overall, EVR will enable faster, more secure, and lower transaction costs within the platform.
We'll look at the more advanced fundamentals of the EVR token below.
---
3. EVR Tokenomics
EVR has a total supply of 250 million coins.
The coin's distribution and allocation are as follows:
The team will fund this project through the sale of the token in three rounds (as indicated in the table above).
Precisely, they intend to raise over $1 million from the sales as also indicated in the table.
The funds raised will be used for marketing, project development, and token listing, among others.
Take a peep at the EVR vesting schedule!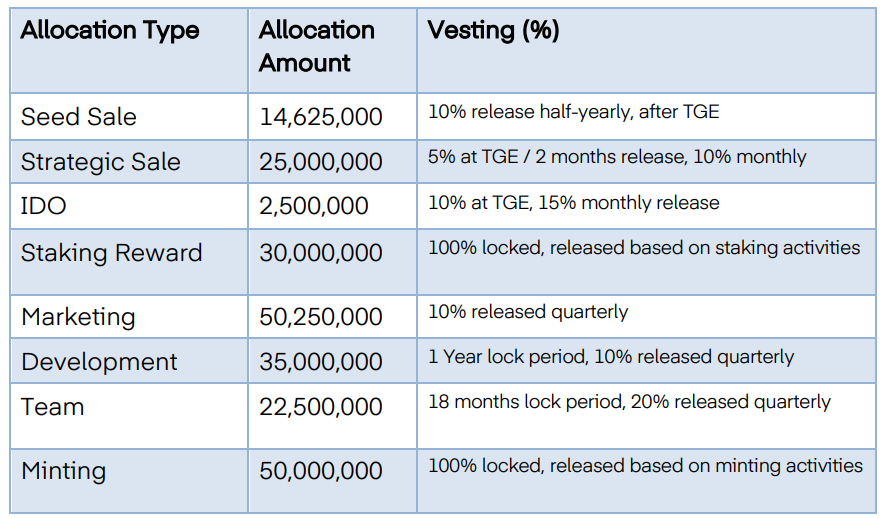 Note:
Vesting – This is the process in which tokens are locked and released slowly until a given period has been reached.
TGE – It stands for Token Generation Event, and it indicates a coin's launch date.
Should you invest in the Everest EVR token? See my opinion below.
---
4. Why You Should Invest In EVR Token
EVR is a promising token that I think is worth adding to your crypto investments.
The reason is that the project backing it is based on a commercially viable business model. Allow me to explain.
It is no debate today that older ride-sharing platforms like Bolt and Uber have seen tremendous success.
Bolt Drive, for instance, is currently worth over $4 billion.
More than 7 million people use it worldwide, 2.5 million of whom are in Africa.
This is tremendous, considering that the company only started its ride-sharing services in 2021.
Gladly, Everest plans to enter this market and introduce new concepts.
The fact that it is built on the blockchain makes it attractive.
In addition, Everest seeks to overcome the shortcomings of older ride-sharing platforms.
These shortcomings include:
Increased commission fees
Expensive ride fares
Centralization
Solely fiat-based payment, among others.
Everest will solve these problems in the following ways:
Eliminate commission fees for drivers.
Charge users relatively low fees.
Integrate multiple payment systems, including fiat and cryptocurrency.
Establish a decentralized system where drivers will have a say.
That's impressive because those are the main issues users have with the business model.
I believe this is enough to entice tons of people to make use of Everest.
They will also be prompted to pay with the EVR token because of the discounts and other benefits it offers.
As you know, the token's value increases significantly the more people use Everest and EVR for payment.
Moreover, I am glad that the team has a well-articulated roadmap to achieve its goal of reaching the moon.
However, as earlier mentioned, the EVR token is yet to be launched at the time of writing.
But, the team plans to launch the token soon (the Q3 of 2022, as seen in the roadmap).
I will keep you posted as soon as the launch date is announced.
Disclaimer: Always do your research before making any investments.
Let's meet at the FAQ section!
---
5. FAQs
1. On what exchanges will the EVR token launch?
The team indicated that it would launch on Tinyman and other decentralized exchanges.
2. Does the token have a burning mechanism?
Hopefully, yes. But for now, there is no information regarding the EVR token burn.
3. How can I join the Everest community?
You can join the community through the following channels:
–Twitter: https://twitter.com/EverestxHQ?
–Linkedin: https://www.linkedin.com/company/everestxhq/
–Telegram: https://t.me/everestcommunity
–Facebook: https://web.facebook.com/everestxhq/?
–Instagram: https://www.instagram.com/everestxhq/
4. Can I use the Everest platform now?
Everest is still in its developmental phase.
The roadmap indicates that it will be fully functional by Q3 2022.
---
Are you interested in trading crypto?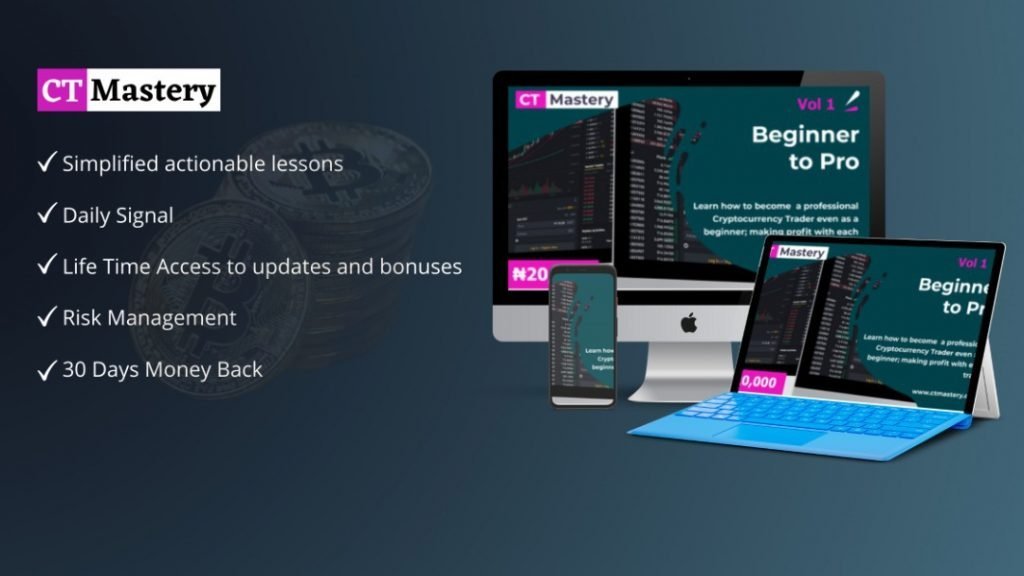 We developed a perfect course to help you master Cryptocurrency Trading.
Go to www.ctmastery.com to enroll.
You can also join our Telegram community at https://t.me/ctmastery for more information.
---
6. Conclusion
The ride-sharing service is set to be introduced on the blockchain, and Everest is the first to do so.
This is the end of this post. I trust you had a great time reading it.
So tell me, what's your opinion about the EVR token?
Do you wish to invest in the EVR token?
How well do you think the token will perform in the market?
Drop your thoughts in the comment section.
Feel free to share the post by clicking those social media icons right below.
---
Also Read: