In this article, I am going to talk about a crypto gaming project called STEPN.
The concept of "play to earn" was popular a few months ago.
But right now (May 2022), it's fair to say that "move-to-earn" is the craziest crypto trend.
STEPN is the first move-to-earn game on the Solana blockchain.
By the end of this article, you should have learned everything there is to know about STEPN.
---
Post Summary
This is what I will cover:
Use the jump links to skip to the section that interests you the most.
Let's get started!
---
(1) What Is STEPN?
If I am to put it simply, it is a fitness app that gives users the ability to earn money just by moving around.
Jogging, running, walking, or doing anything related to that.
Technically speaking, STEPN is a "lifestyle" app.
It aims to connect millions of people to Web3 and reward them handsomely for leading a healthy lifestyle.
STEPN was founded in August 2021 and is recognized as the first move-to-earn game on the Solana blockchain.
Impressively, it emerged 4th out of 500 projects at the Solana Ignition Hackathon in 2021.
Jerry Huang (a gaming expert) and Yawn Rong (a blockchain expert) founded STEPN.
And they raised $5 million in a seed round to fund this project.
Keep reading to see how the platform works!
---
(2) How Does STEPN Work?
STEPN is a crypto game like Axie Infinity.
However, while Axie Infinity is a play-to-earn game, STEPN is dubbed a move-to-earn game.
You'll need sneakers to play the STEPN game.
But it's not just any sneaker you'd wear in real life; it's an NFT sneaker that is sold on STEPN's marketplace.
When you own the STEPN sneaker, you can move around, burn some energy, and you are rewarded for doing just that.
Rewards are paid out in GMT and GST tokens.
Green Satoshi Token (GST) and Green Metaverse Token (GMT) are the native tokens of STEPN.

GST is the currency in the game and GMT is the governance token.
In addition to earning these tokens, players also earn mystery boxes and other incentives.
But you should keep this in mind: STEPN uses GPS to track players' movements.
There will be no earnings if a player's app shows a poor GPS signal.
Next, I talked about the different gaming modes available on STEPN.
Keep reading!
---
(3) Types Of Game Modes On STEPN
STEPN has three different game modes:
– Solo Mode
Solo is the basic game mode where players earn daily rewards from the move-to-earn game.
Players can earn up to 300 GST and 15 GMT per day.
In addition to earning these tokens, players also earn mystery boxes.
[A mystery box is a loot box that is dropped at random in the game]
– Marathon Mode
This game mode is an in-game event played on a weekly and monthly basis.
Weekly Marathon: This event lasts for a whole week. Players have the option of running 2.5km, 5km, or 7.5km marathons.
Monthly Marathon: This event takes place for an entire month. The 5km, 10km, and 15km marathons are available to participants.
The participants in the marathon mode are rated using points.
Points are awarded based on running speeds and sneakers' attributes (more about this later).
At the end of the event, players who participated can earn GST, GMT, and NFT badges based on their points on the leaderboard.
– Background Mode
Players do not need the STEPN app to track their steps in background mode, which is capped at 3000 steps per day.
Instead, they can earn a fixed amount of GST daily as long as they have a sneaker in the app.
This is possible because their steps are counted directly from their mobile device's Health Data app.
At the time of writing (May 2022) the Marathon and Background modes are still under development.
Furthermore, STEPN operates with the following tools:
1. Sneaker
The uniqueness of your sneaker determines your earning potential.
Sneakers are categorized by type, attribute, quality, and level.
(A) Sneaker Types
STEPN offers four types of sneakers for different workouts and speed levels namely:
Walker (1- 6 Optimal Speed)
Jogger (4 -10 Optimal Speed)
Runner (8 – 20 Optimal Speed)
Trainer (1 – 20 Optimal Speed)
Players must maintain the optimal speed range of their sneakers.
This reason is that their earnings can be decreased by up to 90% if they do not keep up with this range.
(B) Sneaker Attribute
Each sneaker has four attributes. Check the table below.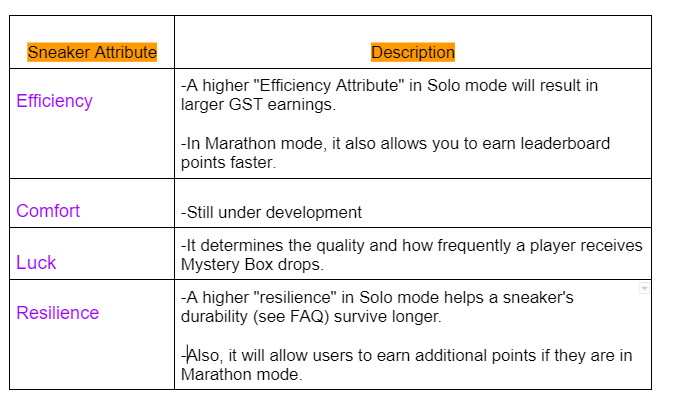 (c) Sneaker Quality
A sneaker's "Attribute" points are randomly determined by its quality.
There are five different sneaker qualities. A sneaker can only have one quality. See the table below.
(D) Sneaker Level
Players can upgrade their sneakers if they want to earn more GST tokens and also gain better advantages in the game.
For instance:
By upgrading a sneaker, a player gets more attribute points and other perks, such as the ability to unlock shoe minting, etc.
Interestingly, a sneaker can be upgraded up to level 30.
However, each upgrade will require a player to burn some GST and GMT tokens.
Bottom line: You need to pay good attention to all these details before acquiring a sneaker.
2. Gems and Sockets
Gems and sockets are game features that allow players to boost their sneakers' "attributes."
Players need to insert gems into the sockets to do this.
Furthermore, only players that have upgraded their sneakers to level 5 or higher can access gems and sockets.
There are four types of Gems, each representing an "Attribute":
Yellow: Efficiency
Blue: Luck
Red: Comfort
Purple: Resilience
Likewise, "Sockets" have four different colours that match these "Gem" types.
A player must make sure that they insert a gem into the corresponding sockets.
Also, Gems come in different levels, with the highest level being level 9.
Players can upgrade a lower level gem to a higher level by burning some GST tokens and combining 3 Gems of the same level and type.
For example:
To upgrade a Level 1 Efficiency Gem to a Level 2 Efficiency Gem, you'll need three Level 1 Efficiency Gems and some GST tokens to burn.
3. Energy
Players receive energy when they acquire a sneaker.
One sneaker equals 2 energy, and the more sneakers you have the more energy you get. View here.
25% of your energy is refilled every 6 hours until it reaches the daily energy cap.
Now, you must have energy before you can earn from the STEPN game.
Just like your phone's battery, when your energy runs out, you stop earning incentives.
4. Shoe Minting Event (SME)
Players can perform an SME if they wish to mint a new sneaker.
Shoe-minting is the process of breeding 2 sneakers to produce a Shoebox.
When players open the shoebox, what they will find is a brand new sneaker.
Each sneaker can perform a maximum of 7 SMEs.
It is possible to mint more than one Shoebox from an SME.
And interestingly, the higher the mint count of sneakers, the more likely it is to drop multiple Shoeboxes.
However, each sneaker used for the SME will cost you a fee in GMT tokens, and the higher the mint count of the sneaker, the more GMT it will cost you.
5. Anti-cheating system
Players who attempt to cheat in the game are penalized.
Some of the criteria used to penalize players include:
GPS tracking: A player will not earn rewards if his app detects moonwalking, no GPS signal, or a weak GPS signal. This indicates that the player is not moving naturally.
STEPN will not function properly on phones that have been jailbroken or badly damaged.
A player's sneaker is at risk of a cooldown period, which means he won't be able to use it for some time if he transfers it from one account to another.
6. Multichain/Decentralized wallet
STEPN supports two blockchains: Binance Smart Chain and Solana.
It also has a built-in non-custodial wallet with a swap function.
As previously stated, sneakers cost SOL or BNB.
Players are required to fund it with SOL or BNB, depending on which chain they wish to use to buy sneakers.
Also, players' GST and GMT earnings from the game are stored in this wallet.
The wallet also supports the USDC token and swap function, so that players can easily cash out their profit.
7. Activation code
STEPN is a game that is only accessible by invitation.
To play STEPN, you must have an activation code as proof of your invitation.
You can get the activation code by joining the STEPN Discord or Telegram group.
The STEPN's activation code is limited to 1000 codes per day for Discord and 1000 codes per day for Telegram.
Scroll down to the next section to see how to make money from STEPN!
---
(4) How To Make Money From STEPN
You can make money from STEPN in these 4 ways.
1. Play the STEPN game
You can earn GST and GMT tokens by playing STEPN.
At the time of writing, the value of GST and GMT tokens is $4.79 and $2.63, respectively.
How often you earn these tokens depends on your sneaker type, optimal speed, attribute, and your GPS signal.
The table below shows your earning potential.
You will start earning the GMT token if you upgrade your sneakers to level 30.
The maximum of GST and GMT tokens you can earn per day is capped at 300GST and 15GMT tokens.
2. Sell Your Sneaker and Gem
You can list your sneakers and gems for sale on STEPN's marketplace.
This means that you can hold these two assets as a sort of investment.
For instance, you can buy a sneaker, use it as much as you want, and sell it later for a profit.
Interestingly, you can even sell it for a much higher profit if you upgrade it to a higher level.
The same thing applies to gems.
3. Shoe minting event
SME is another way to make money from STEPN
You do this by breeding two sneakers and then selling the newly minted sneaker for a profit on the marketplace.
However, you need to put into consideration the cost of the minting and the amount you can sell the sneaker for.
Other ways you can make money from STEPN include "Badge, Rent, and Quest"; these are still under development.
Interesting, right?
I'll now show you how to get started on STEPN.
Scroll down!
---
(5) How To Play STEPN
To start playing STEPN right away, follow these simple steps:
Download the STEPN app on your mobile phone
Enter your email address and email verification code.
After that, enter your "Activation code"
Select the blockchain of your choice, either Solana or Binance Smart Chain
Create your wallet and fund it with the SOL coin or BNB, depending on the blockchain you have chosen.
Proceed to the marketplace to purchase sneakers so you can begin playing the game.
At the time of research (May 2022), the cheapest sneaker cost around 13 SOL.
But should you invest in STEPN? See what I have to say below.
---
(6) Should I Invest In STEPN?
Looking at the STEPN project, I will say it has solid fundamentals.
To start with, it is backed by Solana Capital, Alameda Research, Sequoia, and a long list of companies.
They must have recognized the potential of this project.
Furthermore, STEPN has gained so much traction among crypto enthusiasts.
Within just a few months of its launch, the game has seen over 2.3 million monthly active users and 500 daily active users. That's astronomical!
Then again, I think playing the game is worthwhile.
By playing the solo mode, it means you can earn around $1,200 per day based on the token earning cap and current GST price.
To sum it up, I feel that STEPN has the potential to go mainstream with time.
I say this because of two reasons:
So, imagine how colossal STEPN would be if it captured a small percentage of this market.
Secondly, thousands of people throughout the world exercise daily.
While some do it to lose weight, others do it to maintain a healthy lifestyle.
Whichever one it is, I am sure the idea of earning money for workouts will entice these individuals to join the league.
But, of course, you also have to consider the cost of playing the game, such as the cost of sneakers and other fees involved.
Do not forget the golden rule: only invest the money you can afford to lose.
If you're looking for more game tokens to invest in, check out this video on 4 gaming tokens with a 10x potential.
---
(7) FAQs
1. What is sneakers' durability?
Durability in STEPN indicates how quickly a sneaker can wear out or last in the game.
Luckily, if a sneaker wears out, players can repair it by burning GST tokens.
2. Which blockchain is best for this game, Solana or Binance Smart Chain?
The two blockchains are good options.
 All you have to do is pick the best choice for you.
3. Is it possible to receive a sneaker as an airdrop?
During their weekly Discord AMA and Twitter Space Quiz, the team may decide to give away Sneakers as airdrops
But this decision is left for the team to make.

---
Heads Up!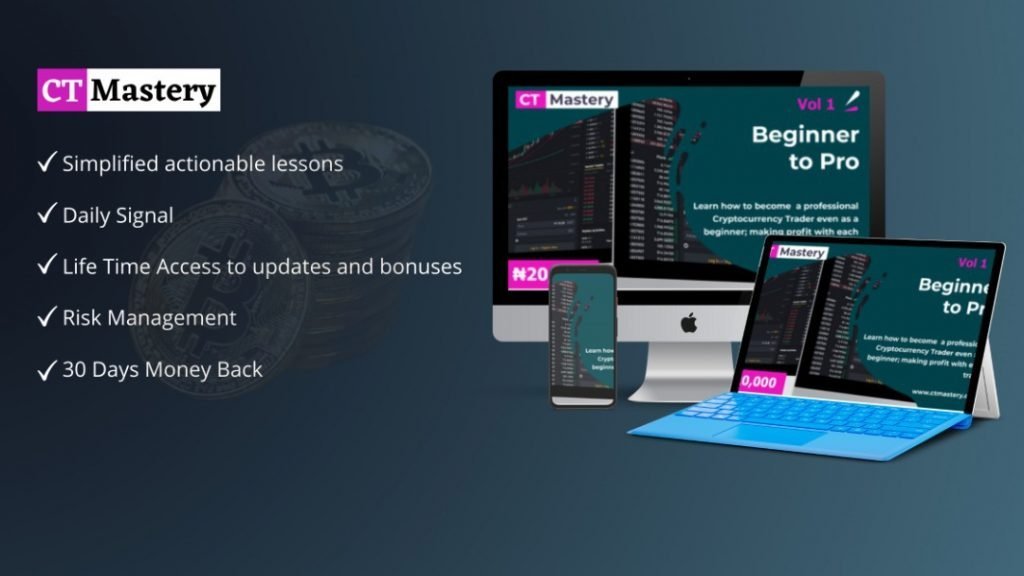 If you want to learn how to trade cryptocurrencies profitably, we developed a perfect course to help you master Cryptocurrency Trading.
Go to www.ctmastery.com to enroll.
You can also join our Telegram community at https://t.me/ctmastery for more information.
---
(8) Conclusion
This is the end of this review!
STEPN kind of reminds me of Axie Infinity before the bear season.
I see a lot of potential in this project.
But I would like to have your opinion.
What do you think about STEPN?
Would you love to play the game?
Perhaps you are already playing it. Would you share your experience with us?
Let's have your responses in the comments section below.
Also, share this post with your friends, thank you!
---
Check out other interesting articles: