I want you to imagine you are a crypto Whale.
Could you see yourself making as much as the repetitive 100x, 10,000x, and even 100,000x flaunted by actual crypto whales on Twitter? Impressive!
In this post, I want to show you how to track crypto whale wallets, spy on their activities, and mimic their trades.
By so doing, you would strategically position yourself to make as much profit as they do.
If you love the idea, let's dive in!
---
Post Summary
---
Why Track Crypto Whale Wallets?
First and foremost, who are the whales?
Crypto whales are a category of investors or entities who hold a large amount of a coin.
They are often referred to as the "market movers or manipulators".
Due to their large holding, their trading activities may have a significant influence on the market.
One significant thing about most blockchains, however, is that they are publicly viewable.
In other words, anyone can look at the activities of crypto whales and copy their trades.
Here's Why You Should Start Tracking Whale Wallets
To replicate the buy-and-sell pattern of smart money.
Whales are more likely to make profitable trades since they may have access to insider information.
Smart money is a term used to refer to successful traders or investors.
Gain insight into which coins money is pumped into—this helps you get early access to the next potential "100x" coins even before they make a move.
Discover what the whales are buying and selling that might trigger a potential token to pump or dump.
I explained below how to track a whale's wallet using a token tracker tool called Debank.
---
How To Track Whale Wallets With Debank
Debank is a token tracker tool that has emerged as one of the most convenient and user-friendly ways to track wallets.
Generally, it is a token analytic tool that provides insights into cryptocurrency transactions and wallet activities.
Let's get to the steps anyway!
Step 1: Source for a whale's wallet address
You can do this in two ways: either directly on Debank or through a blockchain explorer.
For the former, below is how you go about it.
Visit debank.com, and on the left-hand side, click "More."
Select "Whales" from the list of options.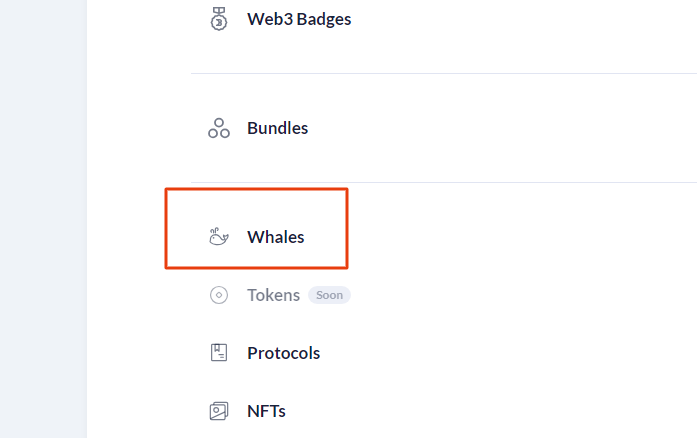 When the page opens up, peruse the list of Whale's wallet addresses and click on the one you want to track.

Ensure the whale's address you selected isn't associated with a contract, multisig, exchange, or coin developer.
I suggest you go for portfolios below $90 million, as they are more likely to be personal wallet addresses.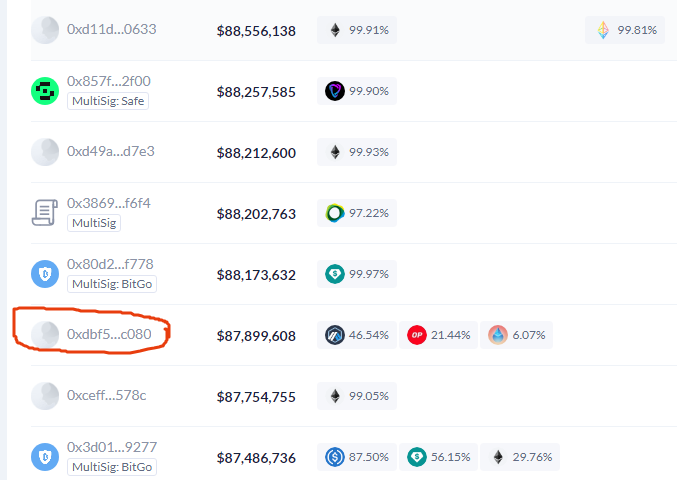 Alternatively, you can source for whales' addresses through a blockchain explorer. Below is how to do it:
Visit CoinMarketCap and search for a coin of interest and click on the contract address.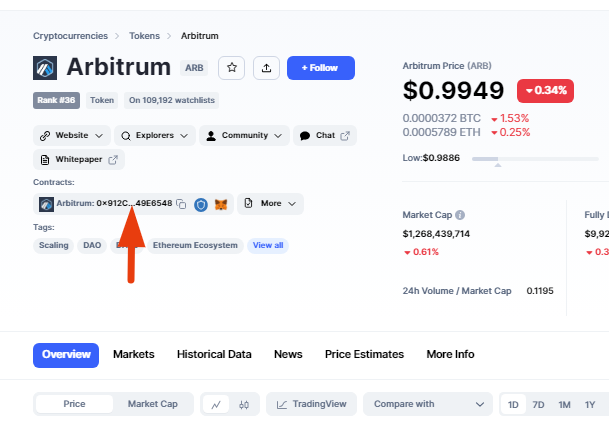 It will take you to its blockchain explorer, navigate to " Holders," and begin to source for a whale's address.

As mentioned, your focus should be on individual whale wallet addresses.
Copy the wallet address and paste it into Debank's search box
Step 2: Track the address
The wallet opens, and you will be able to see all the whale's token holdings and the blockchains on which they are held under the "Portfolio" menu.
Interestingly, by clicking on the "Time Machine" option, you can see the precise date and time these tokens were acquired.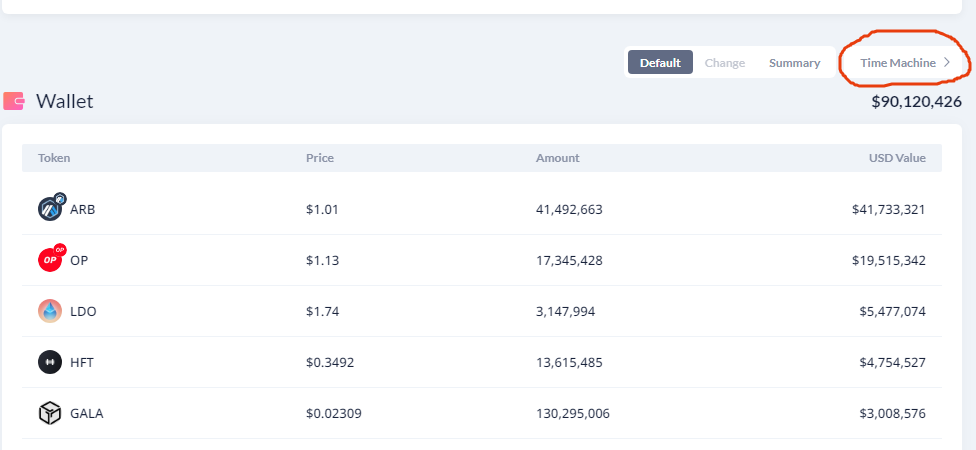 However, it's important to note that access to this feature is limited to Pro users only.
Next, navigate to the "Transactions" option. Therein, you will find comprehensive details of the whale's transactions and recent activities.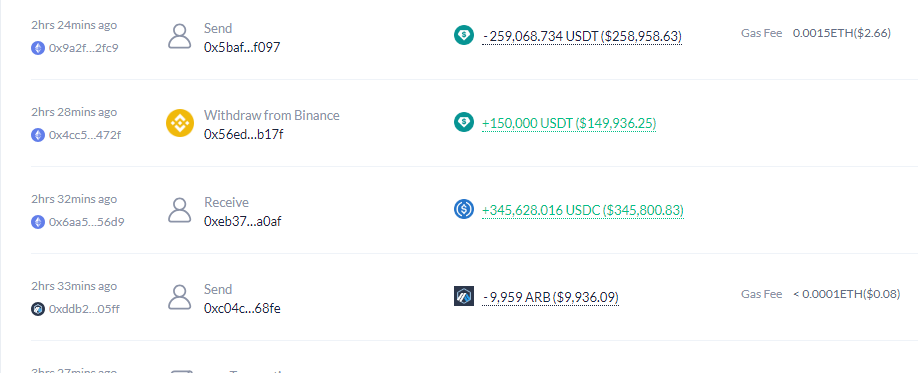 Now, from your analysis of their transactions, you gain insight into what whales are up to and take action accordingly.
So, how do you interpret a whale's transaction? We will go over it in the next section below.
---
How To Interpret Whale's Transactions
Here is what you need to know:
If whales transfer crypto from personal wallets to exchanges, it is highly likely that they intend to sell the crypto.
When whales move crypto from exchanges to personal wallets, it typically indicates long-term holding.
For stablecoins: When whales move stablecoins from personal wallets to exchanges, it is strongly indicative of their willingness to buy and a potential market uptrend.
Conversely, if they are moving stablecoins off exchanges, it is a tell-tale hedging sign and a potential downward trend.
When whales move funds between exchanges, It is probably because they are aiming to exploit an arbitrage opportunity.
On the flip side, when whales move crypto between wallets, these types of transactions are hard to decipher; they can be for OTC trades or for some other reasons that are not really clear.
Let's continue below!
---
FAQs
1. Do all Whale's transactions influence the crypto market?
Well, it all depends on the market depth of the asset being bought or sold.
Market depth shows the measure of the supply and demand of a particular cryptocurrency across various price levels.
If whales sell a larger amount of crypto than the demands or supplies visible in the market depth, it will significantly affect the price. If not, then it is likely to have a negligible impact on the price.
2. Apart from Debank, are other tools available for tracking Whale wallets?
Yes, they abound!
A few of them include Zapper.fi, Whale Alert, DexCheck, CryptoQuant etc., and even blockchain explorers.
However, note that except for blockchain explorers, some of these tools are not entirely free, as they might reserve advanced features for pro users

---
Conclusion
We have reached the end of the post. Kudos for making it all the way through!
Tracking whale wallets not only gives you valuable insight into their activities but also enables you to capitalise on them for potential profit.
Do you have any further questions?
Put your thoughts in the comment box below.
Share this post if you enjoyed it.
---
Read this Before you go!
Bybit is your go-to exchange!
It is one of the world's largest crypto exchanges, with more than 10 million users.
Startup with Bybit by doing the following:
Fund your account via P2P
Then go ahead to enjoy the services of the Bybit exchange.
Hurry… there's a $30,000 deposit reward for new users. I'm sure you don't want to miss it! 😜