The dollar savings app, Pillow Fund, is shutting down its services in Nigeria.
The Team gave regulatory uncertainty as the reason for stopping its services and has called on its users to withdraw their funds.
This was done via an email sent out and the message on the app informing its users that Pillow Fund will be closing its operations on 31st July 2023.
The Pillow Fund team assured users of the safety of their funds (deposits and interests accrued) and their availability for immediate withdrawal.
They further urged users to proceed with the withdrawal of their investments via the modes available to them.
---
What This Means For Users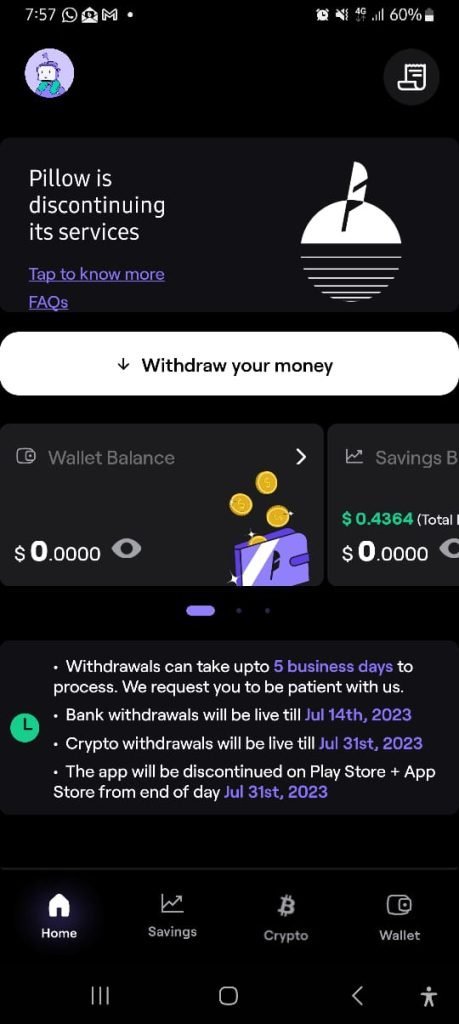 Users' investments will remain safe and accessible to them to withdraw till 31st July 2023.
Crypto withdrawals will be available till 31st July 2023.
Users with that can access the bank withdrawals have until 14th July 2023 to do that. This was formerly scheduled for 7th July 2023. Note that withdrawals to bank accounts can take up to 5 business days to process.
Your investments will stop accruing interest and the reward section will no longer be available.
The Pillow app will be discontinued on Play Store and App Store on 31st July 2023.
Deposit services (both via crypto and bank account) have been suspended. Any deposits made after services have been discontinued cannot be refunded.
In a nutshell…
---
So, what now?
2023 has been a rough year for cryptocurrency in general as we have seen the closure of many platforms and services.
Not to mention the several lawsuits going on, especially between the SEC and crypto exchanges, and changes in government and their policies in various areas.
We even had cases of SEC labeling some coins such as Ethereum, Solana, etc. as securities.
But we are not backing down yet; neither is the crypto verse shifting grounds.
The crypto verse is one with massive opportunities and it is up to you to take advantage of them.
Yes, Pillow Fund is closing down in Nigeria. But you can still save your funds and earn passively with these platforms:
However, do note that this is not financial advice. Always do your own research.
If you will want to learn all there is to know about cryptocurrency trading and DeFi, head over to our Telegram channel.
There's an ongoing 30 days Bybit trading challenge where trade signals are dropped daily for the whole 30 days.
All you need to do is sign up to Bybit with this link and deposit at least $100.
Other perks include live sessions 4 – 5 times weekly, airdrop alerts, coin calls, and so much more.
Don't be left out!
Join our Telegram Channel