In this post, I'll show you how to use the Binance Auto-Invest feature to earn more crypto.
Auto-Invest enables users to buy crypto without having to watch the market.
Thus, removing the need to rightly guess when to buy or invest in a coin.
Also, you gain extra crypto on your investment.
Sounds interesting?
Keep reading and I'll show you how it is done. 😉
---
Post Summary
Click on any item above to read its details immediately.
---
1. What Is Auto-Invest?
Auto-Invest is short for Automatic Investment (personal opinion, LOL).
It is a new feature of Binance Earn that enables users to buy crypto without stress.
Using Auto-Invest, you don't need to watch the market to guess the right time to buy a coin.
You simply set up a buying plan and the crypto is bought on your behalf.
In other words, you invest in a coin with a predetermined amount regularly and accumulate your holdings.
If you're familiar with DCA (dollar-cost averaging), that's exactly what Auto-Invest offers.
But while DCA leaves the responsibility of buying the crypto to you, the system completes the purchases for you in Auto-Invest.
Not just that but you also earn APY rewards on your crypto purchases.
And that's because your purchased crypto will be automatically deposited into your Flexible Savings account.
So cool!
This is how Auto-Invest Works…
You fund your stablecoin wallet
Schedule and execute recurring crypto buys on Auto-Invest
Your crypto generates additional APY rewards on Flexible Savings
Now, that's a simple breakdown.
In the next section, I'll take you through how to use Auto-Invest step-by-step.
Tag along!
---
2. How To Create A New Auto-Invest Plan
i. First things first, you need a verified Binance account. Don't have one? You can register with my link.
ii. Next, you go to the Binance Earn homepage and log in to your account.
iii. Select Auto-Invest from the displayed options
However, if you're using the mobile app, 'Auto-Invest' is on the home page.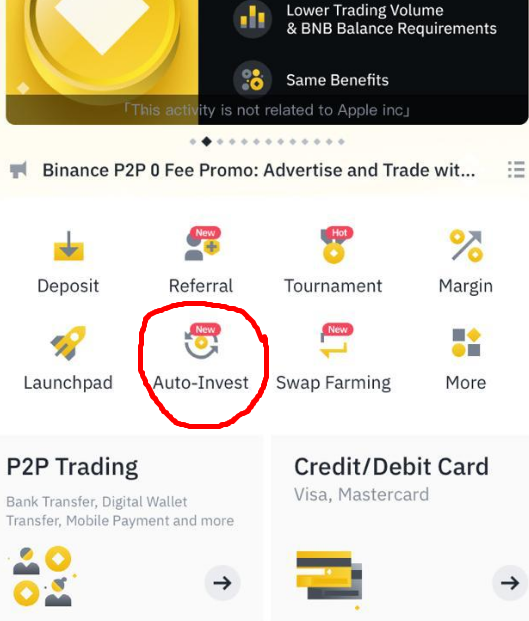 iv. Next you click on 'Create plan' for the coin you wish to invest in.
BNB, ETH, and BTC are the supported coins for now (15/12/21).
*Notice that you can see how well each coin has done in the past 3yrs, 1yr, 6months, and 3months.
v. Now complete the details of your plan:
Choose the stablecoin you'll buy with i.e. USDT or BUSD
Input the amount you wish to buy (the minimum is 10 USDT/BUSD; there's no max. limit)
Select your recurring cycle (daily, weekly, bi-weekly, or monthly)
Set the time and date for the purchase
Lastly, turn on the button for 'Use Flexible Savings Balance'. This enables your purchase to continue when the funds in your spot wallet are not sufficient.
Then click on "Confirm'
vi. You'll be notified of a successful transaction.
vii. And when you refresh the page, you'll notice that the plan is ongoing.
If you ever need to make changes to your plan, you can click on the pen icon in a yellow circle 👇
Enjoy!
Note: you can check your Auto-Invest plans from the 'Go to Earn Wallet' tab and your Auto-Invest purchases from the 'Go to History' tab at the top of the page.
Additionally, you can create plans for more than one cryptocurrency at the same time.
So, why should you use the Auto-Invest feature? I shared my thoughts in the next section.
Keep reading!
---
3. Why Should I Choose Auto-Invest?
If you are a newbie in crypto investing or you've gotten too busy for your short-term trading, Auto-Invest might just be the best option for you.
For one thing, it helps to reduce the risk from short-term market volatility.
You don't have to worry about changes in market prices; no need to guess the right time to buy.
Rather, your purchases are automatically made according to your plan.
That way, you steadily build your portfolio in the long term. Cool, right?
Secondly, your assets are held in your Flexible Savings wallet.
Here, they generate additional APY rewards for you (BNB – 0.35%, ETH – 1.7%, and BTC – 5%).
Talk about making passive crypto income. Yay!
And just so you know, Binance is giving away $50,000 in BNB to traders that will use Auto-Invest before Dec 21, 2021.
Get more details here.
Let's answer some frequently asked questions and then we can call this post a wrap.
Read on!
---
4. FAQs
Is Auto-Invest different from 'Auto transfer' in Flexible Savings and 'Recurring Buy'?
Yes.
The Auto Transfer in Flexible Savings automatically saves your preferred asset whenever you receive it in your spot wallet
Then Recurring Buy makes scheduled cryptocurrencies purchases via VISA/MasterCard on your behalf.
But Auto-Invest buys a particular asset using your stablecoins and grants you additional APY rewards.
When can I withdraw my funds?
Whenever you wish to. Just go to your [Wallet] – [Earn] – [Flexible Savings]
Find the asset you need and click [Redeem].
What if I don't have sufficient balance in my Spot Wallet?
The system will use the assets from your Flexible Savings plans to complete the purchase
However, if you didn't enable the [use flexible savings balance] function, the system will then try to make another purchase on the next Auto-Invest date.
What risks are involved with Auto-Invest?
Well, there's no 100% guarantee of profit.
And the risk here is common with all cryptocurrency investments, your asset's value may drop following market trends.
Thankfully, the coins available on Auto-Invest are top coins and are less likely to drop to zero.
---
5. Conclusion
This is where we'll draw the drapes in our discussion on Auto-Invest. I hope you enjoyed the read.
Want to give it a try? Then follow this link to get started.
I'm sure you'll be smiling once the numbers start to add up.
Don't have a Binance account? I got you! Register with my link and get on board 😉
Still got questions on Auto-Invest or thoughts that you'd love to share?
Type them in the comments section. Let's engage!
And do you know what else would be great? If you shared this post with your friends. Thank you!