Imagine you are scrolling through your social media feed and you come across a post from a friend who had invested in a US stock and made a fortune.
And you think to yourself, "I wish I had the opportunity to do the same."
Well, Bamboo can make your wish come true.
Bamboo is an investment company that enables Nigerians to invest in US stocks.
Continue reading this article to learn more.
---
Post Summary
---
What Is Bamboo?
Bamboo is an investment company that provides investment services to individuals and institutions.
It aims to help its users invest in the US stock market, offering them access to one of the largest and most established markets in the world.
The platform offers various investment options, like individual stocks, dividend stocks, ETFs, etc.
Also, it provides educational resources and investment guides to help users make informed decisions.
Bamboo was founded in 2020 by two tech entrepreneurs, Richmond Bassey, and Yanmo Omorogbe.
At the time of writing (February 2023), Bamboo is available to Nigerians alone.
---
Bamboo Products And Services
1. The US Stock Market
As already mentioned, one of the product offerings on Bamboo is US stock.
Users can trade stocks such as Apple, Microsoft, Amazon, Netflix, Walt Disney, etc.
Furthermore, they can invest in these stocks for as little as $1.
2. Bamboo Fixed Returns
This is another product offering that lets you directly invest in Bamboo for fixed annual returns paid out in dollars.
You can invest in Bamboo Fixed Returns with as little as $1, which is equivalent to 757 NGN (as of 9/02/2023).
The annual interest rate offered is as high as 8%. However, the interest one earns is determined by the duration chosen (between 90 -365 days).
3. Investment Portfolio Categories
This pulls up different categories of stocks you can invest in. Take a peek below:
Biggest Companies in the world
Warren Buffet's top 6 stocks
Fixed Income ETFs
Bill Gate's Top 20 stocks
Most bought stocks, and a plethora of others
Typically, the categories help investors easily select and make the best investment decisions.
---
What Stocks Are Available on Bamboo?
Take a peek:
i. Biggest companies in the world
Amazon ( AMZN)
Apple (APPL)
Walmart (WMT)
Google (GOOGL)
Exxon Mobil Corp (XOM), etc
ii. Fixed Income ETFs
Floating Rate Bond iShares (FLOT)
Core US Aggregate Bond iShares (AGG)
SPDR Bdg Barclays International (BWX), etc
iii. Warren Buffett's Portfolio
Chevron Corporation (CVX)
Ally Financial Inc. ( ALLY)
General Motors (GM)
Wells Fargo & CO. (WFC), etc
iv. Bill Gate's Top 20 Stocks
Affirm Holdings (AFRM)
Beyond Meat Inc (BYND)
Citigroup Inc. (c)
Caterpillar Inc (CAT)
v. Invest in Sports
Manchester United plc (MANU)
World Wrestling Entertainment Inc. (WWE)
Madison Square Garden Company (MSGS)
Liberty Media Group – Class A (FWONA)
Endeavor Group Holdings, Inc. (EDR)
The list goes on and on. There are over 100 stocks in total.
---
Bamboo Fees
i. Trade fee – The platform charges a 1.5% fee for every stock bought or sold.
ii. Deposit Fee:
Naira card – 1.4%, capped at 2000 NGN
Naira Bank Transfer – Flat fee of 100 NGN
USD Card – 2.9%
iii. Withdrawal Fee:
---
How To Invest In US Stock With Bamboo
All you need to do is create an account and fund it with at least $1. Here is how to go about it:
i. Click on this link to create an account.
ii. Once your account is created, go to your App Store or Google Play and download the Bamboo app. The reason is the trading platform can only be accessed from the mobile version.
iii. Open the app and log into your account.
You will also be prompted to set a 4-digit security code if you wish to.
iv. Next, fund your account. On your "Home" page, click on "Fund your account now."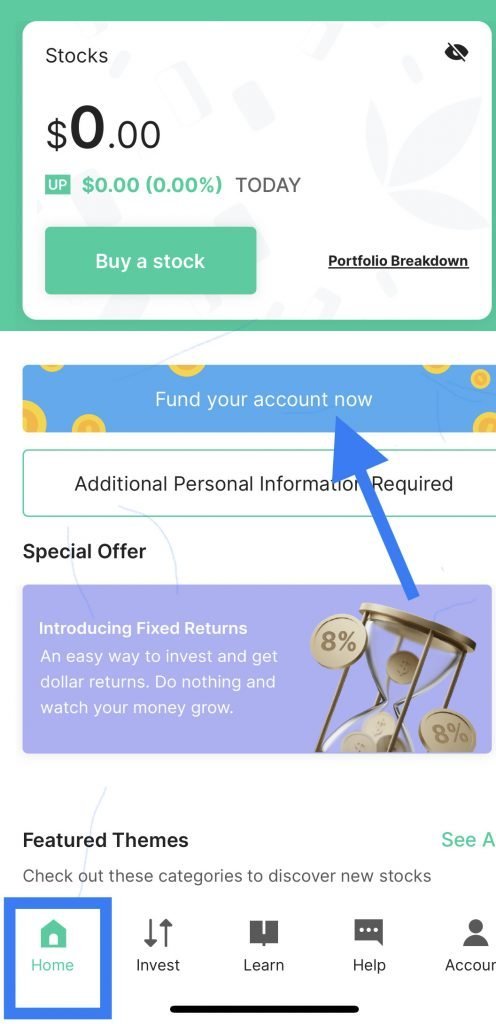 v. Select the currency of your choice. There are two local currencies supported: NGN and USD. After that, enter the amount you want to deposit and click "Deposit".
vi. Enter your BVN for validation so that your transaction can proceed.
That's it! After your transaction is completed and funds are deposited into your account, you can buy and sell any stock of interest.
---
Why Should You Use Bamboo?
Sleek user interface
I fell in love with Bamboo because of its visually appealing and user-friendly UI.
You can navigate to any option easily, whether you're a beginner or an expert.
Needless to say, the app was designed with the users' needs in mind. It features a portfolio breakdown to track your gains and losses.
In addition, users can see pre-information, charts, and insights on any stock they wish to buy or sell. Cool!
They can also compare stocks and set price alerts.
Low Investment amount
The platform provides a low barrier to entry into the US stock market. Investors can invest as little as $1.
In other words, this makes it possible for even those on a tight budget to start building a diversified portfolio of stocks.
Asset support
You have access to over 100 US stocks.
---
Is Bamboo Safe?
According to the information on the website, users' financial information is protected with the highest security standards, or what it refers to as "state-of-the-art data encryption".
Also, users' funds are insured by the United States SIPC for around $500,000 in value.
Furthermore, Bamboo does not operate as a registered broker-dealer.
However, users' accounts are held by a duly registered third party.
---
Conclusion
We call it a wrap here!
Investing in the US stock market has never been easier. Bamboo has become the gateway, making it easy for Nigerians to do so effortlessly.
Tell me what you think about this tech company, or let me know if you have any further questions in the comment box below.
Also Read: Top 3 Apps To Invest Your Money For Maximum Returns In 2023