Today's review is on Paybis, a digital and cryptocurrency exchange.
It is one of the top e-currency exchanges available for Nigerians.
I discovered Paybis when I needed to exchange Neteller for Naira. The e-currency exchanges in Nigeria that offer this service charged too much in transaction fees.
I went through Paybis; converted Neteller to Bitcoin, send it to my Quidax bitcoin wallet, converted it to naira there, and withdrew. I still got a better rate through this process.
So, in this article, I will be giving a total review of Paybis and also how you can buy Bitcoin with e-currencies.
If you are ready, let's get started.
---
Paybis Review Summary
Here is what I will cover:
Click on any item above to read its details immediately.
Enjoy your read!
---
Heads up!!

If you are in Nigeria, you will be unable to use the Credit/Debit card option to buy cryptocurrencies.

This is due to the CBN Ban in February 2021.

However, there are other ways to bypass the ban and still trade crypto. Check them out here.
---
1. Paybis Overview
Paybis is a broker exchange that allows users to convert different types of currencies.
It was launched in 2014 in Latvia. The founder is Innokenty Isers.
Paybis is registered in the UK. It has a Money Services Business Registration issued by the USA.
This platform does not support the storage of cryptocurrencies or e-currencies.
It only functions as a gateway for users to switch between different currency types.
Hence, users will require an external wallet.
The goal is to help people transfer funds between different payment systems quickly and with little stress.
In the next section, we'll see the features and services of Paybis.
---
2. Paybis Features and Services
Features
Great user interface
No hidden fees
Verification in less than 5 minutes
Compliant with EU and USA regulations
Instant cryptocurrency payouts
24/7/365 live customer support
Services
Paybis offers 3 services: Private Services, Sell Bitcoin & Business Services
Private Services (Exchange)

Here, users can buy cryptocurrencies and e-currencies using their preferred payment methods.
The exchange is on the home page of the Paybis website (as shown in the image above).
Simply, click on the drop-down menu to select your payment method and the product you wish to buy.
Sell Bitcoin
Additionally, users can also sell their bitcoin and receive the equivalent amount in EUR or USD.
Business Services (Liquidity Services)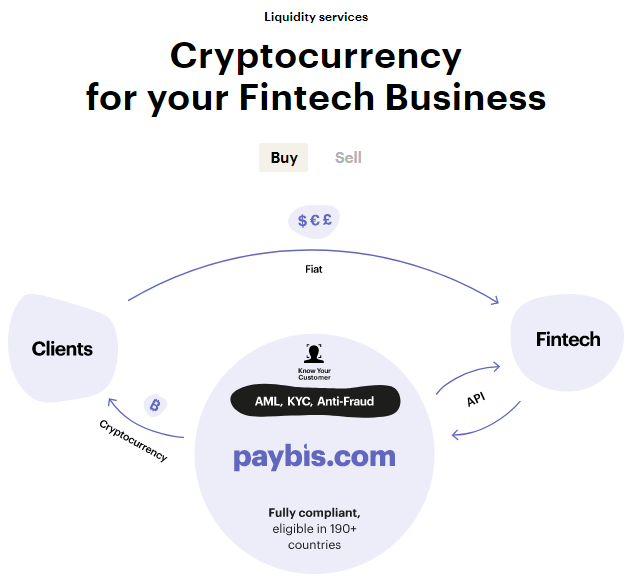 Paybis provides liquidity services for fintech businesses.
It stands as a middleman between these businesses and their clients to accept and send crypto.
You can access this service from the home page when you select the 'Business' option.
Paybis supports the following currencies and payment methods.
---
3. Supported Currencies and Countries
Paybis supports the following currencies and countries:
Currencies
Bitcoin (BTC)
Ethereum (ETH)
Litecoin (LTC)
Ripple (XRP)
Stellar (XLM)
Bitcoin Cash (BCH)
Tether (USDT)
Neo (NEO)
Tron (TRX)
Binance Coin (BNB)
Skrill
Neteller
USD
EUR
GBP
NGN
And 35 other fiat currencies.
Countries
Paybis supports users from over 150 countries including Nigeria, the USA, UK, and Canada.
However, in the USA, New York, Georgia, Connecticut, New Mexico, Washington, and Hawaii are not supported.
Then these countries are NOT supported:
North Korea
Ethiopia
Iran
Pakistan
Serbia
Sri Lanka
Syria
Trinidad & Tobago
Tunisia
Yemen
Iraq
Afghanistan
Botswana
Bahamas
Ghana
---
4. Payment Methods and Transaction Fees
Payment Methods
Credit/Debit Card
Skrill
Neteller
SEPA bank transfer
Paybis Gift card
Bitcoin
Note: You can only use Bitcoin to buy Skrill and Neteller
Transaction Fees
The transaction fee depends on the payment method chosen.
There are three types of fees charged in Paybis:
Receiving Commission: This is the fee charged by payment service providers to process your payment e.g transfer charges by your bank.
Paybis Commission: the fee Paybis charges to provide services to you.
Sending Commission: This is the fee Paybis pays payment processors to send funds to users.
Usually, these fees are displayed on the screen as you place your order.
For Credit/Debit card transactions, Paybis commission does not apply the first time.
Subsequent card transactions in USD, GBP, and EUR will be charged a 6.99% commission.
Then card transactions in local currencies can attract up to 8.99% commission.
Quite high, right?
The fees for other payment methods are dynamic, mostly based on market demand.
---
5. Transaction Limits and Verification Requirements
Transaction Limits
In the table below, you will find the transaction limits for each payment method available on Paybis:
For payouts into your bank account or credit card, the following limits are obtainable:
Verification Requirements
Before you can perform a transaction on Paybis, you must register on the platform.
You will provide your personal information and send a photo of your document.
The accepted documents for registration are:
Identity card
Driving Licence
Passport
Residence permit
PAN card
Voter's card
Health ID card
Military ID card
Additionally, you are required to pass the 3D selfie security check.
Once your verification is approved, you can then commence transactions from the home page.
Account verification requests are processed within 15 minutes.
Still here? Good! Keep reading to learn more about Paybis.
---
6. Customer Support and Public Opinion
Paybis has outstanding customer support.
Customer support is available 24/7 and can be contacted through any of these channels:
Live Chat: average response time is 5 seconds
Email: support@paybis.com
Twitter: https://twitter.com/paybis_com
I checked Paybis on Trust Pilot and it has a an excellent rating with 9,921 reviews.
Super cool!
Paybis is also considered safe on WebOfTrust. It has a 2.5/5 rating with 31 reviews.
Moving on, I will show you how to buy bitcoin on Paybis using e-currencies.
Tag along!
---
7. How To Buy Bitcoin With E-currencies On Paybis
There are two e-currencies with which you can buy bitcoin on Paybis: Skrill and Neteller.
For this section, we'll make use of Neteller.
And here are the steps to follow:
1. Visit Paybis and click on 'Sign up' on the top right corner
2. You will be redirected to a field to fill in your personal information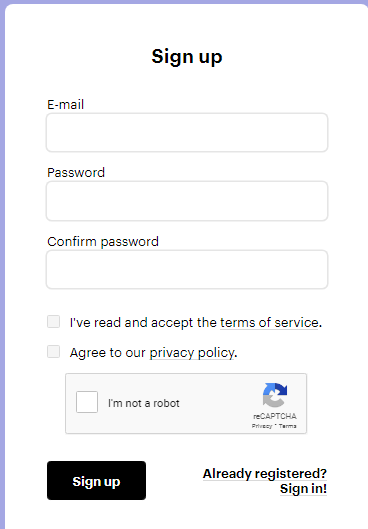 3. Next, you will be required to verify your account. Simply, click on the profile icon on the top right corner and select verification
4. Once your verification has been approved, you can then commence the transaction.
5. Go to the homepage and select Neteller from the 'You spend' menu and bitcoin from the 'You receive' menu.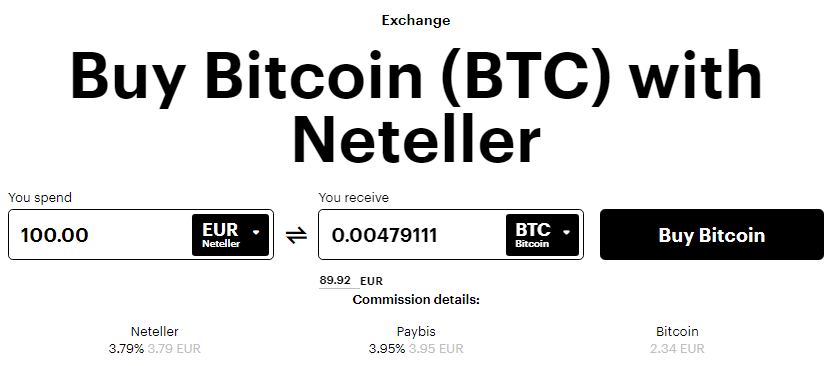 6. Input the USD equivalent of Neteller you wish to spend and hit 'Buy Bitcoin'.
7. Now, enter your bitcoin wallet address.
8. You will be redirected to Neteller page to make payment.
9. Confirm and complete your order. Then hit 'Return to Paybis.'
10. Wait for your transaction to be completed. This should take about 10 minutes.
11. When it is complete, check your balance in your bitcoin wallet. I'm sure you like what you will see.
Before we go, let's see the answers to some frequently asked questions.
Shall we?
---
8. Frequently Asked Questions (FAQs)
1. How do I get Paybis gift card?
Paybis Gift cards are distributed to companies within Tillo.io, who may later sell them to private individuals.
However, gift cards are no longer supported on the platform.
2. How long does the verification process take?
It can be done within 15 minutes – 24 hours.
3. Can I cancel my order when payment has already been sent?
No, please.
If payment has already been sent using the details provided in the order, the order is considered COMPLETED.
You cannot cancel such orders.
4. Is Paybis safe?
This exchange appears to be safe based on the following reasons:
– The founder is known.
– It has a physical office.
– The company is registered in the UK.
– It has been in existence for 4 years without any report of fraud.
– Users of Paybis display their satisfaction with the platform publicly.
---
If you want to learn how to trade cryptocurrencies profitably, then enroll in our Crypto Trading Mastery Course by going to www.ctmastery.com.
You can also join our Telegram community at https://t.me/ctmastery.
---
9. Conclusion
Paybis helps users to seamlessly transition from one currency type to another.
This is where we'll draw the drapes on this review. I hope you enjoyed your read?
Now it's your turn, what do you think of Paybis?
What is your experience with the exchange?
Leave your response as a comment below with any other questions you might have.
Don't forget to share this post.
---
Don't miss: