Nigerians can now buy cryptocurrencies like Bitcoin, Ethereum, and more with a simple bank transfer through MetaMask.
Yes, you heard it right! Keep reading to learn more!
---
---
MetaMask Enables "Nigeria Instant Transfer"
A newly introduced "Nigeria Instant Transfer" feature on Metamask now enables Nigerians to purchase cryptocurrency using bank transfers.
On March 21, 2023, MetaMask's parent company, ConsenSys, made an announcement about integrating with crypto fintech MoonPay to make NGN bank transfers on MetaMask possible.
Nigerian traders were taken by surprise by this development.
Since its inception, Metamask, a top cryptocurrency wallet provider, has enabled Nigerians to store their crypto assets and access DApps through its self-custody wallet.
Although Metamask included a "Buy Crypto" option, it wasn't until recently that it extended this service to Nigerian users.
The new "Nigeria Instant Transfer" feature can be found within the MetaMask mobile and Portfolio DApp. See how to locate it below!
---
How To Buy Crypto With NGN On MetaMask
i. Open your MetaMask app and click on "Buy"
ii. Select "Nigeria" as your region and click "Continue".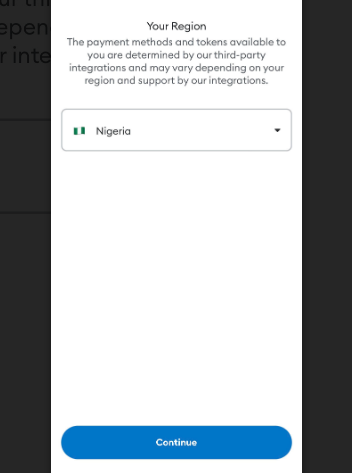 iii. Select " Nigeria Instant Transfer" from the options displayed and click "Continue to amount"
iv. Select the crypto you want to buy and the amount you want to buy, and click "Get quotes".
NB: The minimum amount to buy is 16,000 NGN.
Inspect the quote showcased and click on "Buy with MoonPay".
v. The subsequent steps involve a series of verification processes:
Confirm your email address
Complete your identity verification; your BVN and face scan are required
After your details have been verified, remit payment to the account information displayed on your screen. Then you will receive your crypto in a short while!
FYI:

As of the time of writing (March 2023), this feature is not fully functional on Metamask, possibly because the team is still in the process of making it usable.
How are Nigerians reacting to this? You might need to peruse the information below.
---
What This Means For Nigerians
First off, Metamask's expansion of its "Buy Crypto" in Nigeria is a testament to the country's growing interest in blockchain and crypto.
According to ConsenSys:
"Nigeria is among MetaMask's top markets globally, ranking third in mobile active users. It is also among the top ten countries regarding visitors to metamask.io over the last month"
This is indeed remarkable, as it highlights the country's significant strides in adopting cryptocurrency.
Secondly, it opens an opportunity for traders especially Hodlers to seamlessly invest in digital assets without the need to go through a centralized exchange first.
The third point pertains to safety; just as CZ Binance puts it, "Self-custody is a fundamental human right".
After the FTX controversy, there has been a strong emphasis on the self-custody of crypto assets.
The move will foster the self-custody of assets among Nigerian traders, safeguarding them from the risks associated with an exchange meltdown.
However, there is a concern:
Buying crypto on Metamask may be more expensive than buying from P2P on centralized exchanges.
The reason, though, is that you will be charged a processing fee and a network fee.
Take a peek at the quote I got while experimenting with the new feature!
My thoughts
This can be overlooked when buying crypto assets such as BTC and ETH, considering that you might pay a similar amount in gas fees to transfer them to your Metamask wallet.
Again, the security of MetaMask outweighs these fees and the risks associated with centralized exchanges.
---
Conclusion
Metamask is poised to make crypto transactions even more accessible and secure for Nigerians.
So, if you're in Nigeria and want to dip your toes into the world of cryptocurrencies, you can easily do so with MetaMask.
What do you think?
Put your thoughts in the comment box below, and I will respond. Thanks for reading!