This article presents the most comprehensive comparison of two of the Top 6 hardware wallets in the market today, Keepkey Vs Trezor One.
Luckily for crypto investors today, the introduction of new hardware wallets has created a competitive environment between the wallet providers.
This competition has led to price reductions and enhanced wallet features. However, choosing the right wallet has become a challenge to many.
I will give you a head to head comparison of these two wallets.
After now, you will have no problems identifying which is best for you. I have also reviewed the two wallets thoroughly in previous articles, where I discussed every single detail about them.
---
Post Summary
I have made everything simple and clear, here is a list of what I'll be covering today. Click on any of them to take you straight to the content.
Without much ado, let's get on with – KeepKey vs Trezor.
---
Trezor One in a Nutshell
Trezor One is the first hardware wallet to grace the crypto industry. It was an innovation by Satoshi Labs in 2014, a company based in Cech Republic.
Unlike many wallets today, the Trezor One has stood the test of time, some even called it the number one wallet.
---
KeepKey in a Nutshell
KeepKey is a hardware wallet that was launched in 2015 by Darin Stanfield, a US-based company. It was later acquired by ShapeShift in 2017.
The wallet allows you to directly swap coins from the device via the Shapeshift App installed in it.
Now, let's go on to compare their basic features.
---
KeepKey Vs Trezor One (Compared Features)
Trezor One
KeepKey
Keepkey Vs Trezor One
They will be compared based on the following categories;
Price
Screen
Security
Supported coins
Set up
Size and design
Software compatibility
Price
The first thing on every rational buyer's mind is the price of a product. Therefore, it is only logical that we start this comparative analysis from the price category.
The two wallets, recently reduced their prices, in a bid to attract more buyers.
The KeepKey currently sells at $ 49, while the Trezor hardware wallet can be gotten at £53 – £163 (at the time this article was written).
From the above, we can see that the KeepKey is $6 cheaper than the Trezor One. This is a decisive factor for those on a strict budget, making Keepkey a great choice for those on a strict budget.
Screen
A majority of hardware wallet users agree that a screen is a vital component to any hardware wallet.
It displays sensitive information like backup seeds, PIN codes and private keys that are not leaked out to third party devices or malware.
KeepKey Touchscreen: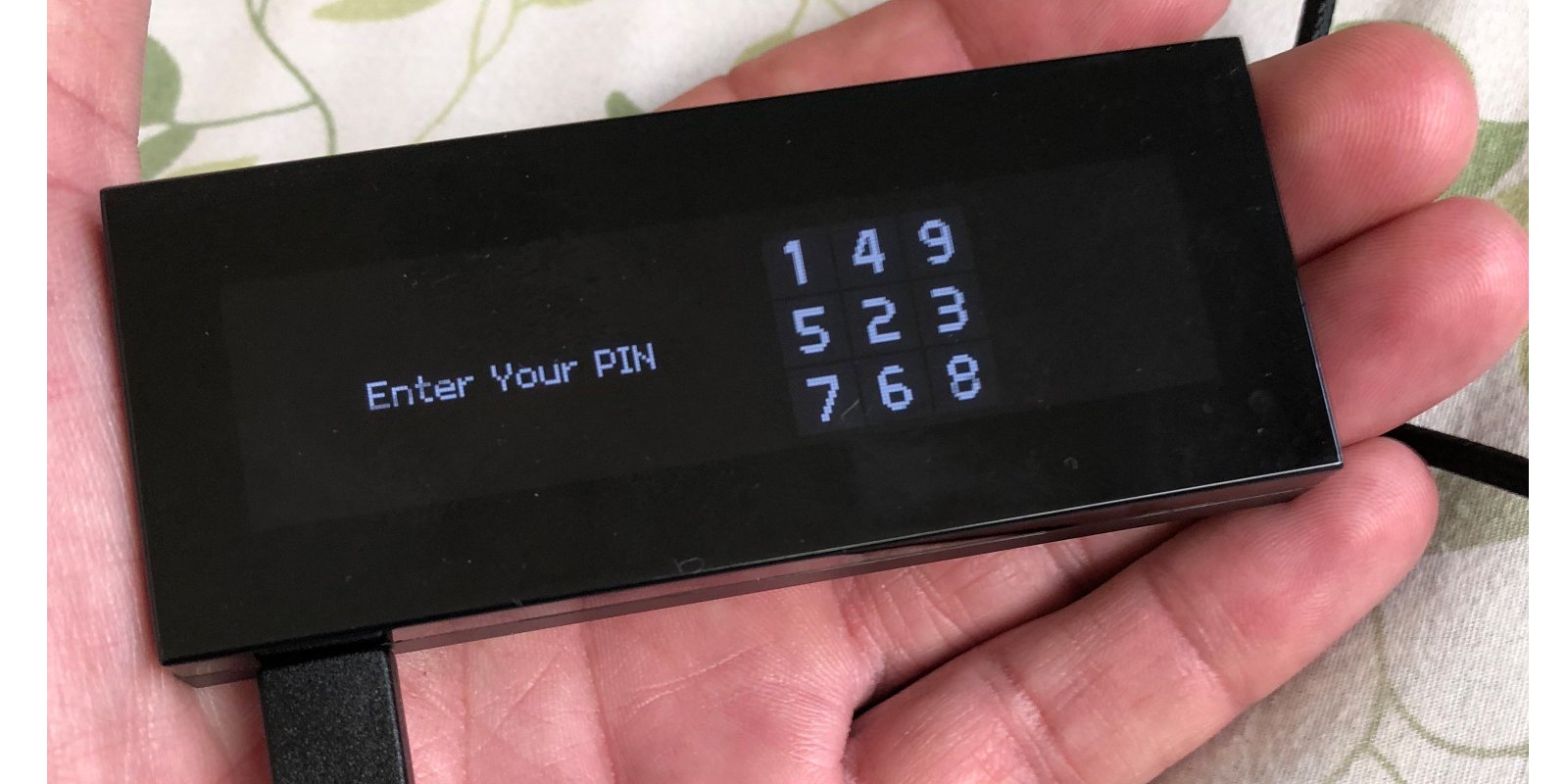 Trezor screen: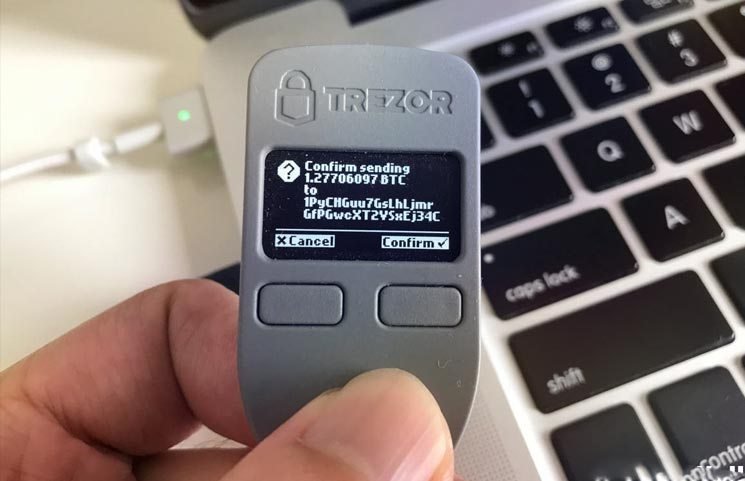 The Trezor wallet comes with an OLED screen. KeepKey, on the other hand, comes with a large touchscreen that looks clearer than that of the Trezor.
Security
Both wallets come with similar security features. However, the difference lies in the fact that the KeepKey is basically a small computer while the Trezor uses 2 secured chips. Both hardware wallets can be safely used on any computer, as they are both fully immune to virus and malware attacks.
The bottom line is, they are both equally secure.
Supported Coins
The essence of acquiring any wallet in the first place is to store your cryptocurrencies. So, the number of coins supported by any given wallet is a vital factor in choosing which one is ideal for you.
The Keepkey currently supports up to 40 digital assets including ERC20 tokens. Below is a list of the major coins supported.
Bitcoin
Ethereum
Bitcoin Cash
Dogecoin
Dash
Litecoin
On the other hand, Trezor One offers support for over 1000 coins including ERC2o tokens, which is way more than the Keepkey. Below is a list of some of the major coins supported.
Bitcoin
DASH
Litecoin
Bitcoin Cash
Zcash
Ethereum
Bitcoin Gold
Ethereum Classic
Dogecoin
Both wallets do not support Ripple, you won't be needing any of them if you want to store Ripple. However, Trezor One offers more coin support which is an advantage if you will be working with a variety of coins. If you want to store ripple, you will need ledger Nano S or the Trezor T model.
Setup
Setting up both devices is relatively easy, their setup process is basically the same and requires just a few minutes to complete. All you have to do is, create a PIN Code and write down your recovery seed.
It is important that you back up your recovery seed in a safe place in case you forget it or something. Most hardware wallets come with recovery cards where you can safely write down your backup seed. You can also use cryptosteel for your backup.
Size and Design — KeepKey Vs Trezor
You can argue that a hardware wallet's outward appearance doesn't matter, all that matters is its security. However, moving around with an iPhone 4s, for example, is far more convenient than moving around with a brick in your pocket.
The Trezor device is smaller than the KeepKey. if you'd like a more portable device the Trezor One wins in this category.
Furthermore, the KeepKey device is beautifully designed with an aluminium glass and has just one physical button. The Trezor One is made of plastic and has two physical buttons.
If you are a fan of 'style', you should go for the KeepKey.
However, I think security is all that matters.
Software Compatibility
Software's are essential to all crypto hardware wallets, it is impossible to use a hardware wallet independently without software as they serve to interact and command the wallet. I shall list the most prominent software wallets in the table below and their compatibility with our contesting hardware wallets.
| | | |
| --- | --- | --- |
| Wallet Software | KeepKey | Trezor |
| Electrum | Yes | No |
| MyEtherWallet | Yes | Yes |
| Mycelium | Yes | Yes |
| Green Address | No | Yes |
| Multibit HD | Yes | Yes |
| Green Bits | Yes | Yes |
| Copay | No | Yes |
| KeepKey Chrome | Yes | No |
| My Trezor | No | Yes |
| | 6/9 | 8/9 |
---
Conclusion
That's it on our Keepkey Vs Trezor One.
Choosing between any of these two will depend totally on you, although the Trezor ranks higher than the Keepkey in so many areas including wallet reputation.
If you like something portable to carry around with you, I suggest you go with the Trezor One. It's also a perfect fit for those in love with durability.
However, the KeepKey is a great choice for those in love with 'style'. It has a larger screen and its design is far sleeker than the Trezor. Both wallets are a lot safer than traditional custodial wallets and exchanges. It's best you get one to have a feel for yourself.
I hope this article was helpful?
It's you turn now to give me feedback.
Which one of the wallets' features do you fancy?
Leave your replies or any questions you have for me in the comments section below.
Lastly, kindly share this post by hitting on the social media icons below. We'd be making more posts like this.
Cheers!!
---
Also read;