This is the complete review of Binance NFT Marketplace.
Binance, the largest cryptocurrency exchange in the world, has launched its own NFT Marketplace.
And it provides NFT aficionados with a compelling all-in-one UI to create buy/sell digital assets on the blockchain at a very cheap cost.
There are also NFTs of some of the world's most famous celebrities and football icons on exhibit. 😍
As you read this review you will learn how to create, buy, and sell NFT for money on Binance NFT.
---
Post Summary
This is what I will cover;
Let's dive in!
---
Overview Of Binance NFT
Binance NFT is a centralized NFT marketplace that is powered by Binance – a crypto exchange founded by Changpeng Zhao.
It went live on June 24th, 2021, and is also linked to the Binance exchange.
Binance NFT aims to become the world's top NFT marketplace.
It is providing access to the NFT market to millions of Binancians around the world.
This NFT marketplace offers high liquidity and allows every NFT enthusiast to buy and sell NFT at a reasonable cost.
Also, it displays the best and most exclusive handpicked NFTs in the visual arts, sports, music, and gaming verticals.
Binance NFT integrates both the Binance Smart Chain (BSC) and the Ethereum Network.
This means that users can buy/sell both Binance Smart Chain and Ethereum based NFTs.
This is Binance NFT in a nutshell, I'll go through the products it offers in the following part!
---
Binance NFT Products
You will find the following three products on Binance NFT.
(a)
Marketplace
The Marketplace displays all of the many categories of NFTs that are available on the platform.
It also enables NFT collectors to buy, sell, and trade NFT in a seamless manner.
(b)
Mystery Boxes
A Mystery Box contains a secret NFT that is revealed only when the box is opened.
(c)
Event
Event is a premium product line that has unique NFT created by some of the world's most well-known personalities.
It features NFTs from prominent digital artists as well as celebrities such as musicians and athletes like Michael Owen and Alphonso Davies.
I'll teach you how to get started on Binance in the following part.
Continue reading
---
How To Begin Trading On Binance NFT
As previously stated, Binance NFT is linked to your Binance exchange account.
If you wish to start trading on the Binance NFT marketplace, you must follow this easy step-by-step tutorial.
Go to Binance.com and create an account. This article demonstrates how to do so. Proceed to the next step if you are already using this exchange.
Log into your account and complete your verification process.
This is how to complete your verification on the exchange's platform.
3. Make sure you have these three cryptocurrencies in your Spot Wallet: BNB, BUSD, and ETH, because you'll need them to pay your transaction fee.
You can still buy them on the exchange if you don't have them. I explained how to do so in this article
When you've completed these two steps, then you're ready to start trading on the Binance NFT Marketplace.
Note:
Binance NFT only creates the BEP-721 NFT standard on the Binance Smart Chain and NFT creator pay BNB as transaction fee.
On the other hand, it allows NFT artists to list, buy and sell both BEP-721 and ERC-721 for BNB, BUSD and ETH
Also, only a pre-selected 100 NFT creators,as well as other verified premium event creators, are permitted to create or mint NFT
This simply means that while you can buy/sell NFT on this platform, you will not be able to create your own Binance NFT unless you are one of the selected digital artists.
The 100 NFT creators are charged a 1% processing fee and will also receive a 1% NFT royalty.
However, the premium event creators are charged a 10% fee while they get a 90% revenue from their sales.
Binance charges 0.005 BNB for each NFT minted on its marketplace
All of your transactions are paid for with your Binance "Spot Account."
This is all you'll need to get started on this market.
Scroll down to the next section!
---
How TO Create Your Own NFT On Binance NFT MarketPlace
Follow the steps below to create your NFT if you are one of the approved NFT artists.
On the Homepage, click the "Create" button.
Upload the image, video, music, or file you want to use to make an NFT.
Fill in the required details about your NFT. Make sure you have you have enough BNB in your account to cover the minting fee. Then click on "Create."
It's worth noting that choosing "Single" produces a single version of your NFT.
However, selecting "Multiple" generates multiple distinct versions of your NFT, each of which is unique on its own.
At this stage, Binance will successsfully create your NFT. You will also find the token ID and the contract address linked to your NFT of which you can copy into BscScan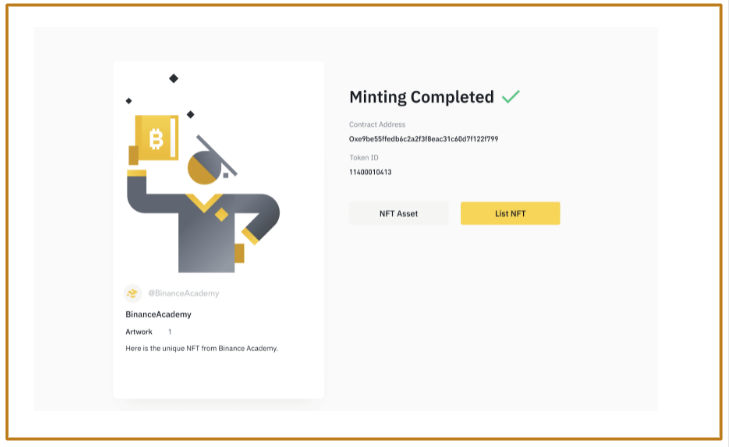 When your NFT has been successfully minted, you may opt to:
Put it up for sale on the marketplace immediately by selecting "List NFT." I will show you how to do this in a subsequent part.
Save them in your collections by clicking on "NFT Asset". From there, you may also, withdraw the NFT to a compatible external wallet or another exchange.
Let's go on to the following part, where I will show you how to buy NFT on Binance.
---
How To Buy NFT on Binance NFT Marketplace
On the Binance NFT marketplace, you can buy NFT in these three ways:
Buy at a fixed price
Place a bid
Buy a Mystery Box
1. Buy at a fixed price
Click on "Marketplace" and it will take you to "All Categories" of NFT available
Go through all of the categories and choose the NFT that most interests you, but make sure it has a set sale price.
This is because you want to buy your NFT at a fixed price.
You will be redirected to a purchase page click on "Buy Now".
When you have clicked on "Buy Now", your transaction process will be completed if you have sufficient funds in your wallet.
2. Place a bid
From "All Categories", select your favorite NFT that bears the tag "current bid".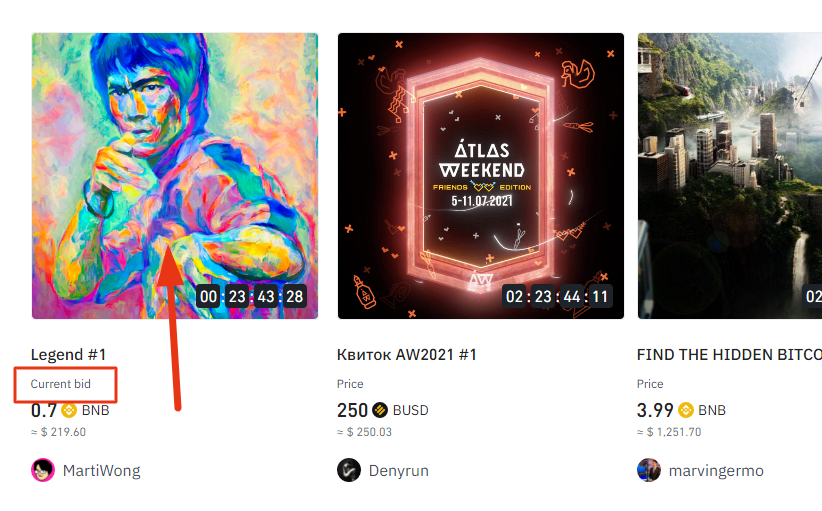 You'll be taken to a page where you can place bids. The NFT's description, image, bidding history, and other data can be found there.
To place a bid, click the "Place a Bid" button.
You'll see a pop-up box where you may type in your bid amount.
Keep in mind the minimum markup: this is the amount you must add to the prior offer to put your new bid.
Once you've entered the proper amount, click "Place a Bid".
The Marketplace will urge you to top up your spot wallet if you don't have any or enough crypto in your account.
Then you may proceed to buy the appropriate cryptocurrency to finish your transaction.
You'll get a confirmation on your screen after you've successfully placed your bid.
Keep in mind that after you place a bid, your funds will be locked until the auction is completed.
In addition, the NFT will be purchased by the highest bidder at the end of the auction.
3. Buy a Mystery Box
The Mystery Boxes are listed within a specific period.
You have to follow Binance on Twitter and wait for the sales to be announced to buy the Mystery Boxes.
Follow the step below, to buy one when it is listed!
The Mystery box will be shown on the "Mystery Boxes" section.
You'll see a fixed price as well as "The Remaining Amount", coupled with a set of customizable icons.
Beneath, you'll also find information on the number of NFTs available, rank and their likelihood of showing in the Mystery Box.
Return to the mystery box and click "Buy" after selecting the amount of Mystery Boxes you want to purchase.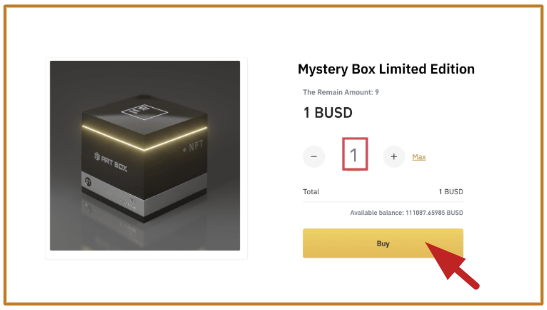 You'll see an "Order Detail" pop-up, asking you to confirm your purchase's details, after which you'll click "Confirm."
Note that, you can either resell an unopened mystery box or the NFT it contains after it has been opened.
Scroll down!
---
How To Sell NFT on Binance NFT Marketplace
You have the option of selling your NFT at an auction or a fixed price.
Also, you can accept payment in any of the 3 cryptos that I mentioned earlier.
Interestingly, you can deposit and sell NFT even if you are not a verified creator.
To list and sell NFT on Binance, follow these easy steps!
Verified creators can easily do this once they have successfully created an NFT.
For ordinary users, they will go to the "NFT Asset" page and select the NFT they want to list from their collection.
(a) If you want to auction your NFT, continue with the steps below.
Set a minimum bid for your sale and choose the cryptocurrency you'd want to be paid in.
(b) If you'd like to sell your NFT at a fixed price, do this:
After clicking "Set Price," specify the price at which you'd like to sell your NFT immediately, as well as the cryptocurrency you'd like to use as payment.
Next, specify the date and time your NFT sale will end, select an appropriate category for your NFT, and write a fitting description for the NFT.
Review the fees associated with selling your NFT, this will be displayed just above the "Submit" button. Finally, click the "Submit" button.
Note that:
Before the listing, the Binance team will carefully examine each NFT to verify it fulfils its requirements.
This procedure takes 4 to 8 hours on average.
Let's dive down to the FAQ section!
---
FAQs
1. How do I customize my listing time, must I set it to be listed after 4-8 hours, after Binance must have reviewed it?
You can customize the time it takes for your NFT to be listed, starting at least 12 hours after you submit your listing request.
If the review is not completed by your requested listing time, the Binance team will list your NFT as soon as it is approved.
2. Is it possible to cancel the creation process while it is in progress?
No, you won't be able to do that once you've paid your fee and Binance has started minting your NFT.
This is because Binance cannot halt what is already happening on the blockchain.
3. Why should I use Binance NFT Marketplace?
Binance is a well-known cryptocurrency exchange.
It will reach a larger audience of NFT enthusiasts by utilizing its large user base and tremendous network impact.
Moreover, Binance seeks to provide the NFT ecosystem with some of the highest liquidity in the crypto space.
It also lowers the barrier to entry into the NFT space due to its low costs.
As a result, Binance is capable of boosting the NFT market cap soon.
---
Do you want to learn how to trade cryptocurrencies profitably?
We developed a perfect course to help you master Cryptocurrency Trading.
Go to www.ctmastery.com to enroll. You can also join our Telegram community at https://t.me/ctmastery for more information.
---
Conclusion
This is the end of today's review!
Binance, the world's largest exchange, is fully embracing the NFT Space, intending to become the world's leading NFT marketplace.
So, what do you have to say about this:
Do you think it's a good decision?
Have you started using the Binance NFT Marketplace? What do you think about it?
Do you think that Binance should give every user the access to create their own NFT?
Please share your opinion in the comments section below.
Remember, you can share this article by clicking on the social media icons below. Cheers!
---
Other Interesting Articles: