Lately, Arbitrum has been trending on Twitter with speculations about its airdrop that may be worth $10,000 or more.
Arbitrum is a Layer-2 scaling solution on the Ethereum blockchain but it does not have a native token.
However, it is doing well as a blockchain bridge, so its airdrop will likely be enormous.
According to DeFiLlama, Arbitrium has over 1 billion dollars in total value locked.
And guess who will be the first to receive the airdrop when it finally launches its token? Active users of the platform of course.
I'm sure you'd like to be one of them. Read this post and I'll show you how.
Let's jump in!
---
How to make $10,000 from the Arbitrum airdrop
You may watch this video to see how to properly position yourself for the Arbitrum airdrop 👇
I have also explained the steps below. Enjoy!
To get started, you will need a Twitter account, a Discord account, and a decentralized wallet like MetaMask (fund it with ETH and USDT).
STEP 1
The first thing to do is to make use of the Arbitrum bridge to move tokens.
Go to bridge.arbitrum.io and connect your wallet.
Next, click on "Go to bridge" from the pop-up.
Now, make use of the bridge to transfer tokens.
Well done!
STEP 2
The second step is to interact with the DeFi/NFT platforms associated with Arbitrum
Click on as many platforms as possible and buy some of the affordable NFTs
STEP 3
Engage with Odyssey NFTs
So, go to https://stratosnft.io/collection/arbitrum-odyssey
And buy any NFT you can afford.
STEP 4
Earn roles on the Arbitrum discord group by completing tasks on Guildxyz
Click on "Join Guild to get roles"
Connect your wallet and your Discord and Twitter accounts
Next, you complete all the listed 19 tasks.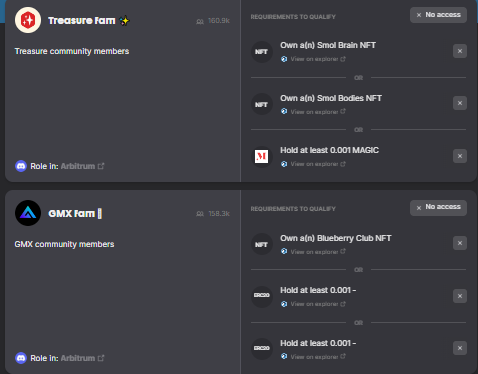 For any completed task, the label will change from "No access" to "You have access"
Also, for the tasks that require you to hold some amount of coins, you can purchase the coins from Uniswap to gain access to that role.
Then there is a task that requires you to add (💙🧡) to your Twitter username.
Once you've completed all the steps, you will be provided with a link to check your roles in the Arbitrum Discord group.
Again, you may watch the YouTube video above for a step-by-step guide.
STEP 5
Another thing you should do to receive the Arbitrum airdrop is to vote on Arbitrum proposals.
You will find them here – https://snapshot.org/#/arbitrum-odyssey.eth
All the available proposals are closed at the moment though (05/12/2022).
STEP 6
Perform Ethereum tasks
When Optimism airdropped its token, Ethereum network participants were not left out.
Arbitrum may do likewise. Some Ethereum tasks that could get you an airdrop are 
DAO voters
Multi-sig signers
Gitcoin Donors
That's all. If you read up until this point, bravo!
I know that these 6 steps may seem difficult but try to complete them (at least steps 1 to 4) because that's what will guarantee your access to Arbitrum airdrop.
Gratefully, this project is doing well already so liquidity for the tokens you will receive won't be a problem.
Although I fear that recipients may rush to sell off the tokens as they are rushing to complete the tasks due to hype.
If that happens, the market may crash as quickly as it rose.
Nevertheless, remember that the Arbitrum airdrop is just speculation so it may not happen but if you're interested in a possible $10,000 worth of airdrop, do well to complete the steps listed above.
You may also read this post to learn about other potential airdrops – Earn Up to $10,000 From Crypto Airdrops – Top 8 Projects To Invest In Now!
Do you have any questions or suggestions? Please drop them in the comments section below.
Also, share this post with your friends, thank you!