In this post, I reviewed WITT Blue, a new digital currency platform that promises users a 100% ROI.
Additionally, it poses as a rescue platform to enable users of the scam platform, ASJ Forex Global, to recover locked funds.
The story has it that the admins of ASJ suddenly restricted withdrawals on the platform and promised users that withdrawals would resume on the 11th of July 2022.
However, users could not withdraw their funds on the said date, which gave ASJ away as a scam.
In order to compensate users and perhaps save its reputation, ASJ created a new platform – WITT Blue, where users can redeem their funds (locked up in ASJ).
Is that even possible? Can users recover their funds from WITT? Or, is this another scam?
Keep reading to the end to find out.
---
Post Summary
Let's get to it!
---
1. What Is WITT Blue?
WITT Blue is a supposed cryptocurrency exchange where users can trade cryptocurrencies and perpetual contracts.
The features of the platform include:
Buy crypto – allows users to buy/sell crypto instantly via bank transfer.
Quotes – displays the prices of coins in the past 24 hours
Spot trading – where users can trade different crypto pairs
Futures – here, users can open long or short positions on preferred trading pairs.
Master Traders – a list of 3 traders whom users can copy their trades
WITT's Users Union – a referral package that promises users 100% commission when their friends start trading.
Notice – an announcement page to inform users of the platform's updates.
Additionally, WITT claims to offer users the following:
Best prices via smart routing to Binance, Huobi, OKEx, and other leading exchanges
Stable prices with aggregated global trading depth
Controlled volatility with a universal inter-exchange market order.
Arbitrage across multiple exchanges
Secured transactions
However, I didn't find any information on the founders on its website – WITT.Blue.
And according to Whois.com, it appears the platform launched in July 2022.
As mentioned, WITT Blue is a product of ASJ Forex Global to enable the withdrawal of funds.
Let's talk more about that in the next section.
Tag along!
---
2. How Does WITT Blue Work?
Based on my research, there are 3 ways I can tell you that this platform works.
They are:
a. Trading on the WITT.Blue website
Interested persons can visit the WITT.Blue website and explore its features.
To do that, they will register with an email address and deposit a minimum of $60.
After which they can opt for Spot trading or Futures trading.
Also, they can refer others to the platform.
They will receive $20 when their friends deposit $60 into the platform.
Then when their friends perform trades, they will receive 100% commission.
b. WITT Blue Withdrawal Telegram Channel
This is a Telegram channel where former users of ASJ Forex Global are given instructions on how to recover their locked-up funds.
It was created on 11th July 2022.
The instructions are:
i. Contact the superior admin (a link is provided to chat up "Adam")
ii. Activate your account with $150 in USDT or BTC
iii. Your funds will be transferred to Support
iv. Sign up through the link sent to your email address to make withdrawals.
The idea is to get users to pay $150 to create a new account which will be used to general a link that will enable withdrawals from their old accounts.
Additionally, the admin promised users that the $150 will be added to their previous balances and they will be able to withdraw everything.
Interesting!
c. WITT BLUE Telegram Group
This group also serves the same purpose as the channel.
But it was not like that originally.
When the group was created on July 2, 2022, it was "Profit GoalChat Withdrawals"
Then, it was a doubler platform organized by so-called top crypto companies to support young investors.
So, members are redirected to dexygon.com or @dexygonadmin to deposit any crypto of their choice.
They are promised double any amount of crypto they deposit.
Also, they are encouraged to make more than one deposit but in different coins.
After a while, members were notified of a DDOS attack on the website and as such, they were required to make an activation deposit for them to withdraw their funds (capital + bonus).
Fast-forward to 14th July, the messages on the platform became invitations to invest with ASJ Forex Global.
Also, signals were sent to the group to encourage people to trade.
Next, we see complaints of inability to withdraw funds
Then follows the instructions to chat up the superior admin, and make a deposit of $150 to withdraw the funds.
Key takeaway from these Telegram channels:
Users were always redirected to a different channel or site or a perceived admin's account to make transactions
Those who claimed they received the bonuses only sent screenshots of the bonuses on the website – and as such, we can't prove that they received the money for real
Certain members will always post screenshots of successful withdrawals
Funny enough, all the screenshots were from different sites
Quite a handful, huh?
Moving on, I'll tell you why WITT Blue is a scam.
Keep reading!
---
3. Why WITT Blue Is A Scam
I have a list of reasons:
a. Unknown Founders
I didn't find any founders for this platform. If things turn out badly, there is no one to hold accountable and users will definitely lose their funds.
Besides, the contact email address provided on the website does not exist. Oops!
b. Inconsistent Launch dates & Physical Addresses
According to Whois.com, WITT Blue was launched in July 2022.
But on the "Notice" page on the website, you'll find announcements from 2017.
Also, I came across two reviews of the platform online that claims it has existed since 2016.
Interestingly, both reviews are the same content. I don't know who copied each other.
[Suggested Read: SCAM ALERT!!! COTP Trading Platform (COTPS) – Exposing The Scam]
Again, the reviews state that WITT Blue is situated in the US and this tallies with info on Whois.com.
But in another review that exposed this platform as a scam, WITT Blue is located in Hong Kong.
Don't even let me get started on the fact that Google didn't have any info on its web address WITT.Blue
Furthermore, on the "Terms and Conditions" page on the website, the platform is addressed as WITT.com.
Sorry oh, who's deceiving who?
c. History of scam
You know that saying, a leopard cannot change its skin.
Therefore, if ASJ Forex Global was a scam, its product, WITT Blue is no different.
d. Payment before withdrawals
Another thing that gives this platform away as a scam is that users have to pay before they can withdraw their funds.
For those that initially invested in ASJ, they'll pay $150 before they can make withdrawals.
Then WITT Blue charges a 20% fee for withdrawals (who does that?)
Sadly, you do not rest assured that you'll receive your funds after making the payment.
I saw a tutorial video on how to deposit and withdraw on WITT Blue.
It was all good until when it was time for withdrawals, and then suddenly, there was a network failure.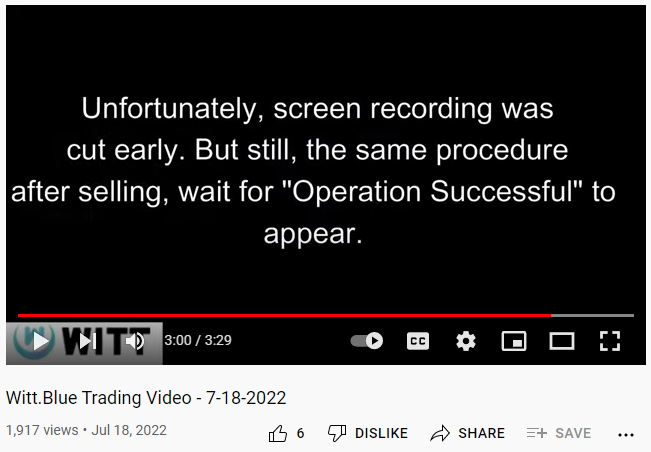 I mean, what the heck?
e. No regulation and a bad reputation
WITT Blue claims that because it is a crypto exchange it does not need a license of operation.
Hello? Are you better than regulated top exchanges like Binance and OKX?
Though I came across a picture of an MSB registration on the Telegram channel that does not qualify it to be a broker, not at all.
Anyone can get that by simply completing a form online.
Then I searched for the platform on TrustPilot, it has a poor rating with only negative reviews.
f. 100% guarantee of profits
Cryptocurrency is a volatile product therefore any platform promising you a 100% guarantee of wins with its trade signals, is a red flag.
ASJ was popular for this and I also came across similar messages on the WITT Telegram platform.
Additionally, it promises users a 100% commission from referrals' deposits, something that is not feasible.
For crying out loud, the referral system of this platform looks like Ponzi. 👇
I could go on and on but I'm sure you've gotten the point.
WITT Blue is a scam platform seeking unsuspecting investors to steal their funds.
Don't waste your time or money on it.
---
Learn Crypto Trading!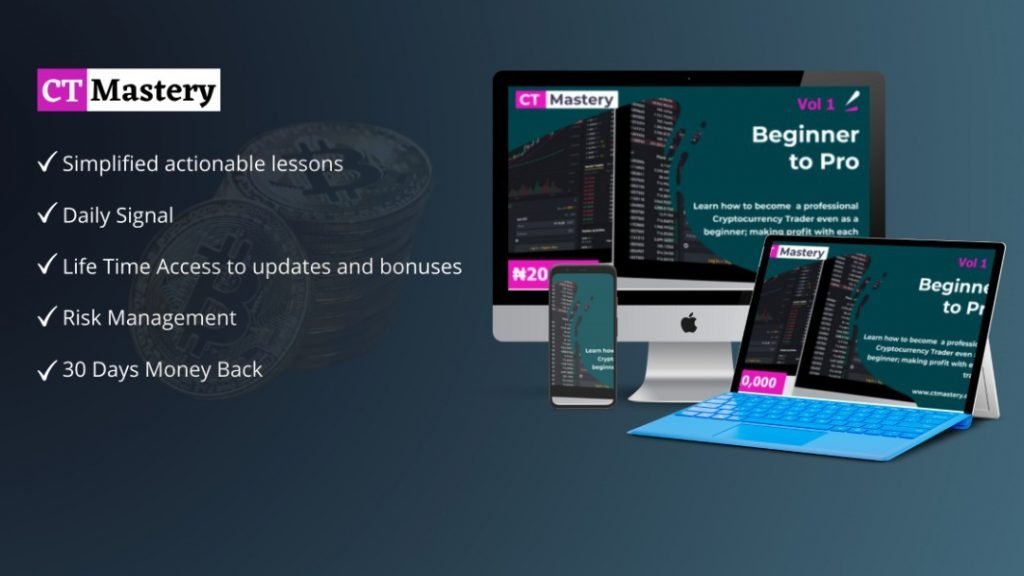 To help you trade crypto profitably and curb your risks, we curated the perfect course for you.
Go to www.ctmastery.com to enroll in our Cryptocurrency Trading course and thank me later.
You can also join our Telegram community at https://t.me/ctmastery.
---
4. Conclusion
We have now come to the end of our discussion on WITT Blue. I hope it was worth your time.
This platform will likely fold up once it has gathered enough funds from investors, then it will restrict withdrawals, and move on to start another one.
My candid advice is that you do not bother putting your money in it.
Do you still have questions about this platform or have thoughts to share?
Please type them in the comments section below.
Also, share this post with your friends before you go, thank you!