Today, I am going to walk you through TigerWit.
It is a regulated Forex and CFD broker, founded by Summer Xu in 2015.
Now, I know what you are thinking: "There are lots of Forex platforms, so why should you bother with TigerWit?💁
TigerWit stands out from the pack because of its blockchain-powered technology, ease of use, and a lot more, which shall be discussed in-depth in this post.
So, make sure you read until the end.
---
Post Summary
This is what I will cover:
All set? Let's get started!
---
1. What Is TigerWit?
TigerWit is a financial broker company founded by Summer Xu in 2015.
It offers users a sophisticated online trading platform that allows them to trade a wide range of asset classes, including Forex, stocks, equities, cryptos, and more.
TigerWit is powered by the blockchain.
Or, simply put, all transactions on its platform are recorded on the blockchain.
Furthermore, it is registered and regulated in four (4) different countries: the UK, the Bahamas, Hong Kong, and Saint Vincent and the Grenadines.
In 2018, this company achieved tremendous strides, including:
These promotions, of course, raise the standard of TigerWit when compared to some other currency trading platforms.
Let's continue this discussion in the next section.
---
2. Features Of TigerWit
TigerWit is unique for the following reasons:
60+ tradeable assets
It supports MT4
A solid and transparent security system
Affordable trading conditions
Commission-free trading
Tight spread
Deep market liquidity
4 fee-free withdrawals
Easy to use mobile app
---
3. Products Offered By TigerWit
They include the following:
(a) Foreign Exchange
TigerWit allows you to trade 40 popular forex pairs and crosses, including GBPUSD, AUDJPY, AUDUSD, etc.
Impressively, there are currencies that have up to 7 crosses.
The company's spread is considerably tight, and it offers leverage of up to 400x.
(b) Crude oil
TigerWit allows you to trade oil as a cash-settled CFD, or Contract for Differences.
Also, it offers you the option to trade three oil types against the USD. (More about this later).
"Contract for Difference" is a trading model that allows you to speculate on the price movement of an asset by taking a long (buy) or short (sell) position.
At the end of the contract, the difference in the price movement is settled in cash.
(c) Precious Metals
Silver and gold can be traded as "precious metals" on TigerWit.
This is great, considering that on most platforms you can only trade silver.
Precious metals on Tigerwit are traded with a leverage of up to 200x and 400x, respectively (Silver and Gold).
(d) Contract for Difference
TigerWit offers Contract for Difference trading on 12 prominent stock indices (a basket of stocks offered by a country).
Available options include AUS200, GER30, UK100, IND50, USA500, etc.
(e) Stock CFD Trading
On Tigerwit, you can profit from a company's shares by speculating on their price movement.
You can trade up to 22 of the world's most popular shares, including "AAPL.nd20," "AMZN.nd20," etc., at a commission-free rate.
The takeaway here is that you profit from these shares without even owning them.
(f) Cryptocurrency
TigerWit offers the trading of up to six crypto derivatives via CFD.
(g) Copy trading
Not so sure of your trading strategy?
TigerWit allows you to make as much profit as expert traders do by copying their trades. You can copy up to 10 expert traders.
Also, expert traders can earn up to a 20% commission by allowing other traders to copy their trades.
(h) Demo Account
TigerWit offers users a $10,000 demo account to test their strategies in real-time.
Let's dive into the next section!
---
4. Supported Currencies And Countries
Supported Currencies
Forex
AUDCAD, AUDCHF, AUDJPY, AUDNZD, AUDSGD, AUDUSD
CADCHF, CADJPY, CHFJPY, EURAUD, EURCAD, EURCHF
EURGBP, EURJPY, EURNOK, EURNZD, EURPLN, EURSEK
EURUSD, GBPAUD, GBPCAD, GBPCHF, GBPJPY, GBPNZD
GBPUSD, NZDCAD, NZDCHF, NZDJPY, NZDUSD, USDCAD
USDCHF, USDCNH, USDHKD, USDJPY, USDMXN, USDNOK
USDPLN, USDSEK, USDSGD, USDTRY
Crude oil
XBRUSD, XNGUSD200, XTIUSD
Precious metal
Sock Index
AUS200, CHA50, EUSTX50, GER30, HK50, IND50
JPN225, NAS100, SPA35, UK100, US30, USA500
Stock
AAPL.nd20, AMD.nd20, AMZN.nd20, BABA.ny20, BP.uk20, C.ny20
COIN.nd20, DIS.ny20, EBAY.nd20, FB.nd20, FCX.ny20, GOOG.nd20
JPM.ny20, MRNA.nd20, MSFT.nd20, NFLX.ndo, PFE.ny20, PYPL.nd20
RDSB.uk20, TSLA.nd20, VISA.ny20
Cryptos
BCHUSD20, BTCUSD20, LTCUSD20
ETHUSD20, XLMUSD20, XRPUSD20
Supported Countries
TigerWit did not reveal the names of the countries it supports.
It did, however, state that citizens of the European Economic Area (EEA) are no longer supported.
This means that it is available to all other countries except for those who live in the European Economic Area.
---
5. TigerWit Fees And Payment Methods
(I) Fees
(a) Deposit Fee
TigerWit does not charge a deposit fee. However, you will incur fees charged by the payment processor you use.
(b) Withdrawal Fee
Withdrawals are free of charge 4 times per month.
If you withdraw more than four times per month, you will be charged $1 for each withdrawal.
(c) Copy Trading Fees
A monthly fee of 20% of all profits made from copy trading.
(d) Procedure Fee
TigerWit charges a certain percentage procedure fee for all stock indexes.
(e) Overnight Fee
This is the fee you pay if you keep your CFD position open overnight.
Overnight fees are calculated at 5:00 p.m.EST, so, orders placed after this time will be charged an overnight fee.
Also, this fee is determined by the difference between the current spot price and the interest rate of the two currencies you are trading.
TigerWit updates overnight interest rates every Monday.
However, the rate is increased on Wednesday, Thursday, and holidays.
(f) Spread Fee
This broker does not charge a commission fee. However, there is a spread fee incurred.
Spread is the difference between the "buy and sell"price of an asset.
For example, if the "Sell" price for BTCUSD20 is $406,020 and the "Buy" price is $406,020.2, the spread becomes $0.2.
Also, spreads on TigerWit change based on the price of the basic market.
Below is the average spread for crypto assets on TigerWit: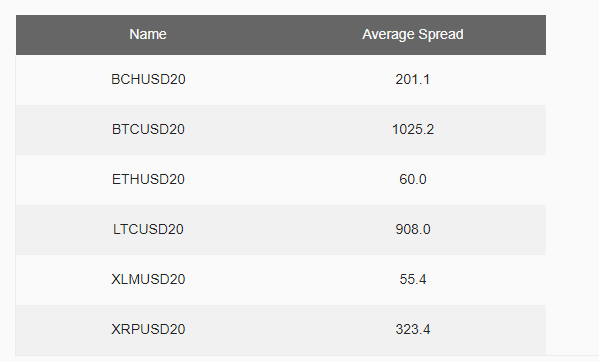 Other spread fees can be found here.
(h) Inactivity Fee
There is a $10 inactivity fee incurred if you do not perform a trade for three months. This fee applies on a monthly basis.
Payment Methods
Cryptocurrency transfer
Zotapay
Bitpay
Help2pay
Skrill
Astropay
Neteller
PaySec
Note: Deposits are done through the mobile app.
Scroll down to continue reading!
---
6. Limits And Verification Requirements
Limits
Deposit
Withdrawal
Min:
$50
Max:
(Incomplete Verification)
$5,000
(Complete Verification)
None
Min:
$30
Max:
(Incomplete Verification)
$5,000
(Complete Verification)
None
| | |
| --- | --- |
| Assets | Minimum Lot |
| Forex | 0.1 |
| Crude Oil | 0.1 |
| Precious Metal | 0.1 |
| Stock Index | 0.1 |
| Cryptocurrencies | 0.2 |
| Stocks | 1 |
Verification Requirements
Full name
Gender
Date of Birth
Country
Personal ID (Passport, Driver License, National ID Card)
---
7. Customer Support And Public Opinion
TigerWit can be reached at:
Using the "Help" or "FAQ" section may also help you find answers to your questions.
TigerWit does not offer 24-hour support, so, your questions may take some time to be answered.
From the aspect of general public opinion, Tigerwit has received a 4.1-star rating on Trustpilot.
Approximately 50 of the 59 reviews commended it as an excellent trading platform.
This is impressive and speaks well of the platform, in my opinion.
Furthermore, I have used the app and found it to be nimble and nice.
---
FAQs
1. How do I open a TigerWit account?

I will show you how to open a TigerWit account using the mobile app.

– Visit Tigerwit and register an account using our referral link. After that, click to download the mobile app via Google Play or the App Store.


– When the download is complete, enter your details and click "register".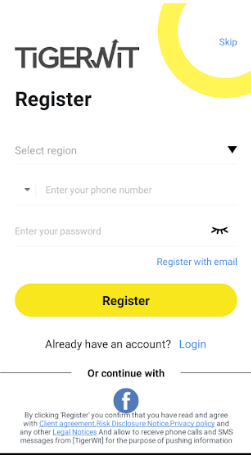 -You will receive a notification. Click "Confirm," then copy and paste the verification code you received.


Congrats, you have successfully opened a TigerWit account.

Note, TigerWit offers 2 types of accounts:

Live account: You trade with real money.
Demo account: You trade with $10,000 in virtual funds.

If you wish to use the "Live account," complete this next step.

– Click on "Deposit now". You will be taken to the verification page. Verify your account and proceed with depositing money into it.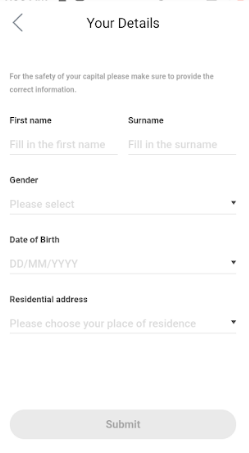 You can start trading when the deposit is successful.
2. Can I trade on the site?
You can register a TigerWit account on the site, but you are only allowed to make a deposit into your account.

To perform trading activities, you need to download the mobile app or MT4 (the download link can be found on the mobile app).
3. What days can I trade on TigerWit?
TigerWit is open for trading from 10:05 pm on Sunday to 9:55 pm on Friday, Nigerian time.
This means you won't be able to trade on Saturday or before 9:55 p.m. on Sunday.
---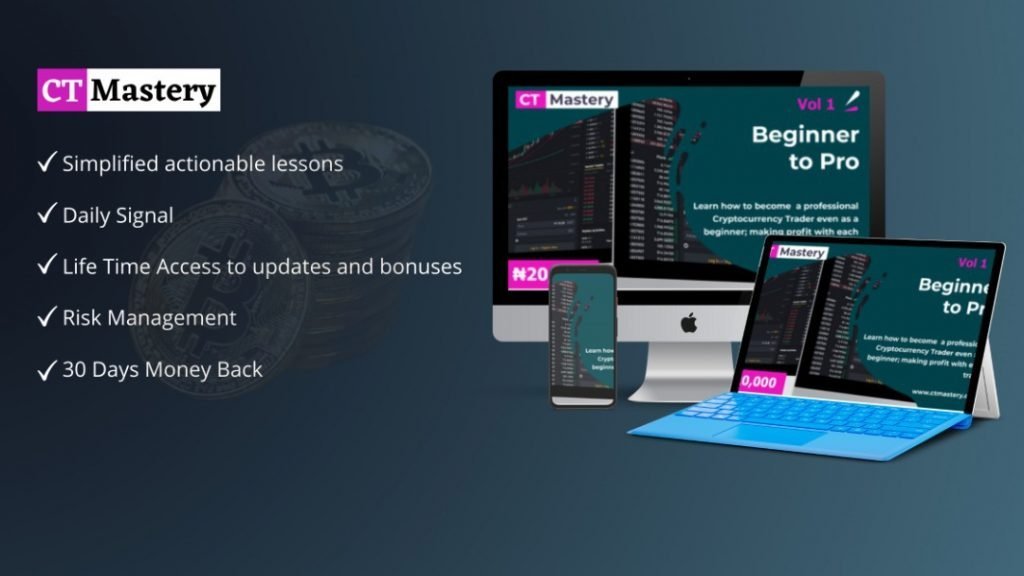 Ps: If you want to learn how to trade cryptocurrencies profitably, we developed a perfect course to help you master Cryptocurrency Trading.
Go to www.ctmastery.com to enroll.
You can also join our Telegram community at https://t.me/ctmastery for more information.
---
Conclusion
We have come to the end of today's review.
TigerWit is one of the best Forex and CFD trading apps available.
It not only provides users with access to a wide range of financial assets but also provides the best trading tools to trade them
Now, I would like to know your thoughts on Tigerwit.
Already using Tigerwit? Tell us about your experience.
Do you still have a question about this exchange?
Drop your comment in the box below.
Feel free to click on the Share buttons! Cheers!
---
Also Read: