This article is a detailed review of Pocket Options
Pocket Options is a bespoke platform for binary options traders. The company has been in the industry since 2017 and is regulated by the International Financial Market Relations Regulation Center (IFMRRC). It is one of the top 7 binary options brokers you can find online today.
In this post, I gave every detail about Pocket Option, leaving no tables unturned. You'd know if this is the right broker for you after reading this.
Let's get started!
---
Post Summary
Just to make sure everything is easy for you to understand and to navigate swiftly through the post, here is a list of what I'll cover.
Click on any one of them to jump straight to the point.
---
Pocket Option In a Nutshell
Pocket Options is owned and managed by Gembell Limited. It was established in 2017. This company is based in the Marshall Islands and formally regulated by the IFMRRC.
Owning an account on Pocket Option is quite easy and the user interface is one of the simplest I have seen so far. Its trading platform is available in web, desktop, android and iOS Versions, you will have no problems understanding this platform as a beginner.
One of the reasons why this broker has grown so popular is because it accepts traders from every nook and cranny, including the USA and Canada. It's limitation is that it only offers binary options trading.
Read on, the features of this broker will excite you more.
Features
Demo Account
Up to 218% maximum payout
Mobile Trading
Social Trading
Tournaments
50% bonus on the first deposit.
---
Traded Assets
Pocket Options only allows its users to predict the high or low on currency pairs, commodities, stocks and cryptocurrencies.
However, there are currently 63 assets available for binary options trading on the platform, these are;
30 Currency pairs: EUR/USD, USD/AUD, USD/JPY, GBP/EUR,
6 Cryptocurrencies: Bitcoin, Ethereum, Ripple, Zcash,
4 Commodities: Gold OTC, Silver OTC, UK Brent
23 Stocks: Apple OTC, Macdonald's OTC, Google OTC
---
Trading Accounts
Demo Account
You don't have to register or provide any details of you before you are granted access to the Pocket Options demo account. The account is preloaded with a replenishable $10,000 in virtual cash.
This is ideal for new traders to practice their trading skills before investing in the real account with real money. Old and experienced traders are also advised to practice on the demo account just to know how the pocket option platform works.
Live Account
Apart from the demo account, this is the only other account provided by Pocket Options for now. Traders who are used to trading on a VIP account may not find this appealing.
Visit my Olymp Trade review to know what a VIP account is all about.
To register on the live account is quite easy, all you have to do is provide your email address, create password and boom! you are in. All you have to do now is to make a deposit and start trading right away.
However, you need to verify your account with some personal information to ensure a safe haven on your trading quest.
---
Deposit And Withdrawal Methods
Pocket Option provides multiple options as payment method. The minimum deposit amount is $50 (Approximately ₦20,000 at the time of writing this post). This is high when compared to other popular platforms like Expert Options, Deriv.com (formerly Binary.com), and Spectre.ai
The image below displays the various payment methods accepted at Pocket Options.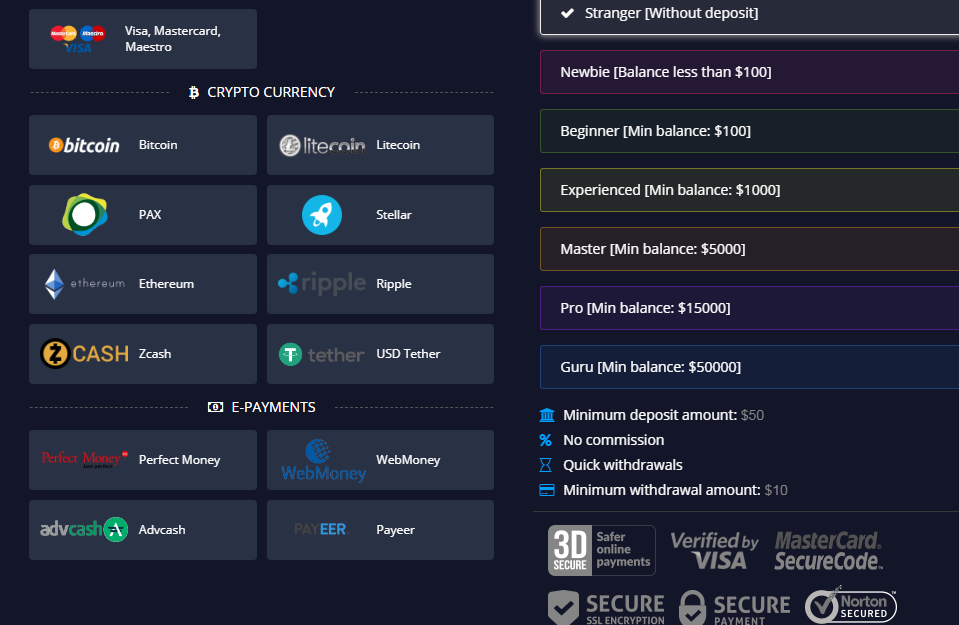 You will have no problems using any of the methods shown above.
The minimum withdrawal limit is $10, this is ideal for those who don't want to leave their profit hanging for too long on the platform.
---
Bonus And Promo
Creating a live account with Pocket Options guarantees you a whopping 50% bonus on your first deposit. Bonus can be withdrawn only when the trader has completed a certain number of trades.
---
Customer Support And User Interface
The customer support rendered at Pocket Option is one of the best that I have seen so far. The support team is available 24/7 and even on weekends, you will have no problem reaching out to them.
They can also be contacted via social media platforms like, Instagram, Facebook and twitter.
On the other hand, the user interface of this platform is very swift and has every item well placed. Such that, even a newbie will find it easy to understand the platform and trade way better.
Apart from the web version, the Pocket Option platform is available in apps for desktop, android, and iOS devices, telling you that it's also mobile-friendly.
Supported Languages
They are currently 22 languages being supported by Pocket Option, making it one of the highest amongst other brokers.
see the image below for the full list of languages supported;
Frequently Asked Questions
What is Social Trading?
This feature allows you to follow and study the trading habits of other investors. Learning from the most experienced traders will go a long way to better your trading skills and increase your winning chances.

Is Pocket Option a Safe Broker?
This broker displays every attribute of a safe broker, this is based on the following reasons;
It is regulated.
The owner is known.
It's been in business since 2017.
Pocket Options has thousands of users from all over the globe.
I found several reviews from its customers online, most were positive comments.

Conclusion – My Verdict
Now you have it, in my humble opinion, Pocket Option has proven to be a trustworthy broker with the number of successful trades being processed daily on the site.
However, one must be aware of the adverse risks involved with options trading. Pocket Option provides you with enough educational materials including videos to help you trade wisely.
Hope this article was helpful to you?
Do you think there is anything missing in this post?
Leave your questions or comments down at the comments section.
Lastly, if you enjoyed reading this article, kindly share on your favorite social media by clicking on the icons below.
Thanks
---
Risk Warning
Trading options or fixed time trades carries a high level of risk since it can work both to your advantage and disadvantage. As a result, options trading may not be suitable for all investors because it is possible to lose all of your invested capital. You should never invest money that you cannot afford to lose. Before trading, please ensure to understand the risks involved
Statistically, 90% of options traders lose their capital
---