SMFEST (Social Media Fest) is a global, annual conference for creatives all over Nigeria.
It is organized by Silicon Africa Technologies, a digital agency specializing in Brand Visibility, SEO, Web Content Creation, and the like.
The theme of this year's conference is CREATIVE DISRUPTION.
And the date is 22nd October 2022 at the Landmark Event Center, Owerri.
Participants will be educated on how to leverage the power of technology, social media, and innovation to advance their businesses, brands, and causes.
Impressively, renowned industry experts will speak at the conference including: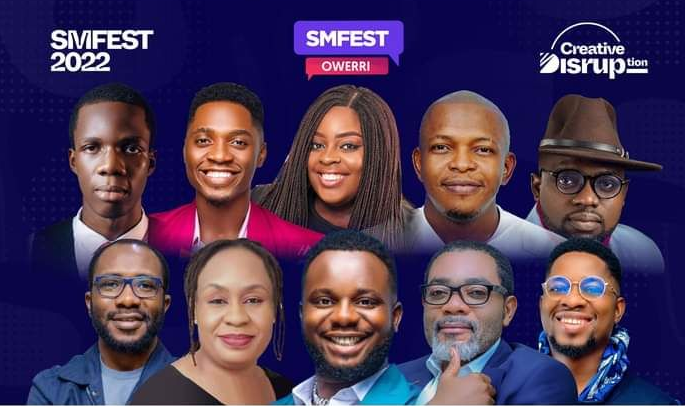 Mr. Funny Sabinus (Online Content Creator/Comedian),
Chioma Ifeanyi-Eze (Founder, AccountingHub),
Ajah Excel (CEO of Silicon Africa Technologies)
Obinna Ukachukwu (Divisional Head, Sterling Bank PLC)
Emeka Nobis (CEO of Switchpath Consulting)
Omeogu Ugochukwu (Master of Wealth Creation Processes)
Jude Umeano (Founder, Nigeria Bitcoin Community)
Nelly Agbogu (Convener, NBCTradeFair)
They will be discussing relevant topics like cryptocurrency, branding, influencer marketing, online sales, etc.
That's not all…
The conference also features SMFEST Hackathon for web developers with a 1 million naira cash prize.
Super cool, huh?
Additionally, Joseph's Pot, a popular restaurant in South-East Nigeria will be serving participants delicious noodles.
Trust me, you don't want to miss out!
Visit www.smfest.org to get your tickets NOW!!!