Do you know you can make up to $100 daily from Bybit exchange?
To achieve this you can use any of the 6 hacks I will show you in this post.
You can also watch the video below to see how to make $100 daily on the Bybit exchange.
I've explained the content of the video in my post.
So you can continue reading to know these 6 hacks!
---
Let's delve right into it.
---
Table Of Content
Click on any item above to read its details immediately.
---
Affiliate Marketing
The affiliate marketing program is first on my list because it's one of the easiest ways to earn cool cash on Bybit.
Bybit currently allows referrers to make money, ranging from trading fee commissions to cashback and other bonuses.
All you need to do is invite your friends to register and trade on Bybit.
When the person you invited trades a volume of $250, you will both share $40 in USDT.
Imagine inviting at least 10 people to make a minimum trade of $250 daily.
This means you will be making $200 every single day without trading or depositing anything in your account.
This method is used by influencers to make a lot of money, by gaining a commission from trades.
You too can do that. You don't need to trade, just find people who can. 
Using this method you can earn up to $5000 monthly depending on your commitment.
Are you excited to see the next? continue reading.
---
Bybit Launchpad
Bybit launchpad is another way to make a lot of money on Bybit.
Basically, what you are doing on Bybit launchpad is to get a potential crypto asset before it hits the market.
When listed, some coins can grow up to 1000% from the price you bought them during the launch.
What this means is that if you get only a dollar worth of coins during the launchpad period, that one dollar can automatically become $100 once the token is launched.
Unlike other launchpads that require you to stake more than $1000 of their token, the Bybit launchpad does not require much to participate.
All you need is to hold a minimum of 50 BIT, which costs around $26 as of now.
Take note of this and try not to miss out on the Bybit launchpad.
Also, read my post on "How To Get a Coin Before Everyone Else Using Bybit Launchpad" to learn more.
---
Bybit Savings
This is another way to make free and easy money on Bybit.
If you are looking for a place to put your money so that it will start working for you, then Bybit Savings is a good choice.
Talk about a competitive APY (annual profit yield) to ensure higher yields and security for your funds.
Bybit savings experience allows you to earn guaranteed interest on your favorite coins.
For example, when you save BTC, you get a guaranteed APY of 4.5% and when you save USDT you get a guaranteed APY of 12%.
The percentage of yield you'll get is determined by the coin you decide to save and the APY allotted to it.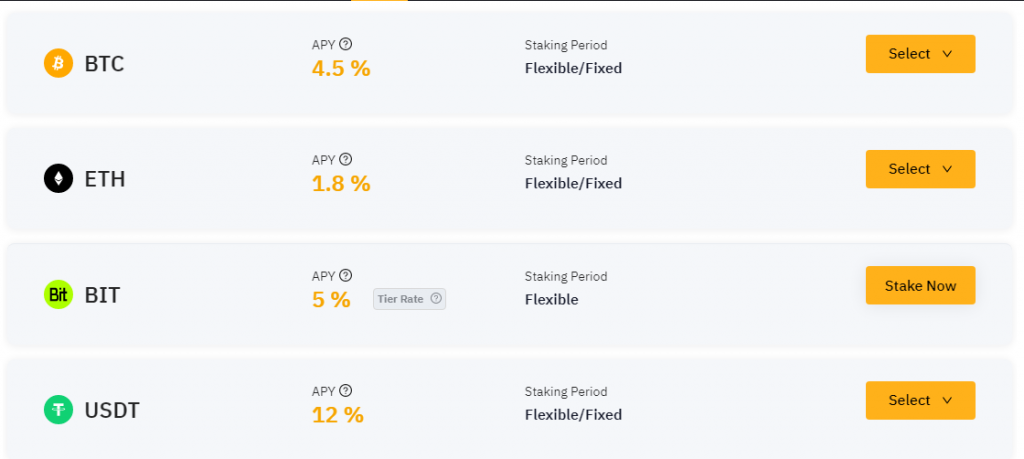 Let's move on to the next hack. 
---
Liquidity Mining
Another feature of Bybit that can earn you a lot of money is liquidity mining.
With this feature, you need to provide liquidity for some crypto assets and gain interest in return.
Right now, you can add liquidity against BTC and USDT and earn up to 266% APY.
Click this link to watch a video on how liquidity mining works.
Don't stop scrolling yet!
---
Bybit Trading
Another fantastic way to make money with Bybit is through trading.
Bybit provides trading options such as; Spot trading, where you can trade with zero fees at the moment, and Futures trading.
Finally, here's the last hack on the list 👇
---
Bybit NFT Marketplace
Finally, another way to make money with Bybit is through the Bybit NFT marketplace.
If you are an artist, you can mint your artwork as an NFT and place it for sale.
Thousands of people visit the Bybit NFT marketplace every day, one of them may find your artwork interesting and decide to invest in it.
You can also buy an NFT from the Bybit marketplace and sell it for a higher price.
That's it for the 6 ways you can earn from Bybit. If you don't have a Bybit account yet, click on this link to sign up and start earning.
---
Conclusion
We've come to the end of this wonderful post.
What do you think about these Bybit hacks?
Which of these hacks are you going to try out first?
Are there other ways you think you can earn money from Bybit?
I'll be delighted to have your thoughts in the comments section below.
Please do well to share this post with your friends and subscribe to the blog to get new updates.