In today's post, I will show you how to buy and sell bitcoin on Bybit with zero fees. Sounds cool, right?
It is undeniable that trading fees can deplete a significant portion of your trading profits.
This goes to say that you ought to save those fees if you want to make good returns on your trade.
Gratefully, Bybit is making this happen by offering zero fees to users.
I'm sure you would want to take advantage of this great opportunity, right? Then read to the end of this post.
---
Post Summary
This is what I will cover:
Let's dive in!
---
1. Background
Bybit, one of the world's leading cryptocurrency exchanges, recently reached a milestone of 10 million users on September 6, 2022.
To celebrate this great achievement, it is waiving trading fees for users from the 6th of September, 2022, until further notice.
You can read the full details of this information here.
However, the zero fees are only applicable to two trade types:
Spot trading
Grid Bot trading
Spot Trading
It is a method of crypto trading where you buy and sell coins against their pairings at a live price.
Spot trading can be used to buy cryptocurrencies, make a quick profit, or sell coins to reduce losses.
The " Spot and Margin" options on Bybit are both different spot trading types.
Grid Bot Trading
Grid trading bot is also a spot trading type, but with this option, your trades are automated.
To understand how this bot works, you need to understand the concept of grid trading.
Typically, grid trading is a strategy used to buy and sell crypto assets at predefined price intervals to make a profit in a ranging market.
Since the entire process is automated it helps you execute profitable trades 24 hours a day, even while you are offline.
As you proceed to the next section, I will show you how to conduct these two trading types on Bybit for free.
But before that, let's look at how to create and fund your Bybit account.
Visit BybitRead Bybit's Review
---
2. How To Create And Fund Your Bybit Account
How to create a Bybit account
Firstly, click to sign up for a Bybit account with this 👉 link.
By signing up with this link, you can earn up to a $4,050 bonus by completing simple tasks.
Note: There is $5 worth of USDT up for grabs!

We are giving out $5 to the first 5 people to sign up for Bybit using the link above. Fill out this form to claim your prize!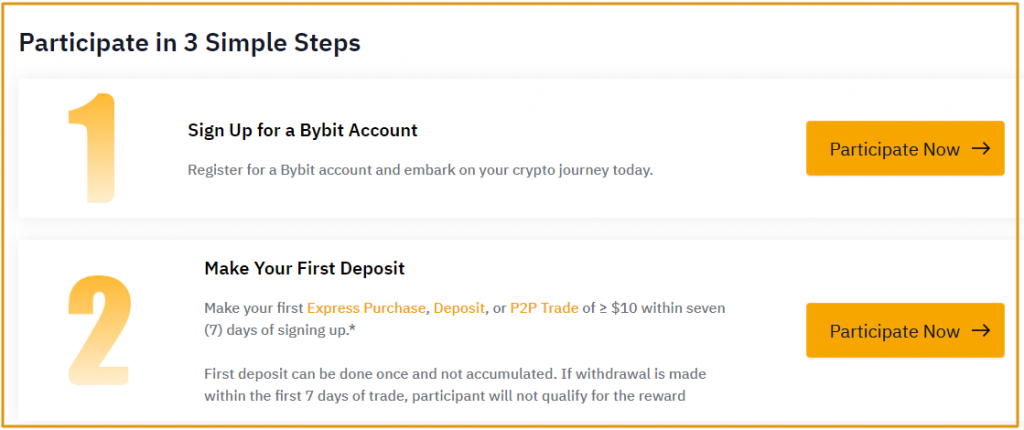 Once your account is successfully created, proceed to verify your identity. To do this, navigate to your profile icon and select "Account Security."
Select "Identity Verification" and click "Verify Now".
Bybit has three verification levels. You must attain level 2 before you can fund your account through "Buy Crypto" (more about this later). The requirements for each level are shown in the image below.
How to fund a Bybit account
Now that you've created your account and verified it, it's time to fund it with some crypto token.
There are two ways to fund your Bybit account, they are:
Buy Crypto
Crypto Deposit
The "Buy Crypto" option enables you to buy crypto with fiat or your local currency, which will then be deposited in your account. This can be done in three ways:

One-Click Buy – This is a simplified P2P model.
Fiat Deposit – With this option, a trusted payment gateway handles the transaction. However, it is available only in a few countries.

The "Crypto Deposit" allows you to send your coin in another wallet to your Bybit account.
To proceed with the deposit, click on "Buy Crypto" and select the option you want to use.
For this post, we shall select the option for "Crypto Deposit".
Once you click the "Crypto Deposit" option, it will display a new page where you can select the coin you want to deposit.
For this post, let's assume that the crypto we want to deposit is USDT. Select the chain and click on "Acknowledge" to reveal the wallet address.
Finally, copy and send the crypto to the wallet address displayed.
The sent token will take some minutes to reflect in your Bybit account.
Scroll down to the next section, where I will show you how to trade spots on Bybit.
---
3. How To Trade Spots On Bybit With Zero Fees
Below is a step-by-step guide.
Step 1 – Fund your Spot account
To trade spot on Bybit, you must first transfer funds to your "Spot" account.
Usually, when you fund your Bybit account, it is deposited into the "Derivatives" account.
This is to say that the USDT we have just deposited went to the "Derivatives" account.
Since we need that USDT to trade spot, it becomes necessary to transfer it to the "spot" account. To do this, see the steps below.
Navigate to "Assets" and click "Derivatives".

Filter the option so that it transfers from "Derivatives" to "Spot", fill in the other details, and then click "Confirm".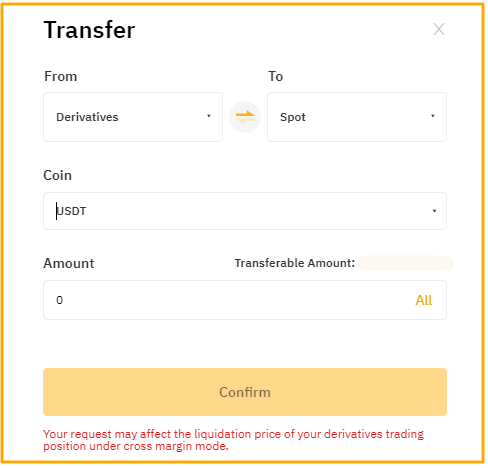 The token will be reflected in your spot account after a short while.
Step 2 – Select a trading Pair
Navigate to "Trade" and click on "Spot Trading."
A spot trading interface for the BTC/USDT pair will be displayed. You can change this pair by clicking the "Switch icon."
Additionally, each crypto listed is paired against USDT, BTC, USDC, and DAI. Feel free to choose your preferred trade pair.
However, for this post, we will stick with the BTC/USDT pair.
Step 3 – Place your order
Navigate to the right-hand of your screen to place your order.
You can either place a buy or sell order. Since we have USDT, we will be placing an order to buy BTC with our USDT.
In addition, Bybit's spot has three order types:
Limit Order: This order type enables you to set your preferred price to buy or sell a coin
Market Order: This type of order instantly buys or sells a coin at its current market value.
TP/SL Order: This is the "take profit and stop loss" order. Read further.
These order types determine how your trades are executed.
Now, that you have gathered all this information, let's continue with the steps.
Fill out the form by selecting your order type, and the amount you want to buy. Then click on "Buy."
Your trade will be executed according to the order type you have selected.
Once your trade is executed, you will receive your BTC in your wallet.
Now, it is the same process if you intend to sell any asset via spot on Bybit. The only difference, however, is that you will select the "Sell" option.
Note:
Remember that I talked about "Margin" as being part of Spot?
Margin, aka leverage, involves borrowing funds from an exchange to increase capital for more profit.
Bybit offers 5X leverage for spot margin on these crypto assets: BTC, ETH, XRP, EOS, LINK, LTC, LUNC, SOL, USDC, and XLM.
Trading margin is the same process as trading spots that I have just walked you through. The only difference though is that you have to enable margin.
Below is how you do it!
Simply click on "Enable Margin."
Activate margin trading by clicking on the button displayed and completing the further process.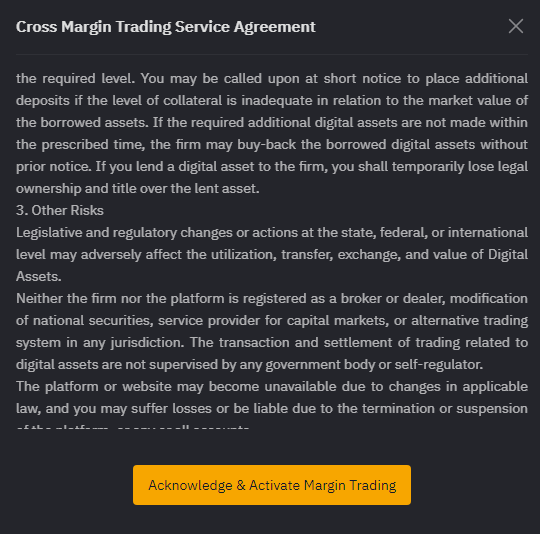 "Long and short" are terms in margin trading. "Long" means buy, while "Short" means sell.
The advantage of trading margin on Bybit is that it increases your capital by 5X for a greater profit.
However, it also carries a higher risk when the market goes against you.
So, I have shown you exactly how to trade spots on Bybit and enjoy zero fees. Continue to the next section.
---
4. How To Trade With A Bot On Bybit For Zero Fees
It is that simple; you can do that in these two steps.
Step 1 – Create a bot
Go to "Trade" and click "Trading bot."
Click on "Create Now" to create your bot.
Enter your grid parameters. See below!

Select the pair you want to trade
Input the price range (The price range indicates a concentrated price level at which the bots can execute trades). You can easily do this by clicking the "Auto Fill" option, and the system will automatically input the best price range for you.
Enter the number of grids, i.e., the maximum number of buy and sell orders. It will show the trading interval and potential profit.
Enter your investment capital and click on "Create Now"
After you click on "Create Now," the bot typically starts to execute trades on your behalf, and you will see the details of the trades in your account.
Step 2 – Copy other traders.
Alternately, scroll down after choosing "Trading Bot" under "Trade" to view the top traders on the leaderboard. Select "copy," next to the trader you prefer.
The trader's grid parameters open up; enter your investment capital and click "Create Now."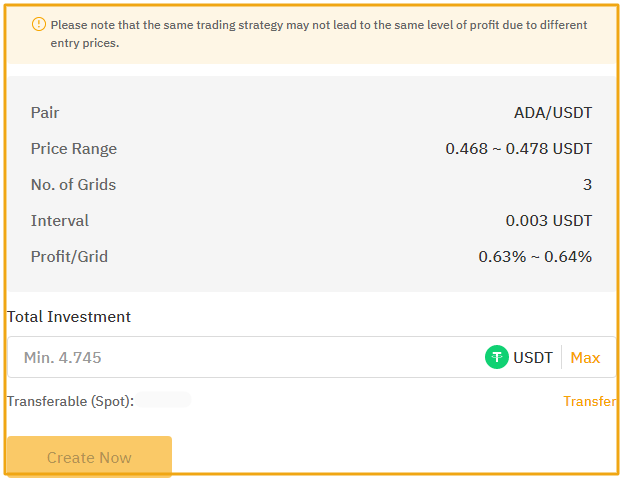 Now, that's all about the Grid trading bot on Bybit.
But before we end this section, I have a helpful hint.
Trading using a grid bot exposes you to an asset for the long term and can be risky if the market turns unfavourable. To trade safely, go for assets with long-term potential.
See you in the next section!
---
Heads Up!
Do you want to learn how to trade cryptocurrencies profitably?
We developed a perfect course to help you master Cryptocurrency Trading.
Go to www.ctmastery.com to enrol. You can also join our Telegram community at https://t.me/ctmastery for more information.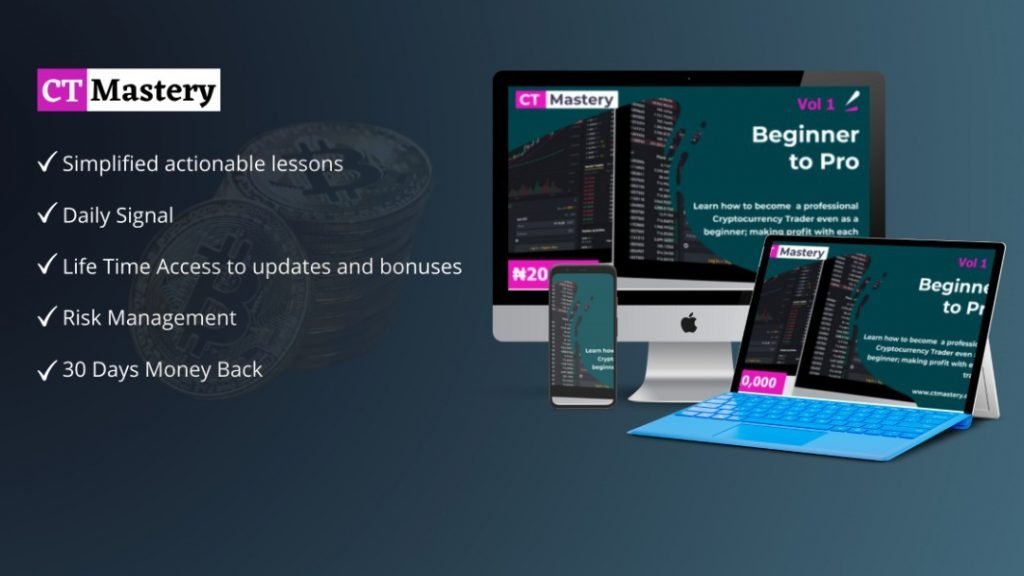 ---
Conclusion
You will probably agree with me that trading fees can significantly cut into one's profit.
Bybit, gratefully, is saving the day by providing users with ample opportunity to conduct trades for free. Awesome!
Before this event, the platform charges a standard fee of 0.10%.
Moreover, since bot trading happens continuously, a significant portion of your profit is lost to trading fees.
So have you signed up yet? What are you waiting for? 💁
Why not sign up instantly with this link to enjoy free trading fees and more profit on Bybit?
And we have come to the end of this post.
Tell me in the comment section:
Are you thrilled by this information?
Or perhaps, you need some clarification about something?
Whichever way, I want to hear all about it!
If you enjoyed this post, do well to share it with friends by clicking the "SM" buttons below. Thank you!