Today, I will be giving you a full rundown of how to buy Bitcoin with credit/debit cards in Nigeria.
The cryptocurrency world presents arrays of investment opportunities leading to people striving to acquire cryptos.
There are lots of online exchanges that accept the credit or debit card for the purchase of Bitcoin.
But not all of them accept the Naira debit card and credit/debit cards from other countries.
I took my time to go through sites that accept credit/debit cards for Bitcoin and found out the very best of the sites that accept debit/credit cards from all countries including Nigeria.
Ready to hear all about my findings?
I'm ready too!
Hop in for the ride.
---
Post Summary
The points I will be covering in this post will be discussed under these carefully outlined subheadings:
Clicking on a subheading takes you to its details.
Happy reading!
---
UPDATE

This option of buying cryptocurrencies with credit/debit cards is now unavailable for Nigerians.

This is because of the letter issued by CBN which instructed banks and financial institutions to block the account of any user that is connected with crypto.

To buy cryptos in Nigeria currently, you will have to buy via P2P or use the other available options to bypass the ban.
Sites to Buy Bitcoin with Credit/Debit Card
As mentioned earlier, there are lots of online exchanges that accept the credit or debit card for the purchase of Bitcoin.
But not all of them accept credit/debit cards from Nigeria and other countries.
Using a credit/debit card to buy Bitcoins from exchanges was not that easy initially.
This was because of 2 main reasons;
many exchanges were afraid of fraud and therefore do not accept credit/debit cards.
there were very few credit card payment processors and most of them do not offer its services to cryptocurrency-based businesses.
But in recent times, many exchanges have started implementing systems to detect fraud.
There has also been an emergence of more payment processors (FlutterWave, Paystack, etc) that are more friendly to crypto-based businesses.
Therefore, exchanges are more open to credit/debit card purchases these days.
As a general rule, any exchange that accepts a credit card will also accept a debit card.
Before going ahead to list the exchanges as promised, here's a video for you.
This video is a step by step guide on how to buy Bitcoin using a credit/debit card.
You can go ahead and watch the video or scroll down to read it in the post.
The exchanges that accept credit/debit cards from Nigeria and other countries include:
The exchanges that accept credit/debit cards include:
1. Quidax

Quidax is one of the exchanges that allow its users to buy Bitcoin using debit/credit cards.
The company was launched in 2018 after months of Alpha testing.
It is ranked among the top 3 cryptocurrency exchanges in Nigeria as regards trade volume.
For this post, I will be focusing more on how to buy Bitcoin using a credit/debit card.
Let's go find out how.
How to Deposit
To buy Bitcoin with a credit/debit card, on quidax, you first have to fund your naira wallet.
As shown in the video, you do this by depositing some money into it following these steps:
Step 1: Go to Quidax and click on 'Get Started' or 'Create an Account' on the site. If you already have an account with Quidax, go straight to step 4.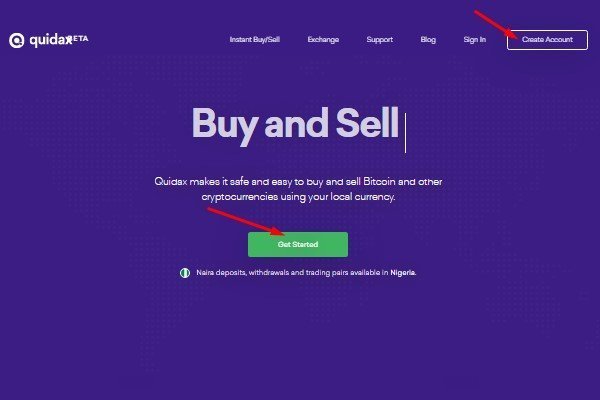 Step 2: The registration page pops up and you provide the details needed. Click on 'Create Account' when done.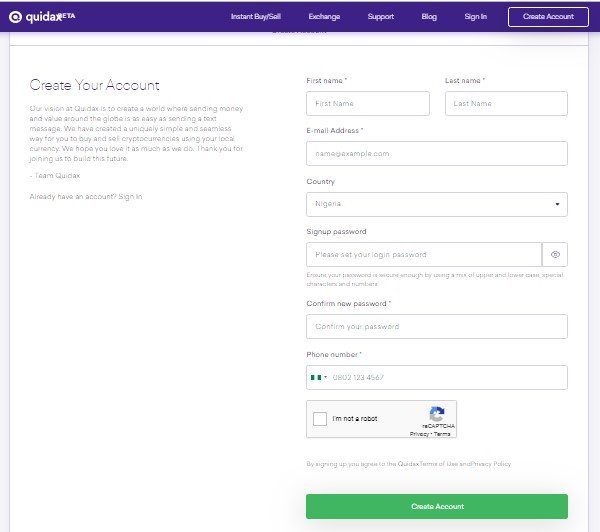 Step 3: A verification link will be sent to your email with which you will verify your account.
After going through the verification process, it will be the time to fund your wallet to start up a transaction.
Step 4: If you already have an account, you will just have to sign in.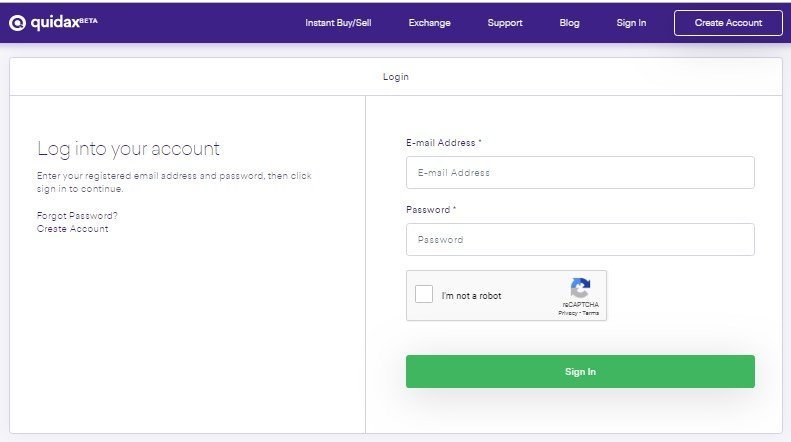 Step 5: To fund your wallet, click on 'Wallet' and it takes you to the wallet page. Click on 'Naira' then 'Deposit'.
The deposit options are:
Bank transfer
Card payment
Pay with USSD
Pay with barter
In this case, 'Card Payment' will be selected as the payment option.
Step 6: On selecting 'Card Payment' as the deposit option, it takes you to the page where you can input the amount to be deposited.
The minimum amount to be deposited is N200.00 and the maximum is N10,000,000.
The daily deposit limit is N500,000.
After filling the details, click on 'Pay'.
Step 7: This takes you to the page where you will input your card details and then click 'Pay'.
Note that there is a charge of 1.4% for every deposit.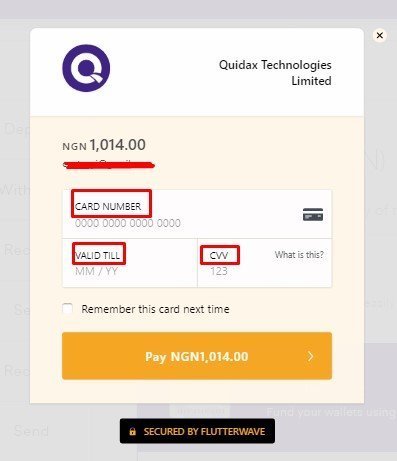 Another page pops up telling you that you will be redirected to your card issuer's page. Click on 'Proceed' to continue.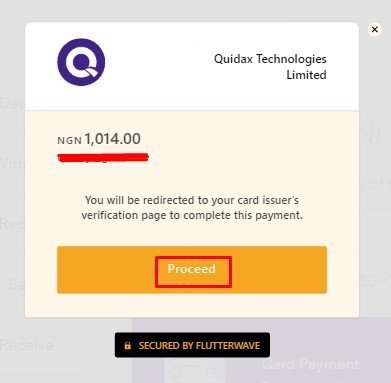 It then takes you to this page where you will type in the One Time Passcode (OTP) sent by your bank via SMS or email. Click 'Submit'.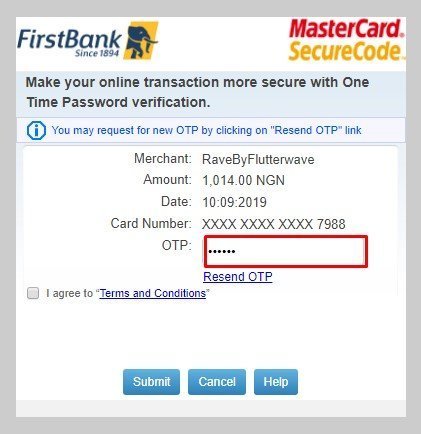 You will see a page notifying you of the success of your deposit.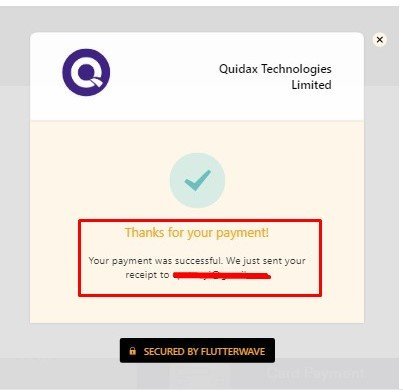 You will then be redirected back to Quidax where the money deposited reflects in your wallet. It also shows in your Deposit History.
Well done!
You have just funded your wallet with your credit/debit card.
Not very difficult to do, was it?
Now that there are some funds available for use, let's go buy some Bitcoin!
Steps to Buy Bitcoin
With the deposited funds, you can buy Bitcoin at either Instant Buy/Sell or at the Exchange.
Before I go ahead and explain these, I want you to note that you will pay a 1% charge when you are buying using Instant Buy/Sell and a 0.2% charge when using the exchange.
That said, I will now take you through the steps of buying Bitcoin from Instant Buy/Sell first and then that of the Exchange.
Stay with me.
Steps to Buy Bitcoin Using Instant Buy/Sell
Step 1: Sign in and click on 'Instant Buy/Sell' and the page 'Buy or Sell Instantly' pops up.
There, you will input the crypto to buy(BTC in this case), the currency to buy with (Naira), and the amount to spend.
You will also find displayed on the page the price of 1 BTC as at the time of transaction and your total balance.
Click on 'Continue'.
Step 2: This takes you to the 'Confirm Order' page where you will see displayed:
The amount you are spending and its equivalent in BTC.
The service charge.
The number of BTC you will be receiving after the service charge has been deducted.
After cross-checking, click on 'Confirm Order'.
You might receive a notification like this if there happens to be a change in price within your Order time.
If you do, do not get scared.
You can then go ahead and click on 'Requote Order' to re-confirm your order or 'Cancel' to cancel the transaction.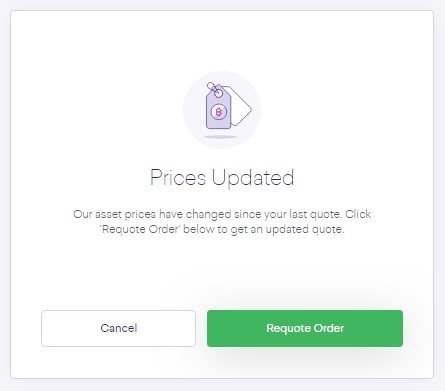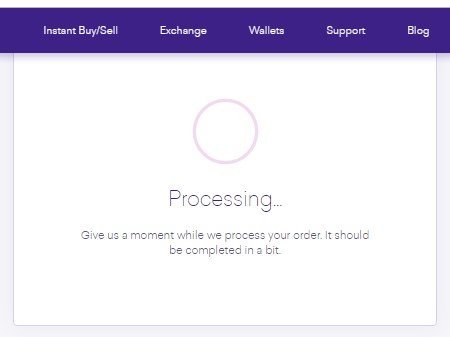 Wait while the transaction processes.
Step 3: You will be notified of the success of your transaction. Click on 'Go to Wallet' to go back to your wallet to see the Bitcoin purchased.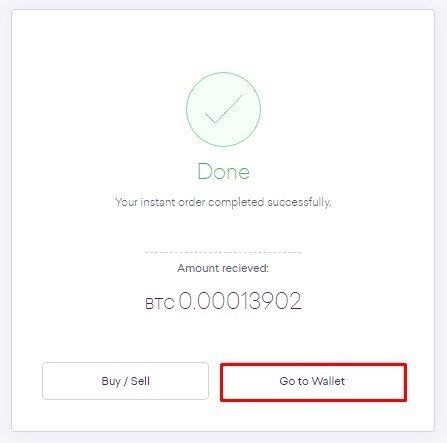 Simple as ABC!
Scroll down to see the steps when buying at the Exchange.
Steps to Buy Bitcoin using the Exchange
For this, I will just list out the steps involved.
The steps include:
Sign in and click on 'Exchange'. This takes you to its Trading Platform.
Go to 'Markets' and select the coin/currency to buy (BTC/NGN in this case).
Then, go to the 'Order Book' and place your order. The order reflects in the 'Place Order' section.
In the 'Place Order' section, input the total amount of money you wish to expend and click on 'Buy BTC'.
When it informs you of the success of your transaction, you can go back to 'Wallet' to view the Bitcoins bought.
That's how it works on Quidax.
Read on to find out about the other exchanges.
---
2. Luno
Another exchange that supports buying Bitcoin with a credit/debit card is Luno.
Luno is a cryptocurrency exchange/wallet provider.
It was formerly called Bitx but rebranded to Luno in 2017.
Luno now supports Bitcoin and Ethereum wallet.
The company supports 44 countries namely Nigeria, South Africa, Indonesia, and 41 others.
Its highest market volume is in South Africa followed by Nigeria.
To buy Bitcoin with a credit/debit card in Luno, it follows the same steps as shown in Quidax.
The slight difference is that you will have to pay a 2% charge or more when buying and selling instantly and a 0.25% – 1% charge when using the exchange.
For Nigeria, Luno uses PayU and Paystack as its payment processors.
Now don't stop reading at this point; there's more below.
---
3. Binance
Binance is a crypto trading platform that was launched in 2017 after an Initial Coin Offering(ICO).
Though still very young in the crypto space, it has come to be known as 'the world's leading cryptocurrency exchange'.
This can be attributed to its large trade volume(1,400,000+ transactions per second and an average daily volume of 1.2bn transactions).
Despite it being a global exchange, there are restrictions for users from up to 13 states of the USA.
It supports more than 100 cryptos and its payment methods include:
Credit/Debit Cards
Cryptocurrencies
Bank Transfer
Bitcoin can be bought directly when using Credit/Debit cards unlike with Bank Transfer payment option where you have to buy stablecoins first before buying BTC with the stablecoins.
The company's fees are the lowest in the market as it charges a trading fee of 0.1% and 0.05% when using its Binance token(BNB) to pay.
The same steps as explained with Quidax are taken when buying Bitcoin with credit/debit card.
Read more: Binance Trading Platform:- My Amazing Review
---
4. Paybis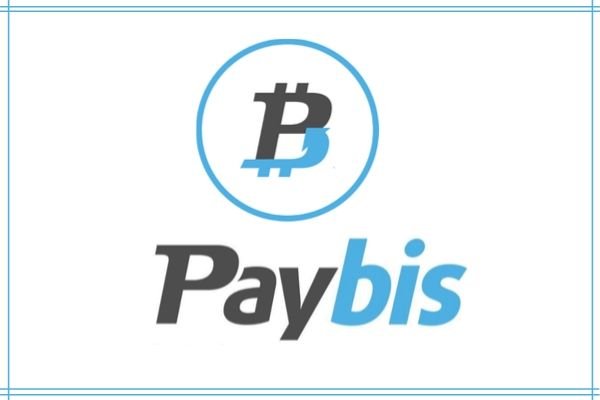 Paybis was founded by Inokentijs Isers and Arturs Markevics in 2014.
Konstantins Vasilenko joined the company and became its Chief Operating Officer(COO) in its early years.
It has a total of 200,000+ transactions completed and over 195,000 customers.
Its services are supported in almost every country apart from the ones mentioned here.
Payment options include Credit/Debit Cards:
Cryptocurrencies
Fiat currency( USD, EUR, GBP)
Bank transfer (SEPA, Wire)
Online currencies( Skrill, Netteller, PerfectMoney, Payeer, Advanced Cash)
Read also: Paybis Review: 7 Key Things to Know About This Digital Currency Exchange
---
5. Changelly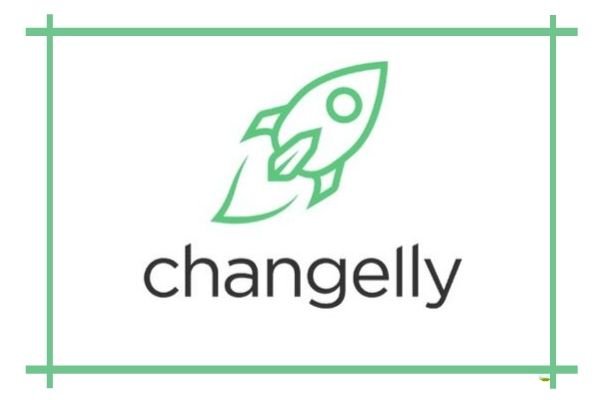 Changelly is another exchange that accepts payment with credit/debit cards.
Founded in 2015, the company acts as an intermediary between cryptocurrency exchanges and users.
It offers access to 100+ cryptocurrencies and has Eric Benz as its CEO.
Changelly is in partnership with MyEtherWallet, Exodus, Huobi Wallet, Binance, BRD, Edge, Coinomi, Trezor, Ledger, Enjin, and other well-known players in the crypto industry.
The processes for making purchases are the same as the one explained above and the company does not have a fixed currency rate owing to the volatile nature of cryptocurrencies.
However, Changelly offers the best available rate at the moment of a transaction and charges a commission fee of 0.25% for crypto-to-crypto swaps.
Note that fiat transactions in Changelly are processed by its partners and has some limitations that you should note.
For example, Simplex limitations (for purchasing BTC, LTC, BCH, XRP, ETH):
First transaction: from $50 to $10000
Daily limit: up to $20000
Monthly limit: up to $50000
Indacoin limitations (except for Bitcoin, Litecoin, Bitcoin Cash, Ripple, Ethereum):
Current limits for first purchase are up to 3000 USD/3000 EUR per payment, up to 10k a day, but not over 15k per week or 30k per month.
Getting interesting, isn't it?
Let's continue.
---
6. Coindirect
Coindirect is an exchange that is based in South Africa and has been existing since 2018.
The company has continually upgraded on the services it provides as it now supports Bitcoin and over 30+ altcoins.
The exchange users pay the following fees:
Conversion fees for wallets and market place (0.25% for both Crypto- Crypto trades and other trades)
Market place fees (0.00% for customers and 1.00% for vendors)
Credit Card fees (1.99% for Nigeria and 3.99% for other countries)
Fiat withdrawals take up to 5 working days for bank transfers to go through but crypto withdrawals are instant.
The processes involved are the same as the ones explained in the video
And that's how Coindirect works! Don't take off the seat belt yet…….There's one more to go.
---
7. BuyCoins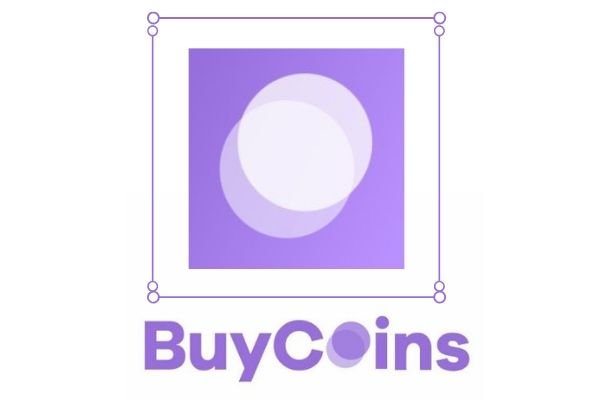 Another one of such exchanges is BuyCoins.
BuyCoins is a service that allows users to trade cryptocurrencies instantly.
Currently based in Lagos, Nigeria, it caters to Nigerians who have an interest in trading cryptocurrency.
With a BuyCoins app, you can buy, sell, send, and store Bitcoin, Litecoin, and Ethereum at your own convenience.
Just as explained with Quidax, it follows the same processes to purchase Bitcoin with your credit/debit card.
Its payment processing fee is 4% of the total amount to be paid +N50.
The maximum processing fee is N2,050 i.e all payments worth N50,000 and above will have N2,050 as its payment processing fee.
It uses Paystack as its payment processor.
---
Conclusion
And this is going to be the very last part…the part where you can officially loosen the seat belt
Having followed through to the end, you have things to say… or maybe questions.
Now let me know…Have you made a choice yet?
Do you still have any questions pertaining to the post?
Or did I miss anything?
Tell me in the comment section below.
Also check out: 10 Best Exchanges to Buy and Sell Cryptocurrencies in Nigeria
Give us a share if you enjoyed reading this post.