Today, we will be looking at Yellow Card (and NO, it's not the type that the Referee gives in football).
Yellow Card is a cryptocurrency exchange that came aboard the crypto-verse in 2016.
Following the upsurge in the adoption of cryptos in Africa, Yellow Card expanded into African countries like Nigeria, South Africa, etc in 2019.
With the sole mission of getting everyone involved in cryptocurrency, Yellow Card offers you the best rate when buying and selling on its platform.
So, by the end of your reading today, you would have come to understand clearly how Yellow Card works totally.
Ready to go with me on this discovery quest?
Let's hit the road at once.
---
---
Post Summary
For a better understanding and easy navigation through the post, I have made a list of things I will be discussing below.
They include:
A click on any subheading takes you straight to where to find the details.
So, gird up your loins and come along with your writing materials…It's about to get real!
---
Yellow Card Overview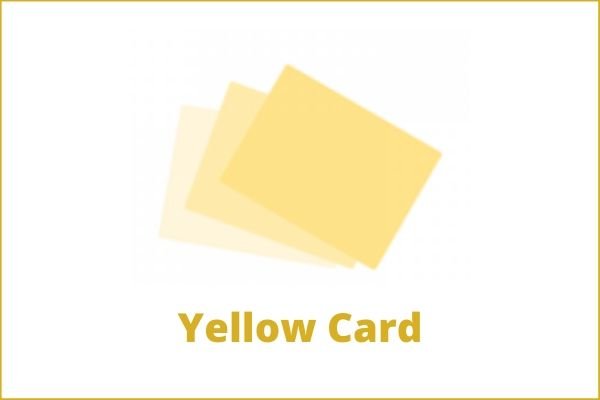 Yellow Card is a broker founded in 2016 in the USA by Chris Maurice, a crypto enthusiast and a team of about 20 others.
In 2019, the exchange ventured into the African market and so far, it has been launched in 9 African countries.
It was announced by Binance Labs as one of the 13 newest projects to graduate from its incubation program.
Thus, it is sponsored by Binance to increase crypto adoption in Africa.
Binance Labs is the venture arm of one of the leading cryptocurrency exchanges, Binance.
The exchange gives you the option of either buying Bitcoin online or from any of its agents.
Either way, the exchange strives to give its users a seamless experience when using its platform.
Here, you have the brief overview of Yellow Card.
Moving on now, I will be talking about its distinct features next.
Read that up below.
---
Features of Yellow Card
Increased security
Instant transactions
Great user interface
Mobile app
Merchant services
Multiple payment options
Referral program
There you have the features of Yellow Card!
You still have your writing materials, right? Good!
They will be put in use in this next section as I will talk about the products and services that Yellow Card offers.
Scroll down to read.
---
Yellow Card's Products and Services
The services that Yellow Card provide include:
Buy Cryptocurrency
Sell Cryptocurrency
Bitcoin Wallet
Find details below.
1. Buy Cryptocurrency
Here, you have the option of buying from the platform or buying from an agent. I will explain how each option works.
i. Buy from Yellow Card
This involves the following steps:
Create an account with Yellow Card and login to your account.
Deposit funds into your wallet (steps are provided later in the article).
Then click on 'Buy Cryptocurrency'
Enter the amount you want to buy either in fiat or BTC and click on 'Review and Confirm'
Cross-check the summarized details of your transaction and click 'Pay'
Viola! Your Bitcoin wallet is credited.
ii. Buy from an Agent
Yellow Card has local stores scattered across the country where users can buy bitcoin.
This is how it works:
Go to the Yellow Card home page and select 'Find a local store'.
Input your present location in the field provided.
You will be provided with a list of local stores near you.
Select your preferred choice and contact the agent.
Visit the store and pay for the amount of bitcoin that you wish to buy
You will then be given a Yellow Card pin with which you can buy bitcoin on the platform.
2. Sell Cryptocurrency
Follow these steps to sell bitcoin on Yellow Card:
Login to Yellow Card and click 'Sell Cryptocurrency' on the dashboard.
Enter

the amount of Bitcoin you want to sell and click on 'Review and Confirm'

Cross-check the summarized details of your transaction and click 'Sell'
The fiat equivalent is then sent to your wallet
3. Wallet
Yellow Card provides a Naira and Bitcoin wallet for its users.
Products and services done and dusted! Hope you are getting the gist?
I will now talk about the supported countries and currencies.
---
Supported Currencies and Countries
Currencies
Cryptocurrency
The cryptocurrency that Yellow Card provides support for as at the time of this post(January 2021) is just Bitcoin (BTC).
However, the team is working hard to include support for other coins.
Fiat
The fiat currencies supported are NGN, ZAR, BWP, XAF, KES, TZS, UGX, GHS, ZMW, and USD.
Countries
Nigeria
South Africa
Botswana
Cameroon
Kenya
Tanzania
Uganda
Ghana
Zambia
---
Fees Charged by Yellow Card
Fees on Yellow Card are country-dependent and you will find them in the table below.
Deposit
| | | | |
| --- | --- | --- | --- |
| Countries | Nigeria | South Africa | Botswana |
| Pin | Free | Free | Free |
| Cash deposit at bank Branch | N/A | R8 + 3.2% | N/A |
| Cash deposit at ATM | N/A | R4.50 + 1.02% | 0.41% |
| Bank Transfer | Free | Free | Free |
| Instant Bank Transfer | 50NGN | N/A | N/A |
| Debit Card | 1.5% + 100NGN | N/A | N/A |
Withdrawal
| | | | |
| --- | --- | --- | --- |
| Countries | Nigeria | South Africa | Botswana |
| Instant Withdrawal | 100NGN | R60 | N/A |
| Maunual Withdrawal | N/A | R15 | 5BWP |
| Instant Money Voucher | N/A | R20 | N/A |
There is no mention of a Buy or Sell fee anywhere on the platform. When contacted, Yellow Card confirmed that the use of the platform is free at the moment.
It could also be that the fees are already included in the rates displayed on its platform.
I hope we are still together?
Having finished with the fees, I will be listing the supported payment methods below.
Stay with me.
---
Supported Payment Methods
The supported payment options include:
Cash
Bank Transfer
Debit/Credit Card
However, only Nigerian users can make transactions using cash and debit/credit cards.
Other countries can only use the 'bank transfer' option.
That's it with the payment methods.
Next, the Limits will be discussed.
---
Limits on Yellow Card
Just as the fees and the payment methods, the limits are country dependent.
Not just that, it is also based on the level of verification a user has attained. The levels are Tier 1, 2, and 3.
Find full details below.
| | | | |
| --- | --- | --- | --- |
| Countries | Nigeria(NGN) | South Africa (ZAR) | Botswana (BWP) |
| Tier 1 | 20,000 | 10,000 | 5,000 |
| Tier 2 | 2,000,000 | 200,000 | 100,000 |
| Tier 3 | 50,000,000 | 20,000,000 | Unlimited |
Now, you may ask: But how do I even attain these levels?
The key is to getting verified by updating more info about yourself.
I explained that in the next section. Keep reading.
---
Verification Requirements
The requirements for the various levels include:
Levels

Requirements

Tier 1

– Name
– Phone Number
– Email
– Date of Birth

Tier 2

– BVN Verification
OR
– Document Verification


Tier 3

– Upload a Proof of Residency
– Upload a Government-Issued ID
**The info in Tier 1 above should be as it appears on a government-issued ID.
---
Customer Support and Public Opinion
Yellow Card has a comprehensive knowledge base that provide answers for most questions the users might have.
But for further inquiries, you can reach them via
+12512200141 (WhatsApp)
Facebook – https://www.facebook.com/yellowcardio/
Twitter – https://twitter.com/yellowcardio
Instagram – https://www.instagram.com/yellowcardio/
LinkedIn – https://www.linkedin.com/company/yellow-card-financial/
Telegram – https://t.me/YellowCardCrypto
Queries sent via its email takes up to (and sometimes, more than) 24hrs before they are attended to.
At other times, you might end up not getting a response at all.
This clearly shows that the team at Yellow Card has a lot to do in that aspect.
Yellow Card was found on Trust Pilot with an average rating and just one review but has a lot of 5-star reviews for its mobile app.
We are still in sync, right?
Let's move on to see some frequently asked questions about Yellow Card.
---
Frequently Asked Questions (FAQs) about Yellow Card
How do I get started on Yellow Card?
To start using the platform, follow these steps:
1. Visit web.yellowcard.io and click on 'Sign Up'


2. Fill in the required details and click 'Sign Up'


3. Enter the verification code sent to your mobile number and click 'Confirm'.
If the SMS delays, you can select 'Get code via WhatsApp' or 'Get code via USSD'.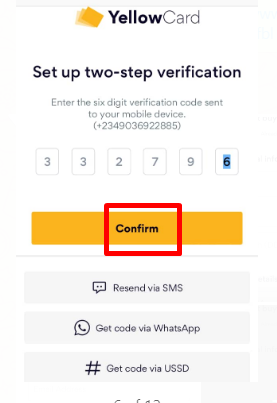 4. Next, you verify your email by clicking on the link sent to your inbox.


5. Create a transaction pin. Confirm the pin and click 'Next'.


6. Bravo! you have successfully set up your account. You can now buy/sell bitcoin.


7. But you have to deposit funds into your wallet first. Select 'Deposit' from the dashboard and choose your preferred payment option.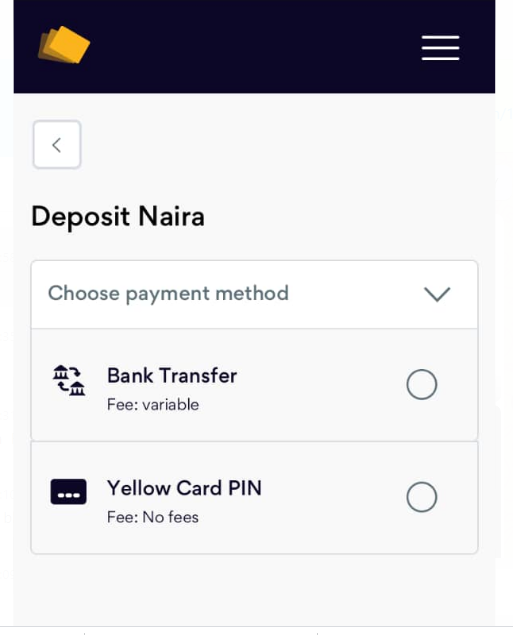 8. When you choose bank transfer, you will be given a customized account number to pay in your funds.
On the other hand, if you select Yellow Card PIN, you will provide the PIN you were given at a local store.
Once your payment is confirmed, your NGN wallet is credited and you are good to go!
What government issued documents can I use for verification?
You can use any of the following documents:
1. International Passport
2. Driver's License
3. National ID card/slip
4. Voter's Card
Is it safe to give Yellow Card my BVN?

The BVN (Bank Verification Number) is a number that unified all the bank account of a user in Nigeria. It was introduced by the Nigerian Banks to protect customers from identity theft and fraud.
The Nigerian government made it mandatory for anyone who wants to have a bank account. The BVN can be said to be similar to the Social Security Number in the USA.
Nigerians need to provide their BVN to protect them against identity theft, improve service delivery and speed, and help restore account if you lose your login.
No one can gain access to your bank account information through your BVN.
Besides, Yellow Card stores personal information including the BVN in a secure, encrypted form that is only accessible to authorized personnel.
Is the agent service only for Nigerians?
No, please.
The agent service is available in all countries that Yellow Card has launched.
Is Yellow Card legit?
Yellow Card is an exchange where you can buy Bitcoin using different payment options.
It has a known owner, is regulated by FinCEN in the USA, and is registered with the CAC in Nigeria.
Furthermore, the team at Yellow Card works relentlessly to ensure instant execution of transactions.
Though relatively new, the exchange shows a lot of potentials that it made it to the list of the top 20 exchanges in Nigeria.
Moreover, there has been no report of fraudulent activities about it.
But then, this is just my own opinion. I still advise that you DYOR too before going ahead to make investments.

---
If you want to learn how to trade cryptocurrencies profitably, then enroll for our Cryptocurrency Mastery Course by going to www.ctmastery.com. You can also join our Telegram community at https://t.me/ctmastery.
---
Conclusion
And here is the last part of today's post. Trust you followed through all the way and have actually learnt something from the quest?
So far, I walked you through how Yellow Card operates, the fees accrued when using its services, and lots more.
Now it's time to hear from you; you get to drop your comments and questions if any.
But before you get to doing that, let me know your thoughts on these:
What distinct feature of Yellow Card will prompt you to sign up(that's if you've not done that already)?
With the way the platform is spreading in the African continent, do you see it emerging as the African crypto king in the nearest future?
And talking about the supported coins, what fave coin of yours will you love to see listed?
Is there anything still confusing about any section of this review?
Go ahead now and drop your replies, comments, and questions below. I really hope to hear from you.
And closer than the comment box are the Share buttons. Do well to click on them before moving on to leave a comment for me.
---
You can also check out these reviews of other vanguards in the crypto-verse: