This post is a complete comparison of two of the most popular crypto hardware wallet; the Trezor T vs Ledger Nano X
I have written a full review of each of these wallets; outlining the features that make them stand out amongst other wallets.
However, in this post, I will be giving a head to head comparison of the basic features, company track record, and market reputation.
---
Post Summary
The post is a very comprehensive one, below is a list of what I will be covering today.
---
Trezor T in a Nutshell
Trezor Model T is a touchscreen-enabled hardware wallet that stores your cryptocurrencies offline. It was launched in 2017 by Satoshi Labs Ltd as an upgrade to the existing Trezor One. Even though the touch screen is a great additional feature, I still don't think it's worth the high price tag.
---
Ledger Nano X in a Nutshell
The Nano X is a Bluetooth enabled hardware wallet that stores your digital assets offline. The Bluetooth allows you to pair the device with a smartphone. It has an in-built battery, that means you don't have to connect to a computer to access the device.
The device was released in early 2o19 by Ledger and has ever since been recognized as a top wallet by crypto investors around the globe.
Now, let's compare the wallets according to their basic features.
---
Compared Features- Trezor T vs Ledger Nano X
Trezor T
Nano X
The wallets will be compared based on the following features
Price
Security
Coin Support
Setup
Screen
Size and Design
Price
The first on our list is the price, this is usually the very first thing that's considered by every rational buyer.
The Trezor Model T costs £53 while the Ledger Nano X costs $119. The model T price tag is not a friendly one despite its touch screen and increased coin support.
The Nano X has more to offer at a lower price, so in this category, will pick the Ledger device over the Trezor model T.
Security
Both wallets provide maximum security when it comes to storing your cryptocurrencies. However, hardware wallets are more vulnerable to physical attacks. It's a tie.
Coin Support
Trezor T Coin Support
There are over 1000 digital assets supported on the Tezor T including ERC20 tokens, below is a list of some of the popular coins
Bitcoin (BTC)
Ethereum (ETH)
Ripple (XRP)
Litecoin (LTC)
Bitcoin Cash (BCH)
Stellar Lumens (XLM)
Dash(DASH)
Ethereum Classic (ETC)
Nano X Coin Support
Nano X supports over 1000 digital assets including ERC20 tokens. some of the main supported are;
Bitcoin(BTC)
Ethereum(ETH)
Ripple(XRP)
Stellar(XLM)
Dogecoin(DOGE)
Litecoin(LTC)
Ethereum Classic(ETC)
Zcash(ZEX) etc………….
Both wallets match each other when it comes to coin support. Trezor had added some popular coins that were missing in previous versions e.g Ripple, Stellar and Monero.
Setup
Setting up both wallets is quite easy and will not take you more than 5 minutes. However, the Trezor device needs to be connected to a computer to power on. On the other hand, the Nano X comes with an inbuilt battery making it wireless.
You will be required to set a PIN by both wallets, after that write down your recovery seed and keep in a safe location.
Screen
The Trezor T touchscreen makes it stand out in this category. Although its small screen size makes it difficult for a person with large fingers to operate.
However, both wallet screens provide enough clarity for its users to view relevant data like the Seed Phrase, PIN, and account balance, etc.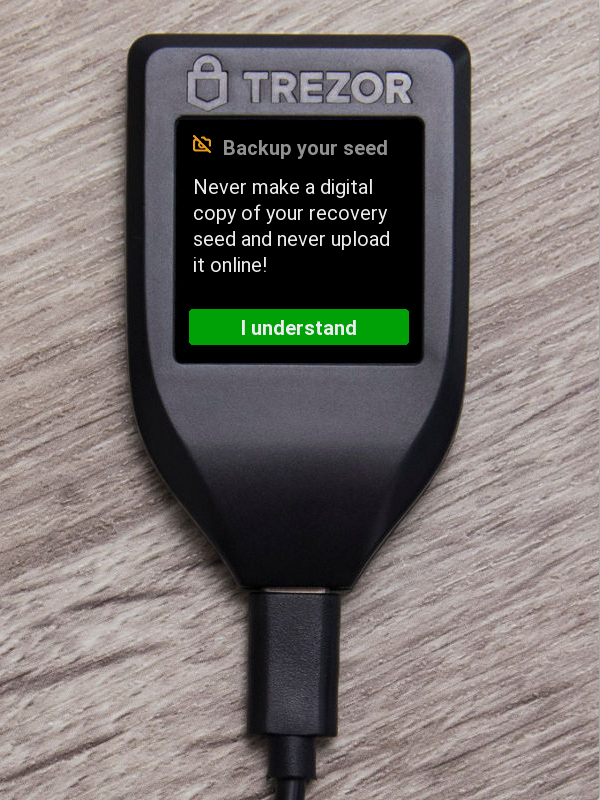 Trezor Model T Screen:
Ledger Nano X Screen:
Size and Design
Both wallets are portable devices. The Nano X looks like a USB stick covered in an aluminum casing with two buttons at both ends of the device. The Trezor T device is covered in a plastic casing and has no buttons.
---
Conclusion- Trezor T vs Ledger Nano X
Both the Trezor T and Nano X are two top hardware wallets in the crypto market. Choosing any of them will depend on what you need in a hardware wallet and your budget too.
The Nano X's edge over the Trezor T is its ability to connect to a mobile phone via its Bluetooth connection.
What's more important is the security the wallet provides.
Now tell me, do you have experience using any of these wallets?
Which of the wallets do you consider to be perfect for you?
Leave your replies or any questions you may have in the comments section, I'll be right there in the comments.
Lastly, if you enjoyed reading this, kindly help us to share by hitting on any of the social media icons below.