Blockchain technology seems to have been limited to the financial industry alone – or so many thought.
But that isn't the case anymore…
Have you seen the movie Ready Player One? If you have not, I think you should; It's a movie where people can live in a virtual world, choose how they want to look or dress and meet real-life people in the virtual world.
The movie is a sci-fiction, but its realization is being made possible today through the blockchain.
A class of blockchain enthusiast and veteran gamers are leveraging blockchain technology to solve common problems faced in the gaming industry.
Now if your interest at this moment is to know the top gaming based cryptocurrencies then I am glad to inform you that you have come to the right place.
In this review, I will be taking you on a tour of the top crypto projects that are impacting on the present day gaming industry through blockchain technology and cryptocurrencies.
Welcome to our top 6 gaming based cryptocurrencies review.
---
1. Decentraland
Decentraland is a virtual reality-based platform where users can purchase virtual land for development. The lands they purchase can only be owned by them alone as is the case in the outside world.
On this land, a user can build his/her own virtual world, games, casinos etc… that can be shared with other users and monetized through a cryptocurrency called MANA
In the virtual world on decentraland, you can do pretty much everything including what you might not be able to do on the outside, stuff like test driving a Ferrari, grabbing a beer with friends, watching live musical concerts, visiting luxurious resorts, attending workshops etc…
This project gives its users a glimpse into what the future of gaming will look like.
---
2. GameCredits
A majority of gaming enthusiasts must have come across the term "GameCredit", it serves as an in-game currency meant for in-game purchases.
It is also an open-source peer to peer cryptocurrency hosted in a blockchain where game creators (developers) and gamers can monetize their services and products.
The history of GameCredits can be traced as far back as 2015 when it was known as GamersCoin (GMC).
It has common features with Litecoin (LTC) and can be said to be a Litecoin clone (of course before SegWit) but with notable improvements to suite its purpose of serving as a gaming coin.
However before GMC, there was a game credit called Second Life Lindens (SLL) which was launched in 2007, it is still traded on VirWox.
The use of this coin is mostly beneficial to game developers, in the sense that:
Developers get a 90% share for their services on the GameCredit store, rather than the usual 70% on other platforms.
It takes a maximum of 60 hours for their funds to hit their bank accounts or desired payment destination, which is a lot faster than other platforms in the gaming market.
Issues of fraud payment or chargebacks are unheard-of with the GameCredits payment gateway.
With the security GameCredit presents, developers can take their eyes off other issues and concentrate primarily on implementing ideas and developing new gaming software.
Gamers on the other hand stand to enjoy certain benefits, some of which are contained in the screenshot below: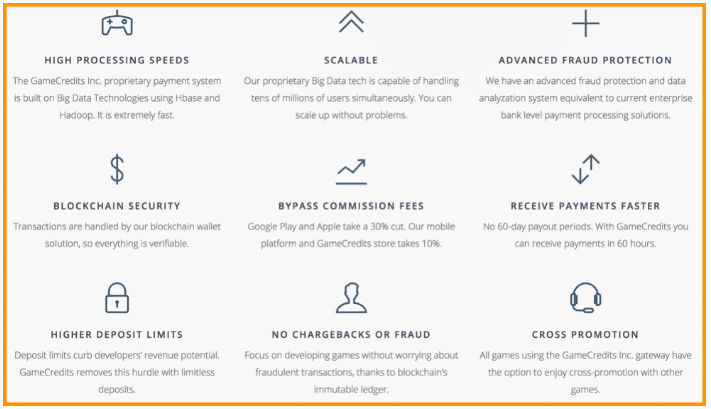 ---
3. MobileGo
MobileGo was created with one primary purpose, which is to bring esports to everyone. It is an Ethereum based ERC20 token that was developed in 2017 by GameCredits Inc.
With the help of MobileGo (MGO), a variety of peer to peer gaming tournaments and match plays can be made into worldwide tournaments with winners incentivised through the MobileGo token MGO.
Apparently, MobileGo is a dual token in the sense that it can be tied to two different blockchains – the Ethereum and Waves blockchains.
Here, Ethereum smart contracts act to eliminate frauds thereby ensuring that users are not defrauded of their prize money and the prize money go to the right winners without delay.
Besides its usefulness in the creation of worldwide tournaments, MobileGo serves other purposes, some of which include:
Rewards content creators such as online streamers, organizers, gamers etc…
Facilitates the interaction between gamers and their audience in a way that has never before been taught possible.
Brings competitive gameplay to mobile and casual game players, as against the common norm where only hardcore and PC users got to play on a competitive level.
---
4. FirstBlood
FirstBlood is basically a decentralised platform that allows users to create challenges and rewards for e-sport gaming competitions.
It ensures that winners get paid timely and in full while juries (panel of judges and some ranking spectators) receive incentives for their time and efforts in a hitch-free manner.
It also allows room for peer to peer challenges, where e-sport players get to challenge one another and reap rewards for their expertise and skills to enable them to grow in their gaming careers.
Furthermore, before the competition starts, the parties agree on the prize and other aspects, after which they are to set everything up in a smart contract safely hosted on the blockchain.
And once the competition is over, winners receive their prizes without relying on any third-party consent.
---
5. DreamTeam
DreamTeam is a gaming management and recruitment platform created by a team of highly experienced veteran gamers. Its purpose is to help gamers connect with one another, create teams and earn as teams.
The DreamTeam platform provides information such as current players, teams, coaches, managers, jury members and tournaments.
At the time of writing this review, the DreamTeam platform is still in development, however, player recruitment is ongoing in the platform's MVP. The platform's native token – the DreamTeam token (DTT) is currently on sale and can be pre-purchased at the fraction of its original price pending when the platform will be fully launched.
---
6. Enjin (Enjin Coin)
Enjin was launched as far back as 2009, it is a gaming company based in the Indonesian capital of Singapore.
Enjin recently launched its own Ethereum based crypto token known as the Enjin Coin with the primary purpose of using it as a smart gaming currency.
Millions of gamers all over the world already use Enjins games and products, it has over 250k gaming communities that will readily use the Enjin token on their platform. However, there is more purpose to the Enjin token:
Enjin seeks to provide a platform where virtual goods will be traded on the blockchain, and when that is done, its token will play a role in the trading process.
The Enjin token is easy to use – arguably the first easy to use gaming coin. Its purpose is primarily aimed at online gaming and the trading of virtual goods online.
Gamers can trade their assets from community to community, game to game while adding real value to their digital wallets.
---
Conclusion
Gamers have been grossly stereotyped as a completely lazy/jobless class of people.
However, with the recent advancement in blockchain technology covering the gaming industry and providing a way for passionate gamers to be incentivized for following their passion, I have a feeling that a new breed of millionaires is on the horizon.
I'll sharpen my gaming skills if I were you… Lol.
That's all we have for you on our list of top 6 gaming related cryptocurrencies, please leave your comments and opinions in the comment section below, and don't forget to share. Thanks!