Introduction to Stellite mining
Mining any cryptocurrency based on the CryptoNight algorithm is usually the same and very simple too. 
If you have a CPU or GPU at hand, all you need do is to download the miner, join a mining pool and you can start mining.
Most times, the guidelines on how to start mining can be found in the mining pool.
More so, you don't normally have a need for a mining calculator like that of what to mine. Most CryptoNight mining pools have this calculator option already where users can enter their hash power and other parameters.
From these imputed parameters, one can estimate his mining profits.
---
Overview of Stellite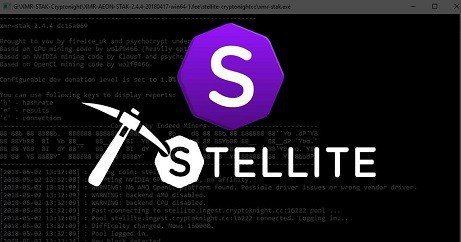 Stellite aims to provide the most decentralized crypto experience. It is a new crypto with a maximum supply of 21 billion XTL and also the first CryptNote coin and the first to merge IPFS and ZeroNet with the blockchain.
As at the time of this article, Stellite is only CPU and GPU mineable but has the vision to be scalable and provide a mobile-friendly ecosystem.
Yes, you heard me right! Possible crypto mining using mobile phones, smart TVs, Xbox, PlayStation, and also PCs is their promise.
In recent times, in a bid to further resist ASIC from their ecosystem, Stellite migrated from the CryptoNight algorithm to CryptoNight V7.
---
General Features of Stellite
Stellite is a fork of Monero and therefore inherits its privacy features.
Their network is based on the CryptoNight V7 and therefore strictly anti-ASIC.
It is the first cryptocurrency to merge IPFS and ZeroNet with the blockchain.
Provision of a mobile-friendly ecosystem.
Maximum supply of 21 billion XTL.
Circulating supply of 5.55 billion XTL. [as at the time of this article]
---
General Mining Tips
Before we kick start our mining tutorial, I have a few basic important tips for you to be able to have the ultimate mining experience with Stellite.
These tips are;
Firstly, you would need to update to the latest drivers in case you are making use of GPUs to have the best mining experience.
Secondly, note that most mining software will be tagged as viruses by most of the antivirus scanners.
Considering this, if you are mining on your personal computer with an antivirus installed, I advise you to exclude the software from the antivirus.
For example, you can create a new folder then put all your mining software in sub-folders.
Then, you can exclude the folder from the antivirus and all mining software is now excluded.
---
Getting You Started
Now that you know what Stellite is, its features, and a few tips, it's time to start mining.
This is a very simple and also tricky process.  It took me about 5hours.
Don't be alarmed, with this stellite mining tutorial, you would definitely be mining Stellite coins within 30minutes.
So, drop everything and let get MINING. The process goes like this;
Step 1: Download the GUI Miner
To do this,
Log on to the official Stellite website, scroll down and click on the GUI miner.
On the next page, select your choice [windows, mac or Linux] and be sure to indicate if you are going for only CPU or both CPU and GPU mining.
Your GUI miner zip file should automatically start downloading. Feeling excited?
Next, you need to unzip the GUI MINER
Step 2: Unzip the GUI Miner;
To do this,
You need to have WinRAR or the likes installed on your computer.
Double click on the GUI miner zip file in the download folder. This should run the unzipping software immediately.
Double click on Stellite folder displayed, this opens the folder and displays a sub-folder labelled 'miner' and the Stellite GUI miner zip file.
Open the miner sub-folder and double-click the zip file displayed. Unzipping should commence automatically.
At 100%, go back and double click on the Stellite GUI miner zip file. Unzipping should start immediately.
After unzipping, a dialogue box will appear. Click on Run and your miner should launch within seconds.
Next, you need a Stellite wallet for receiving your Stellite coin pay-outs.
Step 3: Get a Stellite wallet;
After launching your miner, the miner asks if you already have a wallet or don't have a wallet.
Select 'I don't have a wallet' and click on the GUI wallet. This takes you to a download page where you can download your Stellite wallet.
Search for the latest release and select your operating system to commence zip wallet download.
To unzip the GUI wallet, double-click on the zip wallet file in the download section to commence unzipping the file.
Double click the StelliteGUI to access a sub-folder labeled Stellite GUI wallet. Double click on this to reveal another page of boring subfolders. Don't worry. Just scroll to the bottom and double click the file labeled Stellite wallet. Unzipping should commence automatically.
At 100%, click on Run to launch your wallet. After launch, the wallet generates a 25-word private key for you. Note that this is not your wallet address and it is to be taken down and kept safe and secret. These private keys could be used to back-up, synchronize, import, or restore your wallet in any circumstance.
After writing down your private keys, you are prompted to create a password. Then click continue and you are taken to the wallet home page. Click on the Receive tab to display your wallet address.
Click on the copy button to copy your wallet address and then head back to your miner.
In your miner, now click on 'I have got a wallet' and paste your wallet address. Then click on continue. [However, it is worthy of note that the wallet has a built-in miner. This is solo mining and is not recommended as the network hash rate is too high].
Step 4: Choose a Mining Pool;
After successfully pasting your wallet address, you are provided with a list of mining pools. Click on View All to display the full list of available mining pools on the Stellite network.
In choosing a mining pool, consider carefully;
The pool hash rate.
The number of miners in the pool.
The last time a block was found by the pool. I recommend you don't join any pool having more than 8 minutes since its last block. For this tutorial, I have chosen "miner rocks" mining pool because it has a decent number of miners and has about the highest hash rate.
After choosing your preferred mining pool, click on continue and click on I HAVE ALLOWED THE MINER and that's it. You should be connected and actively mining within 10-15 seconds depending on your internet connection.
---
Miner Home Page
The home page of the Stellite miner is very simple and interactive at the same time. It actively displays;
Your current hash rate, mining time, the breakdown on the number of shares and estimated coin per day.
Detailed info about Stellite coin.
Mining pool info.
Stellite wallet address among other info.
Mining Reports
To view your mining reports and payment details, just visit you mining pool address. Scroll down to your stats and payment history, enter your wallet address and click on Lookup.
This would reveal your average mining hash rate, all balances [mined, paid and unpaid], worth of XTL that you have earned for the day and overall in dollars among other info. Also, on this page, you can adjust your minimum pay-out [note; minimum of 20 XTL]…
---
Exchanges Available
Currently, Stellite coin is only listed on two exchanges; TradeOgre and Orex24 with TradeOgre having the highest trade volume.
While this might not be encouraging now, the Stellite team is working to get the coin listed on other leading major exchange e.g. Binance.
If done, this could do wonders for the adoption and price of this rare-gem altcoin.
---
Conclusion
As at the time writing this article, 1 XTL is worth 0.00000003BTC [less than 10kobo] with an all-time high of 1 XTL= 0.00000038BTC [averagely 10kobo].
With these not so encouraging figures, Stellite mining might not be for short-term miners.
But considering the fact that Stellite inherits Monero's privacy features and offers a vision similar to that of Electroneum, these figures are bound to change drastically.
In the next market bull run, Stellite has the potential to hit a price equal to Electroneum all-time high of about 18cents.
This figure is about 100x its current price and very good news to long-term miners.
So, if you are thinking of mining Stellite, then your eyes should be focused on Long-term Profitability.
That is all there is to know about mining Stellite coin on your laptop.
Do you have any questions or have any difficulty setting up your Stellite miner?
Please drop a comment below as we are always ready to help.
Happy Mining…