Today's post on Steem is going to be the most complete review you will see online.
Steem is both an altcoin and a blockchain-based social media platform where anyone in any part of the world can earn rewards.
The rewards come in the form of incentives and can be earned by joining the Steemit community.
It also powers real applications via social apps like Steemit, eSteem, etc.
After reading through this post, you would have been well-versed in Steem matters – its basics, mobile apps, where you can buy, sell or store your Steem coins.
So without wasting any more time, let's get started immediately.
---
Steem Review Summary
Today's discussion will be hinged on the following subheadings:
And as usual, a click on any of the subheadings opens up its entire details.
I will be starting off the discussion officially from the next section. Have fun reading this post.
---
What is Steem? – Basics and Tokens
Basics
Steem is both an altcoin and a blockchain-based social media platform where anyone in any part of the world can earn rewards.
It was created on March 24, 2016, by Ned Scott and the blockchain developer Dan Larimer.
Steem started out as the cryptocurrency on the Steemit platform that rewards users for community building through the upvoting and the posting of meaningful content.
The Steemit platform, built atop the Steem blockchain, is a social media network that seeks to be a source of community-driven curated content such as news, Q & A, and job boards.
The more value a particular piece of content is able to deliver across a greater number of people, the greater the reward received by the creator.
Steemit users can cast votes to create a hierarchy of content. The higher the upvote count received on a content piece, the more Steem is earned by its publisher.
Steemit's meritocratic system also enables users that hold more currency to cast more meaningful, greater influence votes.
It also powers real applications via social apps like Steemit, eSteem, Steem Monster, etc.
Steem blockchain has 3 different types of cryptocurrencies which I discussed below.
Tokens
The Steem Blockchain contains three unique tokens with 3 different attributes.
Whether you want to increase your social app influence, HODL wisely, or zero in on cash, there's a Steem token for you.
1. Steem(STEEM)
Steem coin is the basic cryptocurrency of the Steemit network, with the other two cryptocurrencies (Steem Dollars and Steem Power) depending on it.
Since Steem was released in 2016, the supply of Steem has automatically increased by 100% each year.
The Steemit platform schedules witnesses to produce a new block every 3 seconds.
But what is Steem Witness all about?
The Steem blockchain requires a set of people to create blocks using a consensus mechanism called delegated Proof of Stake, or DPOS.
The community elects 'witnesses' to act as the network's block producers and governance body. Each account can vote for up to 30 witnesses.
There are 20 full-time witnesses, producing a block every 63-second round.
A 21st position is shared by the backup witnesses, who are scheduled proportionally to the amount of stake-weighted community approval they have.
Witnesses are compensated with Steem Power for each block they create.
With the Steem blockchain, only 10% of the new coins are paid to block producers (witnesses).
The other 90% of new STEEM coins are awarded to content producers, curators, and Steem Power holders.
On coinmarketcap.com, it ranks number 75 with a market capitalization value of $57,396,938 and price of $0.160347(as of 20th Jan. 2020).
Since more Steem coins are created every day, I do not recommend you hold it for a long period of time.
It should instead be converted into Steem Dollars, Steem Power or some other cryptocurrencies like Bitcoin or Litecoin.
2. Steem Power(SP)
Steem Power (SP) is a token that symbolizes how much of an influence you have on the Steemit platform. The more SP you have, the more the power you have.
Mere holding Steemit Power gives weight to your voting in a 1:1 ratio. For example, if you hold 300 SP and vote for a post, then your vote is 30 times more influential than that of someone who holds 10 SP.
SP is an important feature of the Steemit platform because your reward is directly related to it; you cannot even vote at all if you don't have any Steem Power.
A post or comment will receive more compensation when upvoted by someone with more power (SPs).
Other interesting facts to know about SPs include:
It is considered a long-term investment. You cannot actually sell it until you have been holding it for at least 13 weeks.
50% of payments sent to contributors are made in SP.
SP cannot be traded on exchanges; unlike the other 2 tokens on Steemit.
You can "power up" by increasing your SP holding or "power down" by cashing it out (exchanging it for Steem coin) all for free.
3. Steem Dollars(SBD)
Steem Dollars is another token of the Steem blockchain that is considered to be a more stable one.
It is intended to be valued at a ratio of 1:1 against the US dollar. This simply means that 1 SBD should be equal to the amount of Steem that can be bought with 1 USD.
So because Steem Dollars are intended to be stable, 50% of the payment to creators and curators on Steemit is processed in SBD to protect them against the fluctuations of the Steem cryptocurrency.
Steem Dollars can also be traded on several exchanges or you can cash out your SBD by converting it to Steem or Bitcoin, and then converting it to fiat currency.
**There is also the Smart Media Token(SMT) that is yet to be launched.
A Smart Media Token (SMT) is a native digital asset on the Steem blockchain that can be quickly launched by anyone to help monetize online content and create incentives to encourage desired user behaviour.
They are like Ethereum's ERC-20 tokens, but with certain built-in 'Proof-of-Brain' properties and a token distribution reward system designed specifically for digital content businesses.
SMTs are planned to be launched in the year 2020!
More information can be found on the SMTs website: smt.steem.io.
That's it for Steem basics and its tokens. Let's move on now to Steem's top apps.
Read on.
---
Top Steem – Based Applications
Steem enables entrepreneurs to build apps and monetize content.
So you can build and grow your own social media community on the blockchain.
The top Steem – based apps include:
eSteem
eSteem is a beautiful and handy wrapper interface around the Steem blockchain network.
It allows you to:
create your own posts
surf your feeds,
vote what you like
write comments
read replies
do all major Steem functions in your daily social surfing
perform your wallet actions
other extras such as search, discover different tags, etc.
It is available for iPhones, iPads, Android as well as PC, Mac or Linux devices.
DTube
DTube is the first crypto-decentralized video platform. It is built on top of the Steem blockchain and the InterPlanetary File System(IPFS) peer-to-peer network.
It is like YouTube with the only difference being that you get paid for uploading and watching videos.
Now because it is built on a decentralized network, DTube cannot censor videos or enforce guidelines. This can only be done by the users through their upvotes and downvotes.
It is powered by Steem, IPFS, Asksteem, and Tube.
Steem Monster
This is a digital, collectible trading card game built and run entirely on blockchain technology.
Thus, you have true ownership of your game cards; not even the owners of the game can take it away from you.
This is because the cards' ownership can only be transferred with your private.
Steemit
Steemit is a social blogging platform that was built to empower ordinary people from all around the world.
It is a platform for all; anyone with an internet connection can participate.
The platform was built with a state of the art technology – Steem technology, which is capable of processing a lot of actions per
second, its rewards are enormous – enough to go around as long as you participate actively.
The rewards come in the form of digital tokens and are rewarded 24hrs after a user submits his/her post or votes.
According to Steem, the following categories of people can massively benefit from their platform:
Shoppers
Creators
Merchants
Commenters
Curators
Market makers
Bloggers
Entrepreneurs
Internet readers
Remitters
Community leaders
Sign up party hosts
Referrers
But how do I earn on Steemit?
Don't stress yourself – I explained all about that in the next section.
---
How are Digital Tokens Earned on Steemit?
Earning digital tokens on Steemit can be done in 3 different ways. All 3 ways are easy and can be done by virtually anyone.
The Steemit website explained the ways as follows:
Posting
By sharing your posts, you can earn upvotes from community members. Depending on the number of upvotes you receive, you will get a portion of the ongoing Steem reward pool.
Voting and Curating
If you discover a post and upvote it before it becomes popular, you can earn a curation reward. The reward amount will depend on the amount of Steem Power you have.
Purchasing
Users can purchase Steem or Steem Dollar tokens directly through the Steemit wallet using Bitcoin, Ether or BitShares tokens.
Steem tokens that are powered up to Steem Power earn a small amount of interest for holding.
When you earn rewards on the Steemit platform, you can request payment in either 50% Steem Dollars and 50% Steem Power, or in 100% Steem Power.
But you can still purchase Steem from exchanges too.
I listed the best exchanges where you can do that below; just scroll down.
---
Where Can I Buy/Sell Steem? – Top Exchanges
On some of these exchanges, you can buy STEEM directly using fiat while on others, you will have to purchase Bitcoin first and then exchange it for STEEM.
But you will have to sign up with Steemit.com first so your STEEM, when purchased, can be sent to your Steemit wallet.
To create an account on Steemit, you will take the following steps:
On the home page, click on 'Create Account'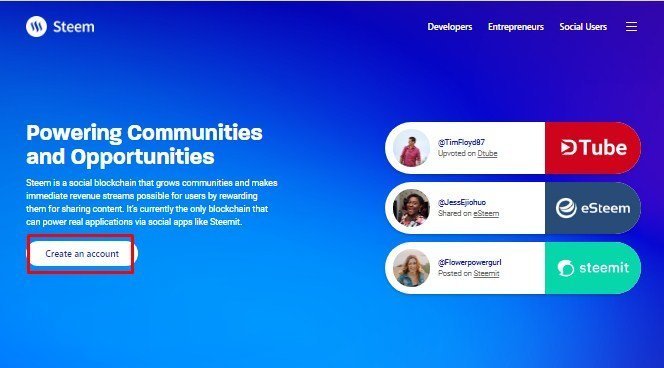 2. This opens up to the 'Sign Up' page where you will either choose to open a free account(where Steem pays the registration charge) or a paid one(where you pay the charge yourself).
Of course, the paid one creates an account for you faster than a free one does(takes up to a week or 2 to be validated).
3. For the free account, you only have to provide your details(username, email, and phone number) and send them for validation.
But for the paid account, you will have to make payment using a 3rd party service provider.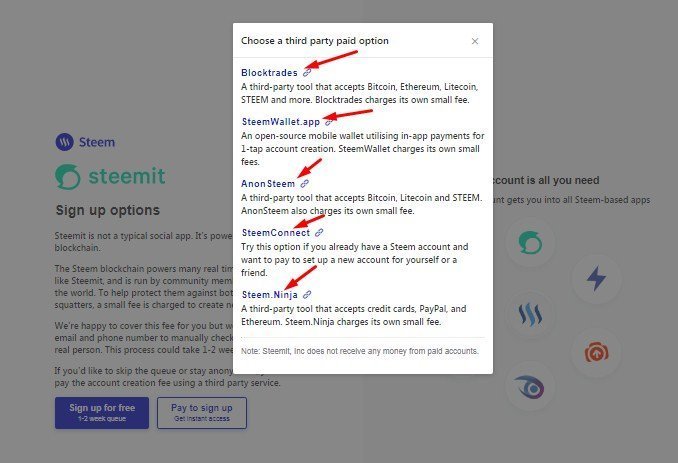 4. Pick an option to work with after checking out their details and make your payment.
5. Complete your registration and voila!!…your account is ready.
Now the next thing will be to buy STEEM from an exchange and send it to your Steemit Wallet.
The top exchanges where you can buy STEEM include:
1. Binance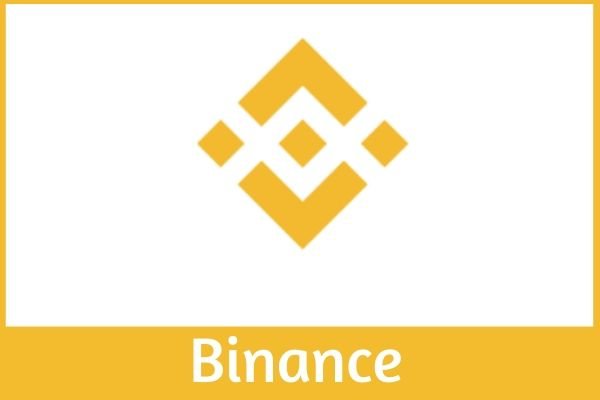 Binance(culled from binary + finance) is a household name in the crypto world.
Founded in China by Changpeng Zhao, it is a trading platform for Steem and more than 500 crypto pairs.
It recently(October 2019) moved into the Nigerian market with its partnership with Flutterwave, a global payment technology.
Thus, users from Nigeria can purchase cryptos with their credit/debit cards via the Binance Fiat Gateway.
On Binance, you can only buy Steem (STEEM) tokens using Ethereum or Bitcoin.
2. Coindirect
Coindirect is a cryptocurrency exchange launched in 2017 and it offers 2 types of accounts to its users.
Business accounts help merchants integrate cryptocurrency into their business while with the Personal account, you can trade 24/7 and enjoy other services from Coindirect.
You can buy and sell Steem from its market place or it can be converted from other major digital currencies on its crypto-conversion service.
The payment methods include local currencies (like NGN, ZAR, EUR, etc), bank transfers, PayPal, fiat deposits, direct deposits, and M-Pesa.
3. Changelly
Changelly( which was once a subsidiary of the Minergate team but not anymore) was launched in 2015.
It partners with MyEtherWallet, Exodus, Binance, BRD, Edge, Coinomi, Simplex, Trezor, Ledger, Enjin, Indacoin, Huobi Wallet and other well-known players in the crypto industry.
The supported cryptocurrencies include:
Bitcoin (BTC)
Litecoin (LTC)
Monero (XMR)
Dash (DASH)
Steem(STEEM) and 100+ more
4. ShapeShift
ShapeShift is a non-custodial exchange i.e user's funds are not held on the platform.
It was founded in August 2014 by Erik Voorhees supported by a team of highly trained individuals
It lets you swap one crypto for another e.g BTC for ADA, ETH for STEEM seamlessly.
As of June 2015, the platform allows you to swap 25 different cryptos. But since 2019, it has increased it to over 50 digital assets and 980 trading pairs.
Other exchanges where you can buy STEEM include UpBit, Poloniex, HitBTC, etc.
Now that you have got some STEEM coins, let me show you how you can store it safely.
Read that up below.
---
Top Wallets for Steem
The best wallets for storing STEEM are:
1. eSteem
eSteem is a user-friendly wallet that you can use to send, receive, and store your STEEM coins.
As I discussed earlier, it also helps people access blog materials and posts.
This wallet is linked to your Steemit platform account, so you will have to use the password and private keys from your Steemit account.
It is considered as one of the best Steem wallets that is available for iPhones, iPads, Android as well as PC, Mac or Linux devices.
2. Steemit
Steemit is an online wallet for Steem that keeps your assets more securely than any traditional website.
If you create an account on the Steemit platform, you are automatically given access to your very own wallet.
It allows you to deposit funds from another wallet (like a cryptocurrency exchange), send your Steem coins to another wallet, or just leave them there.
Steemit stores your private keys which you can access through your settings menu.
This then implies that if anyone knows your password, he/she can view your private keys.
3. Vessel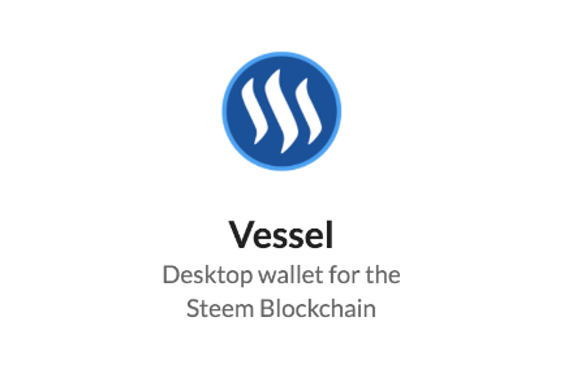 This is a desktop wallet that can be downloaded on your computer.
For the Vessel wallet, the private keys are stored in the wallet itself, making it secure.
Each time you send coins from the Vessel wallet, the private keys are never broadcasted to the blockchain.
It is user-friendly thus it is well suited for beginners.
It is seen as one of the best Steem desktop wallets.
4. Command Line Interface(CLI) Wallet
This is the official Steem coin wallet and can be downloaded on to a desktop computer.
It is actually the safest way to store your Steem coins as you will have to download the blockchain client. This allows you to connect directly to the Steemit web socket.
But then, despite being the most secure wallet, this Steem wallet is difficult to use.
CLI is not designed for beginners as the users must have lil' knowledge of Command-Line programming.
And as is the case with eSteem wallet, it is not possible to create or generate private keys, so you will need to import them from the Steemit platform. A guide explaining how to use the CLI wallet can be found here.
5. Paper Wallet
A paper wallet is the most basic type of wallet and actually one of the most secure.
The way it works is simple: you only have to print your private keys on to a sheet of paper, write your password on it and keep safely.
And because your private keys are on a sheet of paper, they are not, in any way, connected to the internet and thus hacks-resistant.
Here are the wallets for holding your Steem coins. I answered some of the FAQs below.
Scroll to the next section and learn more.
---
Frequently Asked Questions(FAQs)
Can I mine STEEM?
No. Proof of work mining has been removed from Steem.
How is Steem different from Bitcoin?
On a technical level, the two networks rely on the same model of a blockchain but are built upon different technologies and codebase.
Steem is based on a new state-of-the-art blockchain technology called Graphene, which uses "witnesses" instead of "miners" to produce blocks.
The "delegated proof of stake" model of using witnesses instead of miners allows for greater efficiency in block production.
With Bitcoin mining, 100% of the new coins that are created are allocated to block producers (miners).
With the Steem blockchain, only 10% of the new coins are paid to block producers (witnesses). The other 90% of new STEEM coins are awarded to content producers, curators, and Steem Power holders.
Read more: Bitcoin At A Glance – Vital Facts to Note About the #1 Cryptocurrency
What can I do with my SBD tokens?
– Convert to STEEM via your wallet (takes 3.5 days)
– Exchange for STEEM in the internal market
– Withdraw to an exchange, and trade for BTC or other digital tokens
– Purchase items through third-party stores that accept SBD tokens
What can I do with my STEEM tokens?
– "Power Up" to Steem Power
– Exchange for SBD in the internal market
– Withdraw to an exchange, and trade for BTC or other digital tokens
– Purchase items through third-party stores that accept STEEM tokens
---
Conclusion
And see…We've 'steemed' 🙂 through and have now arrived at this very last part!
While 'steeming', we looked at the different tokens of Steem, its top apps, exchanges, and wallets. I further explained how you can earn from Steemit and answered some FAQs too.
So now, I want to ask:
Do you have an account with Steemit or you are yet to create one?
For your rewards, will you work with SBD or decide to power them up with Steem Power?
Considering that no hardware wallets store this coin, which of the listed wallets will it be for you?
Or maybe you still have some questions apart from the answered FAQs?
Let me know about it all in the comment section below ASAP. Hopefully, we can learn from each other.
And need I remind you to share this post? Opss… I just did!
So just share via the buttons right below.