Bitcointradings(dot)org has caught our attention; everyone seems to be talking about them. The question is, are they a credible organization? Can they be trusted to deliver on their promises?
Before you jump ship to join the bandwagon I'll like you to think about the following:
Will you deposit your money in a bank where staffs are dressed in torn jean trousers, sipping whisky, and smoking Indian hemp? I guess not. Why because you will probably have sleepless nights after doing that.
Will you bank with a Bank named "Zule Zoo"? I guess not. Why, because it is not a popular bank. You will rather go for Zenith, Gtbank, Diamond Bank etc…
Finally, will you invest in a platform run by ghosts? One whose ownership is unknown? I guess not. Because you will rather invest in a platform where someone can be held accountable when things go wrong.
All smart investors have one thing in common; they try as much as they can to eliminate risk. I believe you are a smart investor; you heard about bitcointradings .org and have come in search of more information as to their authenticity before putting your hard earned money on the line.
We have done our homework on Bitcointradings. org and are happy to share our findings with you. This review holds nothing but the truth — bare and undiluted.
What is Bitcointradings .org?
This is a question that the platform's owners themselves have failed to answer, but not to worry we will put you through. The first part of Bitcointradings official website claim the platform is "the fastest and easiest way to buy and sell Bitcoins" guaranteeing its customers speedy transactions at affordable rates.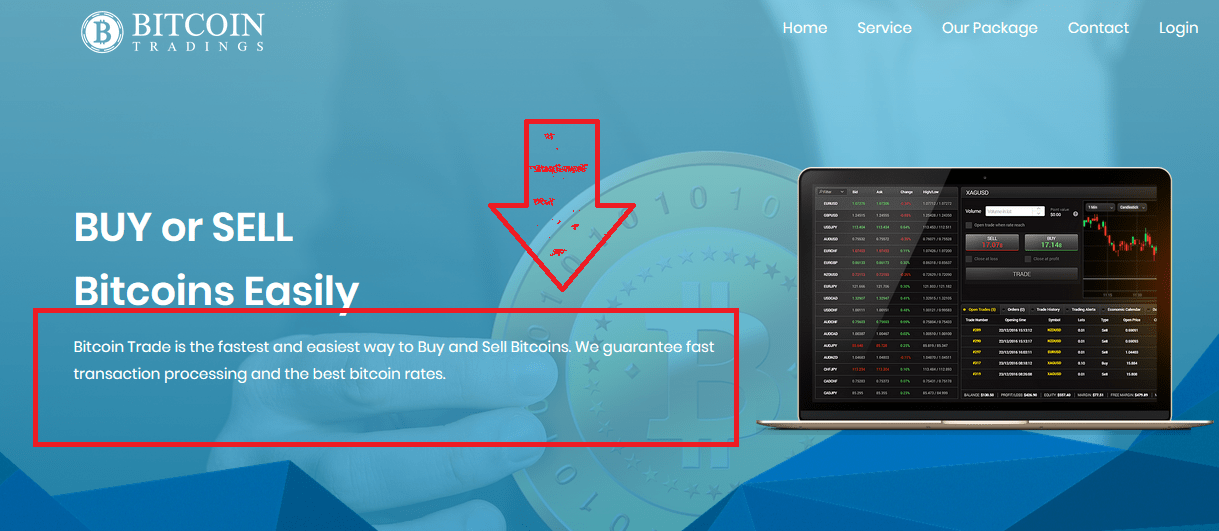 Along the line, their motives mysteriously transformed from buying and selling Bitcoins to being an investment platform where members are allowed to invest between N5,000 Naira to N200,000 Naira to get 50% profit within a period of 10 days.
Just when we were contemplating on their true motive, boom! The organization's name transformed from Bitcointradings to Bitfund. Claiming Bitfund will only fund the bank accounts provided during registration.
Is Bitcointradings a Bitcoin exchange (buying and selling Bitcoins) or a Bitcoin investment platform (providing users with 50% return on their investment within a period of 10 days)? Should we address the organization as Bitcointradings or Bitfund?
If the organization is having such a tough time identifying itself, how then does it propose to provide its users with a 50% weekly ROI?
Your guess is as good as mine.
Where Is Bitcointradings Based, Who Owns The Organization?
Smart investors do not invest in ghost ventures; someone has to be responsible for the safety of their funds. Sadly, the people behind Bitcointradings are unknown, the site is basically a marketing page aimed at luring-in new investors.
We took the liberty of going into further research into the site's domain ownership, registration and hosting details to see if we can find out its actual owner details. Here are our findings:
According to our findings illustrated in the image above, the domain bitcointradings. org is registered on Spiritdomains and cost roughly N3,150 Naira ($9). Which is a cause for concern.
What is Spiritdomians
Spiritdomains is a secretive American web-based internet service provider that offers domain names and webhosting services amongst others. Their services include: cheap domain name registration, website hosting, web design and website builder tools.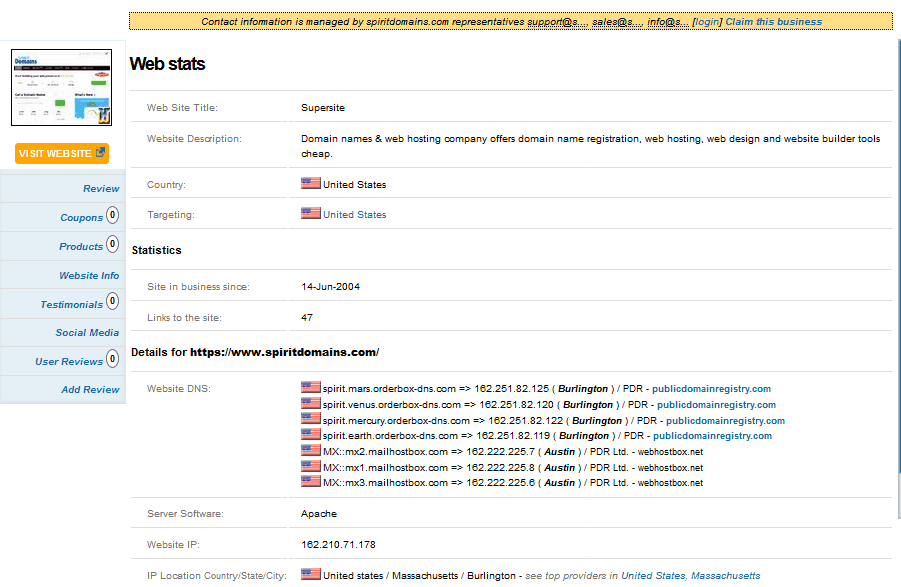 What I Think Of Bitcointradings .Org
From all indications, whoever created bitcointradings. org is on a budget him/herself. I believe no legitimate financial organization will run their services on such an insecure platform.
Secondly, the domain "bitcointradings" was registered by an organization called "Thinkbig inc." which happens to be non-existent.
Thirdly, whoever registered the domain resides in Abuja, Nigeria.
Meanwhile, Bitcointradings claims to be located in "Box 564, Disneyland, USA.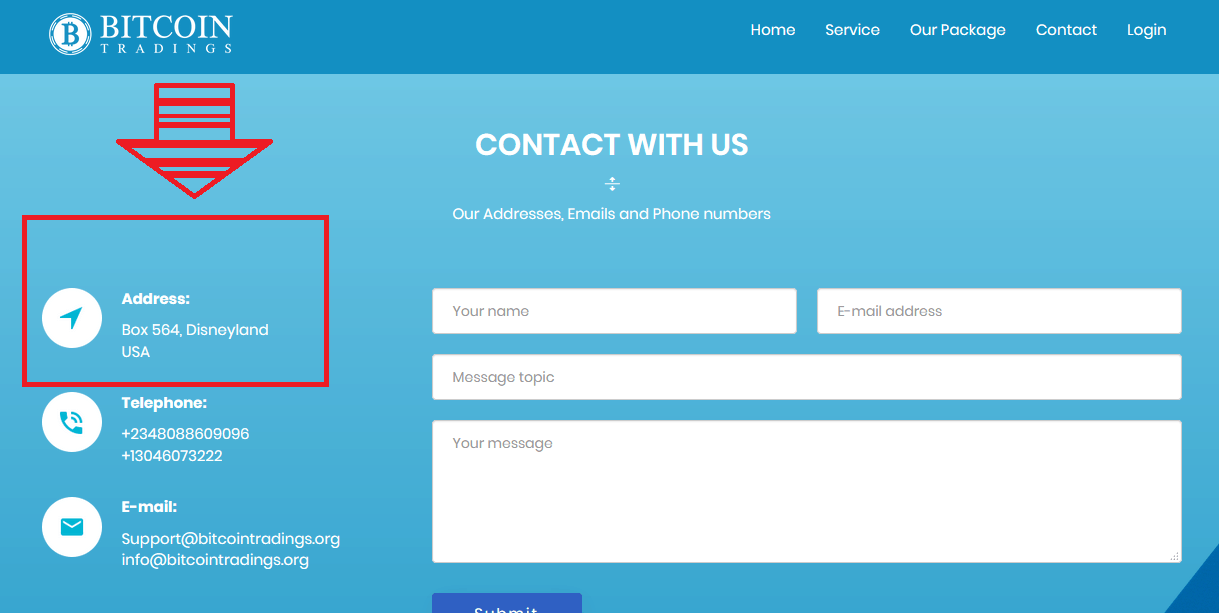 I leave it to you; will you invest your money on a platform like this?
Is Bitcointradings A Total Scam?
Sorry to burst your bubble, my answer is YES! Bitcointradings is a total scam. Here are my reasons:
The people behind Bitcointradings do not wish to be known, this can only mean one thing – they are fraudsters.
Bitcointradings was registered in Nigeria but claim to be based in Disneyland, USA. (That sounds silly to start with).
The platform is not really sure of its true identity – bitcointradings or bitfund
They claim to have over a million users worldwide which is obviously a lie.
They claim to have experienced Bitcoin traders who are capable of racking in 50% weekly profits, consistently (no proof to back this claim).
Putting your money here is as good as throwing it into a Lagoon. Only that, It will definitely not be eaten by fishes this time, but by a bunch of thirsty animals behind a computer, who survive by preying on other peoples hard earned money.
If you are really interested in knowing more about Bitcoin and how you can profit from them, I suggest you scroll down and sign up for our daily newsletters while we take it up from there. Thank you.
[widget id="custom_html-4″]