In the post of today, I did a total comparison of 2 cryptocurrency exchanges: Paxful vs Remitano
Both exchanges pull their weight in the crypto exchanges world and offer peer-to-peer(P2P) services.
They primarily connect buyers and sellers for trade and supervises the transaction. This, they do, using the Escrow system.
Paxful and Remitano have also grown to include other services to that of P2P which they offer.
At the end of this post, you will find out which is the best option in terms of reputation, worldwide availability, supported cryptocurrencies, payment methods, e.t.c.
You are ready to start up, right? (Can hear your curiosity clock ticking already!)
So welcome aboard as we go down this discovery lane together .
---
Post Overview
For the comparison to go smoothly, I will be discussing it under these subheadings:
You will get to see the details of each subheading once you click on it.
Bonne lecture! (Oops….it's supposed to be English)
Okay… Happy reading!
---
Brief Overview of Both Exchanges
Paxful was founded by Ray Youssef and Artur Schaback in 2015 and is headquartered in the USA.
It serves users from all over the world except countries banned by the Office of Foreign Accounts Control(OFAC).
Its services include:
P2P market
Wallet
Kiosk service
Vendor service
Affiliate program
On the other hand, Remitano was registered in 2014 and launched in 2016. It was incorporated in Seychelles and is owned by Babylon Solutions Limited.
Remitano offers the following services:
P2P exchange
Wallet
Remitano invest
Remitano swap
Affiliate program
As mentioned earlier, both exchanges are peer-to-peer exchanges. Other exchanges in this category include:
The exchanges both have their strengths and weaknesses and on this basis, I will compare the 2 exchanges.
See that in the next section.
Read also:
---
Comparison: Paxful vs Remitano
S/N.
Parameters

Paxful

Remitano

1.
Supported
Countries
Worldwide
except OFAC
banned countries
58 countries
2.
Supported
Cryptocurrencies
BTC
BTC, ETH, LTC,
BCH, XRP, USDT
3.
Payment
Methods
More than 300
Fiat currencies
(varies with
users country)
4.
Transaction
Fees
0.1 – 5%
1%
5.
Customer
Support
Average
Excellent
6.
Verification
Requirements
Phone number
Email
ID card
ID card
Selfie
Date note
7.
Visit Site
Visit Paxful
Visit Remitano
8.
Read Review
Paxful review
Remitano review
I compared Paxful and Remitano based on the following parameters:
Supported countries
Supported cryptocurrencies
Payment methods
Transaction fees
Customer support/Reputation
Verification requirements
Now, let's get down to business.
1. Supported Countries
Paxful supports users from all around the world except these countries:
Burundi, Central African Republic Sanctions, Cuba, Crimea region, Iran, Iraq, Lebanon, Libya, North Korea, Somalia, South Sudan-related Sanctions, Sudan and Darfur, Syria, Yemen.
And currently, Remitano supports users from 58 countries:
Algeria, Argentina, Australia, Bangladesh, Belarus, Bolivia, Brazil, Brunei, Cambodia, Canada, Ivory Coast, China, Colombia, Denmark, DR Congo, European Union, Ghana, Indonesia, Israel, India, Iran, Italy, Japan, Kenya, Mexico, Malaysia, Myanmar, Namibia, Nigeria, Netherlands, Nepal, Norway, New Zealand, Oman, Peru, Philippines, Pakistan, Poland, Portugal, Qatar, Russia, Rwanda, Singapore, Spain, Sweden, Taiwan, Tanzania, Thailand, Turkey, UAE, Uganda, Ukraine, United Kingdom, United States, Vietnam, Venezuela, South Africa, South Korea, Zambia, Zimbabwe.
2. Supported Cryptocurrencies
While Paxful is solely a Bitcoin exchange, Remitano supports 6 cryptocurrencies at its exchange and wallet services namely:
But at its investment, Remitano supports the following cryptocurrencies:
EOS
Binance Coin
Cardano
Stellar
Tron
3. Payment Methods
Paxful has 352 payment methods listed as follows:
9 Bank Transfer options (SWIFT, SEPA, e.t.c.)
114 Gift Cards (Amazon, iTunes, e.t.c.)
128 Online Wallets (Skrill, PayPal,e.t.c.)
55 Cash options (Bank deposits, Cash in Person, e.t.c.)
26 Digital currencies (ETH, LTC, e.t.c.)
20 Credit/Debit Cards (Visa/ Master cards, e.t.c.)
Remitano accepts buying and selling only by instant online bank transfer in the currency of the user.
For example, users from Nigeria will pay with Naira(NGN).
4. Transaction Fees
Here is a breakdown of Paxful's fees:
Bank Transfers: …………….0.1%
Credit/Debit Cards: ………….1%
Digital Currencies: ……………1%
Online Transfers: ……………..1%
Cash Deposits: …………………1%
Gift Cards: For iTunes and Google Play gift cards, it charges 5% and 2% for every other gift card
Remitano charges the following fees:
P2P Exchange
Investment Fee
When investment closes at a profit – 1%
When it closes at a loss – 0%
Deposit and Withdrawal Fees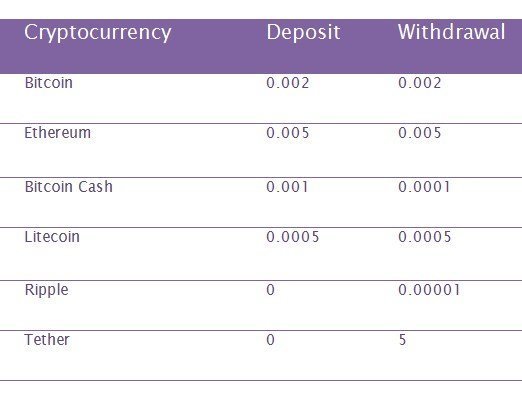 5. Reputation and Customer Support
Paxful has a user-friendly interface that is smooth and catchy with a very comprehensive FAQ section that answers almost every query a user may have.
You can also reach out via its support forum but sometimes, it takes hours before you get a reply.
It has an average rating on Trustpilot but has most of the complaints from users bordering on unsolved disputes, loss of funds to scammers, and unanswered queries.
Remitano is rated excellent on Trustpilot with most reviews commending the friendly interface and how fast transactions are completed.
It has a 24 hours customer support through live chat but sometimes takes a while to reply to inquiries.
It sends the reply to your questions via email if you are offline at the time of response.
6. Verification Requirements
To verify your account on Paxful, you will need the following:
Level 1 – Phone number and email verification
Level 2 – Level 1 + ID verification
Level 3 – Level 2 + address verification
Level 4 – Level 3 + EDD (Enhanced Due Diligence) or CDD (Customer Due Diligence)
For Remitano, you will need to upload:
ID card
Selfie + ID card
Date Note + ID card
Having looked at these exchanges under the various parameters, which is the best – Paxful or Remitano?
Find out in the next section.
---
Paxful vs Remitano – Which is Better?
To answer this question, I will be revisiting some of the parameters discussed above.
Paxful is just a year older than Remitano and supports more countries than Remitano.
Remitano supports 58 countries; far less than its older brother(Paxful) but has more responsive customer support.
Paxful supports only Bitcoin and its prices are slightly higher than that of other exchanges because of the vast payment options it provides.
But Remitano offers more cryptocurrency options both at its P2P exchange and at its investment corner.
Well, the better option all boils down to what you want at every given time.
Assuming you want to buy/sell not just Bitcoin but other cryptos too, Remitano is the better option.
This is because you have more coin options there.
The key constraint you might have when you choose Remitano is that it might be unavailable in your country.
To aid you to make a smart choice, you can read up our Paxful review and also check out the complete review and comparison of Remitano too.
Read further:
---
Conclusion
Now that we've come to the end of the walk down the discovery lane, you can cool off at this point.
Know your note pads are without spaces now.
Okay… Let me know all about it; the questions inclusive.
Have you had any experience(good or bad) using either Paxful or Remitano that you want to share?
Can you think of anything the exchanges need to improve on?
Or you just need your questions answered?
No problems at all…just let me know at once in the comment section.
And as usual, hit the share buttons below to help someone make a smart choice today.
---