The review is about Naira2USD, the exchange that lets you buy and sell bitcoin and other digital currencies without verification.
Naira2USD is an e-currency exchange platform located at Onitsha, Anambra State, Nigeria.
It specializes in the buying and selling of digital currencies like Bitcoin, Ethereum, Perfect Money, Neteller, PayPal, etc.
In this review, you will learn all about Naira2USD, the digital currencies that are supported on its exchange platform, its transaction fees, limits as well as the countries it supports.
Let's get started.
---
Naira2USD Review Summary
Naira2USD offers a virtual credit card that helps users to verify their Paypal account. To smoothly walk you through this review, here is what I will be covering.
Are you ready? …….Leggo!
---
1. Company Overview
Naira2USD has been in operation since 2015 and still counting. The company is a subsidiary of Simac C and S Services – A tech company that provides online solutions like Telecom and Bulk SMS, Email marketing, and Marketing consultancy.
The company offers users the opportunity to easily purchase digital currencies through basic payment methods like bank deposits, mobile transfer, etc. It also has an easy to use interface. Thus this makes it very easy for everyone to buy their desired currencies in a more reliable and convenient way possible.
Kudos to Naira2USD
Also read
Top 9 e-currency exchanges in Nigeria
---
2. Naira2USD Services
Naira2USD offers 3 services to its users. These services include; Buy and Sell E-Currency, Pay4Me, and VCC & VBA. Customers can access these services from the Naira2USD dashboard.
1. Buy and Sell E-Currency
This is the section where users usually purchase and sell their desired e-currencies like Perfect Money, Skrill, Neteller, PayPal, Payoneer and cryptocurrencies like Bitcoin, Ethereum, Ripple, Litecoin, Dash, etc.
2. Pay4Me
The Pay4Me service provides solutions to people that need to buy products or pay for services with other online payments. Such online payments include; PayPal, Payza, 2Checkout, Digital Rivers, Worldpay, etc.
Some of these online payment systems do not accept payment from Nigeria. Others will not accept Nigerian issued credit/debit card and that is where Pay4Me service comes into play.
To make use of the Pay4Me services, you will simply have to;
First, log into your account,
Click on the drop-down icon to the left of your dashboard.
Click on the "ORDER E-CURRENCY" option
On the E-currency account, enter the URL of the item you want to buy. Also, enter your username and password if needed for checkout.
Click on submit and wait for feedback from the Naira2USD team.
The Naira2USD team will contact you through email on how you will go about everything.
3. VCC and VBA
VCC stands for Virtual Credit Card while VBA stands for Virtual Bank Account. The VBA is used to verify a PayPal account, while a VCC is used to confirm a PayPal account.
Thus Naira2USD offers the VCC and VBA service to help customers whose money or real earnings cannot be withdrawn by local payment methods.
The Naira2USD team offers its users a special Virtual Prepaid Credit Card with a validity period of 1 year. This could be used to verify your PayPal account be it that of the United Kingdom, United Arab Emirates (UAE i.e. Dubai), South Africa, Cyprus, Luxembourg, etc.
So you can convert real earnings to your PayPal account and then deposit the money to your local banks for withdrawal.
Isn't that great?
---
3. Available Currencies and Payment Methods
The following currencies are listed on Naira2USD's exchange (currently).
Cryptocurrencies
Customers can contact support if the desired cryptocurrency they wish to buy or sell is not listed on the exchange.
E – Currency
Perfect Money (USD)
PayPal (USD)
Skrill (SK)
Neteller (NT)
Payoneer (PY)
Fiat Currency
Nigerian Naira (NGN)
American US Dollar (USD)
Payment Methods
Bank deposit
Mobile transfer/Online Transfer
ATM transfer
Cryptocurrency
Nira2USD gladly accepts payments through cryptocurrency like Bitcoin. This is because transferring bitcoins is fast and easy.
---
4. Transaction Fees and Limits
Naira2USD does not charge outright fees. Its transaction charges are incorporated in its exchange rate which varies from time to time and from currency to currency.
As at the times of this writing this post, Naira2USD buys bitcoin at the rate of N330/USD and sells at the rate of N385/USD. The official market rate for Naira/USD is N360/USD thus Naira2USD makes N30 for each USD worth of bitcoin it buys and N25 when it sells. The rate on other currencies is displayed on the home page.
You can also check out the exchange fees of the 10 best bitcoin exchanges in Nigeria.
Moving further; is verification required when buying and selling on Naira2USD?
Naira2USD has an account verification option but does not place limits on unverified accounts. Users on this platform can buy and sell any amount of coins their heart desires.
Thus this makes it a safe haven for individuals who will like to transact large volumes while keeping their true identities secret.
Wow, let's move on……shall we?
---
5. Supported Countries
---
6. Customer Care and Public Viewpoint
Naira2USD is responsive as other exchange platforms like Blockvila, NairaEx, and Alphabits in terms of customer support. This is due to the fact that it takes customer care services seriously and has made itself available through various mediums. Such mediums include; E-mail, Mobile numbers and also a live chat feature on their website as seen below.
After providing the necessary information, click 'Start Chat' and they will reply to you within a minute.
Sometimes if the customer care personnel don't reply to you via Livechat, they will do it through your email.
Furthermore, Naira2USD can also be contacted on social media like Facebook, WhatsApp, Telegram, etc.
---
7. FAQs
This is the section where we see frequently asked questions on the exchange platform. Here are a few FAQs we can see on the platform:
1. How do I create an Account on Naira2USD?
To use the Naira2USD exchange, you must create an account on its platform. To do so,
– Head over to Naira2USD
– Click on Register
– Fill in your details and click 'Register'
– Within a minute you will receive an email to successfully signing up on Naira2USD
– Confirm your Email address


After your account has been successfully created, you can log in and complete the empty fields on your profile. Fields such as; your bank details and currency wallet addresses.
Now that you have an account on Naira2USD, lets purchase digital currencies.
2. How can I Buy Digital Currencies on Naira2USD?
Like I earlier said, to make use of this platform, you need to create an account. Once you've created an account, you can then proceed to login and transact.
The process of buying digital currencies on Naira2USD is relatively easy, all you have to do is:
– Log into your account,
– Click on the drop-down icon to the left of your dashboard.
– Click on the "ORDER E-CURRENCY" option


– Select the Buy option and choose the desired currency. Enter the amount you wish to buy and input your wallet address in the "Account details" section. Click on "Proceed".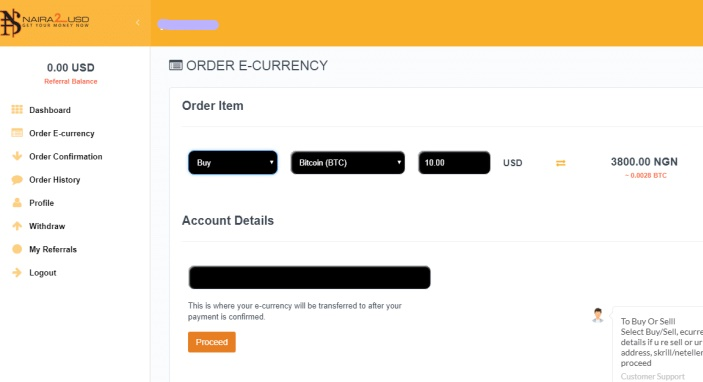 In the next window, select a payment method. And click on "submit"


An invoice will be generated with instructions on how to make payment. Then follow the instructions — make payment and wait for your currencies to reflect on your wallet address.
The reverse is the case when selling digital currencies on Naira2USD. You just have to;
Log into your account,
Click on the drop-down icon to the left of your dashboard.
Click on the "ORDER E-CURRENCY" option
Select the sell option and then follow the steps accordingly.
3. How can I convert E – Currency to Cash?
You can also convert e-currency to cash. The e-currency will be credited to your bank account. To do this, you will have to follow the steps listed below;
– First, head on to Naira2USD website
– Click on the LiveChat icon below,
– Fill in your Name, E-mail, and Phone number with the right details.
Write your request in the 'Question' area explaining what you want,
and then click 'Start Chat'.
– You will receive an e-mail from the Naira2USD team after approving your request. The equivalent amount of your e-currency will be credited into your bank account in less than 15mins.
As simple as that…..
---
8. Conclusion
Naira2USD is a big and responsive exchange company. It has a physical address and is legally registered under its parent company (Simac C and S Services). This means that you can take legal actions if discord arises while using its trading site.
However, the exchange is not flawless as can be seen from the pros and cons below (see product rating below). The exchange platform is a decent choice for beginners as well as any average cryptocurrency enthusiast despite its flaws.
I'm confident that in this post, we have learned;
What Naira2USD is,
The available currencies it provides,
Payment method, countries it supports and so on.
Now I'd like to hear your opinions and thoughts in the comment section below,
Tell me,
Do you have an account with Naira2USD yet?
If so,
What do you like about its exchange platform?
In what ways do you think this exchange can upgrade?
What cryptocurrencies do you feel should be added on its exchange platform?
Leave a comment below in the comment section.
Lastly, if you enjoy reading this post and want to encourage me to keep pushing out awesome content like this, kindly share this post.
Thank you.