This review is all about Monicko – a Nigerian-based exchange for Bitcoin transactions.
Monicko is an exchange where you can buy Bitcoin in Nigeria without a bank account.
This feature makes it easier for more persons to have access to cryptocurrencies as other cryptocurrency exchanges do not offer it.
At the end of this post, you would have fully understood how Monicko works that you would have carried out your first trade.
Ready to find out all about Monicko?
Let's just get down to business.
---
Monicko Review Summary
Here, I gave a breakdown of what this review will cover. This aids for easy understanding and navigation.
The subtopics to be covered include:
Clicking on any of these subtopics opens up to its details.
Now, having outlined the subtopics to be discussed, the review starts in earnest from the next section.
Leggo!
PS: It will be nice if you have something to jot with. It might come in handy when you come across really crucial points that you need to take note of.
---
What is Monicko? – An Overview of the Exchange
Monicko is a broker exchange that was founded by Lotanna Amobi, a skilled cryptocurrency trader, and an entrepreneur.
It was founded as BinaryFlipper in November 2018 but later rebranded to Monicko in January 2020.
This change was due to the misconceptions arising from the name that made users believe the exchange is into binary options.
This exchange is registered with the Corporate Affairs Commission(CAC) in Lagos, Nigeria with branches in Ibadan, Abuja, Abeokuta, and other cities in Nigeria.
This exchange allows you to buy Bitcoin in Nigeria without a bank account (i.e when using the cash deposit payment option).
Users simply make cash deposits into the exchange's account at the bank, upload proof of payment, and just receive their coins!
Monicko hopes to expand its service to every state in the country and to the world at large.
Now, that is Monicko in a nutshell. Below, I listed the features of the exchange.
Find the list right below.
---
Features of Monicko
Great user interface
Instant transactions
Multiple coins support
Increased security
Fast execution of orders
Next in the line of discussion is the products and services Monicko provides.
Read about that in the next section.
---
Monicko's Products and Services
At the moment, Monicko offers only the following services:
Buy Crypto
Sell Crypto
1. Buy Crypto
This involves buying crypto from the exchange by placing an order.
To do this, you will need to follow these steps:
Create an account with Monicko and log in
Click on the menu on the left-hand side of the page and select 'Buy'
Choose 'Buy Now' from the drop-down menu and select the crypto you want to buy
Input the amount and your wallet address(where the coins will be sent to)
Choose the desired payment method and confirm that the information you entered is correct
Go ahead and make the payment (the account number is stated therein)
Upload the proof of payment and click the 'Buy Now' button
Wait for your order to be attended to
Before going ahead to place a 'Buy Order', take note of the following:
The minimum buy amount is $20 for all coins to be bought. Crypto orders below this amount will not be processed and there will be no refund.
Your profile has to be updated. You can do that by going to 'Menu' then clicking on 'Settings' and selecting 'Profile' from the drop-down menu.
You have to verify your account before choosing to use the Bank Transfer payment method.
2. Sell Crypto
This takes the same pattern as that of buying. You will have to place a Sell order and wait for it to be executed.
To do that, you will have to do the following:
Create an account with monicko.com and log in
Click on the menu at the top left-hand side and select 'Sell'
From the drop-down menu, select 'Sell Now'
Select the crypto you want to sell and input the amount ($20 minimum Sell amount)
Then copy the wallet address provided and send the exact amount of crypto to it
Click on 'Sell Now' and then wait for your order to be executed
That's it about the services Monicko provides.
Moving ahead, I will be talking about the supported countries and currencies next.
Check that out below.
---
Supported Countries and Currencies on Monicko
Country
As at the time of this review(May 2020), Monicko only serves users in some states in Nigeria.
However, the team at Monicko is working tirelessly to expand its services to every state in the country and the world at large.
Currencies
Listed above are the currencies and country Monicko supports.
Now, it's getting interesting, right?
Will be talking about how payments can be made on Monicko in this next part.
Scroll down to read.
---
How Do I Make Payments on Monicko?
Monicko accepts payments in 2 ways:
Cash deposit at the bank
Bank transfer
1. Cash Deposit at the Bank
This is just you going to the bank to make payment using the account details on the site (at the 'Buy' section).
Afterwards, the proof of payment is uploaded to the site and your order is then completed.
Your profile has to be updated for you to use this option.
2. Bank Transfer
Here, you have to transfer funds from your own account to Monicko's account.
When the proof of payment is uploaded, orders are executed.
You have to update and verify your account to use this payment option.
Talking about verifying your account, how does one even do that?
Find that out below.
---
Verification Requirements
To get verified on Monicko, you are required to provide:
ID card (National ID card, Driver's license, International passport)
A selfie of you holding your ID
Steps to do this are:
Click on 'Menu' and select 'Settings'
From the drop-down menu, select 'Verify account'
Upload the image of your ID card
Capture a selfie of yourself holding the ID card and click 'Verify Now'
This process takes 1 – 2 working days.
---
Fees and Limits on Monicko
Fees
Monicko does not charge its users any trading fees. However, that does not mean that the platform runs on water.
It is safe to say that the fees are squeezed into its rates i.e what you see is what you pay.
Limits
This depends on your account i.e whether verified or not. Details in the table below.
Account Type

Buying Limit

Selling Limit

Available Payment Options

Verified
No limit
No limit
Bank transfer
Cash deposit
Unverified
5 million naira
5 million naira
Cash deposit only
That's it on the fees and trading limits.
The review is gradually coming to an end but before that, let's look at Monicko's customer support.
Read on.
---
Customer Support and Public Opinion
Monicko has a very responsive Live Chat on its home page (it replies within seconds).
Further inquiries can be sent to:
You can also follow them on social media:
Facebook – facebook.com/Monicko
Instagram – instagram.com/monickohq
There are no reviews found on TrustPilot and Reddit except the 4 positive ones left by users on its home page.
Below, I provided answers to some frequently asked questions about Monicko.
Read about that right below.
---
Frequently Asked Questions (FAQs)
How do I start up with Monicko?
1. First of all, you have to create an account. To do that, go to monicko.com and click on 'Buy/Sell Now'.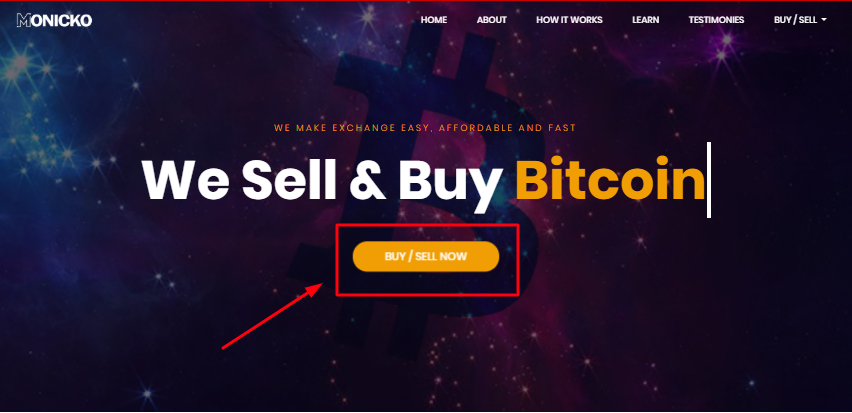 2. Click on 'Register'.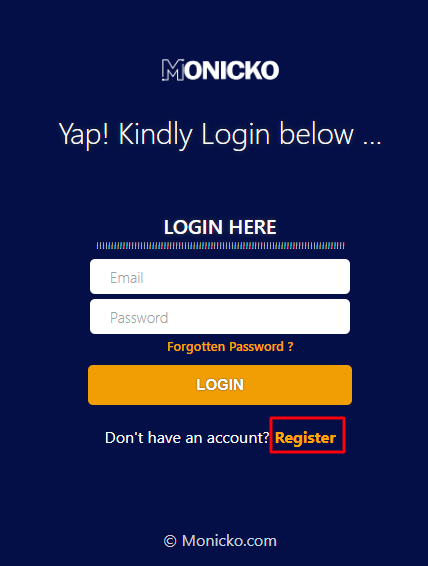 3. Input your email details, check the 'Terms and Conditions' box, and click on 'Create Account'. A confirmation email will be sent to your address.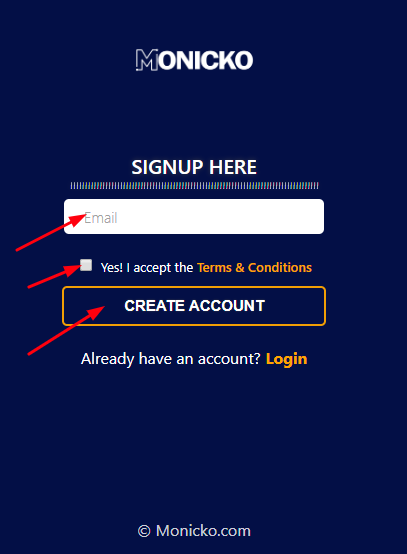 4. Click on 'Confirm email' from your email and it opens up a form.


5. Provide your phone number and password and then click 'Create Account'.


6. Your registration is now successful. You will have to log in to continue.

7. You can go ahead and verify your account to enable you to use the 'Bank Transfer' payment option or continue without verification.
What is the minimum Buy/Sell amount? What happens when I go below it?
The minimum Buy/Sell amount is $20.
When you input an amount below $20, your order will not be processed and you will not get any refund.
Always confirm the details of your order before submitting it to avoid loss of funds.

How long does it take to execute an order?
Order execution takes 5 – 15 minutes after the confirmation of a user's payment.
Can I use Voter's card for my verification?
No, please.
The only documents accepted are:
– National ID card
– International passport
– Driver's license
Is Monicko legit?

Monicko is an exchange where you can:
– buy crypto with either bank transfer or cash deposit in a bank
– sell your crypto for naira which will be paid into your naira bank account
It has a known owner and is registered with the CAC in Nigeria.
Furthermore, Monicko's team of trained professionals work round the clock every day to assist users and process orders as fast as possible.
So far, there has been no report of fraudulent activities about the exchange.
But then, I still advise that you carry out your own findings too before going ahead to make any investment.
---
Conclusion
So, we've come to the last section of the Monicko review – an exchange where you can buy Bitcoin in Nigeria without a bank account.
So far. I have walked you through how Monicko operates, its fees, limits, and every tiny detail you need to know about this exchange.
Now, I want to hear from you:
Have you gone ahead with your first trade or you're yet to sign up with the exchange?
What fave coin of yours will you want the exchange to list?
Considering the efforts of the team at Monicko, do you see it becoming one of the top exchanges in Nigeria?
Leave me your thoughts on these and your questions(if any) in the comment section below; will be checking back for them.
And yes, you guessed right what I'm about to say: Share this post!
Who knows, you might be helping out a friend who needs it direly.
The share buttons are right below.
---
You can also check out these other solid reviews from our blog: