Ever wanted to make a USDT transaction on the Arbitrum network, only to get stuck because you discovered you only have USDT on the Polygon network?
Dealing with such a scenario can be pretty daunting.
However, there's good news! If you are a MetaMask user, you can effortlessly overcome this obstacle with the help of the MetaMask Bridge.
In this post, I will guide you on how to use the MetaMask Bridge.
---
What Is MetaMask Bridge?
MetaMask Bridge is a feature on MetaMask that enables users to move tokens from different blockchain networks seamlessly.
Interestingly, users can transfer tokens to and from up to 5 blockchains, including Ethereum, Polygon, Arbitrum, and the rest.
It is important to note that blockchain bridges are protocols or DApps facilitating interoperability among blockchains.
The MetaMask Bridge is not stand-alone.
However, it acts as an aggregator, surfing through multiple independent bridges to present users with the best quote for their cross-chain transaction.
The MeatMask Bridge is available on both the Chrome extension and the mobile app
---
How To Use The MetaMask Bridge
Looking for a hands-on tutorial? Watch Jude Umeano as he performs and guides you through using the MetaMask Bridge in this video.
However, if you prefer reading, follow this step-by-step guide below.
Step 1
Open the MetaMask Bridge. The method for doing this varies depending on the MetaMask version you are using.
If it is through the Chrome extension, unlock your MetaMask and select "Bridge," displayed in the centre of your screen. Once opened, connect your MetaMask.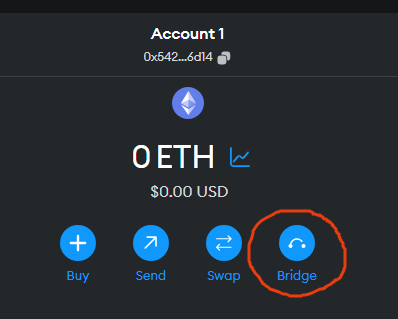 If it is the mobile app: Unlock your wallet, select "Browser" and search for "portfolio.metamask.io/bridge", then connect your wallet.
Step 2
Proceed to bridge your token!
Click on the drop-down menu to select the blockchain you want to bridge to
Note that you are bridging from the blockchain where you already have funds. (More about this later).
Similarly, proceed to select the specific token of your choice and enter the desired amount of the token you wish to bridge. The corresponding equivalent will be promptly displayed.
MetaMask aggregates multiple bridges and presents you with the one with the best quote at the moment.
Click on the "Submit transaction" button displayed underneath the quote. You will receive a prompt to confirm the transaction and you proceed to do so.
Finally, once your transaction is approved, your token will be transferred to your desired blockchain.
You can view the token by switching to the network you bridged to from your wallet.
If you wish to learn how to switch to different networks from your MetaMask, click here.
Note:
i. The minimum amount you can bridge with the MetaMask is $10. However, certain blockchains may have their own specific minimum requirement, which could be as high as $30.
ii. Before bridging your token, you must have the native token of the network you are bridging from since it will be used to confirm your transaction.
If you are looking for an exchange where you can buy your desired native token, consider Bybit.
Bybit is one of the largest exchanges, catering to more than 10 million users worldwide.
Its efficient trading system, simple user interface and support for more than 800 coins make it the heart-throb for crypto traders. Sign up with Bybit today! Interestingly, new users get up to a $30,000 reward.
iii. Before bridging, you will need to select the blockchain where you have your funds. Simply click on the drop-down icon next to the current blockchain box and click on "Add network".
Also, watch this video to learn how to manually add different blockchain networks to your MetaMask wallet.
---
Why Use The MetaMask Bridge?
From scalability to access to a specific DApp on a different blockchain, there are several compelling reasons why the MetaMask Bridge is important.
A user, for example, who wants a higher transaction throughput and a lower gas fee than what Ethereum currently offers can bridge their token to leverage the benefits of alternative blockchains like Arbitrum or Polygon.
Likewise, a user that wants access to another blockchain DApp.
Luckily, MetaMask makes it convenient and secure for such users by allowing them to bridge tokens without falling prey to phishing sites.
Since Joseph Lubin, the founder of MetaMask, hinted at the possibility of launching a MetaMask token, there has been widespread speculation regarding a potential MetaMask airdrop.
Interestingly, one of the criteria to qualify for the airdrop might be the use of the MetaMask Bridge. Do note that this is neither guaranteed nor confirmed at the time of writing (June 2023).
Well, you have reached the end of the post.
Put down your thoughts and further questions in the comment section.
If you enjoyed the post, share it by clicking the "SM" buttons below.