Luno Vs Remitano- These are two major players in the exchange market, especially in Africa. They have made it very easy for thousands of crypto investors to acquire, store and trade cryptocurrencies profitably.
Whether you're a veteran or a newbie in the crypto-verse, you will always be faced with the challenge of finding a suitable wallet, exchange, or trading platform.
Though Luno and Remitano are both exchanges that have built a reputation for themselves over the years, people still want to find out which one has more integrity.
In this review, you will learn which of them is the best.
You will have no problems making a choice after reading this. Let's get down to business.
---
Post Summary
Firstly, they are two different kinds of exchanges. Luno is a Trading platform while Remitano is Peer-to-Peer. However, I have done a good job of comparing them.
To walk you through this, here is a list of everything I will uncover;
Click on any of them to move straight to the content.
---
Luno Summary
Luno is a centralized crypto exchange/ wallet provider. The company was formerly known as BITX in 2013 and later rebranded to Luno in 2017. Headquartered in Singapore, the company now has users in 44 countries.
Luno records its highest trading volume in South Africa followed by Nigeria. They tend to have covered countries where Coinbase is not supported. As a centralized exchange, it acts as intermediaries between its customers and maintains total control over all transactions.
Luno Services / Products
Wallet
Instant Buy and Sell
Exchange
Luno Business
Luno API
---
Remitano Summary
In April 2016, Remitano was launched by Babylon Solutions Limited in the Island of Seychelles. It is a P2P exchange/ wallet provider. As a P2P exchange, Remitano only connects buyers and sellers to trade directly between themselves without a third-party. However, the platform has expanded and offers other services which I will list below.
The company records its highest trading volume in Nigeria with over $600,000 daily trade volume.
Remitano Services
Wallets
P2P Exchange
Remitano Invest
Remitano Swap
Affiliate Programme
---
Luno Vs Remitano
Countries Supported
Luno
Luno currently supports 44 countries. They are;
Austria, Belgium, Bulgaria, Croatia, Cyprus, Czech Republic, Denmark, Estonia, Finland, France, Germany, Greece, Guernsey, Hungary, Iceland, Indonesia, Ireland, Isle of Man, Italy, Jersey, Latvia, Liechtenstein, Lithuania, Luxembourg, Malaysia, Malta, Monaco, Netherlands, Nigeria, Norway, Poland, Portugal, Romania, San Marino, Singapore, Slovakia, Slovenia, South Africa, Spain, Sweden, Switzerland, United Kingdom.
Remitano
Remitano Currently supports 58 countries, they are;
Algeria, Argentina, Australia, Bangladesh, Belarus, Bolivia, Brazil, Brunei, Cambodia, Canada, Ivory Coast, China, Colombia, Denmark, Dr Congo, European Union, Ghana, Indonesia, Israel, India, Iran, Italy, Japan, Kenya, Mexico, Malaysia, Myanmar, Namibia, Nigeria, Netherlands, Nepal, Norway, New Zealand, Oman, Peru, Philippines, Pakistan, Poland, Portugal, Qatar, Russia, Rwanda, Singapore, Spain, Sweden, Taiwan, Tanzania, Thailand, Turkey, UAE, Uganda, Ukraine, United Kingdom, United States, Vietnam, Venezuela, South Africa, South Korea, Zambia, Zimbabwe.
Supported Currencies
These two exchanges started off supporting bitcoin exchange only, currently, 3 cryptocurrencies and 6 fiats are supported on Luno while Remitano supports 6 cryptos.
Luno:
Cryptocurrencies
Bitcoin (BTC)- Send, receive, buy, sell and store.
Ethereum (ETH)- Send, receive, buy, sell and store.
Bitcoin Cash( BCH)- Send, receive and store.
Ripple(XRP)- Send, receive and store.
Fiat Currencies
Euro (EUR)
Indonesia Rupiah (IDR)
Malaysian Ringgit (MYR)
Nigeria Naira (NGN)
South African Rand (ZAR)
Zambian Kwacha (ZMW)
Remitano
Cryptocurrencies;
Bitcoin (BTC)
Ethereum (ETH)
Ripple (XRP)
Litecoin (LTC)
BitcoinCash (BCH)
Tether (USDT)
Fiat Currency;
Remitano supports currencies of the countries supported. If you are in Nigeria, you can use the naira. However, it does not offer have wallets for fiat currencies. Sellers receive their payment directly into their bank accounts from the buyers.
Verification Requirements
Luno:
Luno requires the following data depending on the volume of transaction you want to trade;
Email Verification
Phone Number
ID Card
Proof of Residency
Remitano:
Remitano Requires you to upload the following document;
ID Card
Selfie + ID Card
Date note +ID Card
Transaction Fees
Luno
Luno fees are categorized into 3 parts;
Send and Receive fees
Deposit and Withdrawal fees
Trading Fees
Send and Receive fees:
Deposit And Withdrawal Fees:
Trading Fees:
Takers – 0.25- 1% (Depends on the country you are trading from and trade volume for the last 30days).
Makers – No fee
Remitano:
Remitano fees are in 3 categories;
Deposit and Withdrawal fee
P2P exchange fee
Investment fee
Deposit and Withdrawal Fees: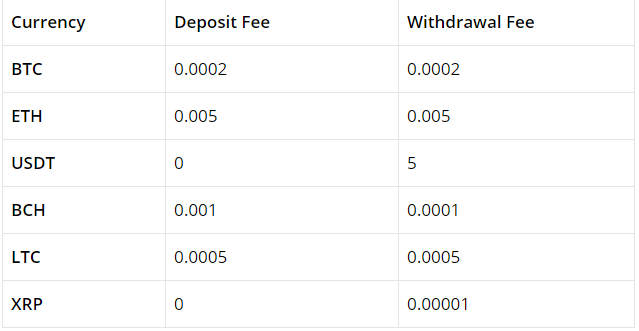 P2P Exchange Fee:
The Makers pay…………….. 1%
Takers pay……………………. 0%
Investment Fee:
1% ………………when you close an investment in profit
0% ………………when you close at a loss
Customer Support/Reputation
Luno's customer support has tremendously improved. It now has a Live Chat that answers questions in real-time. Its email service is now answered almost immediately.
Remitano, on the other hand, has a very good support system right from time. From my personal experience, it has a 'live chat' that replies within 10mins of initiating a chat. Users are allowed to rate its performance on the "Live Chat"
---
My Verdict – Luno Vs Remitano
There is no straight answer to this as both companies have their strengths and weaknesses. In the end, it all depends on what is suitable for you. However, I will point out the following:
If you are looking for a fast and easy way to buy Bitcoin instantly then you should go with Luno. However, Remitano is not bad with time; the duration of a transaction on this platform is dependent on the seller. Usually, most sellers take about 15mins to complete a transaction.
Luno processes transactions 3 times a day and only on working days. Thus, if you want to sell bitcoin at any time and have your money in your bank account even on weekends or at midnight, then Remitano will be ideal for you.
Security of transaction: When buying or selling bitcoin on Luno, you deal with Luno directly. But Remitano brings buyers and sellers together to trade. They try as much as possible to make it secure using the escrow system and also provide 24/7 customer support. However, at the end of the day, you are dealing with individuals who might not be trustworthy.
Also read:
---
Conclusion
That's it on my Luno Vs Remitano Comparison. I'm sure you must have made up your mind on the right exchange for you.
Do you have any thoughts on these two exchanges?
What will you recommend to Luno and Remitano to help improve their services?
Well, leave your comments below; I will be there in the comments section.
You can appreciate this article by sharing it on your social media to let others in on this.
Thank you!