Have you ever thought of giving your BTC address to your customer and receiving payment in the Naira bank account?
Jackocoins has brought your dream to reality, making it possible to treat your BTC address as your bank account details.
You get paid in BTC and receive payment in Naira in a fast manner.
---
What is Jackocoins?
Jackocoins is a Nigeria Bitcoin exchange platform where you can sell Bitcoin, Ethereum, and USDT with ease and automation.
With just few one-time settings or clicks, you are set to use the platform which makes it unique among other crypto buying exchanges.
This exchange is owned by Precious, the founder of Jackobian Forum.
He has been in this space since 2016 on Jackobian Forum where the journey began and expanding his crypto exchange vision Into what we now see as Jackocoins.
He is one of the most trusted BTC traders in Nigeria.
---
Why You Should Start Using Jackocoins ?
1. Automate your crypto trading business
Once you set your default bank account and wallet mode is OFF, you can start receiving Naira into your bank account whenever someone sends you crypto on your Jackocoins crypto wallet.
2. Sell BTC,ETH, and USDT
Jackocoins doesn't offer sell option for BTC only.
You can also sell other cryptos like Ethereum(ETH) and USDT(Ethereum based).
3. Jackocoins web wallet feature
There are two states in which wallet can be at a time on Jackocoins:
a)WALLET ON – Means all received cryptos will be stored on the site till you decide to sell.
Note : Use this mode only when you need to accumulate and safe fees.
b)WALLET OFF – Means all received cryptos will be sold and the funds sent to your default bank account. This saves you time for clicking on 'Sell' whenever you receive crypto payment.
4. Highest rates in the market
Jackocoins give you the best rate when selling any available crypto on the platform with USDT having the highest rate among these cryptos.
5.Ease of use
Jackocoins is easily accessible on the mobile app and on the website with simple navigation through the platform.
6. Fast payment
After 1 blockchain confirmation, payment is made instantly and takes up to 5 – 15mins to reach your bank account if your wallet is OFF. Else, you will need to log in and click on 'Sell' when your wallet is ON.
7. Highly secured platform
All receiving wallets store coins in cold wallets making it difficult for it to be accessed by hackers online.
8. Credibility
The founders of Jackocoins have been in the crypto trading business since 2016 and are trusted by happy customers on the Jackobian Forum.
They wanted to automate trading business in Nigeria in 2019 and created the all in one platform for that.
---
Getting Started
1. Download the app on Playstore or register here.
2. Set your default bank account
3. Set wallet mode ON/OFF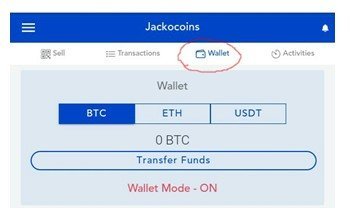 4. Copy your crypto address and start receiving payment
For Support, contact: