The crypto community is still anticipating a bull run and in this article, I'll show you how to trade bitcoin and make maximum profits.
As you already know, cryptocurrency has seasons. Since the invention of Bitcoin in 2009, a 4-year cycle has been noticed and all other cryptocurrencies after Bitcoin have followed this cycle.
The cycle involves a one-year bear market followed by three years bull market. We just concluded a one-year bear market, meaning a three-year bull market is in view. 
Now, how do you make the most of this opportunity and trade Bitcoin knowing that it is going to gradually or rapidly go up in price?
You can choose to
1. Buy Bitcoin and hodl or
2. Use a Grid Trading Bot to lock profits as the coin climbs
Which one did you choose? 🙂
You may watch this video for guidance or continue reading the article.
Although the first option of hodling is easy, the second option of grid trading is more beneficial.
To achieve this, you can use the grid trading bot on BingX to trade Bitcoin indefinitely as it rises in price.
Lemme show you how…
---
How to Buy Bitcoin on BingX Grid Trading Bot
On Bingx, there are 3 types of bot
Futures Grid
Spot Grid and
Spot Infinity Grid
The first two bots have upper and lower limits so they stop trading when the coin's price rises or falls below the given limits.
On the other hand, Spot Infinity Grid does not have an upper limit, so it trades indefinitely as the coin rises.  And that's the bot to go for.
How to Set Up Spot Infinity Grid on BingX
First, create a BingX account using my referral link then download the BingX app.
a. Open the app, log in, and fund your account.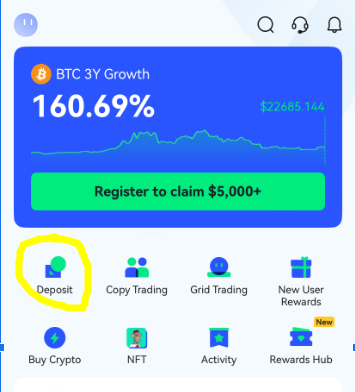 b. Then go to "Grid Trading" and select "Spot Infinity Grid"
c. Next, you accept the terms of the agreement and set up the parameters of your trading BTC and the amount you're buying with.
Lastly, click on "Create"
*Notice that the bottom price for bitcoin is already set. Also, make sure to stay on the "Auto" feature.
*Come back after 60 days or the duration you chose to check your profits.
You may check out the video to better understand how grid trading works.